Did you know that the Musée du Louvre houses 35,000 works of art?! And that these works are displayed across 60,000 square meters of exhibition space? It all sounds a bit daunting, but I think a stop at this world renowned museum is something that every first time visitor to Paris should make time for. So from personal experience – one that left me hauling my body across the museum, here are my tips on how to see Louvre: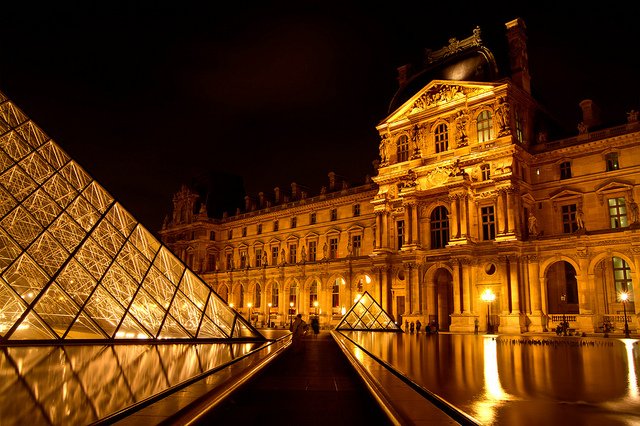 Save your legs.
My first mistake was going to the Louvre after a long day of walking. By the time I finally reached the glass pyramid entrance, I had walked from the Eiffel Tower to the Arc de Triomphe down the Champs-Élysées and in and out of countless boutiques. I should have gone for the Paris hop on hop off bus – my legs were crying out in agony, but I pleaded with them, "Legs, we're in the greatest museum in the world! Stop burning and keep moving." I felt like a soldier trying to work my way through a muddy field… I would recommend tackling this baby in the morning when you're energized and fully rested. And wear the right shoes.
Grab a map.
Is there a certain sculpture or painting you've wanted to see your whole life? You're probably not going to stumble upon it by chance. This place is massive! Instead, find a map and you'll notice that the most popular works of art are highlighted. This should make finding the Mona Lisa, Venus de Milo, or the headless Nike of Samothrace a lot easier.
Pick your niche.
What are you interested in? There's no point in dragging yourself through Egyptian Antiquities if what you're really interested in is Hellenistic Sculpture (or in my case paintings by French and Italian masters). Choose an area that interests you and spend some time wandering that collection.
Don't forget to look up.
The art on the ceiling rivals that hanging on the walls. Turn your neck up every once in a while. I once heard of this little trick, where tourists to the Sistine Chapel in Vatican City bring along small mirrors so that they don't have to crank their necks up to admire the ceiling. It might be worth a shot because the ceilings at the Louvre are truly spectacular!
And lastly, snoop around a little!
I was able to stumble upon some items awaiting their turn at exhibition. Just don't wander too far!
After all that wandering on foot, you can be sure you deserve to indulge in some French cuisine.