If there's one thing I love about Korea, it's the unique cafe culture; and I'm not talking about your average coffee house brewing vanilla lattes, no! Themed cafes in Seoul are wildly popular, and it seems that the wackier the idea, the bigger the clientele.
So what's a girl to do with so many choices? Visit them all!
Seeing as I had quite a bit of time in the city, I decided to hit up as many themed cafes as possible. Here's a look at some of the highlights: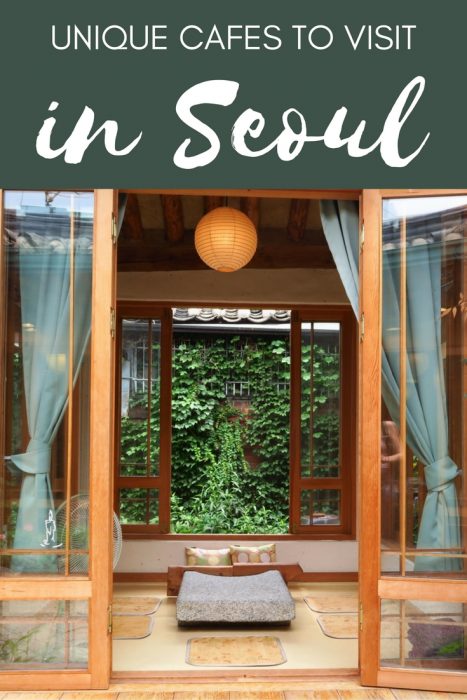 THEMED CAFES IN SEOUL
Dog Cafe
Bauhaus is probably my all-time favourite themed cafe in Seoul. The idea? You purchase a drink and then you get to hang out with some lovable dogs for a few hours!
The cafe is divided into 2 sections: one area for the smaller dogs where you can find a Whippet, a Corgi, a Pomeranian, a King Charles Cavalier, and lots of Chihuahuas; and another area for the larger dogs, where you'll find a Golden Retriever, an Irish Setter, a Siberian Husky, a Groenendael, a Labrador and more.
Dog owners can also bring their dogs to play, so you might find other breeds as well. It's always funny when you think you're playing with one of the local dogs from Bauhaus, but then it turns out it has an owner who's waiting for the dog to hop off your lap so they can take their pup home.
Address: 64 Yanghwa-ro, Mapo-gu, Seoul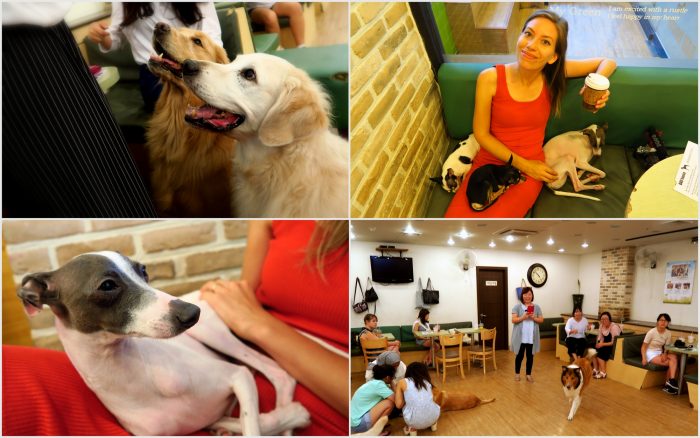 Cat Cafe
When it comes to themed cafes in Seoul, cat cafes are what started it all, and while they may not be considered that unusual around these parts – you can find hundreds of them scattered across the city! – they are still quite the novelty for visitors passing through.
We went to 고양이 카페 (Cat Cafe) located in Hongdae, which is our go-to cafe whenever we want to play with cats. The staff are really friendly here and it has a very relaxed feel. Once you're inside each person has to order a drink and that acts as your admission ticket.
Most cat cafes have a mix of breeds. This one in particular had a Siamese, a Persian, an American Shorthair, an Abssynian, and well, more breeds than I could recognize to be honest. The majority of the cats are quite social, though you do get a few who are only interested in napping by the windows or in out of reach places. You can also buy cat treats to try and lure the cats your way.
Address: 162-14 Hongik-ro 6-gil, Donggyo-dong, Mapo-gu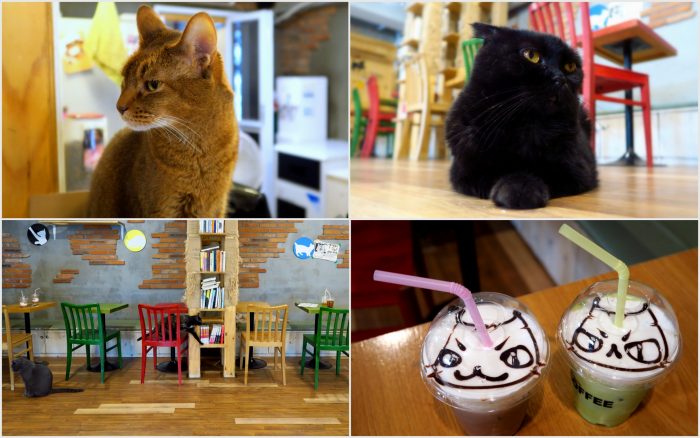 Poop Cafe
Poo normally isn't an acceptable conversation topic at the table, but Seoul seems to think otherwise. One of the most unusual cafes we visited was the Poop Cafe located inside the Ssamziegil Cultural Complex. The theme was apparent from the minute we walked through the doors, with giant swirls of poo gracing each table.
We ordered a latte, a mango lassi, and most importantly, a poo-shaped waffle with lots of nutella smeared on top. Uhh, you get the visual? Our waffle was served on a plate that was meant to resemble a squat toilet, and if you come closer to lunch time and order pasta, this is served in a miniature toilet bowl. Yummm!
After finishing our drinks, we went outside where they have a little stand that sells poo-shaped pancakes. Again, these have that distinct swirl shape and they were filled with chocolate sauce. Each pancake was 1,000 won and they were surprisingly delicious.
Address: 4th floor Ssamziegil Building, 38 Gwanhun-dong, Jongno-gu, Seoul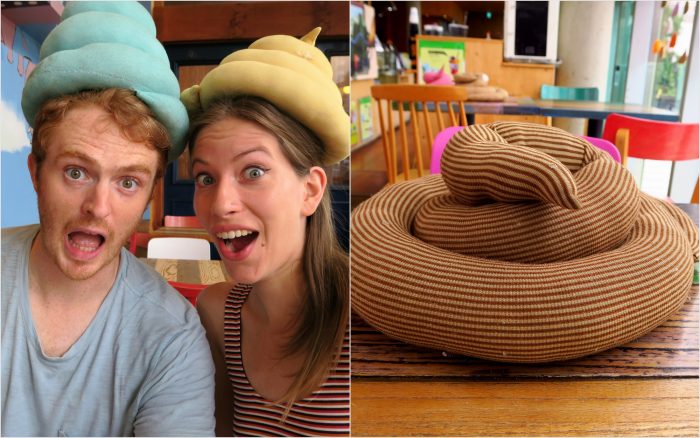 Flower Cafe
For something straight out of a German fairytale, you can visit Blüte, which means 'bloom' in German. This cafe is located in a quiet side street in Hongdae and as you take the steps up to the premises it almost feels like you're walking into a scene from Hansel and Gretel.
The cafe is surrounded by a thick garden filled with colourful flowers and in the back there's a little cottage that could easily transport you back to Spreewald.
Food and drinks in this cafe are a bit pricey with most teas running you 9,000 won, but the calm country-like setting makes it a really nice spot for a date.
We ordered some ice tea, a lemon tart, and beer when we visited and everything was presented beautifully; our tray came with flowers in tiny glass vases and the attention to detail was apparent. They also have an outdoor terrace with stringed lights, which I'm sure is very pretty if you come in the early evening.
Address: 31-8 Hannam-dong, Yongsan-gu, Seoul

Hello Kitty Cafe
In Hongdae you'll also find a two-story cafe dedicated to all things Hello Kitty and it's an explosion of pink from the minute you walk through the main gates. How's that for a fictional Japanese cat character who wears a red bow?
We decided to order a green tea latte and a raspberry cake, but you can also order larger savoury meals if sweets aren't your thing.  While the food here is nothing to write home about, I do appreciate that the prices were quite reasonable in comparison to some of the other themed cafes in Seoul.
Inside the Hello Kitty cafe you'll find different areas where you can pose with Hello Kitty dolls. They also have a gift shop where you can pick up stuffed animals, purses, mugs, and all sorts of products with Hello Kitty's face on it.
Address: 364-14 Eoulmadang-ro, Seogyo-dong, Mapo-gu, Seoul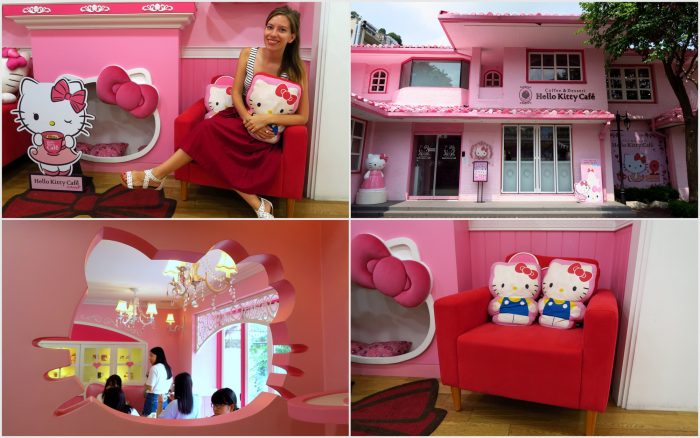 Sheep Cafe
Also known as Thanks Nature Cafe, the sheep cafe is located in Hongdae at basement level with an outdoor terrace. Two sheep, Lulu and Lola, call the cafe home, and just like Mary sang, their fleece is white as snow.
Once you're in the cafe, each person is expected to order a drink or a snack and then you are free to visit the sheep in their outdoor pen. You can also try feeding them hay if you arrive right around feeding time.
One thing to bear in mind is that the sheep are not at the cafe year round. Summers in Seoul are unbearably hot, so the sheep get to escape the city and have a bit of a holiday in the countryside.
Address: 486 Seogyo-dong, Mapo-gu, Seoul

Raccoon Cafe
Blind Alley is Seoul's first raccoon cafe and when it comes to themed cafes, it's one of the most unusual ones I have ever visited. The cafe is divided into two areas and the idea is that first, you order a drink or a dessert, and then you go to the next room where you get to hang out with racoons.
We went there on a hot summer afternoon and ordered the Racoon Patbingsu, which is a shaved ice dessert with red bean paste, ice cream, cereal, whipped cream, and oreo cookies. It was the perfect size to share between two people, and it was oh so refreshing!
After finishing our dessert we went to the adjacent room where the raccoons have a fun crawl space with ramps, boxes, ropes and poles. It's basically their own jungle gym. They also have chairs and couches where you can sit and watch the racoons play, and I have to say, their agility is astounding. I never knew raccoons could pull themselves across a rope while dangling upside down; it almost seems impossible considering their plump bodies!
I know that raccoons are the main attraction at this cafe, however, the owner also has the cutest puppy that hangs around the cafe, so that's another reason to visit.
Address: 76 Cheongpa-ro 47-gil, Yongsan-gu

Lego Cafe
Get & Show Cafe is a Lego themed cafe in Seoul, and if you grew up playing with these building sets, then this is the place to relive those childhood memories.
The way it works is that you order a drink and rent a Lego set. If you're going as a couple or with a friend, they also have a Lego Special for 15,000 won where you each get a drink and a Lego set for an hour. Each Lego set comes with a manual so that you can assemble the structure that you see on the cover…or you could just get creative and work on your own design.
Sam and I ended up renting a set we thought was about pirates, but then once we started looking through the manual, we realized it was a Lord of the Rings set and we were actually playing with hobbits! Clearly one of us needs glasses. If you end up needing extra time to work on your set, you can buy additional time at the counter for something like $0.10 a minute.
Address: 27 Dongmak-ro 3-gil, Mapo-gu, Seoul

Traditional Tea House
This one is not quite a themed cafe, but it's still a very cool experience so I thought I'd include it here. There are no cute animals involved, but having tea in a traditional tea house is a must do when in Seoul.
These tea houses are sprinkled across the city, but the best place to find a good selection is by wandering the back lanes of Insadong. I really enjoy the traditional tea houses because they are usually in quiet back alleys so it's very serene plus they also tend to play soft music.
Once you're indoors, you'll grab a mat and take a seat at one of the tables. Then you'll have a selection of teas to choose from, either hot or iced. I'd recommend the plum tea if you like something sweet and fruity. You'll also get a plate of rice cakes and persimmon jellies to enjoy with your tea.
Address: Lots to choose from in Insadong.

Of course, there are plenty of others themed cafes in Seoul – these are just the ones I've managed to visit so far. You can also find dress up cafes, parrot cafes, study cafes, board game cafes, Charlie Brown cafes, creepy doll cafes, hanbok cafes and so much more. One thing to keep in mind is that some of these cafes are fads while others do stand the test of time. I've arrived at more than one cafe to discover that it's already gone, so before you visit, do a quick search to see if these are still open.
Have you been to any themed cafes in Seoul or elsewhere?
What's the most unusual cafe you've ever visited?