It's been a long time coming.
The wonky thumbnails are gone, and the mango background has been painted over, which means I am happy to say we have a brand new site design here on the blog!
*Claps and cheers!*
The Designers
The incredibly talented Hannah of Further Bound worked her magic all over the site while her tech savvy man Lee did all the important behind the scenes stuff that I can't even begin to comprehend.
I came to Hannah without a very clear vision. I threw around lots of words like aztec lines, chevron patterns, and bright colours…and well, let's be glad she steered me in a direction that is much cleaner yet still me.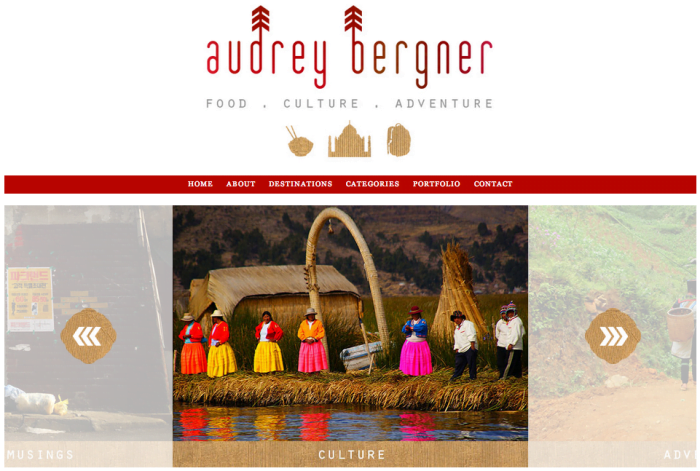 A New Header
You'll probably notice that the header now has my name rather than 'That Backpacker'. The reason for this is that my travel style has really changed in recent years – as I'm sure it will continue to evolve over time.
When I published my very first post back in October 2010, I was fresh out of university and had been travelling on a very constrained budget for years. I knew how to shave costs on flights (it often involves ridiculous connections), choose affordable hostels (it might mean staying in the outskirts of town), and find the best pub crawl in town (Buenos Aires is where it's at).
However, while I still like to travel on a reasonable budget, the way I travel has evolved. I now prefer cozy guesthouses over cramped dorm rooms, I may opt to purchase a pricier flight to forgo an 18 hour bus ride, and I may even hit up an all you can eat sushi buffet as opposed to making ramen noodles in the hostel kitchen.
I am by no means a 'luxury traveler', but I do enjoy a little splurge every once in a while.
What can I say, I'm a backpacker who is growing up.
Browse by categories
Through the re-design I also hope to make the site a bit more user friendly. If you click through the slider you'll notice that all the posts are now categorized under: food, culture, adventure, tips & advice, or life & musings.
You can also look for destination specific articles by clicking on 'Destinations' on the main menu.
And if you still can't find what you're looking for, there is a search box on the right sidebar.
New posts & newsletter
It's now a lot easier to stay up to date with what is happening on the blog. If you scroll down the homepage, you'll notice a box where you can choose whether you'd like to receive new posts, the newsletter (coming to you soon!), or both straight to your inbox.
Or you can continue dropping by sporadically to catch up on what's happening. (I like you guys to!)
A big THANK YOU to you all!
And lastly, I want to thank you, my readers, for sticking around and following along in the adventures. Whether you are a regular commenter or a silent reader, I really appreciate every single one of you and I am humbled that you continue to follow along.