Today's contest is brought to you by the Cuba Travel Network.
Well, this could be the perfect excuse to play an April Fool's joke on your friends. The Cuba Travel Network has a good sense of humour and they have recently launched a travel contest that could have you and a friend on an all expenses paid trip to Cuba.
What are they asking for?
They want you to play a prank on your friend over text message where you tell them you have to cancel whatever plans you've made together because you've booked yourself a last minute trip to Cuba. Capture the hilarious conversation that ensues, and then share it with the Cuba Travel Network for a laugh. Like this: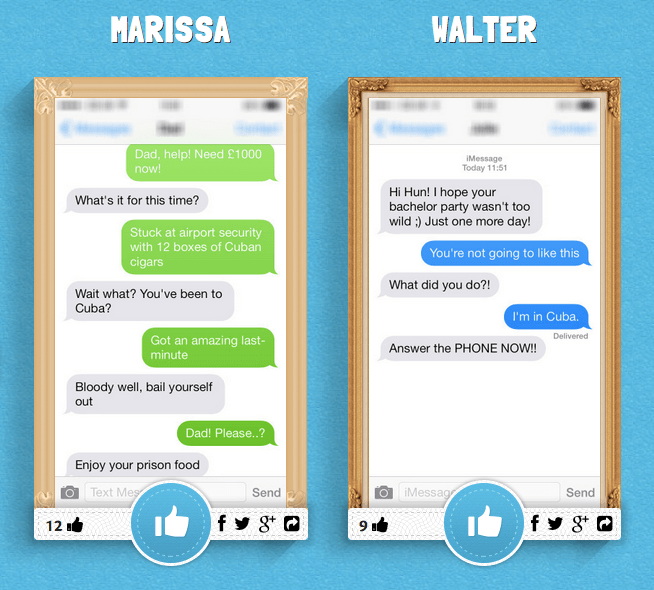 Here are the rules:
Send a prank text to someone you know to say you're bailing out on them. Your excuse? You're off on a last-minute trip to Cuba!
Take a screenshot of your prank conversation with a funny reply and submit it to Cuba Travel Network. There are three ways to submit: (1) upload your screenshot via www.cubatravelnetwork.com/competition, (2) tweet it using the #submitctn hashtag, (3) e-mail it to competition@cubatravelnetwork.com with "Submit CTN" as the subject.
Share your prank to collect as many votes as you can. The prank with the most votes wins a definitely different experience!
You have until April 13th to submit the prank and whichever text conversation gets the most votes wins.
I have been to Cuba 3 times before and it's a country that I'm sure I'll go back to many times more. From strolling the streets of Havana which still retain a 1950s feel, to snorkelling in Cayo Coco, and exploring the colonial settlement of Trinidad – Cuba has something unique to offer. Here's a closer peek at Cuba:
Good luck to all!