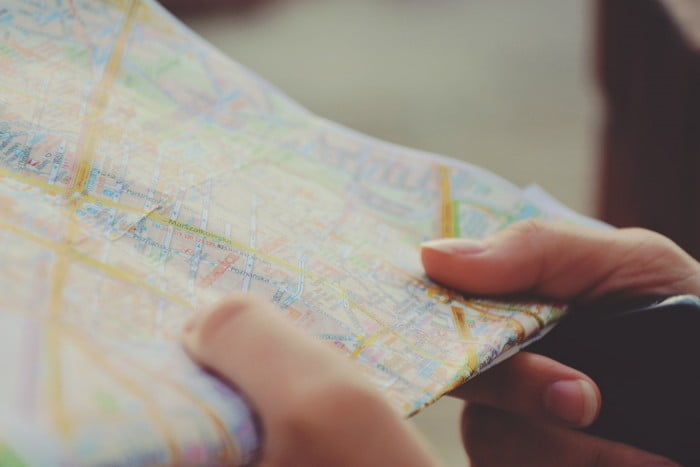 You guys, I consider myself to be a pretty organized traveller. I compartmentalize my clothes into packing cubes so everything will be neat and tidy, I double ziplock all my toiletries so that nothing will get wet if a bottle of shampoo explodes, and I keep all my electronics with their chargers and respective international adapters in my carry-on so that I'll have easy access to things. I even have a little red notebook where I scribble notes and reminders of things like train numbers, flight departures, or the address of a really good bakery I want to try. But there is one thing that I almost always forget to do:
I can't seem to remember to write the address of the place where I'm staying and look up directions on how to get there.
A pretty important step of the equation if you ask me!
It happens so often that even while I was writing this post I thought, "Oh crap! I still need to figure out the directions to my AirBnB in Amsterdam for tomorrow!" Yup, this is the one thing that I forget to do before almost every single trip.
Sometimes I'll catch myself last minute just as I'm about to leave for the next destination, and I'll look things up my phone and save a map for when I arrive, but there have also been plenty of times where I found myself in the middle of a train station / bus terminal / airport searching for local maps and hoping there would be an attendant at the information desk who could point me in the direction of the right bus / metro / tram I needed to take.
The thing is, sometimes I get so focused on making sure that my bags are properly packed, that nothing is being left behind under a hotel bed, and making sure that I get to the train station at the right time, that I completely forget about what happens when I actually reach my next destination. How do I find my way to my hostel, hotel, or AirBnB once I arrive?
This wouldn't be a big deal if I actually travelled with a SIM card on my phone, but I don't, which means GoogleMaps can't come to the rescue unless I can find an open Wi-fi connection, and in some parts of the world that's easier said than done.
So that is my current dilemma – finding a way to remember to do the most obvious thing possible.
Is there something you're always forgetting to do when you travel?
Go on, tell me about it so I don't feel so bad about my own forgetfulness.