Last Christmas I got a red onesie so cozy and warm that I pretty much wore it all winter. Whenever I put on that onesie I would think to myself, this would be the most comfortable travel outfit for those long-haul flights where you know you're going to curl up and sleep (or at least attempt to). However, I'm yet to wear it on a plane, because: 1) I'd look like Santa's helper wandering around in my PJs, and 2) I have a feeling security wouldn't be a fan and it would likely result in a thorough pat down. (I mean, what would you think if you saw someone parading through the airport in an outfit like this? You see my dilemma now.)
So while I try to muster up the courage to rock my onesie outside the house, I have another go-to comfortable airplane outfit that isn't quite as eye-catching, but is cozy enough for long flights.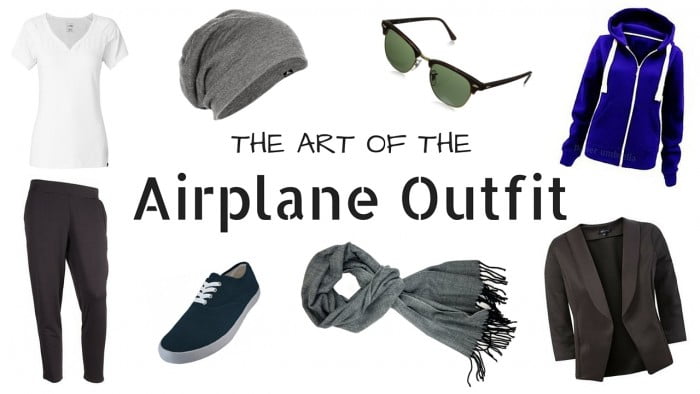 Slouchy pants or leggings
My number one concern when choosing what to wear on a flight is comfort, so that's why I usually go with either slouchy pants or leggings. I tend to wear a black pair of slouchy cotton pants if I need to look presentable upon arrival (these are easy to dress up and they give me the flexibility I need), but otherwise I tend to go for a more sporty look and stick to leggings. The questions you should ask yourself when selecting a pair of pants are: Can I bend my knees? Can I sit cross-legged? If you can answer 'yes' to those, you've got yourself a pair of comfortable travel pants.
Loose v-neck t-shirt
For tops I usually go with a simple v-neck t-shirt. Again, comfort is my utmost concern here, which is why I go with a loose fitting shirt in a breathable fabric. I don't have a particular preference for colours, though I tend to stick to either white or dark colours.
Warm hoodie
On top of the v-neck shirt I usually add a hoodie. A zip-up hoodie is easier when going through security since they usually ask you to remove your sweater. If I'm travelling for a work-related project and I have to meet someone, then I'll usually throw a black blazer over my hoodie to try and dress things up a bit (a girl can try), but otherwise I just keep it simple.
Comfy sneakers
When it comes to footwear, once again, I'm only looking for comfort so that means no strappy sandals or heels (though I admire girls who can travel in these!) I usually go with a pair of sneakers, though I know some people prefer slip-on canvas shoes (like TOMS) that they can easily take on and off without worrying about shoelaces. That being said my shoes have laces and I still slip them on and off – once your shoe has moulded to the shape of your foot, you're set!
A few accessories
I'm not one for jewellery, but that being said, I do like to tack on a few accessories. First up, a scarf because I'm always cold on planes. I can either wrap this around my neck, or potentially use it as a blanket if none are provided on the flight. I also like having sunglasses, not particularly for the flight, but more for the arrival when you look like a zombie with bags under your eyes. I recently got my first pair of big girls sunglasses here – I went with the Ray Ban Clubmaster Fleck in spotted green and I'm super happy with them! And lastly a hat, because I'm probably going to be looking a bit disheveled and that's the best way to hide it. A toque works for winter, but if not I'm really digging bowler hats at the moment.
What's your go-to comfortable airplane outfit?
And most importantly, would you rock a onesie?!