A while back I was talking with a group of travellers about how nervous flyers pass time on long haul flights and someone mentioned colouring books. Colouring books? I remember at the time this sounded a bit odd; I couldn't remember the last time I had seen an adult colour in public, let alone done so myself, but fast forward a few years and this seems to be the latest trend.
Just before the Christmas holidays I walked into my local arts and crafts store back home, and what do you think I saw? Yes, a giant display of adult colouring books with all types of designs – sea creatures, plants and flowers, exotic animals, geometric patterns, and even the world of Anna Karenina. I had been curious about these books for a while now, so seeing as they were on sale and I had a trip coming up, I decided to pick up a copy with floral designs and put it to the test. These books are meant to be a great way to destress, so perhaps they would help a nervous flyer?
Well, while my new colouring book didn't necessarily eliminate all my flying jitters, I will say that it distracted me and time passed so much faster than it usually does. I had barely coloured a quarter of the page (yes, I take my time with all the intricate details) when suddenly the 3 hour flight down to Florida was over.
Then a few weeks ago I heard that fellow travel bloggers Katie and Geoff from Wandertooth had launched an adult colouring book called Travel Between the Lines. What they did is take photographs from their travels and transform these into illustrations that they bound into a colouring book. How cool is that?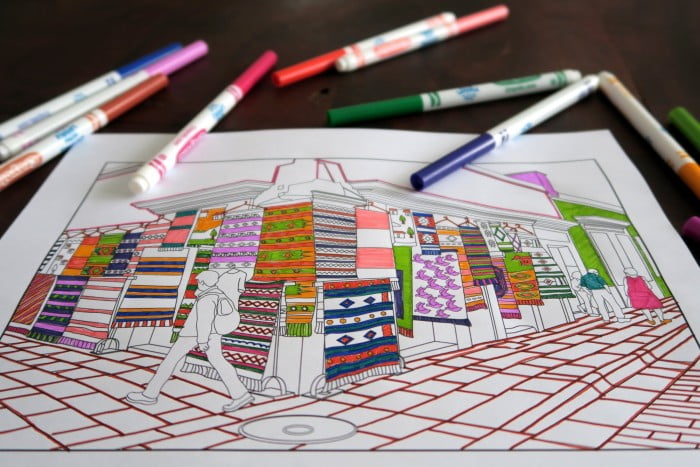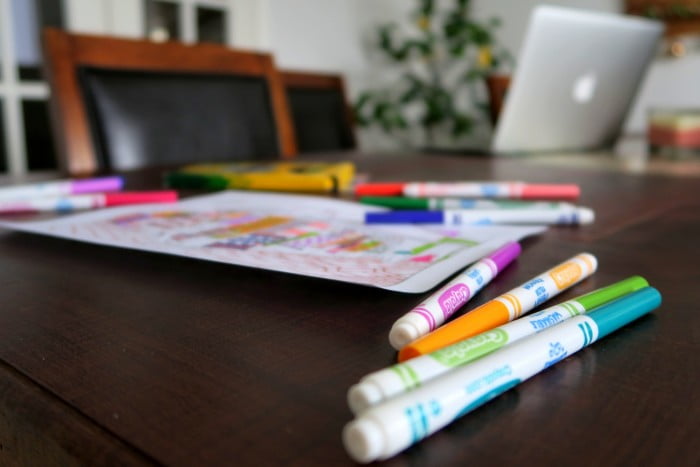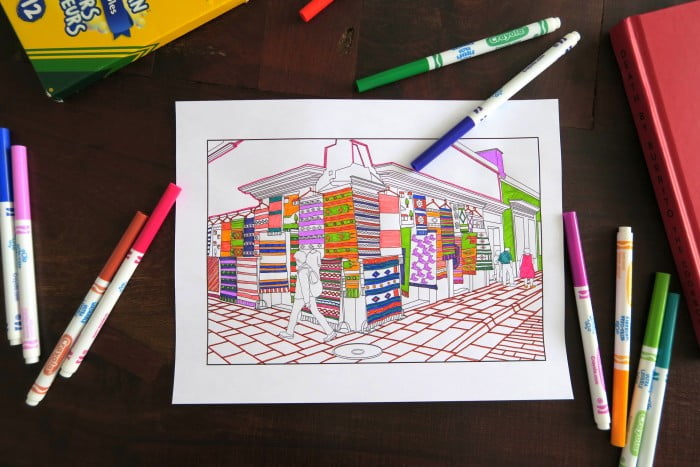 They asked me if I'd like to put my colouring skills to the test, so I immediately said yes. Since I'm about to leave for South America in a few days and I knew the book wouldn't arrive on time, they sent me a few designs that I printed and got to test out for myself.
My thoughts?
Their illustrations were a lot of fun to colour! Travel Between the Lines has a nice mix of very detailed images and simpler ones that allow for lots of creativity in terms of patterns and designs.
I also liked that the destinations in their book are quite varied; I had a little preview and they include a mix of cityscapes and street scenes ranging from temples in Kyoto to street corners in Oaxaca, and building tops in Havana to views from Alhambra.
There are countless adult colouring books out there, but this was my first time seeing one with a travel theme, so for someone who enjoys travel so much, their designs were perfect.
But now on to the giveaway!
How to enter the giveaway
Katie and Geoff have kindly offered to give away 3 copies of their adult colouring book Travel Between the Lines to readers, so we'll be selecting 3 winners at random. This contest is open to participants worldwide.
To enter, all you have to do is leave a comment below answering the following question: What's one landscape you'd love to see as an illustration in a colouring book? You can also earn additional entries by following @WanderTooth on Twitter and sharing this contest.