So you've come back from your big trip and you want to surround yourself with artifacts and memories that remind you of your travels. Where do you begin? Souvenirs are the first thing that comes to mind – pottery, art work, wood carvings, sculptures, tapestries and whatever else you come across in local markets – they help add colour and life to your space. However, if you're still working on your souvenir collection, here are some simple ideas that can help you create a travel-themed space without having to travel to the ends of the earth.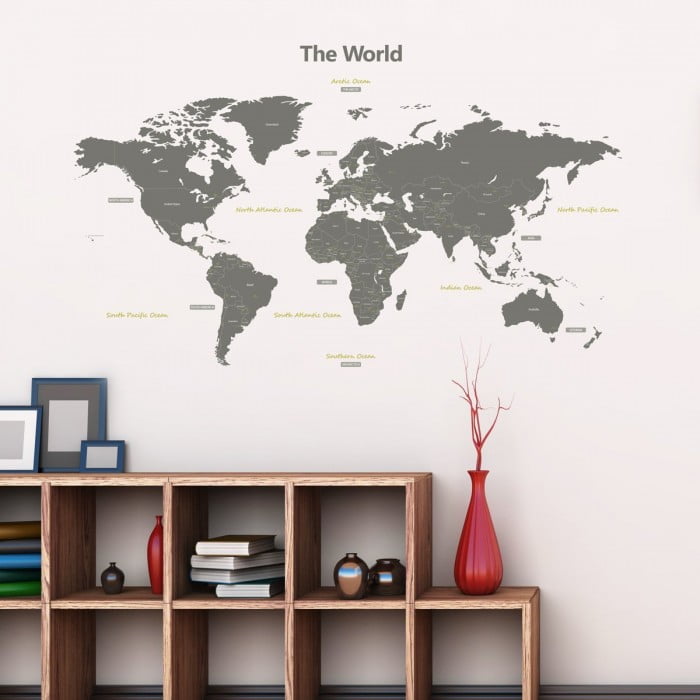 I love having maps in the home – whether it be a globe, an atlas, or a world map spread out across a wall – I think it adds a nice travel element to the environment, plus it keeps you planning and plotting where you'll travel next. If you want to move away from standard maps and try something a bit more unusual, there are map decals, also known as map tattoos, that you can stick up on an accent wall. Who says maps can only be functional? They are super easy to use; all you have to do is peel, stick, and in most cases they are also reusable which means you can easily take them down and place them elsewhere in your home.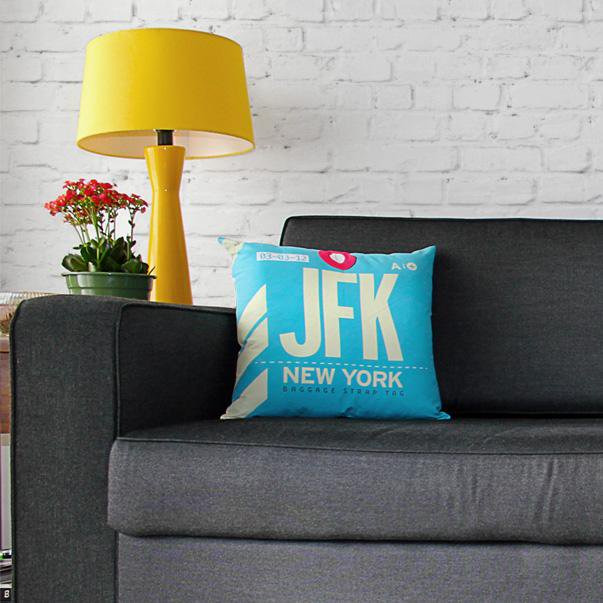 Airportag is like a one-stop shop for all your wanderlust decorating ideas. I like everything in their store, but the one item that really jumped out at me are their airport code pillows. Not only are the pillows designed with fun and bright colours that really make a couch pop, but I love the idea of being able to surround yourself with your favourite cities via airport codes. They also have pillows with really fun quotes like "Of all the books in the world, the best stories are found between the pages of a passport" and "I'm a flight attendant. What's your superpower?".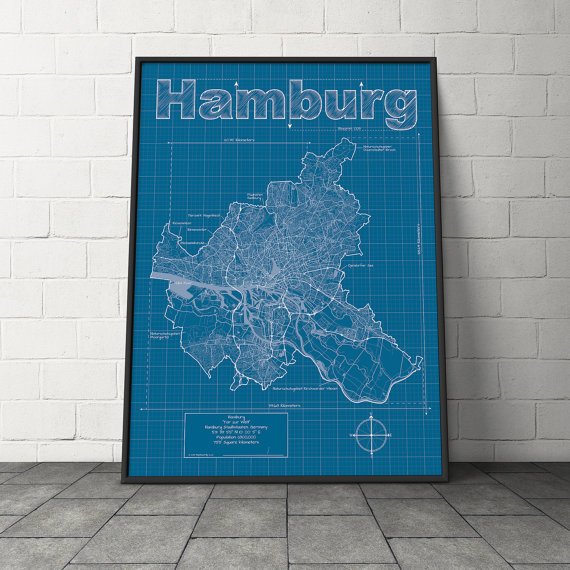 City blueprints via MapHazardly
Etsy is a gold mine when it comes to artists producing travel-themed artifacts, and one that really stands out is MapHazardly. This Portland-based designer takes blueprints of cities around the world and turns them into art, which I know sounds a bit strange considering these are technical drawings, but really, have a look and see for yourself. I think these could look great as a stand alone piece or even as a series.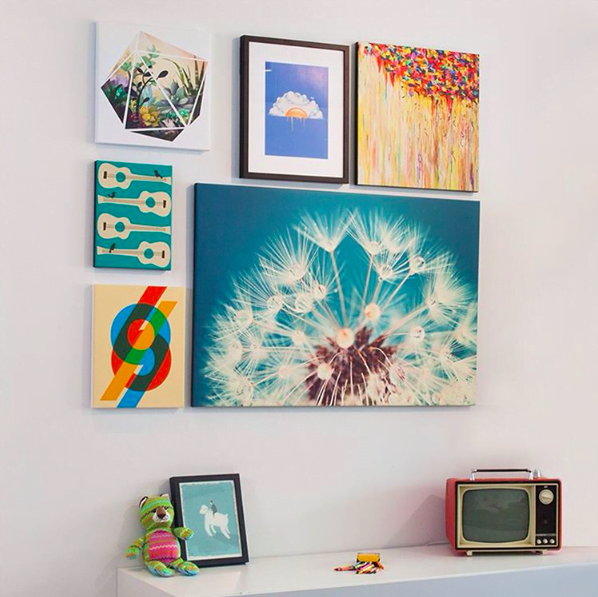 Another fun way to bring your travel memories into the home is by printing photos from your travels. CanvasPop let's you use images you've captured with your camera, but also photos that you shared on Instagram. You can turn these photos into canvases, triptychs, collages or even framed prints.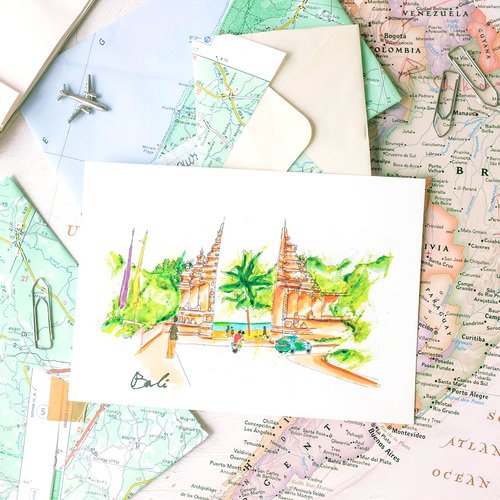 Bright watercolours by Miles of Happiness
Marie's blog "Miles of Happiness" is one that I read regularly, but aside from blogging, she also happens to be an incredible artist! Marie works with watercolours and has a very unique style that's filled with splashes of lime, lemon and orange. Whenever I see her work I immediately think of the tropics! She creates beautiful watercolour postcards which would brighten any wall, and she does custom work too.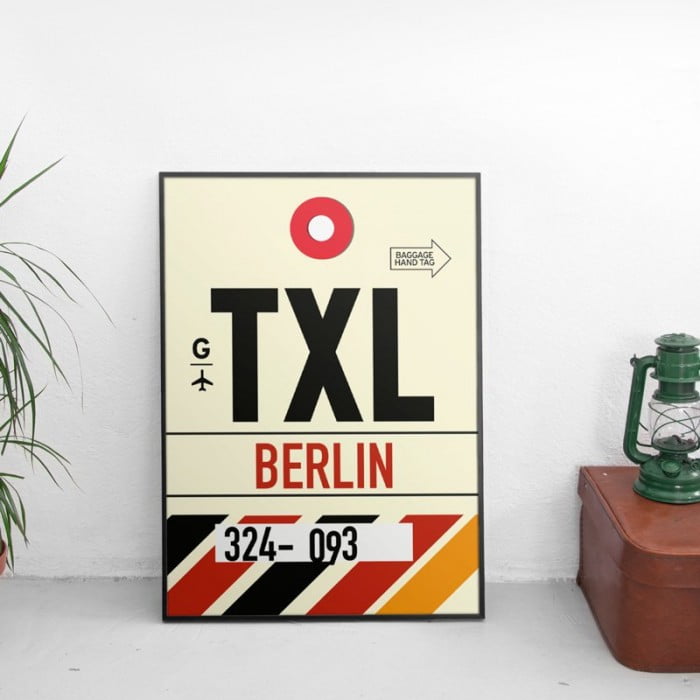 So I know I already mentioned airportag once before when talking about pillows, but another item that I really like from their store are their airport code posters. They have a really vast collection that'll have you covered from Charles de Gaulle to Ezeiza, and Tegel to Keflavik. Their designs are simple yet colourful, and they make great accent pieces on any wall.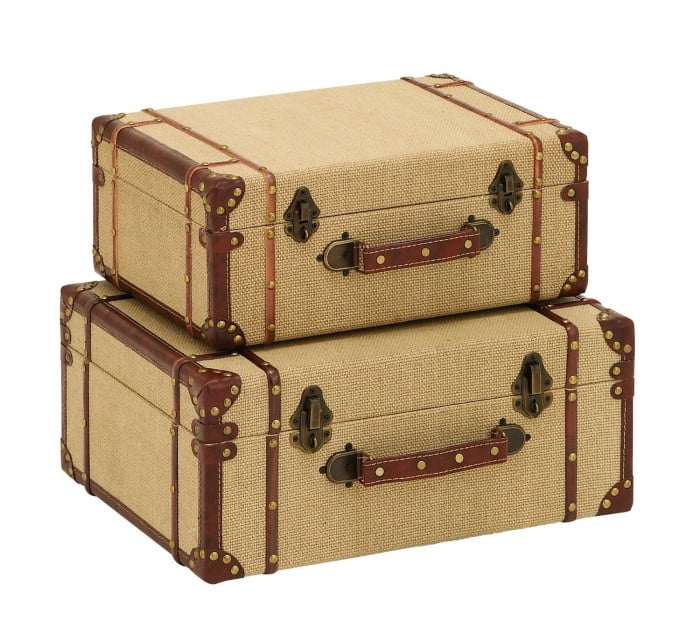 I also like the idea of stacked suitcases used as decor. For the crafty ones out there, there's the option of picking up large vintage suitcases at a local flea market and then drilling them together to be used as a little side table or stand. However, if you're not really into DIY, you can also purchase smaller stackable suitcases like these ones to add a little bit of travel to your shelf or bookcase. (The ones pictured here are definitely not intended for travel, just decor!)
Souvenirs from your travels
Lastly, let's not forget the best item of them all – souvenirs from your own travels! I love browsing local markets whenever I travel somewhere new and I've discovered some great gems over the years. These range from Peruvian pottery and Romanian woodcarvings, to Korean face masks and sketches of South African wildlife. My collection is very eclectic to say the least, but I love to be reminded of my travels whenever I look at a particular item.
How would you create a travel-themed space in your home?
This post does contain affiliate links, but they come at no extra cost to you.
You might also enjoy: How to start a travel blog!