October takes the cake for some of the most striking landscapes visited. From setting eyes on the snowcapped Alps, to riding past the autumn foliage enveloping Transylvania, to finally witnessing the beauty of Meteora's Rock Forest, it was a month that made my jaw drop and left me craving a home at the foot of the mountains. Here's a quick look back at the month of October: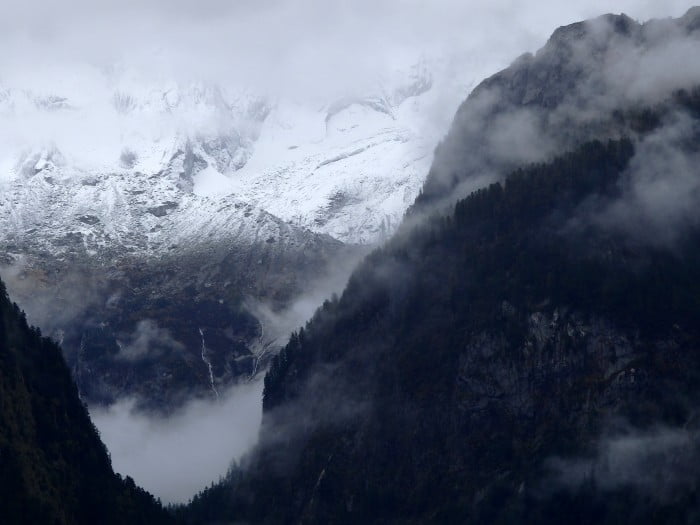 Where I went
Italy – Milan, Bergamo, Chiavenna
Switzerland – Soglio
Romania – Bucharest, Brasov, Bran
Greece – Athens, Meteora
Highlights of the Month
Visiting the town of Chiavenna
It's official, I want to move to the Alps. I got to do a couple of side trip from Milan earlier this month, and the town of Chiavenna blew me away. I could hear those mountains calling out to me! There's something about the countryside and small town living that really appeals to me at this point in my life, and Chiavenna checked those boxes. I still have no idea where I'll eventually settle, but one thing is for sure, I want it to be in the mountains.
Heading up to Brasov for the weekend.
After two full weeks in Bucharest, Brasov was a welcomed weekend escape. For some reason I couldn't really connect with Bucharest, so it was nice seeing a different side of Romania. The train ride up to Transylvania was beautiful because the colours were just starting to change, and Brasov itself turned out to be a really charming city. There were no encounters with Dracula, but I did get bitten by a dog that looked a lot like a wolf… I think now I'm supposed to wait for a full moon.
Finding Korean food in Bucharest.
Sam and I spent a good chunk of time in Bucharest this month while he got some medical treatment and I caught up on work. We did very little in terms of sightseeing around the city, but one thing we did prioritize was food – Korean food. I don't know about you guys, but every once in a while I get a craving for kimchi, bibimbap, and sundubu jjigae; I guess that one year living in South Korea really changed my taste palate! I was not expecting Bucharest to have any Korean restaurants, but it turns out there is one and they even have a Korean chef! Not only that, but they also play K-POP music videos on a big screen. Needless to say, we ended up going back again, and again, and again. If you're ever in Bucharest, check out Restaurant Coreean SEOUL.
Seeing the monasteries of Meteora.
Meteora's floating monasteries have long been a bucket list destination of mine, so seeing them for the first time was kind of a surreal experience. The biggest surprise was learning that aside from the 6 active monasteries that are open to the public, there are also numerous abandoned and restored monasteries that can only be reached on foot. I'm still editing photos from that trip, but I'll be writing about it soon.
Finalizing travel plans for early 2016!
I know I'm getting a little ahead of myself since we still have a good chunk of 2015 ahead of us, but this month I went on a flight booking spree. The first half of 2016 is going to be all about South America and I am beyond excited! I'm going to be revisiting some cities that I'm already familiar with (gotta swing by and say hello to family!), but I'm also going to be exploring a lot of new to me destinations that have been on my bucket-list for a long time.
Travel inspiration and cool contests
Lonely Planet: Best in Travel 2016
Lonely planet just released their top 10 countries, cities, and regions to visit in 2016. They have some unusual places on their list -I've only been to 3 of their countries, 2 of their cities, and 1 of their regions – so it's a fun list to check out if you're in need of some inspiration.
5 Best Airports to be Stuck in
Not all airports are created equal and this list highlights some of the best airports to be stuck in whether you have a long layover or your flight has been delayed. Also, I completely agree with Incheon as one of their top selections!
Win a Travel Photography Scholarship to Nepal
World Nomads have a cool travel photography scholarship at the moment and the person selected will win a ten day trip to Nepal under the mentorship of Richard I'Anson. If you're looking to get serious about your photography, this might be a good one to apply for!
What I read this month
Deep South: Four Seasons on Back Roads by Paul Theroux
Paul Theroux is one of my favourite writers, so I picked up his latest book as soon as it became available. Deep South: Four Seasons on Back Roads follows his journey across the American South over the course of 4 back to back road trips. His book is a collection of random encounters and conversations he has with the people there, many of them living below the poverty line and others who are trying to help change the socio-economic landscape. Like the title of the book suggests, his travels take place along the backroads (no glitzy city visits here), and he makes it a point to visit towns that have either been abandoned or are on the verge of becoming ghost towns. He also makes time to attend gun shows, go to Sunday church services, and swing by diners serving home cooked soul food – as you do in the South! – all the time chatting and asking questions of everyone he encounters.
Dracula by Bram Stoker
Since Sam and I spent a good part of the month in Romania, a.k.a the Land of Dracula, we decided to read Bram Stoker's Dracula together. I've never read horror books before, so I'm not too sure how to compare it to the genre, but I am going to say it wasn't nearly as scary as I was expecting it to be. I really liked that the book was written as an epistolary, so rather than chapters, you have a series of letters and diary notes where the story unfolds. I was hooked from the start!
What's next?
I'm in London for World Travel Market! It's my first time attending WTM so I'm not entirely sure what to expect (I've been told to wear comfortable shoes), but I have to admit, I'm most looking forward to catching up with friends and going to a few parties (priorities people!) After a week in London we'll be setting off to Lisbon for a bit. It'll likely be too cold for the beach, but I'm still hoping we'll catch a bit of sunshine before winter fully envelops us. And then it'll be time to fly back to Canada to visit family, celebrate the holidays, and get ready for South America!