Last year I visited Edinburgh in the wintertime to attend the Hogmanay year-end celebrations, however, as I walked around the city on my first day there, I couldn't help thinking of another popular celebration: Halloween.
There's something about this city that lends itself well to spooky tales and ghoulish characters, and as I soon learned, I wouldn't have to let my imagination run too wild.
Edinburgh does have a bit of a dark history – one that includes hauntings, grave robbers, and even a bit of wizardry! Over the course of my visit I got to experience a few of these, and with Halloween just around the corner I thought I'd share a different side of Edinburgh, Scotland.
Edinburgh Castle
Located atop Castle Rock, Edinburgh Castle has been a major fortification for hundreds of years. The castle is a fascinating complex which is home to treasures like the Crown Jewels, the famed medieval cannon Mons Meg, and St. Margaret's Chapel (which also happens to be the oldest surviving building in the city!), however, aside from its rich history, Edinburgh Castle is also believed to have quite a few resident ghosts that on occasion reveal themselves.
These apparitions include the phantom piper, who is believed to be the ghost of a man who vanished while exploring the underground tunnels beneath the Royal Mile; the ghost of the headless drummer, whose drums can be heard when the castle is about to be attacked (he hasn't been seen in many years); the spirits of the French prisoners, men who fought in the Seven Years War; and even the ghost of a dog, who has been spotted wandering around the castle's very own dog cemetery.
But don't let that spook you. I visited at nighttime and lived to tell the tale.

Mary King's Close
Deep beneath Edinburgh's Royal Mile lies a world that has remained forgotten for hundreds of years. What you see above ground is the new Edinburgh, but the Edinburgh of old can still be found standing beneath the busy street. One of the most famed underground spots is Mary King's Close.
A 'close' is the Scots word for a narrow alleyway. These were generally named after the most prominent citizen in the close, and in this case it was Mary King, a mother of four who though widowed was able to make a good living. She owned several of the properties along the lane, and so the close was named after her.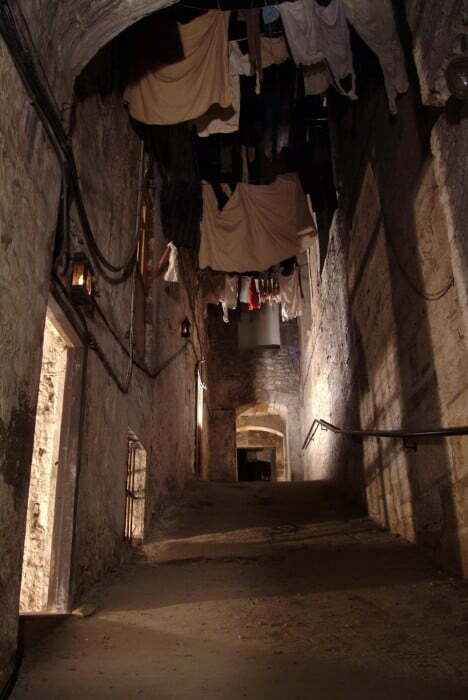 In 1645, Edinburgh was hit by the Great Plague. It was a devastating epidemic and it is believed that up to half of the city's population succumbed to it. Those who fell sick with the plague were either forbidden from leaving their homes, or moved to quarantined huts outside the city walls. It was a desperate attempt by the authorities to try and salvage Edinburgh's population.
This epidemic, in turn, gave birth to a popular myth surrounding Mary King's Close. The tale says that in their desperation to combat the plague, officials made the decision to brick up the close leaving more than 300 residents trapped. Both the infected and the non-infected had no escape and ultimately died in their homes.
This was so long ago that no one can tell for sure whether it actually happened, but it does explain why the close is believed haunted.
The Grave Robbers
In the 1800s, medical sciences began to flourish and students flocked to universities to learn about anatomy. Cadavers were needed for these lessons, but up until this time only the cadavers of executed criminals could be used since this practice was considered taboo. However, with the reduction of executions being carried out in the early nineteenth century a problem arose: demands for bodies were high, but there simply weren't enough corpses for dissection to go around.
This led to the practice of grave-robbing. Body-snatchers lurked around cemeteries waiting for the dead to be buried, and later that night they would sneak into the burial yard where they would dig up the grave and steal the body. Of course, as churches caught on to what was happening in their graveyards, they started keeping watch, making it a lot more difficult for grave robbers to continue their business venture. But since there was still a lot of money to be made selling corpses this caused certain individuals to turn to crime; two of the most prominent names being Burke and Hare.
William Burke and William Hare were two Irish immigrants who arrived in Edinburgh in search of new opportunities. Seeing body-snatching was in high demand, they decided to make a business of it. The first body they sold was that of a man who died of natural causes, but they soon realized that they could make a lot more money by murdering people rather than waiting for them to pass. This lead to a murder spree across the city. The two men killed a total of 16 victims over the course of 10 months, all of which ended up in the anatomy lectures of Doctor Robert Knox who was a professor at the University of Edinburgh…
Hare and Burke were eventually caught and hanged for their crimes, but their legend still lives on in the city.
The Harry Potter Trail
Potter fans have good reason to come to Edinburgh. After all this is the city where J.K. Rowling drew much of her inspiration for the Harry Potter series.
One of the most popular spots is the Elephant House Cafe which we might call the birthplace of Harry Potter. This little coffee shop which overlooks Edinburgh Castle is where Rowling penned the first book of the series Harry Potter and the Philosopher's Stone. Today visitors can grab a cup of coffee and perhaps even snag a seat where Rowling herself sat.
For those with a big budget, the Balmoral Hotel is another spot that has shot to the limelight. This hotel is where Rowling completed the final book of the series titled Harry Potter and the Deathly Hallows, and some of the hardcore fans have been booking themselves in at the same 5 star property where the author penned the novel. At almost £ 1,000 a night, Room 552 doesn't come cheap!
Next up is George Heriot's School, a striking building with grand turrets and many intricate carvings. Established in 1628, this school is believed to have provided some inspiration for the Hogwarts School of Witchcraft and Wizardry.
And last but not least, a certain tombstone in Greyfriar's Kirkyard has also garnered quite a bit of attention. In the Harry Potter books, Lord Voldemort also known as "He-Who-Must-Not-Be-Named", is said to have been born as Tom Riddle. It just so happens that there is a grave at Greyfriar's Kirkyard for a man by the name of Thomas Riddle, and this is reason enough for Potter fans to make the pilgrimage.
And these are just a few of the reasons why Edinburgh got me thinking of dark tales and grim characters.
Have you been to Edinburgh?
What city gets your imagination running a bit wild?