When I think back to my trip to Warsaw, most of those memories revolve around food. From bowls of chilled pink beetroot soup to steaming plates of hunter's stew, and strawberry-filled dessert pierogi to pints of the local brew; I feel like I spent most of my time eating and drinking my way around the city! So today I'm going to be sharing some of my foodie recommendations for anyone visiting. Here are some of my favourite food experiences you can enjoy in Warsaw, Poland!
Have lunch at a milk bar
What is a milk bar, you ask? Don't worry, I also raised an eyebrow the first time I heard the name. The term 'milk bar' is a misnomer; you don't go to a milk bar to drink milk – though some of the meals are dairy-based.
This type of establishment is similar to a cafeteria and you can order simple yet hearty dishes for really cheap. The first milk bar in Warsaw opened back in 1896, and these experienced a surge in popularity right after the First and Second World War due to their affordability.
Unlike your average restaurant, eating at a milk bar involves lining up to place your order, paying for your meal at the cash register, grabbing a tray, picking up your meal from a serving window, and taking the food back to your table. You don't come here for the customer service, but it's a unique experience and a must-do when in Warsaw.
If you're looking to visit a milk bar in the city, I'd recommend Bar Prasowy (their website is only in Polish, but you can grab the address off their Facebook page). The place is really popular with locals, it serves up great food, and it has a cool design. You can't go wrong with their potatoes with meatballs and a bowl of pink beetroot soup!
Take a pierogi cooking class
I really enjoy taking cooking classes wherever I travel – so far I've learned to make pasta in Italy, fish amok in Cambodia, and curry in Thailand – so it was only natural to sign up for a Polish cooking class while in Warsaw.
I joined Polish Your Cooking to learn how to make pierogi, and like any good cooking class, the day started with food, because there's no sense in being hungry in the kitchen! We had a small buffet featuring breads, deli meats and even pickled herring, and once we had snacked to our heart's content, it was time to get busy.
The plan that day was to create pierogi with 3 different fillings: 2 savoury ones for our main course and 1 sweet one for dessert. For the savoury fillings we mixed up one batch of ground beef and onions, and a second batch with cheese and potatoes. Then came the task of carefully pinching the pierogi so that the filling wouldn't leak once they were boiled. However, my favourite part was working on the dessert pierogi which we stuffed with strawberries, brown sugar, and vanilla-infused white sugar. I have a major sweet tooth, so this recipe was right up my alley! Once the dessert pierogi had been boiled, we sprinkled a little bit of cinnamon on top and it was pure magic.
Another reason I really enjoyed this class is because our cooking instructor, Michal, was a fellow traveller who has spent a lot of time travelling to different parts of the world to learn their recipes, so this meant we all had lots of travel stories to swap while cooking. Plus, you've gotta love an activity where you leave filling stuffed with delicious food! More details and photos from my cooking class in Warsaw over here.
Enjoy farm to table dining
Farm to table dining is a growing trend these days with a focus on acquiring food products directly from the producer and minimizing the time and handling that it takes for these ingredients to reach your dining table. Farm to table, in turn, is about eating locally, organically, and getting access to the freshest food possible.
For a little taste of this, I went to Na Lato, where the chef's original menu is based on high-quality, local and seasonal products that change throughout the year. The restaurant's name means 'for the summer' because it started out as a summer venue for food and drinks, but these days it's a permanent fixture that transitions for restaurant to cocktail lounge to dance floor as the night progresses.
Have a sip of the local brew
Whether you want to experience Warsaw's legendary nightlife, go on a vodka tour, or enjoy a drink at a relaxed riverside bar, there are plenty of options across the city.
Let's start with the Vodka Tour, which is not a pub crawl! If you want to learn about and sample Polish vodka, then this might be for you. Eat Polska offers guided tours that take you to various bars and restaurants around the city centre, where you can taste different types of vodka and dive a little deeper into the history of this popular drink.
If you happen to be in Warsaw during the summer months, then I would also suggest checking out the pop-up river bars. These are located along the left bank of the Vistula River and are all within walking distance of each other, so technically you can go bar-hopping. Some bars are sleek and have real furniture, others are more chill and have patio furniture, and then there are those that draw the hipsters with their pallets turned sofas. Whichever you choose, they all allow you to sink your toes in to the sand with a drink in hand.
Lastly, if you want to experience a proper night out in Warsaw, then Nowy Swiat is the place to be. The road is lined pubs and bars rubbing shoulder to shoulder, and it draws a mix of international travellers in their 20s. Just beware, things can get pretty rowdy along here – hence, why I tapped out early!
Join a walking food tour
Have you ever found yourself staring at a menu in a new destination thinking, "I don't know what anything is!
It's happened to me a few times and that's why I think food tours are such a good idea. These allow you to explore the cuisine through a local expert and figure out what dishes you enjoy most. Once you have a better understanding of the local fare, you can then confidently walking into a restaurant and order something other than pierogi, because you know, Warsaw has a whole lot to offer aside from these beloved dumplings!
Could I interest you in a bowl of bigos (hunter's Stew), a plate of placki ziemniaczane (grated potato pancake), or pączki (doughnut-like pastry with a sweet filling) for dessert?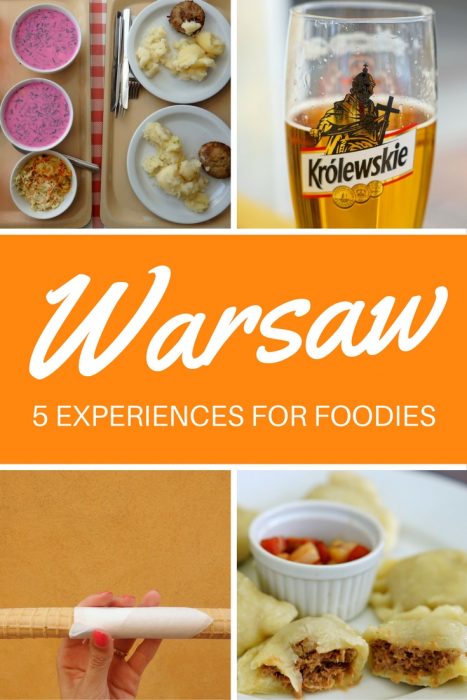 Have you tried Polish food?
What were some of your favourite dishes?