What are some traditional foods to try in Hungary?
When it comes to famous European cuisine, Hungary probably isn't the first country that comes to mind. Along with being largely underrated, its fare is often overshadowed by nearby neighbouring countries, or mistakenly overlooked altogether.
But Hungarian food is so much more than just Goulash and paprika, although both are prominently featured. With influences from the Turks, Austrians, and Germans (amongst many others), Hungarian cuisine has evolved to include a unique complexity of flavours and an abundance of ingredients.
Most dishes are notoriously heavy and deliciously rich, often cooked in lard and topped with cheese curd or sour cream. A few staple ingredients used in most recipes include pork or beef, cabbage, potatoes, and, of course, the most ubiquitous of all Hungarian ingredients: paprika. Ranging from spicy to smoky to sweet, this vibrant red spice dominates most dishes and is used commonly as a condiment as well as a seasoning.
From handmade pasta and dumplings to tenderly cooked meats and savoury soups, with exquisite and indulgent desserts, Hungarian cuisine definitely doesn't deserve to be overlooked.
Whether you're travelling in Budapest or elsewhere in Hungary, the following foods are a delicious introduction to Hungarian cuisine.
You can join a guided food tour to try some of these or seek them out on your own during your trip!
Traditional Foods to Try in Hungary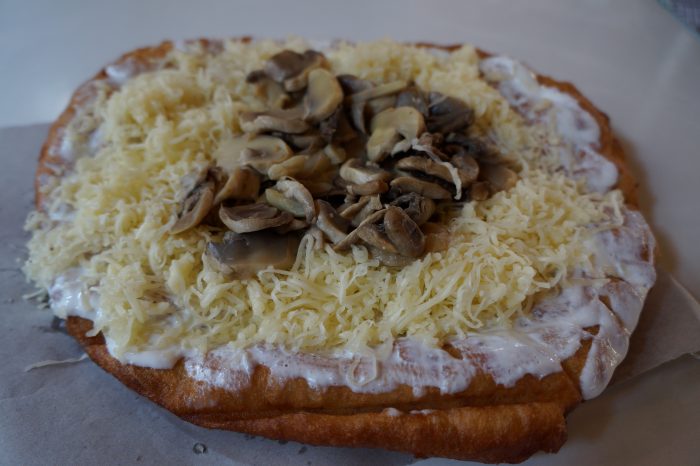 Lángos – Fried Dough
Lángos is the ultimate Hungarian street food: flattened, deep-fried dough topped with savoury ingredients, such as sour cream and grated cheese or garlic butter, although sweet versions are popular as well.
Its flavourful toppings, crispy exterior, and soft chewy centre make for a really heavy (albeit delicious) snack.
Paprikás Csirke – Chicken Paprikash
Another traditional food to try in Hungary is Chicken Paprikash.
This popular and flavourful dish is made with chicken stewed in a creamy paprika sauce, sometimes topped with a dollop of sour cream, and often served alongside noodles or nokedli (Hungarian dumplings).
The sauce is generally made with a sweet paprika, so it's a great dish to sample if you're sensitive to spice.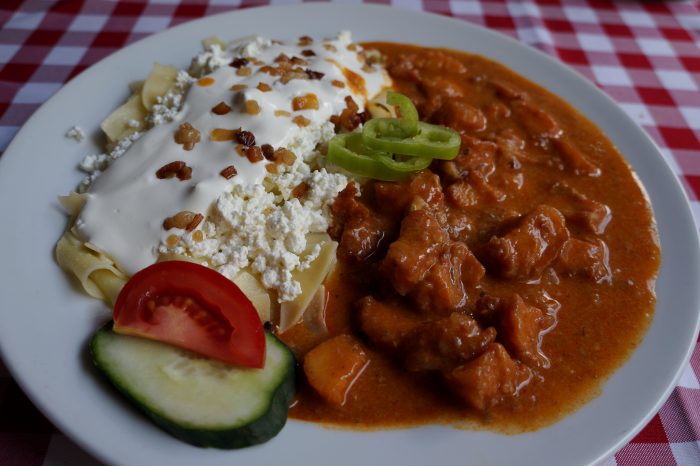 Gulyás – Goulash
Goulash is Hungary's most well-known national dish, but traditional Hungarian Goulash is quite different from the variations you'll find outside the country – it's more of a soup than a stew.
Primarily made with tender chunks of beef, vegetables, and plenty of paprika, with some versions including csipetke (hand-rolled pinched noodles).
It's hearty and comforting, with a distinct smoky, spicy-sweet flavour.
Halászlé – Fisherman's Soup
Goulash may well be the most infamous Hungarian soup, but halaszle is just as much of a national staple, and equally delicious.
It's characterized by a fiery red broth, made from fish giblets, paprika, peppers and onions.
The ingredients are simple, but the flavours are complex – it's spicy and savoury, with generous portions of melt-in-your-mouth freshwater fish fillets – usually carp, catfish, perch or pike.
Try it accompanied by a basket of sliced white bread and, you guessed it, more paprika – in the form of a spreadable hot paste.
Túrós Csusza – Curd Cheese Noodles
Another traditional food to try in Hungary is curd cheese noodles.
Only four ingredients make up this basic and tasty dish: túró (a fresh, soft curd cheese), homemade egg noodles, fried bacon, and sour cream.
The noodles, cheese, and bacon are mixed together, topped with sour cream, and heated briefly before serving.

Lecsó – Vegetable Stew
Lecsó is a versatile stew of tomatoes, onions, peppers and sweet or hot paprika.
It can be eaten for breakfast with a fried egg on top, served as a side dish, or enjoyed as a main meal with added kolbász (Hungarian sausage) or bacon.
Traditional Desserts to Try in Hungary
Hungarian confections are much like their savoury counterparts – decadent and incredibly delicious.
Naturally, I couldn't recommend just one, and you can't go wrong with any of the following.
Hungary's favourite cake is somlói galuska, made from sponge cake layered with chocolate cream, walnuts, rum and topped with whipped cream.
Kürtőskalács, or 'chimney cake' is baked rotisserie-style outdoors over charcoal, and topped with anything from cinnamon to walnuts, granulated sugar and caramel.
Kifli are a great lighter option: crescent-shaped pastries filled with a sweet walnut or poppy paste, and Krémes – a massive portion of custard between layers of pasty – are perfect if you prefer something rich and filling.
Now you have some ideas of traditional foods to try in Hungary during your visit. Bon appetit and Jo étvágyat!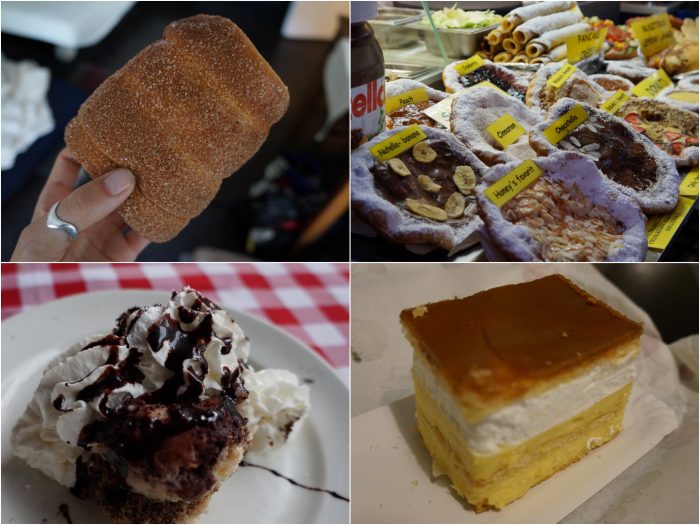 What do you think of Hungarian cuisine?
Have you tried any of these foods?