What's the longest flight you've ever been on? I think for me, it was the time I flew from Germany to Australia. That involved two full days of travel as I went from Frankfurt to Abu Dhabi, to Singapore, to Brisbane, to Townsville. Are you still awake? I know I barely was by the time I set foot off that fourth flight.
Travel can often be made to look glamorous on blogs and Instagram feeds, but if you've done one of these long-haul flights yourself, you know they are no joke – especially if you're flying economy!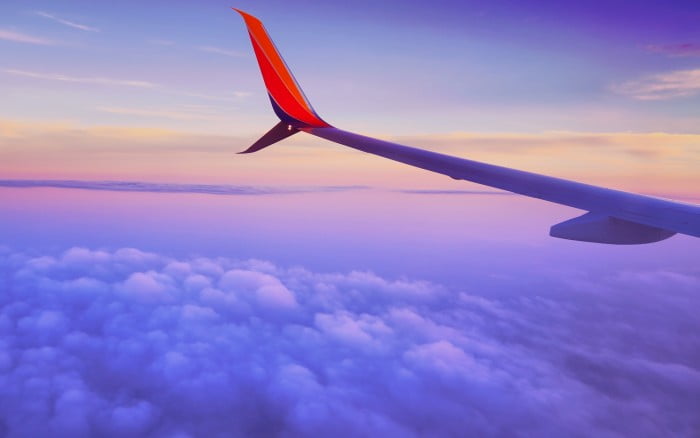 For today's post I thought I'd write up a list of carry-on essentials that help make long-haul flights a bit more bearable.
Carry-On Travel Essentials: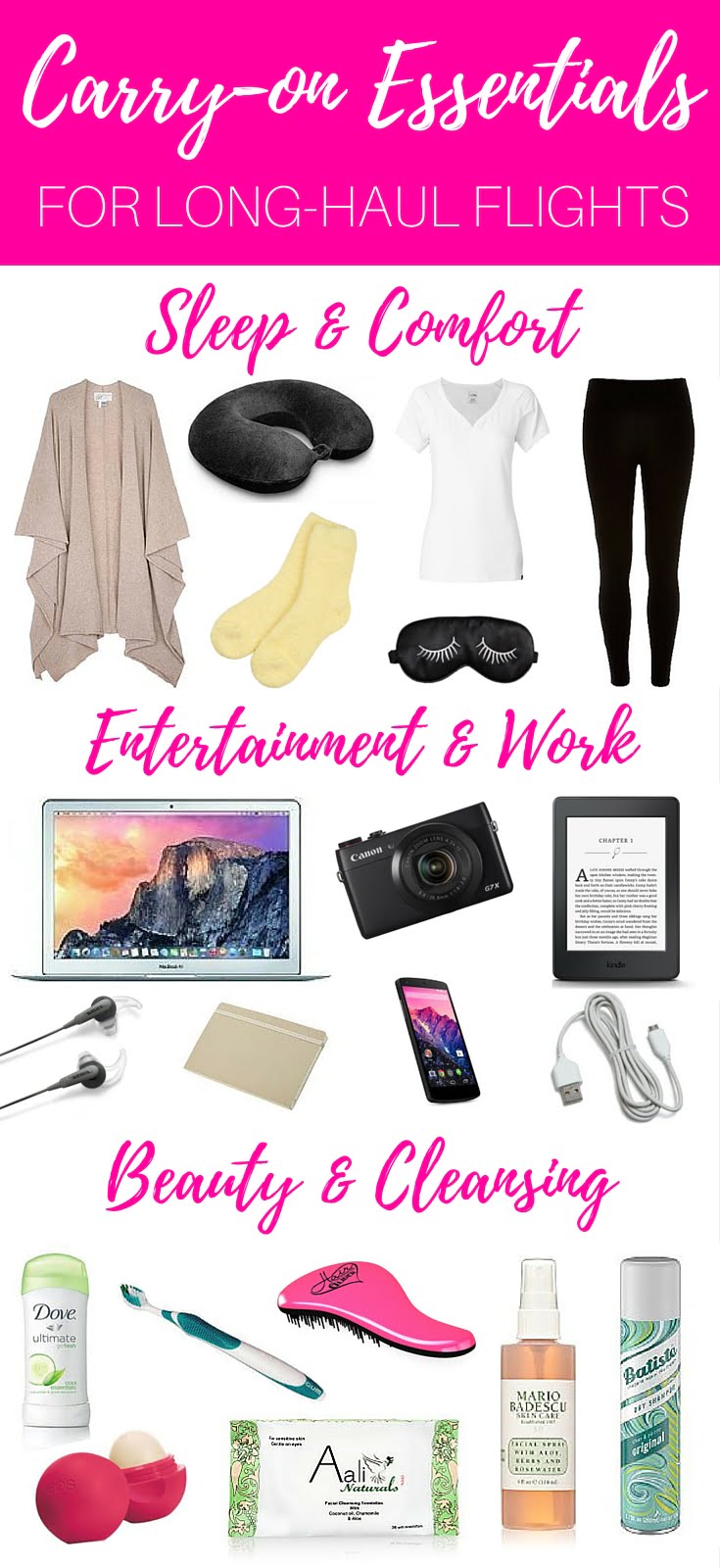 Sleep & Comfort
Neck pillow – To avoid a stiff neck after a long flight.
Silk eye mask – So you can sleep regardless of whether it's daylight or the lights are one in the cabin.
Warm socks – I'm always freezing on planes, so even if I'm travelling to a warm destination that will require flip flops, I also pack a pair of warm fuzzy socks for the flight.
Pashmina – It's multipurpose plus it keeps me warm.
Hoodie or wrap cardigan – Did I already mention I'm always cold on planes?
Leggings – Because they are super comfortable and probably more acceptable than changing into pyjamas.
Entertainment & Work
Kindle – I always keep my Kindle handy and loaded with 2-3 books. It's a nice way to pass time after watching a few movies.
Earphones – I used to think all earphones were created equal until my husband got me a pair that changed everything. I always thought audio was really bad on airplanes, but that's just because I was using the cheap earphones they hand out in flight. I don't carry large noise-cancelling ones because of their size, but that's something to consider if you're really into music and films.
Camera – To capture those spectacular sunrises and sunsets views if you luck out with a window seat.
Phone – I normally don't use my phone in flight, but I keep it fully charged in my carry-on bag for when I arrive at my destination. I save a map of the area on Google Maps, plot my hotel, and also make notes of transport options and any contact numbers I may need once I land.
USB to Micro USB cable – A lot of planes have USB ports nowadays (though some airlines still have some catching up to do!), which makes it a lot easier to charge things like your phone or Kindle in flight. I keep a charger in my bag just in case any of my electronics run low on battery.
Laptop – While I'm not one to pull out my laptop mid-flight (I find that the space is a little too cramped!) I know some people like to write or do a bit of photo editing while they're up in the air.
Notebook + pen – To scribble ideas and reminders, plus it's a good idea to keep a few pens handy for filling out immigration forms once you arrive.
Beauty & Cleansing
Toothpaste + toothbrush – If you're on a long overnight flight, the airline may hand out small complimentary toiletry kits, but I personally like to carry my own just in case.
Deodorant – Pretty self explanatory.
Wet wipes – Because that's as close as you're going to get to a shower.
Lip balm – I hate the feeling of dry lips so I always keep lip balm in my carry-on as well as spares in my luggage. I really like the EOS lip balm (the fun shape has something to do with it) or a stick of Nivea chapstick.
Hairbrush – Especially if you have long hair. Even a travel-sized one will do.
Dry shampoo – Greatest invention ever! I first discovered dry shampoo about two years ago and now I don't travel without it. It's not just great in-flight (you'll want something under 100mL in your carry-on), but it's also great for days when you don't feel like washing your hair.
Hydrating face mist – Another product that blew my mind the first time I tried it! Airplanes are really dry and this is such a nice way to rehydrate your skin (again you'll want to ensure it's a travel-friendly under 100mL bottle).
Now it's over to you:
What's the longest flight you've ever been on?
What were some of your carry-on essentials on that flight?
This article does contain a few affiliate links but they come at no extra cost to you.