Autumn is my favourite time to travel in Europe. The summer crowds have long left, the foliage turns into beautiful shades of crimson and persimmon, and the overcast skies really make the colourful architecture pop.
As a traveller, you can also find better deals on flights and accommodations, plus queues to popular attractions tend to be so much shorter, which is always a plus!
Packing for autumn in Europe is also a lot of fun because the cooler temperatures mean you have more pieces and accessories to play with, and who doesn't want to get dolled up in Europe?
Today I thought I'd share a girl's packing list for autumn in Europe (sorry boys!) to ensure you have all your essentials to stay stylish and warm.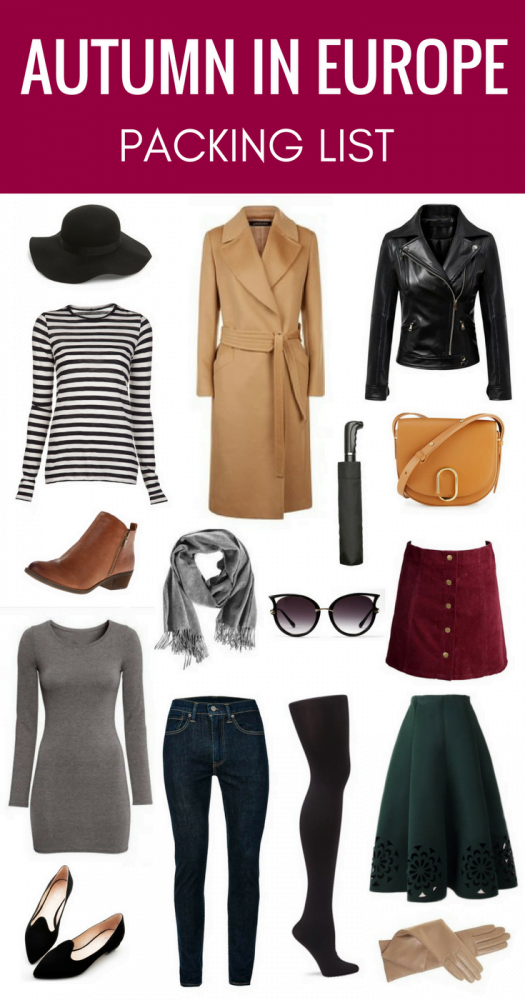 Packing for Europe in Autumn
Dress: I find that I like to wear more dresses than pants when I'm in Europe, so I'll usually pack 2-3 in neutral tones that can work with different jackets and accessories.
Skirt: I also like to bring a mix of skirts in different lengths (above the knee and below the knee) that can work for either day or evening.
Jeans: One pair in a dark navy shade or black should be good enough.
Jackets: I would suggest going with 2 jackets: one longer knee-length jacket for cooler days (the wool ones are a nice way to dress things up), and one lighter waist-length jacket for days when the sun is out.
Shirts: A mix of 2-3 long sleeves for cooler days, and 2-3 short sleeves that you can wear with a cardigan on warmer days.
Cardigan: Something in a dark or neutral colour that can work with the shirts you're bringing.
Knit sweaters: A mix of 2-3 in different lengths and patterns. Make sure they're not so bulky that they don't fit under your jacket of choice.
Boots: First up, choose comfortable walking boots that you've already worn in. There's nothing worse than trying to break in a new pair of boots when you're out sightseeing. You could either go with knee-high boots or ankle boots.
Casual shoe: I also like to bring one pair of comfortable walking shoes that I can fall back on if my feet need a break. These could be flats or your favourite pair of Converse shoes.
Dressy shoe: Not necessarily a must since you can always dress up your boots for evening, but Oxford pumps are pretty cute.
Socks: I pack a mix of thick wool socks to wear with boots, and no show socks to wear with dress shoes (you can either get to super thin ones in a neutral tone or go for something slightly thicker).
Sunglasses: I get my sunglasses from SmartBuyGlasses and they have a designer section with lots of different styles to browse.
Jewelry: I think dainty gold pieces look nice, but it's all about what you normally wear and feel comfortable in.
Scarf: Mornings and evenings can be a bit chilly, so a scarf is always a good idea.
Gloves: Fingerless gloves work well for autumn or you could also go with neutral leather gloves for something slightly dressier.
Handbag: I try to keep my purse on the smaller side of things, because I know that I'll otherwise fill it up. Make sure you're able to fit your wallet, camera, phone, and any other must-haves. I'm really into saddlebags at the moment.
Umbrella: A small but durable travel sized umbrella. This one hardly takes up any space, plus it's great to have on hand for those unexpected rainy days.
Hat: I really like to wear felt hats in autumn, but you could also pack a tuque for something a little more sporty.
Pantyhose: If you're packing dresses and skirts, you'll also want to bring tights. I usually just bring 2: one knitted pair with a pattern and another in opaque black.
Bathing suit: Just because it's cold out doesn't mean that you can't use the hotel pool!
Undergarments: Whatever you normally wear back home! Try to pack 1 week's worth of bras and undies, and then you can wash those as you go.
What are your must haves when it comes to packing list for autumn in Europe?