Allow me to introduce you to one of the most beautiful places on earth: the Whitsunday Islands!
When I was first invited to come visit Queensland, I knew I had to find a way to make it over to the Whitsundays. My fixation with these islands started about a year ago when I came across photos of what closely resembled paradise. Picture shallow waters in shades ranging from turquoise to azure, golden sandbanks freckled by the sun, and mangroves teeming with lush vegetation.
Now imagine having this place all to yourself!
Maybe it's because not many international travellers know about these islands, or perhaps it's that not many are willing to sail all the way out to them – whatever the reason may be, I can tell you that I spent a day sailing around the Whitsundays, and aside from a few sailboats out on the water, it was just me and the group I was travelling with. Perfect unspoilt paradise – and I hope it stays that way!
So where exactly are the Whitsunday Islands?
Well, I'm glad you asked! The Whitsundays are a collection of 74 tropical islands which lie off the coast of Queensland. The islands lie roughly between the towns of Bowen (to the north) and Mackay (to the south), and they are a great jump off point for exploring the Great Barrier Reef.
Also, have you ever seen that photo of a coral reef in the shape of heart? That is real! That's the Heart Reef and it's found in the Whitsunday Islands! The unique coral formation lies in the Hardy Reef and it can be seen if you take a helicopter or seaplane ride. How cool is that?!
For my visit to the Whitsunday Islands, Queensland I took a tour aboard the Derwent Hunter with Tall Ship Adventures. Departing from Abel Point Marina in Airlie Beach, we boarded this beautiful sailboat which dates back to 1946. As I walked towards this thing of beauty, I just kept thinking, "My dad would love this!" (My parents visited me in Israel last year, and now I'm thinking Australia should be their next destination!)
We slowly sailed away from the harbour and once we were out on the water it was time to get busy. The captain asked for a few volunteers and next thing you knew the crew was teaching us how to raise the sails. With a few vigorous pulls they caught the wind and we were off.
It was then time to eat a breakfast, which was a spread of chocolate cake, biscuits, tropical fruits, tea and coffee. Yum!
After sailing for a few hours and even having a dolphin for company, we arrived at our first stop of the day: Black Island, which is also known as Bali Hai. Still a short distance off, we jumped into dinghies which took us the rest of the way to the island. Here we had the option of snorkelling over the reef or hanging out on the beach. Aside from the lone osprey who was working on her nest, we had this island all to ourselves and the water was perfect!
After about an hour at Bali Hai, we returned to the sailboat and made the short journey over to Langford Reef. This is THE island that is used on travel brochures and commercials promoting the Whitsundays, so trust me when I tell you it is breathtaking!
The cool thing about Langford Reef is that when it's high tide, there is only a small stretch of sand left to walk on and it really feels like you're on a deserted island. Our captain was telling us that recently there was a very lavish wedding on Langford Reef and they timed it perfectly so that the bride walked down the aisle during high tide. This created the illusion that she was walking on water. How's that for a grand entrance?!
We had about an hour at Langford Reef and while most people went snorkelling a second time, I was just happy to walk the length of the sandbank and take lots of pictures.
After all that snorkelling and beach-combing it was time for a feast of a lunch! No one was hungrier than me, and I was first in line for a delicious spread of grilled meats and cold meats, pasta and vegetable salads, and an assortment of tropical fruits for dessert. There was plenty of food for seconds and it was nice being able to enjoy the meal out on the deck with the sun shining down. Add a very chatty group of travellers and we had instant friends for the rest of the day.
We then began our journey back towards Airlie Beach. With the sailboat right on course, the captain came to join us for a lesson on sea life and some of the sea creatures that live around the reef.
In his thick Aussie accent he informed us, "There is about a 90% chance that you swam on top of a White-tip reef shark today."
The boat went silent. This is the kind of thing you tell us beforehand!
"But don't worry, the sharks like to rest inside the caves. If you don't bother them, they won't be aggressive towards you."
Phewwwwww. Everyone breathed a sigh of relief.
Seriously guys, if you ever make it to Queensland, the Whitsundays should be at the very top of your list. I have been to a lot of beaches and I'm pretty picky about them, but the Whitsundays exceeded every expectation. You know how you sometimes wonder if the images you see online are going to live up to the reality of the place? Well the Whitsundays are even more pristine and magical than what you see in pictures!
Give yourself plenty of time here because one day is not enough to soak it all in!
Trip details:
I went on a full day sailing trip aboard the Derwent Hunter with Tall Ship Adventures. We departed at 8 a.m. and returned to shore at 4:30 p.m.
You'll want to bring your swimwear, a towel, sunscreen, flip flops, a hat, and a light jacket for windy days.
The price for an adult ticket it $179 AUD and that includes breakfast, a smorgasbord lunch, mid-afternoon snacks, snorkelling equipment including stinger suits, Marine Park fees and National Park fees.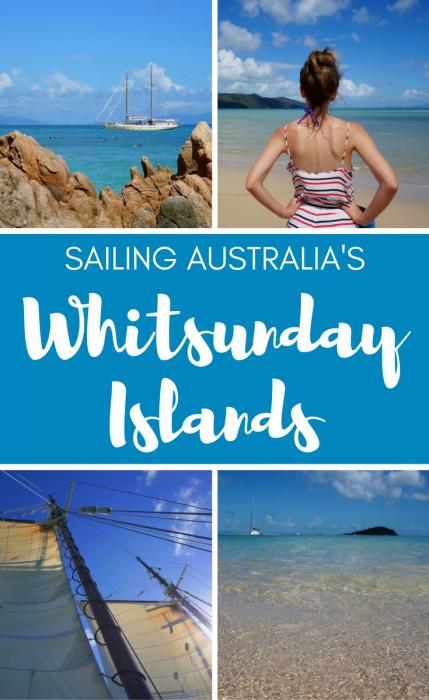 Have you ever heard of the Whitsunday Islands?
What's the best beach you have ever been to in Australia?