So you want to get that special traveller in your life the perfect travel gift but you don't quite know where to begin? Well, I have good news for you: travellers are very easy people to please!
It's true, being on the road has taught us to take it easy, be flexible, and carry few possessions, so when we get practical travel gifts – especially the kind we can bring on a trip! – we're happy. The best gifts for travellers are those we will use; things like packing cubes, a day pack, or even a camera to capture memories.
So with that in mind, here's a look at some useful gifts for travellers to consider, as well as a few fun ones to bring the spirit of travel into the home: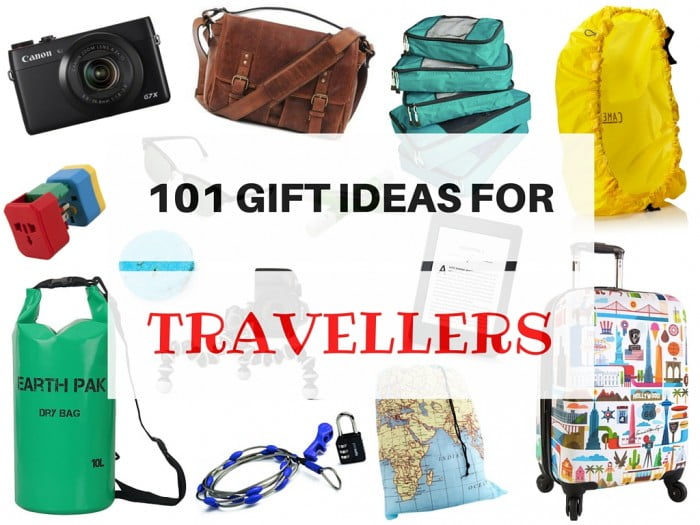 101 Gifts for Travellers
Travel Gifts $0-10
Sudoku Workbook – To keep you crunching numbers while you wait for your bus, train or plane.
Toothbrush Holder – So your toothbrush can also travel in style and not get bent bristles.
Laundry Bag – Travel-sized laundry bag with a world map design.
Colouring Books for Adults – To help you relax if you're a nervous flyer.
Sleeping Mask – Silk sleeping mask to catch some zzz's on the plane.
Foldable Flip Flops – Easy to pack flip flops for the beach or the hostel shower.
Luchador Bottle Opener – Because you can never find an opener when you need one, and this one makes for a great icebreaker.
Flashlight – Small travel torchlight in case you need to pack your suitcase at night without waking your dorm buddies.
Luggage Tag – Playful luggage tags to help you spot your bags on the carousel.
Dry Shampoo – Spray in shampoo for days when washing your hair isn't an option.
Buff – Hide messy hair, use it as a headband, wear it as a scarf, and more. This has 12 styles in 1.
Luggage Lock – To keep your belongings safe and secure.
Aquapac Waterproof iPhone Case – Keep your iPhone dry when you're out on the water.
Laundry Clothesline – Comes with attached pegs so you can hang your clothes to dry wherever you are.
Tiger Balm – Because this stuff treats aches, pains, and colds.
Nail Polish Remover Pads – So you can still change up your nails.
Movies that inspire wanderlust – My personal favourites are Lost in Translation, Tracks, and The Motorcycle Diaries.
Playing Cards – A fun way to pass time on a travel day.
Headphone Splitter – So you can share movies and music with friends.
Selfie Stick – We love to hate it, but it makes for great group and solo shots.
Travel Spice Kit – For the travelling gourmand who likes to cook even on holiday.
Bra Holder – So your bras don't get crushed and bent.
Travel Gifts $10-25
Quick Dry Microfiber Towel – Fast drying towel that's perfect for travelling in hot climates.
4-in-1 Adapter – Colour coded adapter to keep you connected in 150 countries.
Grid-It Electronics Organizer – To organize all those electronics you bring along.
Travel-sized Nail Kit – For manicures on the road.
Lokai Bracelet – A reminder to stay grounded. It contains elements from the highest point on Earth (water from Mount Everest) and the lowest point on Earth (mud from the Dead Sea).
Luggage Scale – To make sure your luggage isn't over the weight limit before you reach the airport.
Travel Watercolour Set – For the travelling artist.
Power Bar – For when you need to charge several electronics at once.
Solid Shampoo – So you don't have to worry about leaky shampoo bottles in your backpack.
Dry Bag – To keep your electronics dry on kayaking, rafting, or beach outings.
Compression Socks – Ideal for those long-haul flights.
Tripod – Lightweight tripod that won't break your back or the bank.
Collapsible food containers – For packing those picnic lunches on the road.
Headlamp – LED headlamp to help you find your way in the dark.
Throw Pillows – From airport codes to wanderlust filled quotes.
Travel Journal – Moleskin journal for travellers making notes and observations.
Lonely Planet's The World – A travel guide to the planet in case you're not sure where you want to go.
Memory Card – To hold all your travel memories.
Sarong – Because it's versatile and can go from beach coverup to blanket.
Wet Wipes – When showers aren't an option.
Travel-sized shampoo bottles – Only take what you need!
Reading Light – So you don't keep everyone in the hostel dorm awake.
Portable Speaker – So you can rock out to your favourite tunes.
Coffee Mug with Airport Code – To make your morning coffee at home extra special.
Collapsable Water Bottle – So they won't make you throw your drink away at the airport.
Backpack Raincover – For those torrential monsoon downpours, but also to protect your bag as it goes down airport conveyor belts.
Compression Sack – Helps compress clothes and create more space in your backpack.
Compass – A professional compass for adventurers who like to stray off the path.
Thermal Underwear – For trips to wintry destinations.
Travel Tote – Travel inspired tote bag for a day of sightseeing.
Summer Hat – Fun straw brim fedora for warm climates.
Travel Gifts $25-50
Gorillapod – More flexible than a tripod for all those hard to get shots.
Packing Cubes – To help keep your clothes organized while you travel.
Toiletry Kit – So you're not fumbling for your toiletries in the hotel bathroom or the hostel shower.
Travel Quote Phone Case – "I haven't been everywhere but it's on my list" phone case.
Airport Code T-shirt – Show off your hometown's airport code wherever you go.
Warm Fleece Jacket – For cool climates or icy bus rides with too much AC!
Scratch Off Map – Map where you can scratch off the countries you've travelled to.
Computer Sleeve with World Map – Colourful world map so you can dream of travel wherever you go.
Trekking Poles – For the avid outdoorsman planning to do some trekking.
Makeup Bag – "Jet lag made me do it" make up bag.
Sleeping Bag – Ultra-compactable mummy sleeping bag for campers.
Travel J Pillow – To help you find a cozy spot even on the most uncomfortable of places.
Hiking Boots – In case you're hitting up the Inca Trail or the Annapurna Circuit.
World Puzzle – A 4000 piece puzzle that forms the world. Knowing your geography helps!
External Hard Drive – To back up your files while you travel.
Yoga Pants – For stretch and comfort on long travel days.
World Map Necklace – So you can carry your love for travel around your neck.
Day Pack – Light pack to carry your essentials for a day out exploring a new city.
Cork Globe – To showcase where you've been.
Canvas Shoes – Comfy Toms that easily slip on and off.
Travel Magazine Subscription – National Geographic, Lonely Planet, AFAR, and more.
Throw Blanket – World map throw blanket for the home.
Inflatable Wine Bag – So you don't have to wrap your wine in sweaters and hope it arrives intact.
Pacsafe Adjustable Cable Lock – So you can secure several items in one go.
Travel Gifts $50-100
Kindle Paperwhite – So that books don't weigh down your pack.
Backpack Safety Mesh – To keep your belongings safe while you travel.
Silk Travel Sheet – In case you don't trust the sheets in your hostel dorm.
RayBan Sunglasses – Clubmaster sunnies for when you hit the road.
Fun Shower Curtain – A shower curtain with airport codes to inspire your next adventure.
Fujifilm Instax MINI 7s – Because mini polaroids are a fun way to capture your memories.
ENO Hammock – For lazy naps wherever you go.
Lomography Diana F+ – For those who like to get experimental with their film photography.
Travel Gifts $100-200
Heys Carry-on – Carry-on luggage with a fun travel theme.
Waterproof Fujifilm Camera – For those beach and poolside shots where you don't want your DSLR camera to get ruined.
Leather Weekender Bag – For a city escape in style.
Rosetta Stone – Language course that will help you learn German, Spanish, Japanese, or any other language you desire.
Globe Bar – Yes, this is a 16th-century imitation globe that holds your booze in style.
iPad Mini – So you can still stay connected but you don't have to carry a laptop.
Travel Gifts $200-500
Osprey Wheeled Backpack – You can wheel it or wear it as a backpack. Read on to see why it's the best bag for travel.
Triclimate Jacket – Bring on the wind, rain, and snow.
ONA Bag – Handcrafted leather bag that fits a camera, lenses, and laptop.
Noise-cancelling Headphones – Noise-Cancelling headphones by BOSE so you won't hear a peep, except for your music.
Travel Gifts $500+
GoPro HERO 5 Starter Bundle – The most advanced GoPro yet and it comes with the ultimate camera kit.
Canon Powershot G7 X mark ii – Top of the line versatile camera ideal for photos and video.
Panasonic GH5 – For the videographer looking to up their game.
DJI Mavic 2 Pro – One of the latest and bestest drones out there.
AirBnB Gift Card – Give the gift of travel anywhere in the world.
Flight – A round-trip flight to a dream destination.
So there you have it, 101 gifts for travellers for that special someone in your life. Most are practical gifts that you can use while you travel, but there area few splurges and few fun ones for the home thrown in there as well. Happy shopping and happy travels!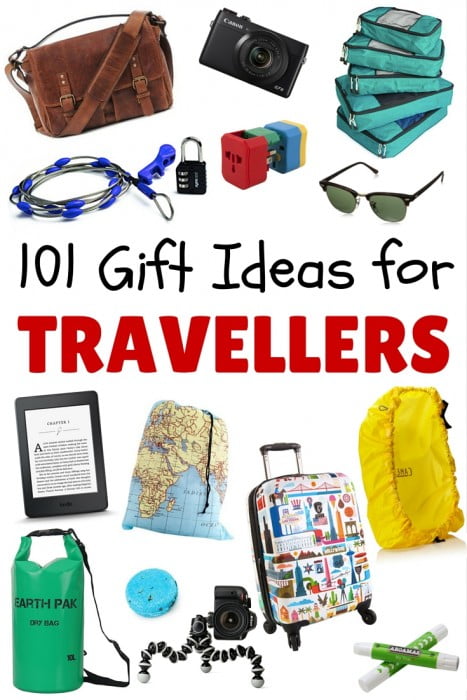 Do you have any other gifts for travellers on your wishlist?
This post does contain affiliate links, which means that if you buy something through them, I earn a small commission at no extra cost to you. It helps me keep this blog running!