After three weeks of solid travel in Lima, Cuzco, Machu Picchu and Lake Titicaca, Sam and I were beat and ready for a little travel break. The answer to our weariness was Copacabana, and I'm not talking about the famed beach in Rio de Janeiro!
Copacabana is a laid-back little town in Bolivia that sits right on the shores of Lake Titicaca. It has a beautiful harbour, great sunsets, and it's small enough that you can walk wherever you need to go.
There isn't a whole lot here in terms of attractions, but that didn't matter since we were mostly looking to rest. We ended up spending 5 days in this little hippie paradise and this post will highlight some of the things you can get up to if you do decide to visit:
Stay in a quirky house on Lake Titicaca
If you're looking for accommodations unlike any other, I would suggest booking a room at Las Olas like we did. They have a collection of out-of-this-world cottages; some of them are terracotta rondavels with swirling roofs, and others are more like rustic treehouses with floor to ceiling windows.
We had read in our guidebook that these cottages need to be booked well in advance because they're usually full, but we got lucky being there during the rainy season and we managed to snatch one on the spot! I should also mention that this property has terraced gardens with roaming llamas, a hot tub overlooking the harbour, and plenty of hammocks to lounge on. I almost don't want to admit it, but we spent more time enjoying our funky little cottage than we did exploring the town!
If for some reason Las Olas is booked up, their sister property La Cupula, is also a pretty cool spot right next door. Their construction has a bit of a Santorini feel with white-washed buildings, blue-stained glass accents, and rooftop domes.
Watch a car blessing ceremony
In the town of Copacabana you can get your car blessed. Yes, you read that right.
This is a pretty unusual ceremony that I haven't encountered anywhere else in the world, and it's pretty fascinating to watch. The car blessing ceremony takes place just outside the cathedral where a priest walks around spraying holy water on an assortment of minivans, pickup trucks, buses, and cars so that they'll all have safe journeys on Bolivia's perilous roads.
But this isn't just any old blessing; at times this feels more like a party. Just outside the church you'll find a row of vendors selling trinkets to deck out your car like it's parading in Carnival. You can buy flowers, confetti, streamers, party hats, and even bottles of sparkling wine…to spray on the cars, not to consume while driving.
This is about as unusual as it gets.
Spend an afternoon on the lake
Copacabana has a really nice harbour and while you couldn't dare me to dip a toe in the chilly waters of Lake Titicaca, there's actually a lot you can do in terms of water sports. Sam and I ended up renting a paddle boat that looked like a duck and didn't steer too well, so it turned into a bit of an adventure.
We saw other people renting kayaks and jet-skis, and there were also these weird cylindrical contraptions that you could run around in much like a hamster ball on the water.
Eat grilled trout at the beach stands
I'm not going to lie to you, the food in Copacabana was pretty sub-standard. The one time we ordered nachos we got a plateful of Doritos with a ketchup based tomato sauce, and then when I tried ordering pasta I got a plate of spaghetti floating in water with a bit of a diluted tomato paste. Not impressed!
While most restaurants failed to tickle my taste buds (we eventually decided to stick to hotel restaurants and that was better), the one dish that did not disappoint was the grilled trout. This is considered to be a bit of a local specialty and it's fished straight out of Lake Titicaca. The boardwalk is lined with a series of tent-like eateries where you can get a plate of grilled fish with a slice of lemon, and it's probably the best meal you'll have in town.
Take a day trip to Isla del Sol
A popular day trip from Copacabana is to Isla del Sol, which translates to "the island of the sun". The north end of the island is home to some ruins, including: Chincana, Mesa de Sacrificio, and Roca Sagrada (though I didn't find them particularly impressive after seeing some of the ruins on the Inca Trail to Machu Picchu).
Isla del Sol also has its own Inca Trail that runs from the north end to the south end of the island. The boat captain will try to tell you that this only takes 2.5 to 3 hours, but don't believe him!
There are two trails (one that runs by the water and another that weaves through the mountains); if you're walking up to the ruins and then doing the 8 kilometres across to Yumani using the harder trail, it'll take you closer to 4 hours. It's a very steep walk with lots of uphill stretches towards the beginning, and due to the high altitude, I found that I needed to take breaks quite often. We had to hustle in order to reach the opposite end of the island before the boat left, and we only made it with 10 minutes to spare.
You should also be prepared to pay a series of tolls for using the trails and visiting the ruins along the way (I paid 10 Bolivianos at the first toll, 15 at the second toll, and 5 at the third toll). If you don't want to walk across the island, you can have the boat pick you up at the first drop off point in Challapampa.
Another option is to spend a night or two in Isla del Sol. The island has a few basic hostels and the beach north of Challapampa is a popular hippie camping spot – expect lots of tents, people braiding hair, and drum and guitar circles.
In retrospect, 5 days may be a bit too long to spend here if you're looking to tick off attractions, however, if you just want to relax and enjoy some pretty epic sunsets over Lake Titicaca, this isn't a bad place to be.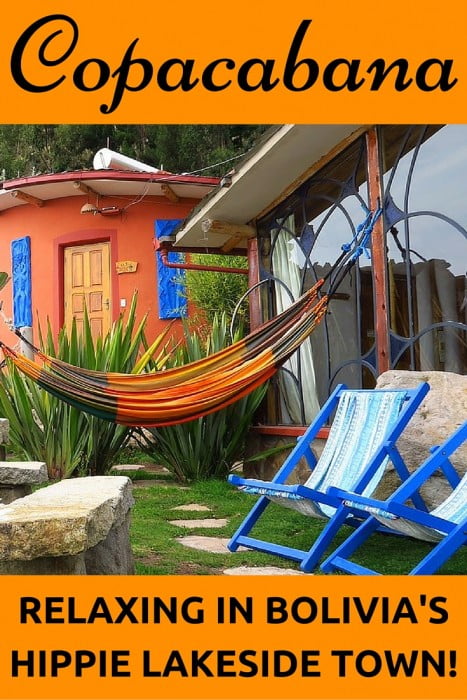 Have you ever been to Copacabana?