Today I'm going to share all about my homestay on Lake Titicaca! Despite having travelled to Peru countless times, this was one of those destinations that had somehow managed to evade me.
That's why after eating my way through Lima, spending a few days soaking in Cuzco's history, and walking the Inca Trail to Machu Picchu, I finally boarded a bus to Puno: the jump-off point for exploring Lake Titicaca from the Peruvian side.
I didn't want my visit to feel rushed and I knew I wanted plenty of time to explore the islands, so this is why I decided to go with a 2-day overnight tour as opposed to your standard day trip. That, plus when I heard there was an option to do a homestay on Lake Titicaca, I was sold!
For anyone thinking of doing a similar tour from Puno, here's a look at what to expect:
Uros
Day 1 started bright and early with a 7 a.m. pick up from our hotel. From there we drove down to Puno's harbour where we met our tour guide and boarded the boat that would take us out to Lake Titicaca. We lucked out with a small group of 8 people that really gelled together, which makes the world of a difference when you're travelling on a guided tour.
Our first stop of the day was Uros, which is home to the Uru people who live on floating islands made out of reeds. It's hard to imagine what would drive people to build their homes atop the world's largest navigable lake when there's plenty of land available, and the reason for that is purely defensive. If a threat ever arose, the Uru could make an escape and relocate their man-made islands elsewhere.
As for the number of islands that make up Uros? That's difficult to say because the number is always fluctuating. Our guide explained that several families can live on one island (small islands may have 3 families while larger islands have up to 10), however, if disagreements arise, the families can sometimes cut their islands in half and drift apart. How's that for solving a disagreement?
The Uros Floating Islands welcome guests during the day, and we ended up visiting one called Corazon del Lago, which translates into 'the heart of the lake'. The local authorities are responsible for deciding which island travellers get to visit so that there's a fair rotation through the community. Our island was home to 3 families, and after a warm welcome, we sat down on a reed log for a brief history.
Here we learned that living on a floating island is hard work. During the rainy season, the island has to be replenished with fresh reeds once a week (this is because the reeds take on moisture and begin to rot, which causes the ground to become wet), however, during the dry season this task only has to be done once a month.
The high humidity that comes from living just a few feet above the water also means that many of the people on the island suffer from rheumatism at a very young age. Keeping their homes dry is a top priority, and one of the ladies on the island was kind enough to invite us into her home where she proudly pointed out the wooden floorboards that help keep some of the moisture out.
After visiting Corazon del Lago, we continued on towards the island of Santa Maria. Here we had the option of continuing aboard the main boat we came in, or boarding a reed boat and rowing over to the main island. You can probably guess which one I chose.
In comparison to the first island, Santa Maria felt quite touristy. There were a few shops with souvenirs, there was a little cafe selling snacks, and you could even get a Lake Titicaca stamp in your passport for 1 sol…which I gladly did.
After a bit of time to shop on the island and snap a few photos, we hopped back on our boat and continued on to our final destination for the day.
Amantaní
From Uros, we took the boat to Amantaní where we would be spending the night. When we arrived at the shore, there were several families waiting to take guests back to their homes.
Unlike the Uros Islands which are home to the Aymara, the people who live on Amantaní are Quechua. I found it fascinating that 2 completely different cultures can flourish so close to each other; they each have their own language, their own clothes, and their own belief system.
Tourism is an important industry on the island, and they've set up a rotation system amongst the various communities so that each family has a chance to host visitors and supplement their income. The families get to host 10 guests (not all at once), and then this task is passed on to another community on the same island. I asked my host family how often they receive visitors and they told me that they get 10 guests every 2-3 months.
One thing that I really appreciated about this visit was the opportunity to sit down with a few of the women and hear a bit about their way of life on the island. Here we learned that they focus on agriculture and that they plant enough potatoes and corn to feed their families, but they don't plant any surplus to sell off the island. They also lead a vegetarian diet, whereas some of the neighbouring islands fish and grow their own meat.
I was also surprised to learn that the beautiful blouses the women wear are actually embroidered with flower motifs by the men. (I'd like to see my husband try to embroider anything!) The men of Amantaní take great pride in this since an embroidered wardrobe is their gift to their wives on their wedding day.
It was also really fun having the women of Amantaní ask us questions like: How many children do you want to have? What do you do for work? And my favourite, do you grow your own corn and potatoes at home? Everyone in our group had to admit their lack of knowledge when it comes to farming.
When it came to meal times in Amantaní, it was interesting to see how the women use staple ingredients to create varied meals. For lunch we had a quinoa soup with carrots and potatoes, followed by a main that consisted of boiled potatoes, fried cheese, rice and salad. Then for dinner, we had a cornmeal soup with carrots and potatoes, followed by a plate full of rice with a tomato and potato omelette overtop. The meals were simple, but they were far from bland.
As for the homes on Amantaní, they too were quite varied. There are homes on the island that have outdoor bathrooms with running water, and others that only have outhouses. There are homes that run on solar power, and others that have no electricity.
As we were travelling towards the island, our guide asked us if we had a preference for a rustic homestay or if we wanted something with a few more conveniences. I ended up in a home that had both electricity and an outdoor flushing toilet, neither of which I had been expecting. If you're a bit apprehensive about doing a homestay, just chat to your guide in advance and they will try to accommodate your personal preference.
That afternoon in Amantaní, we went for (a very steep) hike that left me breathless. The island has two peaks: Pachatata, which means Father Earth; and Pachamama, which means Mother Earth. We climbed the latter. The plan was to watch the sunset, and despite the overcast skies, the views of Lake Titicaca were spectacular.
After dinner that evening, it was time for one last outing. Our family let us borrow their traditional clothes (judging from their laughter, I think they found it just as amusing as we did), and then they took us to a party at the community hall where there was a live band playing. I realize this is an event that they just put on for the tourists, but regardless of its authenticity, it was still a really fun night with lots of picture-taking and dancing.
The following morning, we bid our host family farewell at the pier and boarded the boat towards Taquile.
Taquile
Taquile is a pretty special place because the island has received UNESCO status for its "Masterpieces of the Oral and Intangible Heritage of Humanity". Taquileños are known for their handwoven textiles, particularly knitting, which is performed by men starting at the age of eight.
Like Amantaní, Taquile is also Quechua, however, some of their traditions differ. One of the first things we noticed is that the people dressed differently. While in Amantaní the women had black scarves embroidered in colourful motifs, in Taquile they wore black scarfs with colourful pom-poms tied on the end (these indicate that a woman is single).
We also learned that the way men wear their hats in Taquile can say a lot about their current mood: flipping their chuyo to the right means they're happy, flipping it to the left means they are sad, and flipping it back means they are having an average day. Also, the type of hat a man wears can indicate whether they are single (white and red hat), married (red hat), or if they are an authority figure (wear both a chuyo and a leather hat).
Another fascinating thing was learning that when the women get married, they cut their black tresses and weave these into a belt that they make for their husbands. This belt is the equivalent of a wedding ring. In return, the men have to buy the women a collection of skirts, and the women are expected to wear anywhere between 25-30 of these on their wedding day. I can only imagine how much that weighs!
After walking around the island and learning a bit about the local culture, we had a delicious lunch. Unlike Amantaní, this island is not vegetarian, so they had trout on the menu. We enjoyed our lunch outdoors, and then it was time to walk to the harbour on the opposite side of the island where we hopped back on the boat and returned to Puno. And that was the end of the 2-day adventure.
Final thoughts?
In case you couldn't tell from this really long rambly post, I loved it!
Lake Titicaca is hands down one of the coolest places I have ever visited and it was well worth the journey. Seeing the Uros Floating Islands was pretty cool, but my favourite part was getting to spend the night with a host family in Amantaní, sharing meals with them in their kitchen, and asking questions about their day to day life.
So if you come to Peru, try to tack on a detour to Lake Titicaca!
Cost of tour + homestay on Lake Titicaca
I booked my 2-day tour of Lake Titicaca (including visits to Uros, Amantaní, and Taquile) through All Ways Travel. They came highly recommended in my Lonely Planet guide, and I have to agree, their service was great. They picked us up in a timely manner, we had a local guide who was very knowledgeable, and we also travelled as a small group, which made the experience all the more pleasant.
Here's a break down of the cost of this trip:
90 soles for the tour (this included hotel pick up and drop off, a guide for the duration of the trip, and boat transportation to the islands)
45 soles for the homestay family (this is for the accommodations, plus lunch, dinner, and breakfast)
10 soles for the boat ride in Uros (this is an optional ride on a reed boat)
20 soles for lunch in Taquile (this is a traditional trout lunch at a local restaurant)
Aside from this, you may also want to bring a few extra soles to tip your guide and the boat captain, as well as purchase a few souvenirs on the islands. As a final suggestion, don't forget to get travel insurance before your trip. This should go without saying as you should always be covered when you travel, but even more so when you're travelling to a place that is quite remote and isolated. Best to be safe than sorry!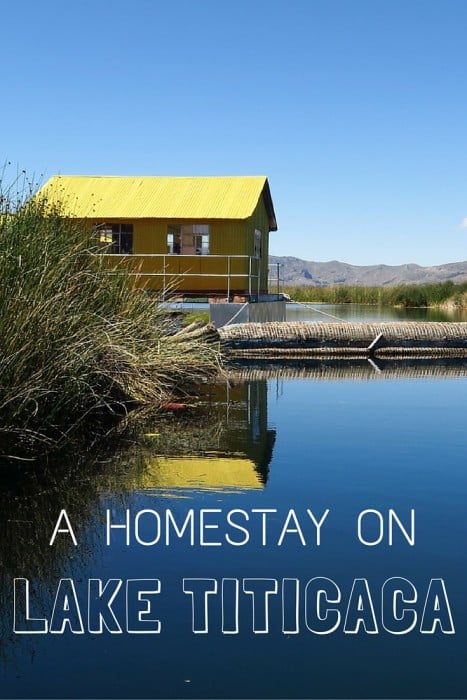 Have you ever done a homestay on your travels?
How was it?