Traditionally taking place just before Lent begins, Carnival is a time to be a little bit naughty before you spend 40 days being nice! Through its origins are of a Christian nature and pagan festivals before that, over time, Carnival has evolved from a religious celebration into more of an international festival with music, parades, and some elaborate costumes. Countries have also incorporated their own cultures and traditions into their celebration, meaning that Carnival around the world is quite varied. This article is going to highlight 10 destinations around the world where you can experience the Carnival – each with their own flair!
Carnival around the world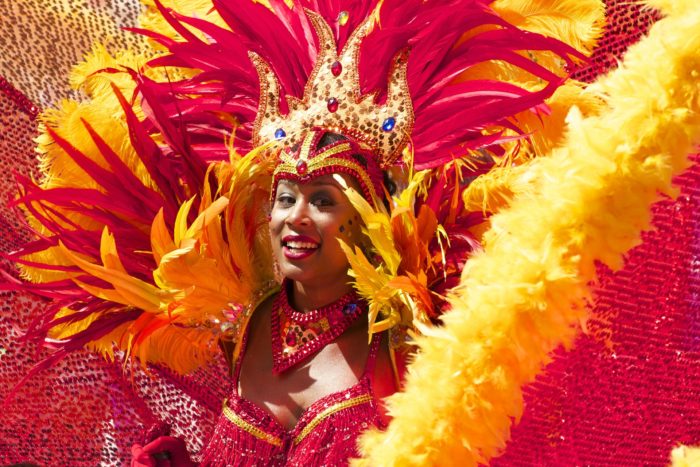 Photo via Pixabay CC0
Rio de Janeiro, Brazil
If you only make it to one Carnival in your lifetime, it should be Rio de Janeiro's Carnival. It's widely considered the biggest Carnival in the world with well over 2 million people hitting the streets each year.
A visit to Rio de Janiero during Carnival means getting involved in the dancing. The parades each day showcase different Samba schools from around the country as they make their way down the Sambodromo.
In addition to the parades, there are also street parties, a Carnival Ball, and beach parties around the city, especially on Copacabana Beach. Since it's such a popular time to visit, be sure to book your accommodations at least four to five months in advance, if not sooner if you're visiting Brazil!
Trinidad and Tobago
Carnival in Trinidad and Tobago is a huge event that takes place over the Monday and Tuesday before Lent begins. On both days, you can watch enormous parades with as many as 300,000 participants dressed in sparkling bikinis, feathers, and beads, plus you can also listen to steel pan music. Just be aware that everyone joins in and you'll be expected to join in, too!
Most of the partying takes place on Trinidad, so if you can only handle one day of partying, pop over to Tobago for a little bit of peace and quiet. It often gets ignored during this festive period, making it the perfect way to finish off a trip to the country.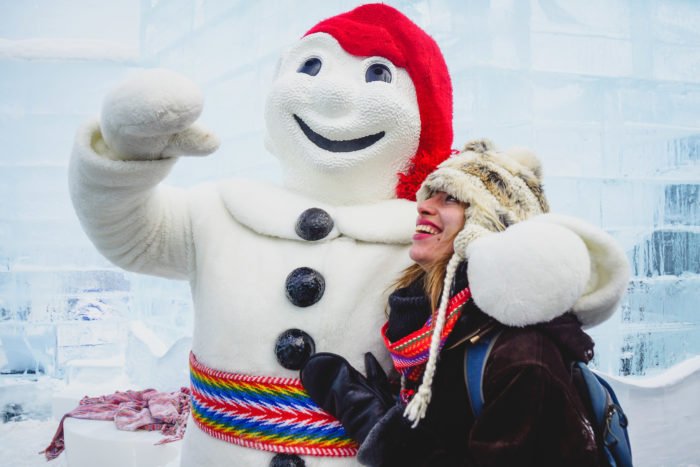 Quebec City, Canada
Carnival in Quebec City, better known as Carnaval de Quebec, is a winter carnival that takes place for about four weeks between January and February. It's the most fun that you could possibly have in such a cold climate. There are ice canoe races, snow and ice sculpture competitions, big parades, and plenty of food and drink to enjoy.
Carnaval is a time where the people of Quebec City gather to celebrate winter in their hometown, so if you don't know much about the culture of this province, this is the perfect time to visit.
Oruro, Bolivia
Oruro probably wouldn't make the map for many travellers if it weren't for its extravagant Carnival in Bolivia. This normally sleepy mining town comes alive for one of the best Carnival celebrations in South America. One of the things that makes it so special is the folk dancing and extraordinary Bolivian costumes that many of the locals wear during the event.
A few main events to enjoy during Carnival in Oruro are the opening ceremony where marching bands pay tribute to the Virgen del Socavón; the celebration of Anata Andina where locals give thanks to the god, Pachamama, with music, costumes, and dancing; and the Friday night Soiree that takes to the streets with drinking, dancing, eating, and more drinking until the wee hours of the morning.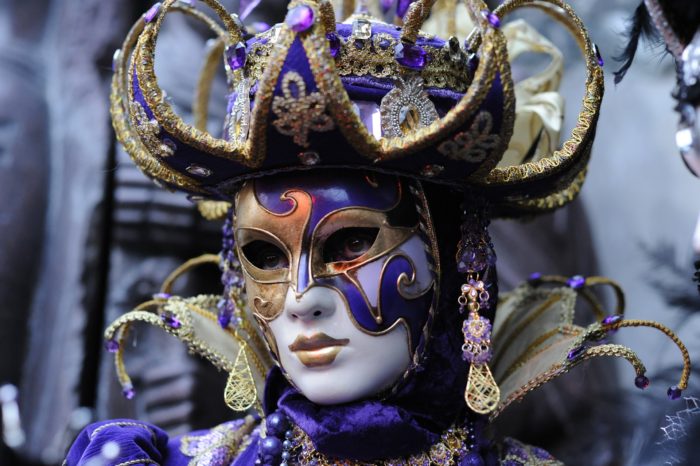 Photo via Pixabay CC0
Venice, Italy
The Carnival of Venice, or Carnevale di Venezia, is an exciting and magical event. Be sure to purchase a mask when you get there so you can really feel part of the festival. The masks have played a huge role in Carnival in Venice since the festival began during the Renaissance.
But it's not just about masks, there are Carnival balls and parties, parades along the canals, and daily events in Saint Mark's Square. The square is also a great place to find out about other events taking place throughout the day, plus join in on the action.
Mazatlán, Mexico
Mazatlán is one of the best places in Mexico for Carnival. This gorgeous coastal city has been hosting a weeklong Carnival celebration for 120 years. Each year, there is a different theme which dictates what costumes participants wear and what shows and parades look like.
Every night of the festival there is a different event. You can choose to go to only some of them, or you can book well in advance for all of the events. Most of the events require tickets that you'll have to pay for before Carnival begins, so make sure you plan well in advance. There are also free events and parades to enjoy in the downtown area and around the beach, but the big shows and art events are held behind closed doors.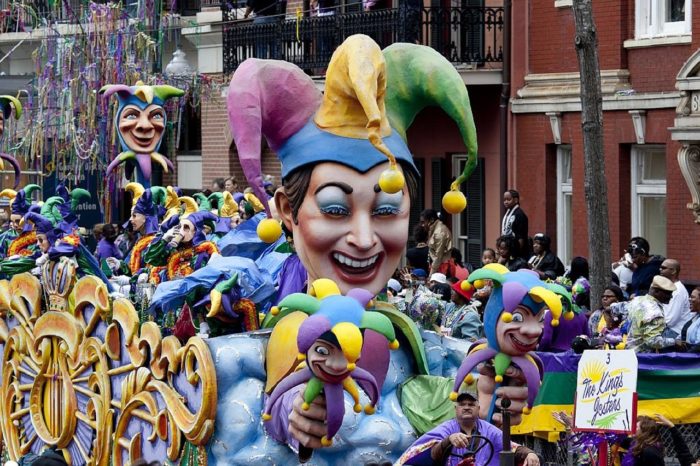 Photo via Pixabay CC0
New Orleans, USA
Carnival in New Orleans goes by a different name, Mardi Gras. Mardi Gras is one of the biggest festivals in the world and is famous for being one of the best yearly parties thrown in the entire USA.
There is a parade almost every day of Mardi Gras where visitors line the streets, stand on overlooking balconies, and even join in to dance every once in a while. The parades are called Parade Krewes and each one has a totally different theme, so you'll definitely want to catch a few of them.
By the end of the week, you're sure to have collected a few beads and tons of great stories.
Cologne, Germany
Like in many of these cities, Carnival in Cologne starts the week before Ash Wednesday. While Carnival is celebrated all over Germany, it is in Cologne where you will experience the largest parades and parties.
If you want to make sure you see all of the festivities, get to the city before the weekend. Saturday is when you can enjoy the festival in the square at Neumarkt, and on Sunday you can explore different boroughs of the city and see how the locals celebrate in their own neighbourhoods – there are parades put on by every borough and school.
The main event happens on Monday, called Rose Monday. This is when you see Cologne's Dreigestirn, the march of the prince, the peasant, and the maiden. These three individuals are selected from thousands of applicants each year to be the three symbolical rulers of Carnival. It's not to be missed!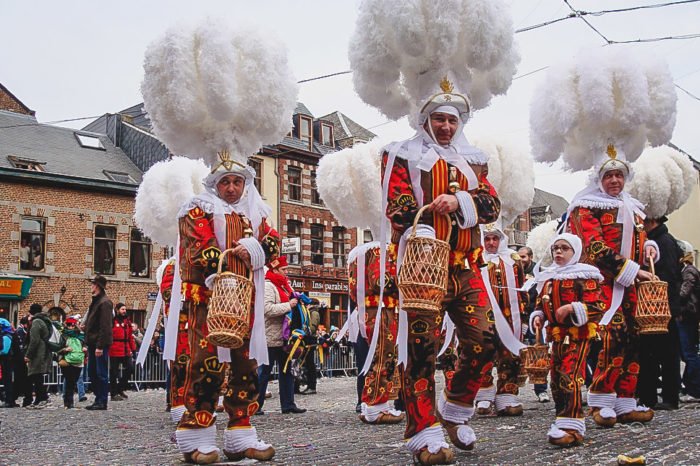 Binche, Belgium
Another excellent European destination where to celebrate Carnival is Binche, Belgium. In 2003, the Binche Carnival was recognized as a UNESCO World Heritage event. It's a real folkloric event which only exists thanks to oral tradition.
Sunday is always the busiest and most colourful day of the three-day festival which goes from Shrove Sunday to Shrove Tuesday. Everyone is in brightly coloured costumes that they have been preparing months in advance. The participants go door-to-door in their costumes playing music. The final day of the festival is the most social day of the event and is when you can enjoy seeing the folkloric dances, drink local beers, and learn more about the festival from the locals in Belgium.
Tenerife, Spain
Carnival in Tenerife is a 15-day festival where you can indulge in dancing, drinking, eating, and maybe a little bit of flame throwing. The festival starts with the election of the festival queen. All of the candidates parade the streets in the most extravagant costumes. The gowns are so over the top, that some of them can weigh up to 100 kilograms!
Once the queen has been chosen, there is a parade where you can enjoy thousands of musicians and dancers as they make their way down the main streets of Santa Cruz de Tenerife.
There's also a unique event that you likely won't find at any other Carnival on this list: the burial of the sardine. This marks the end of Carnival and it's literally an event where a sardine is paraded down the street before being set on fire. There are even mourners dressed in black, bidding the sardine farewell!
Have you celebrated Carnival around the world?
Which was your favourite celebration?