To be honest, I had never heard of Florianópolis, Brazil before moving to South America. I think that when most foreigners think of Brazil, we automatically jump to visions of samba in Rio de Janeiro. Especially with the upcoming Olympics in Rio, a little island off the Southern coast gets skipped over in our plans to see the well-known areas of Copacabana and Ipanema. As someone who has traveled to both Rio and Florianópolis (called Floripa, for short), I think that this little island deserves a lot more attention from prospective tourists. Here is our Florianópolis Travel Guide covering all of the best things to do on your trip.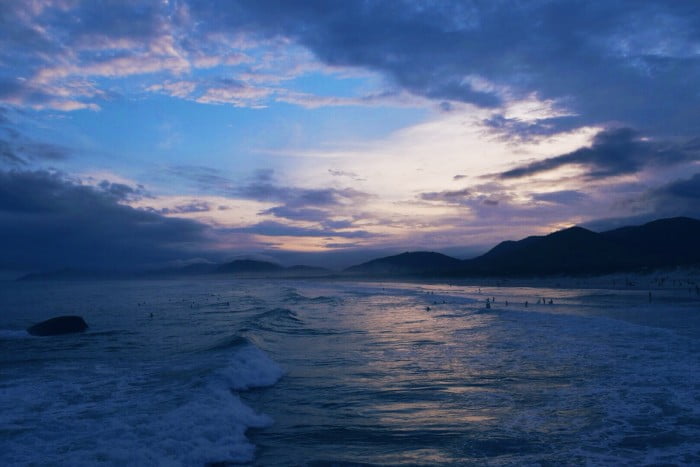 Florianópolis is a hub for surfers in South America with its 42 beaches being the main attraction. The best part about the city is that it is possible to find beaches that feel untouched. To me, these beaches are nothing like the big commercialized ones in the United States. Want to hike a mountain with a fantastic view of the coastline? Learn to surf? Go sandboarding? Florianópolis is the place for you.
If I've convinced you to visit my favorite city in Brazil, here are my recommendations for things to do: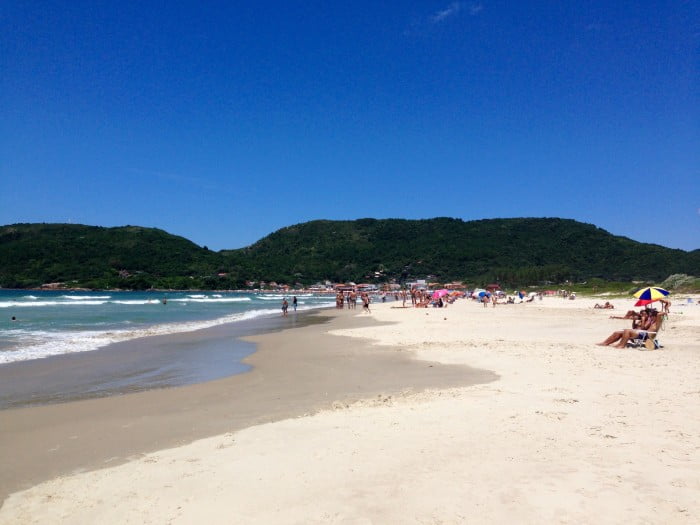 Beach, beach, beach
Floripa is literally an overflowing cornucopia of beaches. It is an island, after all. You have plenty of choices: do you want a tourist beach? a beach for surfers? more of a secluded beach? Here, you can find all of these and more. Let me warn you that January and February are months when the city overflows with other South American tourists (typically Argentinians or people from other parts of Brazil). If you're looking to avoid the crowds, stay away from the tourist beaches such as Barra da Lagoa. Barra fills to the brim on the weekends and there is only one road in and out of the area.
Take a surfing lesson
Florianópolis is considered the surfing capital of Brazil. It also happens to be the only city in South America to host a WCT pro surf tour event (in October). If you'd like to start learning to surf, Barra da Lagoa or Praia Mole are great places to take lessons. The waves at these beaches (Barra, especially) are less rough than at other beaches on the island (Praia da Joaquina, for example).
https://www.instagram.com/p/BCD7kpvha_V/?taken-by=leahshoup
Eat all the brigadeiros
I am unsure as to why I've never seen brigadeiros outside of Brazil, because they are delicious. These famous desserts are a mix of powdered chocolate, condensed milk, and butter. The classic brigadeiro is covered in chocolate sprinkles and tastes slightly similar to fudge.
Watch the sunset from Morro da Cruz
As far as the best viewpoint of Florianópolis, nothing beats Morro da Cruz, a hill providing a great spot to spend the evening watching the city change colors as the sun goes down. If you don't have a car, you can easily catch a taxi in the center of the city and take it to the top of the hill. My best advice is to split a taxi with friends and get the taxi driver's number so as to be able to call him when you're done (taxis don't pass by this area unless called). Morro da Cruz is also the perfect spot to take a time lapse of the city.
https://www.instagram.com/p/BB20eoGha7a/?taken-by=leahshoup
Get tipsy off wine at Vie Vin
If you have the urge to feel sophisticated for the night, check out my favorite wine bar in Floripa, Vie Vin. Offering live music every Thursday evening, this bar provides the perfect environment for a relaxed evening among friends. I recommend having the risotto and sampling the Brazilian espumante.
Explore the historic center
While the beaches may be attractive, I recommend taking a day to explore the center of the town. If you're interested in learning a bit about Florianópolis and its history, the Museu Histórico de Santa Catarina in the Cruz e Souza Palace is a good place to start. Praça XV de Novembro offers a cool place to relax in the shade of its giant fig tree (this tree has been in the plaza since 1891!). Moreover, if you're searching for souvenirs and a good place to try fresh food, try the Public Market. This open-air style market offers everything from sea food to caldo de cana, a juice made from sugarcane.
https://www.instagram.com/p/BBU5PL3Ba-u/?taken-by=leahshoup
Try a carne a kilo restaurant
YOU GUYS. In Brazil, there are buffets where you don't pay a set price. Instead, you get a little bit of whatever you want and then pay by the weight (even though I'm American and I don't understand what kilograms mean). These places are cheap, they're everywhere, and the food is typically home cooked. The buffet usually consists of your typical arroz e feijão (rice and beans) plus various types of salads, fruit, and meat. I paid around 20-25 reais for lunch at a carne a kilo restaurant in Floripa. To put that into perspective, 20 reais are currently equal to USD$5.50. That's a steal for a full lunch!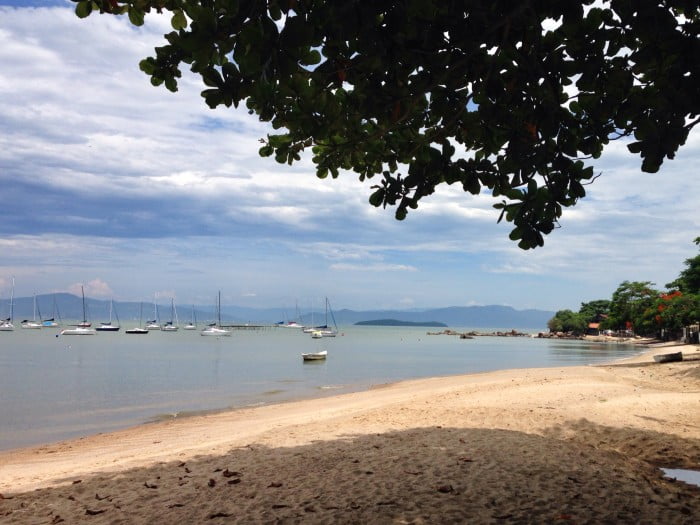 Go trekking
After eating all the brigadeiros and carne a kilo, you may need to exercise a bit. Surprisingly, even though all of the food in Floripa is delicious, it is easy to stay active because of the hiking trails along almost every beach! One of my favorite trails that I did went from Barra da Lagoa to piscinas naturais (natural pools). From the bus stop in front of Barra da Lagoa, you will see a large bridge nearby. Cross this bridge and walk up the steps through an area that will lead you to the beginning of a trail. It's easy to find your way, just follow the people!
Attend carnaval
If you want to experience Brazilian carnaval, but not quite on the level of Rio, Floripa is a great place to start. With music, food, and lots of dancing, carnaval is the perfect way to get a feel for Brazilian culture. Remember that it takes place during February, so if you want to participate in this huge celebration, plan your trip ahead of time to fall within the correct dates. In Floripa, carnaval even involves a party in the center of the city where all the men dress as women!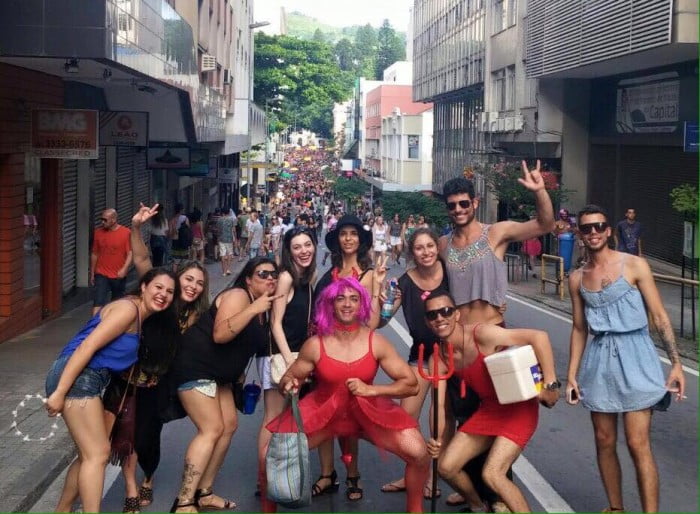 Have you been to Florianópolis?