It seems like Chile has become the new hotspot for adventure tourism. Just like that, tourists have started pouring into the nation's capital to experience Chilean culture, its famed carménère wine, and to glimpse a view of the majestic Andes mountain range surrounding the city. I have spent the past two years perusing through Santiago as a gringa looking for the best tourist activities, so, if you are looking to take advantage of your time in Chile's capital, here are my top recommendations.
Search for street art
If you're a lover of street art like myself, then you are in luck. Santiago has plenty of beautiful options including strolling the funky Bellavista neighborhood or visiting the Museo a Cielo Abierto, an outdoors exhibit featuring 40 large murals that are painted onto the sides of apartment buildings.
Learn a bit of Chilean history
Many people come to Santiago without knowing much about the history of Chile. If you'd like to learn, or if you're just a history nerd like I am, I recommend checking out the Plaza de Armas. This square is the original historic city center and various buildings of importance are located within the plaza. Head to the Chilean National History Museum (open Tuesdays-Sundays from 10am-6pm) to explore everything from the Mapuches (Chile's indigenous people) and conquistadors to the 1973 Chilean coup d'état.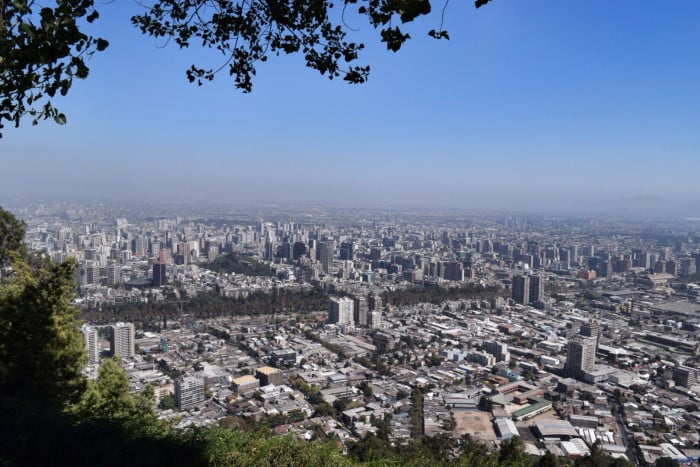 Hike up Cerro San Cristóbal
If you're set on getting some exercise in Santiago, I recommend trekking up Cerro San Cristóbal. At the cumbre (summit), you will find the famous statue of Mary as well as various viewpoints of Santiago. Don't feel like hiking all the way to the top? Take the funicular, currently the only mechanical way to reach the summit.
Try a completo italiano
It seems that Chileans were not satisfied with the traditional ketchup and mustard condiments for a hotdog and thus created their own invention: the completo. So why is it called "italiano" (Italian)? Well, this hotdog is topped with three ingredients: tomato (red), mayonnaise (white), and avocado (green), each representing a color of the Italian flag. I know it sounds like a strange combination, but I can tell you from experience that it is delicious.
See where Santiago was founded
Cerro Santa Lucía is another popular tourist destination in Santiago where you can climb to the top of what used to be an active volcano. The top of this hill is also where Pedro de Valdivia founded the city of Santiago. Besides being historical, this hill offers a great spot for pictures!
Taste your first sip of pisco
If there is anything that Chileans are extremely proud of (besides their fútbol team), it is pisco, a spirit that the country produces. If you're new to pisco, I recommend trying a pisco sour, a cocktail prepared using pisco and lemon juice.
Watch the sunset from the 62nd floor
Sky Costanera just opened this past year and is quickly becoming a hub for tourists. Enter Costanera Center, the tallest building in Latin America, and take the elevator to the very top. There you can find a 360-degree view of the entire city as well the surrounding mountain range. I recommend arriving to Sky Costanera about 30 minutes before sunset so as to be able to see the city during the day, as the sun sets, and to watch the twinkling city lights in the evening.
Learn to speak Spanish like a Chilean
If you'd like to improve or practice your Spanish while in Santiago, there are various language exchanges in the area. Sit back and have a beer at The Shamrock Irish Pub on Wednesdays at 8pm while you learn the best Chilean Spanish expressions from native Santiaguinos. The price to participate is only $1,000CLP, and a raffle is held at the end of the night for one person to win a pitcher of beer on the house.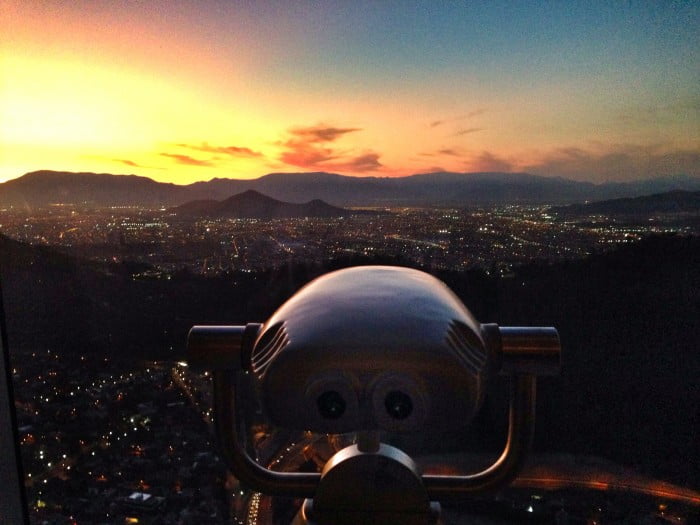 Try out your salsa skills
For visitors with a flair for Latin beats, dance the night away at Maestra Vida, a salsoteca in Santiago's Bellavista neighborhood. If you're interested in learning salsa but haven't tried it before, don't worry! Maestra Vida offers classes for beginners as well as those with previous experience in salsa.
Take a day trip to a winery
Chilean wines are becoming more and more well known and esteemed on a global scale. If you're looking to do a bit of sampling while in the city, there is no shortage of vineyards in the area. If you'd rather experience a larger, more commercial vineyard, check out Concha y Toro, where tours are offered every day of the week. If you'd prefer a smaller, more family-style vineyard, I personally recommend Undurraga Winery.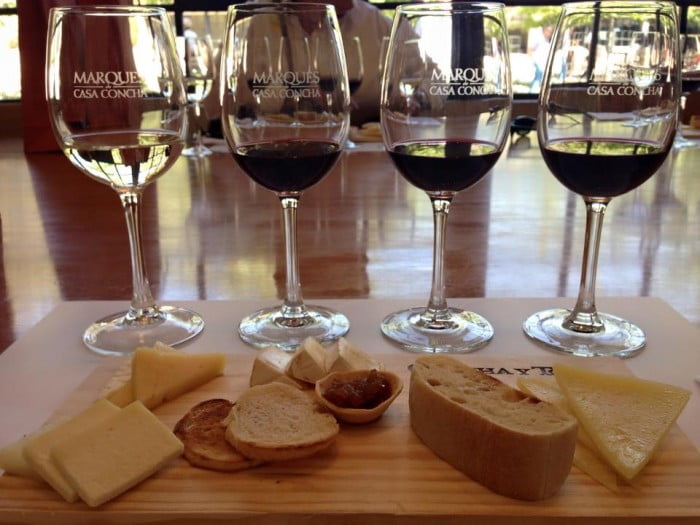 Do you have any recommendations for things to do in Santiago?