I'm not going to lie to you, the weather was not on our side in Cape Town, South Africa. Even though we were treated to sunshine and blue skies the whole length of the trip from Johannesburg to Wilderness, by the time we reached Cape Town, autumn was starting to envelop the city in fog, rain, and a cool chill.
We tried not to let that dampen our spirits or our sightseeing, so on the morning of our Cape Point and Peninsula Tour we bundled up in our warmest layers and set out for a day in the outdoors even though it looked very grey.
We left behind Cape Town and started our drive south, where we passed the trendy beachside suburbs of Clifton and Camps Bay. Our guide took this opportunity to share the history of the cape dating back to the 1600s; a task he did very well and with a great deal of enthusiasm! Never have I been so gripped by history so early in the morning.
Boat trip to Duiker Island
From there we continued on to our first stop of the day, Hout Bay, where we had the option of taking a boat cruise to visit the sea lion colony that lives on Duiker Island. The price for this cruise was an additional 70 rand (roughly $6) on top of the tour cost, but there was also the option of hanging out in the harbour and grabbing a cup of coffee at one of the little shops if we felt so inclined.
Knowing I get seasick, I probably should have let Sam go on the cruise and then met up with him later, but I hopped aboard instead… I'm showing you the pictures Sam took because I was too busy staring at the horizon trying to keep my breakfast in – I seriously have very little recollection of the event. Eeep!
Penguins at Boulders Beach
Back on dry land, things started to look up! From Hout Bay, we continued our drive through the scenic Chapman's Peak en route to Boulders Beach. This is one of the most popular attractions for any traveller visiting Cape Town and that's because this beach is home to the African penguin, better known as the 'jackass penguin' because apparently they sound just like donkeys when they communicate with each other…I promise I'm not making this up.
Biking in Cape Point
After ooh-ing and ahh-ing at the penguins we hopped back on the bus to continue the drive to the Cape Point Nature Reserve. This is is where we traded the bus for bikes and the fun really began!
Our first task was to work up an appetite as we biked to our picnic spot (roughly a 20 minute ride). Our guide drove ahead to set up for lunch, and the rest of us started pedalling. Thankfully there weren't too many uphill stretches to deal with so it was a very pleasant and leisurely ride.
I kept getting distracted by the landscapes and stopping to take pictures so in the end it probably took me closer to 30 minutes to reach our picnic spot, but that just meant all the food was spread out on the picnic table by the time I got there. For lunch we had some sandwiches, a Malaysian pasta salad, a fruit and veggie tray, as well as lots of cookies for dessert.
The plan after lunch was to continue biking to the Cape of Good Hope, but unfortunately it started pouring buckets halfway through lunch. We had a group of Irish travellers who seemed unfazed by the rain and decided to bike anyway, but the rest of us chose warmth and shelter and jumped aboard the bus instead.
After visiting the Cape of Good Hope we continued on to the Cape Point Lighthouse, where we had some time to climb up to the top and check out the views. It was here (on the last stop of the tour!) that the sun finally broke through the clouds…a bit late for us, but sometimes that's just how it goes.
So what are my lasting impressions?
Regardless of the weather not being on our side, the places we visited were incredibly scenic and definitely worth a visit. You do stop at a lot of attractions and lookout points along the way (as seen on the map below) so it's a great way to get an overview of the cape, but one of the drawbacks of covering so many spots is that it can feel a bit rushed at times. I would have loved more time to bike in the nature reserve (had the weather been cooperating), but then again, I reached the Cape of Good Hope (South Africa's southwestern-most point) and that's a pretty cool place to tick off the bucket list!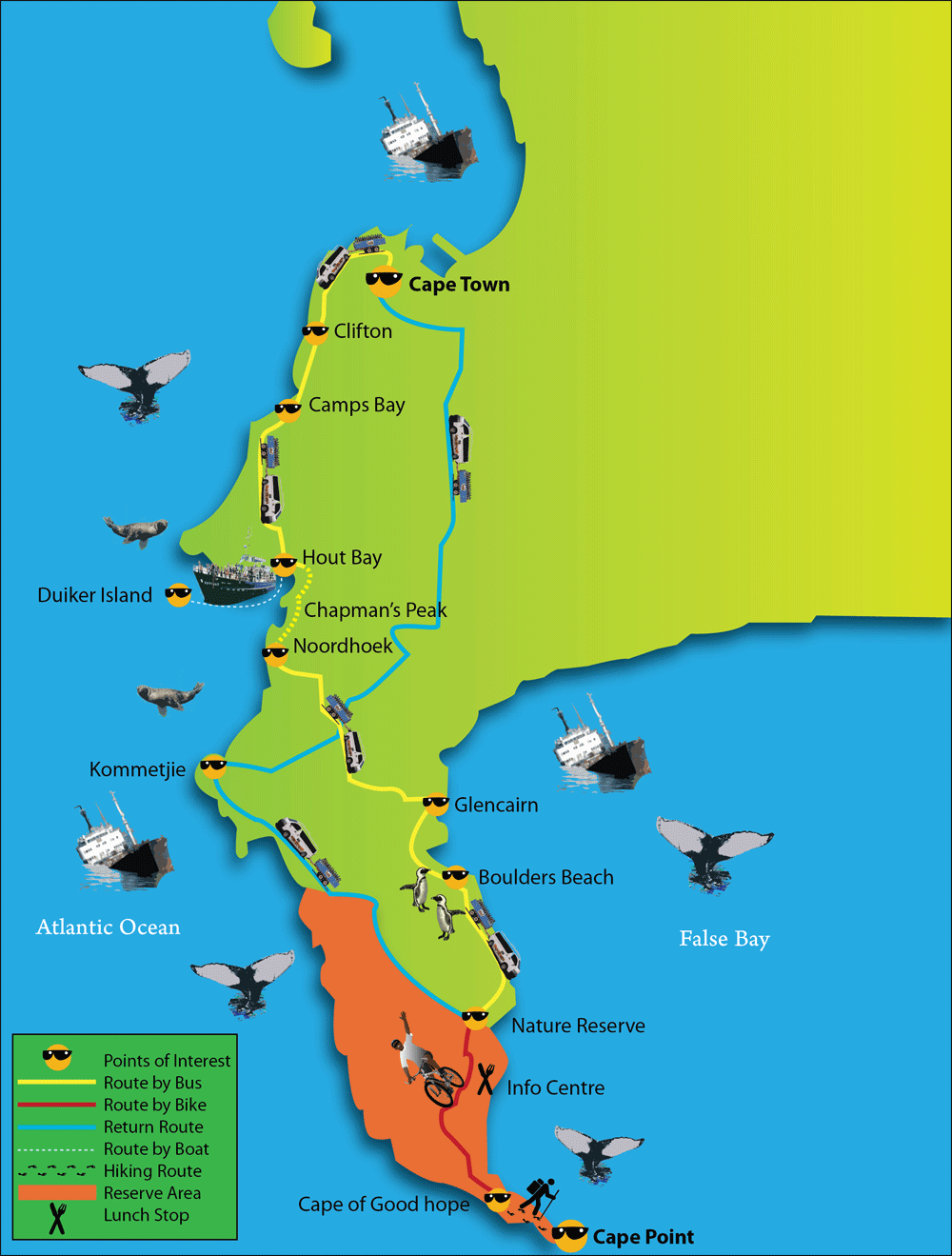 Travel tips for anyone touring the Cape Peninsula
Dress in layers. The Cape Peninsula gets a lot of wind (next stop from here is Antarctica!) so come prepared for unpredictable weather. I'd recommend a sweater and a windbreaker, and you can always peel down if the day warms up.
Wear comfortable shoes. You're going to be biking and hiking so you'll want a pair of closed shoes that are also comfortable. No flip flops or strappy sandals.
Pack a hat and sunscreen. Like I said, the weather is unpredictable! It could be chilly and overcast one minute, and then the sunny and warm the next. Bring a hat and some sunscreen so that you don't burn up if the sun does decide to show its face.
If it's summer, bring a bathing suit. You'll have the option of going for a swim during the warmer months, so consider packing a bathing suit and a light travel towel.