Today I'm going to share with you some fun things to do in Iquitos!
For many Iquitos is just a quick stop before the start of an Amazon river cruise or a jungle treehouse stay, however, I'm of the opinion that this is a place worth visiting even if it's just for a few days.
Iquitos is the world's largest city that cannot be reached by road – that's right if you want to get here, you're either going to have to travel by boat or by plane! – yet for such a remote place, it actually has quite a bit to offer.
We gave ourselves a total of 3 days in Iquitos – two before heading into the jungle and one after our return – and these were a few of the highlights:
Things to do in Iquitos
Sample traditional Amazonian food
First up, let's talk about the food because one of the best things you can do in Iquitos is sample the cuisine!
Having already travelled in Lima and Cuzco, I'd had a taste of coastal dishes and mountain dishes, but I was yet to try Amazonian food. Iquitos was a great place to get familiar with the local cuisine, and let me tell you, it was tasty.
If you find yourself in Iquitos, I would recommend trying tacacho y cecina. Tacacho is cooked green plantain that's been mashed and then rolled up into a ball. It can be served with a side of cecina, which is salty dehydrated pork meat, or sometimes you'll find chunks of cecina in the plantain ball itself.
Then you have patarashca de paiche which is a steamed fish dish. Paiche is a large freshwater fish and it is considered the cod of the Amazon. This dish is prepared by wrapping the paiche in a large leaf along with tomatoes, onions, and cilantro. The end result is a tender and aromatic fish that melts in your mouth!
Juane is another traditional Amazonian dish to try. Picture a steamed leaf parcel that contains a mixture of rice, chicken, egg, and olives. The dish is named Juane because it is eaten on the feast of St. John the Baptist and it is meant to resemble his head served on a platter…a bit morbid if you ask me, but still tasty.
Basically, there's lots of great food to be had!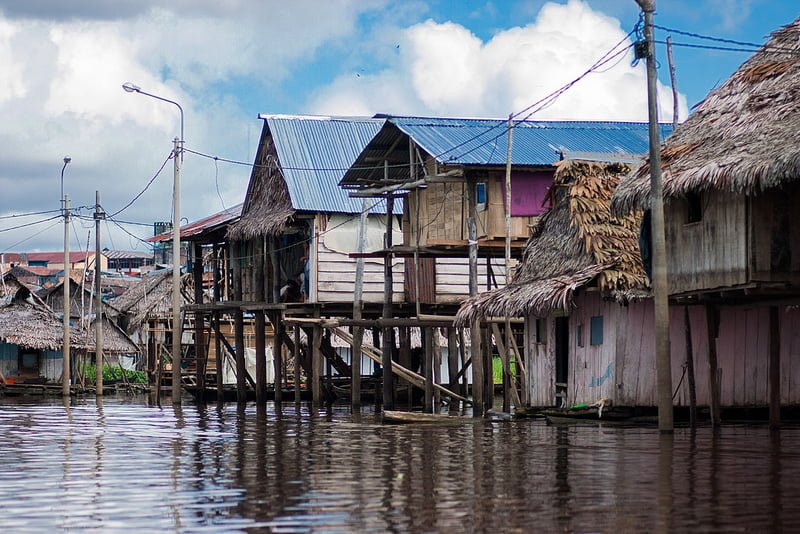 Image by Paul Hessell – CC BY 2.0
Walk the water stilt village of Belen
One of the main things to do in Iquitos is to visit Belen. Belen is a village made up of stilt houses and floating houses at the edge of the Itaya River. It's a place that you can either visit on foot across a series of bridges and wooden planks, or a place that you can enjoy from the water by hiring a peke peke boat for a few soles.
After visiting the village, you can also take a walk through the Belen Market which mainly focuses on produce. You'll get some fresh scents of cilantro, ginger, and ripe mangoes as you walk through a series of tarp-covered stands.
I'd recommend wearing closed shoes as it gets quite muddy the further you get into the market.
Enjoy a stroll along the waterfront
One of my favourite things to do in Iquitos is to stroll along the waterfront which offers a scenic walk – especially if you're there around sunrise or sunset.
If you're up early you'll be able to catch the sun rising over the river, and if you stick around in the evening you'll be able to catch the soft pastel shades cast by the sun as it sets behind the city.
There are also lots of little cafes with balconies and riverfront terraces where you can watch the sun do its magic, including Fitzcarrald, Dawn on the Amazon, and Arandu Bar. These all sit along a short stretch of boardwalk called Malecon Maldonado.
Explore the historic Old Town
Iquitos is a city where the modern world and the colonial past collide in a gritty and slightly chaotic mess.
The streets are abuzz with tuk-tuks, there are rows of buildings with elegant arches in a state of perpetual decay, and every once in a while you'll come across a stately structure from centuries past covered in a colourful array of painted tiles.
One of the best things to do in Iquitos if you're on a bit of a budget is to go on your very own self-guided walking tour.
Some places to check out include the Iron House, which is said to have been designed by the one and only Gustav Eiffel (though there isn't much evidence of that!); the (Former) Hotel Palace, which is covered in azulejos and was once one of the most luxurious hotels in all of Peru; and Iglesia Matriz, which is the main cathedral in Iquitos.
Plaza de Armas is also worth checking out. It's a tranquil place to enjoy some shade under a palm by day, but then it transforms into quite the lively hangout spot in the evening when vendors gather to sell balloons, flashing toys, and bubbles to a crowd of overly excited children.
Visit the Manatee Rescue Centre
If you're looking for some underrated or lesser-known things to do in Iquitos, you can visit the Manatee Rescue Centre just outside of town.
The Amazonian manatee is a freshwater species of manatee which lives in the Amazon basin. Unfortunately, they are often hunted for their meat and also end up hurt by boat traffic.
The Amazonian Manatee Rescue Centre cares for and rehabilitates orphaned or injured manatees. Then, once they are ready, the animals are released back into the wild – usually inside the Pacaya Samiria National Reserve.
On the day we visited, there were two groups of young school children there as part of a field trip, so it was nice to see that the centre is teaching the younger generation to respect and protect the wildlife found in the region.
The centre is located a short drive from Iquitos, so you can easily hire a taxi or a tuk-tuk to take you there.
Where to stay in Iquitos
While in Iquitos I stayed at the Epoca Hotel, which is a beautiful heritage property right on the shores of the Amazon.
The hotel has a colonial hacienda feel with tall ceilings, iron balconies, and a beautiful tiled exterior.
The floors are Instagram-worthy (anyone else following #IHaveThisThingWithFloors), the walls are covered in historical photographs that depict scenes of men in white suits enjoying drinks and cigars, and you'll also find antique furniture which really adds to the feel of the place.
We really enjoyed our stay and also found it budget-friendly, so it's a place we'd recommend.
Have you been to Iquitos?
Are there any other things to do in Iquitos you'd recommend?