While a lot of travellers pass through Lima, most are usually on their way to Cusco and Machu Picchu or on their way back. Lima may get a day or two at a glance on most Peru itineraries, but it's not a city many linger in. However, after having spent close to a month hanging out here, I'm of the opinion that Lima is a destination in its own right…especially if you like to eat! This little guide is going to highlight a few spots worth checking out in the city, places to eat, and neighbourhoods to stay in. Let's get started!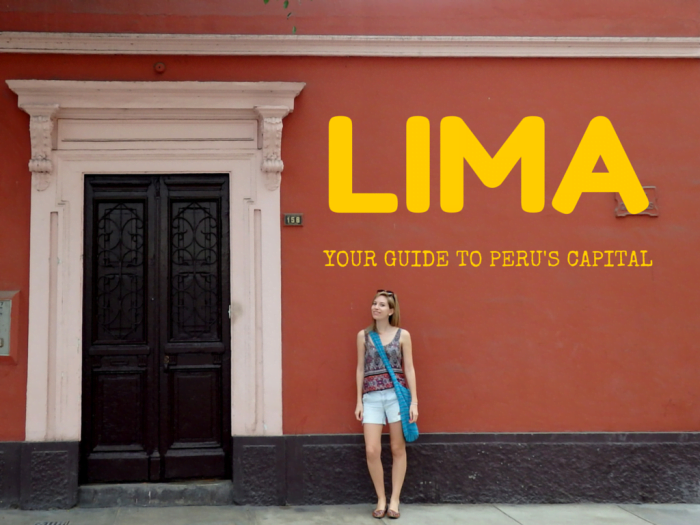 25 Things to do in Lima, Peru For Visitors
1. Hire a bike at MiraBici. MiraBici offers bike rentals as well as guided tours that take you through various districts including Miraflores, San Isidro, Barranco and Chorrillos. Their stand is conveniently located by Larcomar.
2. Go to El Circuito Mágico del Agua. The Magic Water Circuit is a water and light show that takes place at night in Parque de la Reserva. This park boasts 13 water fountains that come to life with lasers, coloured lights, and music. P.S. You'll want to visit once it's dark out!
3. Eat ceviche. It has to be done in Lima! This popular seafood dish is made with raw fish that's cured in lemon or lime. The fish is then served with white corn, sweet potato, and red onions, typically for lunch. Some popular cevicherias in Lima include: La Mar, Punta Sal, Pescados Capitales and El Punto Azul. More suggestions here.
4. Tour the city with Mirabus. Mirabus runs various tours within Lima as well as a few day trips outside of the city. If you want to get an overview of Miraflores and Lima's historic centre, then their tour Lima by Day is a good option. Just keep in mind that this is not a hop-on-hop-off tour and you won't be able to linger at attractions along the way. The tour last 3.5 hours and it is 70 soles for adults.
5. Shop and gaze out at sea from Larcomar. Larcomar is a really cool shopping centre located in Miraflores. What makes it so unique is that it has been built on a cliff overlooking the Pacific Ocean and as such it has some great lookout points. People come here to shop at the boutiques, eat dinner, or enjoy a cup of frozen yoghurt with a view. If you come on a clear day, you'll even be able to watch the paragliders flying above your head.
6. Pick up Peruvian alfajores at La Casa del Alfajor. Alfajores vary in style, size and ingredients throughout Latin America, yet they are all vying to be the best. The traditional Peruvian recipe consists of two crumbly cornstarch cookies, glued by manjar blanco (creamy caramel) in the middle, and a light dusting of powdered sugar on top. La Casa del Alfajor (The House of the Alfajor) has many locations throughout the city, but I would recommend visiting the one in San Isidro on Avenida Conquistadores, because it just so happens to be located by a very old olive grove – a pretty cool place if you ask me!
7. Go paragliding in Miraflores. This one is for the daredevils and thrill-seekers! Perufly is located in Parque del Amor (Love Park) in Miraflores, and they fly daily from 11 am to 6 pm weather permitting. (Mornings in Miraflores are usually foggy, but this tends to clear up by mid-morning.) Tandem paragliding costs 240 soles.
8. Enjoy a night out in Barranco. Barranco has a bit of an artsy/bohemian vibe and it's where people like to go out at night. Here you'll find a mixture of art galleries, cafes, bars, restaurants, and lots of street art.
9. Tour Plaza de Armas. Also known as Plaza Mayor, Plaza de Armas is one of the most historic plazas in the city. The square is flanked by the Government Palace, Lima Cathedral, the Archbishop's Palace, the Municipal Palace, and the Palace of the Union. The plaza also has an intricate water fountain that dates all the way back to the 1600s – the history is palpable!
10. Pick up souvenirs at the Mercado Indio. If your trip is drawing to an end and you want to pick up some souvenirs to take back home with you, then visit El Mercado Indio on Petit Thouars. This is where you can find warm alpaca sweaters, brightly coloured touques, chess sets of Spaniards versus Incas, paintings done in the Cuzqueña style, t-shirts with the Nazca lines, coca candies, leg warmers, and just about anything else you can think of.
More Of Lima's Top Attractions
11. Go inside the catacombs at Basilica y Convento de San Francisco. This basilica and convent is located in Lima's historic centre and it truly is a step back in time. I went with a guide who led us through the cloisters, into a library that held documents and manuscripts from the start of the colony, and down into the catacombs. The only downside is that photography and video are not allowed.
12. Stare at all that glitters inside the Gold Museum. This is one place where almost all that glitters is gold. Lima's Gold Museum started out as a private collection but today it holds over 7000 pieces of jewellery, sculptures, amulets and weapons.
13. Catch some waves in the Pacific Ocean. The waters of the Pacific may be chilly, but that doesn't keep the surfers away. Pukana Surf and Team Surf Peru are two of the best-known surf schools in Lima and they offer surf lessons as well as surfboard rentals. If surfing's not for you, there is the option of trying SUP (Stand Up Paddleboarding).
14. Walk across the Bridge of Sighs. It may not seem like much, but this wooden bridge known as El Puente de los Suspiros has inspired many musicians and artists over the years, including the famed Peruvian songstress Chabuca Granda who wrote an entire song about the bridge.
15. Walk the Love Park with your special someone. Miraflores has a park dedicated to that special feeling that gives your stomach butterflies and makes you weak in the knees, yes, love. The park's focal point is the statue known as El Beso (The Kiss), which depicts a couple kissing amorously. It comes as no surprise then that young couples come here on their dates to stroll along the oceanfront, watch the sunset, and enjoy each other's company.
16. Visit Museo Larco. This privately owned museum focuses on pre-Columbian art and covers over 4000 years of history. The collection houses crowns, earrings and vases decorated with semi-precious stones, but what seems to draw people over is the gallery of Pre-Columbian Erotic Pottery…and yes, you must be at least 18 to enter.
17. Step back in time at Huaca Pucllana. Huaca Pucllana is an archaeological site located in Miraflores. Its name can be translated from Quechua to mean "place of the ritual games" and it was an important ceremonial centre where human sacrifices took place. The pyramid is built in staggered platforms and research has shown that it was able to withstand earthquakes.
18. Catch a flick at CinePlanet. If you experience a rainy day (very rare!) or just want a chilled out afternoon, you can head over to CinePlanet for a movie. Most North American movies play in English with Spanish subtitles.
19. Go play with cats at Parque Kennedy. I thought Istanbul was for cat lovers, but apparently Limeños have a thing for felines too. The story goes that a long time ago priests from the local church were faced with a bit of rat infestation, so they decided to release a few cats to help curb the problem. The thing is, no one stopped to consider that these cats might reproduce… Add to that a few abandoned cats who were dropped off at the park to make some new friends, and you've got yourself a huge cat colony! Thankfully, locals do look after these cats, and the Kennedy Park Kittens non-profit organization also ensures they are fed, dewormed, and vaccinated; they have even set up an adoption program so that the cats can find new homes.
20. Sample Peru's varied cuisine. Peru's cuisine has evolved, blended, and been adapted by the various cultures found within the country. Some prime examples of this include chifa (Peruvian-Chinese fusion) and nikkei (Peruvian-Japanese fusion). You'll also find that dishes vary by geographical region, resulting in coastal, Andean, and jungle food. Since Lima is considered the gastronomic capital of Latin America, this is the best place to dabble in these cuisines.
Guide To Lima, Peru: Make The Most Of Your Trip
21. Go inside El Panteón de los Próceres. The Heroes' Pantheon is a crypt located inside the old church of the Royal College of San Carlos. It pays homage to the leaders of Peru's independence, and it's a must visit for all the history buffs out there. I would've never found this place on my own, but my dad happened to be visiting while I was there and this attraction was at the very top of his list! We even found the name of a few Argentinean heroes in there. Admission is only 1 sol.
22. Pick up some tejas and chocotejas at Sra. Buendia. This little shop specializes in traditional Peruvian confectionary. A teja is a white sugary shell that has been stuffed with manjar blanco and all manner of dried fruits and nuts. A chocoteja is much the same, except it is coated with chocolate instead of sugar. This shop also specializes in stuffed figs, lemons, and oranges, which are a lot tastier than they sound!
23. Drop by Manolo for some churros. Dulce de leche? Chocolate? Vanilla? Take your pick!
24. Take a Peruvian cooking class. Peruvian food is delicious and if you enjoy dishes like ají de gallina, lomo saltado, carapulcra, causa, cau cau and ceviche, then it may be worth taking a Peruvian cooking class so that you can take some of the culinary secrets home with you.
25. Eat at one of Gastón Acurio's many restaurants. Gastón Acurio is a Peruvian chef whose culinary creations have earned him celebrity status. He may have studied law, but his passion lay in the kitchen; today he owns 44 restaurants across 13 countries and he has helped put Peruvian cuisine on the map. Some of his restaurants in Lima include: La Mar, which focuses on ceviche and seafood; Madam Tusan, which is all about Peruvian-Chinese fusion cuisine; and Astrid & Gastón for traditional Peruvian dishes.
And if you really feel like you have seen it all in Lima, here are a few easy weekend trips you can take from the city. My personal favourite was sandboarding in Huacachina!
Where to stay in Lima
Miraflores – This is the most popular district for travellers to stay in. Miraflores is fairly upscale and therefore safer than other areas. It's also located right by the water, so you can enjoy some really scenic walks along the parks that line the cliffs. You'll find everything from backpacker hostels to five-star hotels in this district so it works for all budgets. This would be my personal pick.
Barranco – This is a very artsy district and it's also very lively at night. If you want to be close to all the action (restaurants, bars, clubs) then it's a good place to be based. There's also a lot of charm to Barranco with its huge mansions that date back to the colonial period.
San Isidro – This is an upscale neighbourhood so if you're looking for high-end hotels or boutique hotels, it's a good place to look. The district is known for its golf course, country clubs, and centuries-old olive groves.
Historic Centre – Staying in Central Lima puts you close to the main square and all the churches and government buildings, however, some areas are still a little rough around the edges and safety can be a concern at night. I also find this district lacks the life you find in places like Barranco and Miraflores, which is why I'm putting it at the bottom of the list.
Have you been to Lima?
What were some of your favourite spots in the city?