I've said it before and I'll say it again, Lima is a destination for food lovers! Most of my outings in the city revolved around restaurants, cafes, or street food stands, and since I spent 3 weeks there, this gave me plenty of time to get to know some of the local hot spots.
For this post, I decided to focus on the district of Miraflores since it's where I spent the most time, but let me assure you, you'll find great food anywhere in Lima! Now on to some of my favourite eateries in Peru's capital: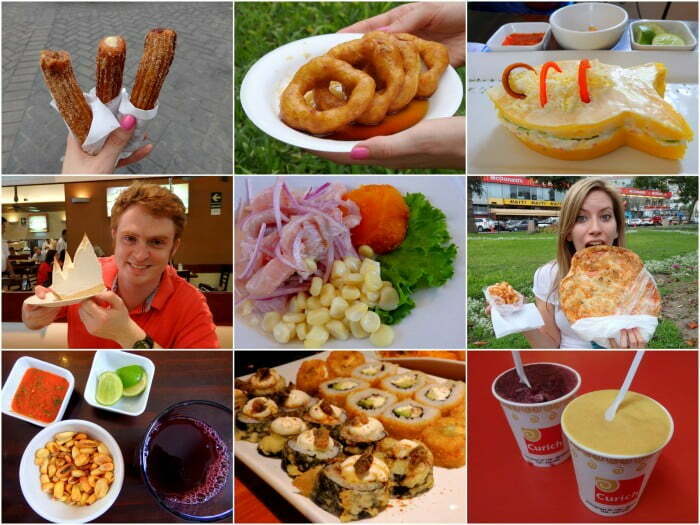 Anticuchos Grimanesa
I have to say, I had some reservations about trying anticuchos (cow hearts on a skewer!), but this is a local dish and I kept hearing rave reviews from my relatives, so off I went to eat cow hearts.
Mrs. Grimanesa Vargas started out selling anticuchos out of her pushcart on the street. Over the years she built up quite the clientele and it became well known that she prepared the best anticuchos in town. She eventually moved into her very own restaurant, and now she's cooking hearts for an even larger crowd. When I went there on a weeknight the place was packed!
I ordered a double portion of cow hearts (2 skewers) for 18 soles, and a giant white corn on the cob for an additional 5 soles. There was a bit of a mental barrier to surpass knowing what I was eating, but that being said, if you had taken me there and told me we were eating steak on a skewer I totally would have believed you. The anticuchos are very well seasoned and the first thing you detect is a hint of garlic.
Address: Felipe Barreda 475
El Punto Azul
I can't talk about food in Lima without mentioning ceviche! In case you haven't heard of it, ceviche is a seafood dish where the fish is cured in lemon or lime before being served. It comes with onions, white corn, sweet potato, and it is one of the tastiest things I have every tried. I got to eat this several times during my stay and one of my favourites meals was at El Punto Azul. I daresay it might be better than sushi!
I ordered the ceviche de pescado at the restaurant (the portion was large enough for two!), with a side of causa (a yellow mashed potato dish served with avocado, corn, cheese and seafood), and that was paired with a large pitcher of chicha morada (a purple corn juice). One of the best meals I had in the city!
Address: Calle San Martin 595
La Rosa Nautica
This is one of the most famed restaurants in Lima and for good reason! The setting is simply stunning; La Rosa Nautica is built on a pier out over the Pacific Ocean, and it really feels like you're out at sea. Sometimes they have their windows open so a gentle salty breeze blows in. Meanwhile you can enjoy the views of the surfers catching waves not too far off in the distance. I recommend that you come around sunset for some wonderful views.
The menu at La Rosa Nautica features a lot of seafood, and my personal favourite is their tuna steak. I ate that dish a few years ago and no tuna steak has been able to top it since. Seriously, my mouth waters whenever I think back on that meal. The food is delicious and the setting is magical, so I'd say it's well worth the splurge.
Address: On the 4th pier in Miraflores.
Manolo
There are so many reasons to come to Manolo, but what brought me here were the churros. A reader had told me about this place when I was first planning my trip, so when I arrived I made sure to pay the place a visit and sample every type of churro available – chocolate, vanilla and dulce de leche.
I then came back to try their Pijama Sandwich, which just so happens to be the biggest sandwich I have ever set eyes on. Seriously, it included things like hot dogs, chicken breast, sweet potato, avocado, egg, ham, cheese, olives, tomatoes, and I'm probably still forgetting a few ingredients.
Of course, the biggest sandwich in the world needs to be paired with the biggest dessert in the world, which is why I ordered the Lemon Merengue Pie – the merengue was so tall that it looked like spires on a church.
Address: Avenida Larco 608
Pardos
Pardos is a chain restaurant that specializes in rotisserie chicken. It's not exactly once of a kind, but neither is Nando's and people still love it. Their pollo a la brasa (grilled chicken) is succulent and it comes with a spicy ají sauce that's just perfect. They also offer delivery, which is great if you're having one of those lazy nights where you just feel like staying in.
Address: Throughout the city.
Edo Sushi Bar
I really like this place because it has the classic rolls you'd expect to find at a sushi restaurant back home, however, they also have some interesting creations that are a fusion of sushi and ceviche. If you want a roll that combines Japanese and Peruvian cuisine, I'd order the Acevichado. I also enjoyed the Salmon Skin Maki with cream cheese and asparagus, and the Furai Maki with smoked trout and avocado.
The only thing I was left wondering is, where's the miso soup? I'm starting to think it's not common in Lima because out of the 2 Japanese restaurants I went to, miso soup never made an appearance on the menu.
Address: Calle Berlin 601
Sra. Buendia
This is a great spot to pick up some Peruvian sweet treats. Sra. Buendia specializes in tejas and chocotejas. A teja is a confection that's filled with caramel and nuts or fruit, and then coated in a layer of white sugar. The chocoteja is much the same except that it is coated in a layer of chocolate rather than sugar. My favourites were the lemon tejas (surprisingly sweet, not sour) and pasas borrachas (literally 'drunk raisins' because they've been soaked in alcohol).
The shop is quite small with only a couple of tables where to sit, however, you can get your sweets boxed up and enjoy them at a nearby park.
Address: Avenida Ernesto Díez Canseco 306
Cremolada Curich
Cremolada Curich is one of the oldest establishments in the neighbourhood and it draws a loyal clientele wanting to cool down with something sweet. Their specialty is cremolada, which is a lot like flavoured shaved ice.
They have all kinds of tropical fruit flavours like aguaymanto (Peruvian ground cherry), guanábana (soursop), and lúcuma (there's no English name for this one – it looks like a yellow avocado when you crack it open, but it's a fruit).
Address: Calle Bolognesi 759
Street Food at Parque Kennedy
So this last one isn't a restaurant, but there are plenty of great food stands where you can enjoy a snack in Parque Kennedy. So what exactly can you find? You have picarones (fluffy donuts made from squash and sweet potato and then coated in honey), churros (fried dough sprinkled with sugar), mazamorra y arroz con leche (a combination of purple corn porridge and rice pudding), chicha morada (purple corn juice in case you get thirsty), and more.
Address: Parque Kennedy between Diagonal and Avenida Jose Larco.
And there you have it! This is by no means a complete list of all the places where to eat in Miraflores – there are so many highly acclaimed spots that I simply didn't have enough time for! – however, I hope it gives you some ideas. If you have been to Miraflores and have some restaurant recommendations, feel free to add them to the comments below. I'd love to hear your suggestions and I'm sure other foodies would too. 🙂
Have you ever tried Peruvian food?
What were some of your favourite dishes?