Earlier this year I got to spend a wonderful month living like a local in Berlin. Sam and I rented a cute little apartment in Prenzlauer Berg just a couple of stops from Alexanderplatz, and over the course of those 30 days, I made it my mission to see and do as much as possible around the city. There were lots of highlights: music-filled Sundays at Mauerpark, bike rides through art covered neighbourhoods, and late-night dinners in crowded bars jam-packed with hipsters – it was everything I expected the city to be and I loved it!
I didn't manage to see and do it all (I'll need a few more trips for that!), however, in today's post I wanted to share a little travel inspiration for anyone planning a trip to this funky capital. So behold, here are 50 things to do in Berlin!
Things to do in Berlin: 1-10
(1) Eat a Currywurst. The currywurst is a pork sausage that is steamed, fried, sliced, and then served with ketchup and curry. The recipe was supposedly invented by Herta Heuwer in 1949, and it has since become a staple fast food dish in Berlin. For those of you looking to sample currywurst, you'll be glad to know that there are actually two different varieties you can try: Ost Currywurst (which is served without skin) and West Currywurst (which is served with skin). I loved both!
(2) Climb the glass dome on top of the Reichstag. The glass dome atop the Reichstag offers 360-degree views of the city below. The dome is open to visitors, however, you'll have to register online in advance. It's best you do this early on since it's a really popular attraction and sometimes tickets are not available for several days. Alternatively, you can opt for a guided tour and skip the line to the dome with this ticket.
(3) Wander through Tiergarten. Tiergarten, which translates to Animal Garden, is a public park located in the middle of the city. Back in the day, this was a forest and it served as the king's personal hunting grounds.
(4) Go to Mauerpark on a Sunday afternoon. One of the coolest things to do in Berlin is to swing by Mauerpark on a Sunday. This is when the park transforms into a social gathering, where friends come to barbecue, drink beer, shop at the flea market, and listen to bands play. You'll also want to make time to stop at the Bear Pit – an outdoor amphitheatre that plays host to some wacky performances and wild karaoke. It's all in good fun and anything goes. I watched a tall man juggle in bootie shorts and a red crop top the day I was there!
(5) Snap some photos inside a Photoautomat. If you spend enough time walking around the city, you'll notice old-fashioned photo booths randomly scattered around street corners. For just a few Euros, you can snap some photos with friends and take away some great souvenirs.
(6) Soak in history at the German Historical Museum. The Deutsches Historisches Museum offers a very thorough look at German history. The permanent exhibition is laid out in chronological fashion and walks you through the early days of the Weimar Republic, the Nazi regime, the post-war period, the history of a divided Germany, and the reunification. It's a must visit for a better understanding of German history. If you enjoy history, you may want to consider joining a small group Third Reich and Cold War tour.
(7) Walk the length of the Berlin Wall. The Berlin Wall served as the dividing line between East and West Berlin for 28 years. Today what was once a symbol of oppression stands as a symbol of freedom. Although most of the wall was taken down when Germany reunited, a few strips remain and the stretch found along Mühlenstrasse is the longest. Now known as the East Side Gallery, the wall is covered in murals which were painted by more than 100 artists. This is one of the top things to do in Berlin for visitors.
(8) Hire a bike for the day. One of the best ways to cover a lot of ground in Berlin is to hire a bicycle for the day. The starting rate is 10 Euros for 24 hours and that gives you the freedom to move around the city at your own leisure. Berlin is a very bike-friendly city with special lanes dedicated to cyclists. If you'd rather see the city with a local, there are guided bike tours of Berlin's highlights and you'd be amazed by how much you can see in 3 hours!
(9) Chill out on the runway of an abandoned airport. The now-defunct Flughafen Berlin-Tempelhof has gained new life as a park. While the former airport makes for a rather unconventional public space, locals don't seem to mind and on weekends you'll often find families barbecuing, couples walking their dog, and even joggers running down the landing strip. While you can't go inside the airport on your own, there is the option of joining guided tours which take place on weekends.
(10) Order Schnitzel for lunch. So technically Schnitzel is found all over Germany, and Wiener Schnitzel is actually from Vienna, however, you can't possibly visit Germany's capital and not sample this dish! The portions here are gargantuan. I like mine with a side of Käsespätzle – egg noodle cooked with cheese. Oh, I'm hungry now!
Berlin City Guide: 11-20
(11) Discover the city with Insider Tours. To get a unique look at Berlin's past, I highly recommend joining one of the various walking tours offered by Insider Tours. I took a tour titled "Third Reich Berlin" which focused on Hitler and the final days of the Second World War and it was fascinating. My guide Jim was an academic who had a knack for bringing history to life and our group hung on to his every word.
(12) Take a cruise down the Spree River. Cruising down the Spree River is a great way to take in the sights, and you can also enjoy a pint of beer while you're at it. You can choose from the 1-hour, 2.5-hour, and 3.5-hour boat tour.
(13) Learn more about Currywurst at the Currywurst Museum. Yes, Berlin has an entire museum specifically dedicated to sausage! This is an interactive space where you can touch, smell, and taste your way around, and when you get tired, you can stop and rest on the Currywurst-shaped sofa.
(14) Soak in the city at Alexanderplatz. Alexanderplatz is iconic. This is the square that always makes an appearance when you're watching a movie that is set in Berlin. You'll catch people posing in front of the famous World Clock, and you can also watch skateboarders test out new tricks.
(15) Go up the Fernsehturm. For a bird's eye view of the city, go up Berlin's TV Tower. There is also a rotating restaurant located atop the tower, where you can enjoy a 3-course dinner with a view. Forget the stairs; the elevator will bring you up in 40 seconds time.
(16) Go museum hopping on Berlin's Museum Island. Berlin's Museum Island, or Museuminsel, is located in the Spree River and it is home to 5 museums and art galleries including Altes Museum, Neues Museum, Alte Nationalgalerie, Bode Museum, and Pergamonmuseum. If you're an art aficionado, you may want to consider getting a full day pass which grants you access to all 5 of these.
(17) Catch a concert. There is so much raw talent in this city! The same musicians you see playing in Mauerpark on a Sunday often play gigs in venues across town. Tip: If you go to Mauerpark and see a band you like, pick up one of the little flyers they have in their guitar cases, or just ask them where they're playing next!
(18) Step into KaDeWe. KaDeWe is the biggest department store in continental Europe, but there's more to do here than just shop. If you've ever wondered what a gourmet-style food court looks like, head up to the 6th floor and grab a seat at one of the many counters where seasoned chefs create edible works of art right before your eyes.
(19) Go in search of street art! Friedrichshain-Kreuzberg, in my opinion, is the best area to go in search of art. Artists have taken over old warehouses and abandoned buildings and brought them to life both inside and out. You'll also find that the art projects extend to residential areas like Kreutzigerstrasse, pictured in the photo above. This tour explore alternative Berlin through street art, city markets, and artist quarters.
(20) Visit a decaying amusement park. Sitting on the banks of the Spree River, Spreepark was once a popular theme park complete with a giant Ferris wheel. When the park shut down in 2001, many of the rides were left abandoned and this drew curious minds. While it was once possible to sneak into the amusement park and explore on your own, security has become tight in recent years. However, there are companies that offer guided tours.
Things To Do In Berlin, Germany: 21-30
(21) Go for a dip at Schlachtensee. This lake in southwest Berlin offers a nice retreat from city living. You can either go for a swim or rent a rowboat.
(22) Eat Turkish food. There is a large Turkish community in Berlin and this means that lots of Turkish fast-food stands have popped up around the city. Order yourself a nice doner kebab. They are delicious!
(23) Pop into the Bauhaus Archives for a visit. Bauhaus was an art school and art movement which became one of the main influences of modern design. While the actual Bauhaus Museum is located in Weimar, if you find yourself in Berlin you can drop by the Bauhaus Archives which have a smaller collection showcasing Bauhaus furniture and architectural models.
(24) Tour the former spy station! Teufelsberg is an abandoned spy station that sits on top of a hill by the same name. While the perimeter is fenced off with signs indicating that entry is prohibited, you can join a guided tour of this Cold War era spy station. One of the main draws of the Teufelsberg Spy Station is that it is covered in graffiti.
(25) Look up inside Berlin Cathedral. Also known as Berliner Dom, Berlin Cathedral is one of the most impressive churches in the city. You wouldn't guess by looking at it today, but the dome was severely damaged during the war. Today the structure has been restored and it stands looking majestic as ever.
(26) Go swimming in a pool…in a cargo container…in a river. Huh? That was also my reaction when I first heard about this place. Badeschiff literally means 'bathing ship' and, well, it's a swimming pool that sits in the River Spree. Visiting Berlin during the colder months? No problem! The pool gets covered up so you can drop by for a swim even if it's snowing out.
(27) Watch a movie in the park. One of my favourite things about summer is outdoor cinema, something that Berlin knows a thing or two about. From Spandau to Mitte, and Kreuzberg to Friedrichshain, there is no shortage of venues when it comes to choosing where to go.
(28) Browse the Sunday Flea Market in Friedrichshain. Friedrichshain is a very artistic neighbourhood and it draws a like-minded crowd. You'll come across people playing live music and selling things you might find in your grandmother's attic. The flea market is a mish-mash of musical instruments, antique furniture, faded jean-jackets, and leather boots. One man's junk is another man's treasure, right? Even if you're not in the mood for shopping, it can be a lot of fun to browse around and soak in the randomness.
(29) Go rock-climbing at Der Kegel. German for 'the cone', der Kegel is a rock-climbing centre located in Friedrichshain. This former bunker has been used as climbing wall since 2005, and it's particularly popular on weekends.
(30) Take part in Street Food Thursdays. If you're a foodie, you'll want to swing by Markthalle Neun on a Thursday. The concept is simple, every Thursday the market is transformed into a communal dining area with food stands serving up dishes from every corner of the world. Indian, Japanese, Chinese, German – you can find it all here. If you're a foodie, you might also enjoy this secret food tour.
Berlin Top Attractions: 31-40
(31) Feel like royalty inside the Charlottenburg Palace. Located in the city's outskirts, this royal palace was commissioned by Queen Sophia Charlotte of Hanover – the first Queen of Prussia. The woman had lavish taste and you can tell as soon as you set foot in the palace. You can book a complete palace experience with a palace tour, dinner and Baroque concert.
(32) Wander around the Charlottenburg Gardens. After visiting the palace, you'll want to swing around the back to see the gardens. The area is especially beautiful in the springtime when all the flowers are in bloom. There is a small lake at the very end where you can feed ducks and geese.
(33) Listen to a performance by the Berlin Philarmonic. If you enjoy classical music you'll be glad to hear that the Berlin Philarmonic holds free concerts on Tuesdays during the lunch hour. These concerts are also catered, so it's a nice lunch idea. (P.S. The food is not free.)
(34) Pay your respects at the Holocaust Memorial. The Memorial to the Murdered Jews of Europe is a place to remember the atrocities that took place during the Nazi regime. The memorial takes the form of a sloping field where stone boulders stand row on row. The artist's idea was that this memorial would produce a feeling of uneasiness, uncertainty, and fear through order. People have also commented how the stone blocks make it look like a cemetery, so the memorial can be interpreted in many different ways. An information centre underneath offers visitors the chance to delve deeper into the topic through letters and photographs of the Holocaust victims. There are similar memorials around Berlin, including the Memorial to the Sinti and Roma victims of National Socialism, and the Memorial to Homosexuals persecuted under Nazism in Berlin.
(35) Learn about the Nazi reign of terror. The Topography of Terror is both an indoor and outdoor museum which sits in the same spot where the buildings of the Gestapo and the SS once stood. The exhibition focuses on the crimes committed across Europe during the Third Reich. A long stretch of the former Berlin Wall also stands directly across the museum.
(36) Take a somber day trip to Sachsenhausen. Located just 35 kilometres north of Berlin, Sachsenhausen was a concentration camp established in 1936 and used all the way until the end of the war in 1945. An estimated 200,000 people are believed to have passed through here. There are half day tours where you can visit the site with a knowledgable guide and learn about the Nazi SS and Gestapo atrocities committed during World War II.
(37) Visit the DDR Museum. If you've ever wondered what life was like in former East Germany, then the Deutsches Demokratisches Republik Museum is the place you'll want to visit. The exhibit is very fun and interactive, and it goes as far as recreating the living spaces inside an East German home. From the brand of soap to the type of furniture that was popular at the time, this museum takes you back to a different period.
(38) Hang out in Potsdamer Platz. While I personally can't find much to love about Potsdamer Platz, it is one of the most important public squares in the city. This was the heart of Berlin's nightlife during the 1920s and 1930s, and it was synonymous with Piccadilly Circus in London.
(39) Go hunting for UFOs. Berlin is home to the Futuro House, a home which looks just like a UFO. While I'm sure the owner wouldn't appreciate you showing up at his door unannounced, you can sneak a peek at this home from a distance as it sits on the banks of the River Spree.
Guide To Berlin, Germany: 41-50
(40) Tour Berlin aboard a Trabant. The Trabant, affectionately known as the Trabi, was the car of former East Germany. These vehicles were quite coveted and there was a waiting period of around 15 years to receive this family car. While the vehicles certainly weren't known for reliability, there is a sense of nostalgia associated with them, and you do a 75-minute tour of Berlin aboard a Trabi.
(41) Visit the Soviet War Memorial. Located in Treptower Park, the Soviet War Memorial acts as both a war memorial and a military cemetery for the Soviet soldiers who fell during the Battle of Berlin. Here you'll see a 12-meter statue of a Soviet soldier holding a young German child, while standing over a broken swastika marking the triumph over Nazism.
(42) Go shopping. If you've come to Berlin to do a bit of shopping, there are plenty of shopping centres to check out across the city. A few that come to mind include KaDeWe, Galeria Kaufhof, and the high-end shops along Friedrichstrasse.
(43) Get your passport stamped at Checkpoint Charlie. Sure, it may be a little touristy, but whilst in Berlin, you can get your passport stamped with the stamps of the 4 sectors which controlled Berlin after the war – the United States, France, Britain, and the USSR – as well as the official stamp of the DDR – East Germany. (So far I haven't had any trouble when going through customs, but the stamps have gotten some chuckles out of European officials.)
(44) Cross over to Peacock Island! Pfaueninsel is a little island situated in Berlin-Wannsee and it is home to free-roaming peacocks and other exotic birds. This island used to be a country escape for Prussian King Frederick William II who built a little castle for himself and his mistress.
(45) Take a stroll through Grunewald. For a day spent at one with nature, head out to Grunewald (Green Forest). You'll leave the bustle of the city behind and be surrounded by towering trees and tranquillity.
(46) Walk across Oberbaumbrücke. Oberbaum Bridge is another of those iconic city landmarks. The double-decker red brick bridge connects the two boroughs of Friedrichshain and Kreuzberg. Because these boroughs were once divided by the Berlin Wall, this bridge has become a symbol of unity.
(47) Walk through Brandenburger Tor. Known as Brandenburg Gate in English, this former city gate is one of the most iconic monuments in Berlin. After the Berlin Wall fell in 1989, it too became a symbol of unity and freedom. This iconic sight is another one of those top things to do in Berlin for visitors.
(48) Start the night out at a Spaeti. So a Spaeti or Spaetkaufhaus is nothing more than a convenience store, however, in Berlin this is where young people like to get their big night out started. With an ample supply of beer at the fraction the cost of what you'd pay in a trendy bar, this is the congregating point for a night of clubbing…and this is also where many a night ends in search of late-night snacks.
(49) Discover the nightlife. So I'm probably not the best person to ask about Berlin's nightlife. While I did get to experience a few of the city's bars and popular hangouts, I was usually in bed long before the night got started. However, I can tell you that Berlin is home to some of the most notorious clubs in the world. Let me put it to you this way, I've walked past clubs on a Sunday morning and the party is still going… I remember going out for breakfast with a friend when we walked past a club and the bouncer asked us, "Wanna come in?" Clubbing on a Sunday morning? Apparently, in Berlin, you can.
(50) Take a day trip to Potsdam. And if you've had your fill of Berlin, you can always take a little day trip over to Potsdam which is just a short train ride away. Potsdam is known for its beautiful palaces and gardens like those found at Sans-souci. FYI Sans-souci is nicknamed "the Versailles of Germany", which is enough to pique my interest.
Where to stay in Berlin
Prenzlauer Berg – This is where I stayed in Berlin and I enjoyed both the location and the beautiful architecture of the apartments. Prenzlauer Berg once drew artists with its affordable prices, however, in recent years the neighbourhood has become more 'upscale' and rent prices have shot up. It's home to a lot of young families, and it has a sprinkling of small boutiques and restaurants.
Kreuzberg-Freidrichshain – The little rebel! I love this area because it has so much character. It's gritty, artsy, unexpected, it has lots of great international restaurants, and it's always full of surprises. If you want to experience Berlin's alternative side, then this is a great neighbourhood to be based.
Mitte – Mitte is a busy neighbourhood. This is where many of the city's attractions are located, so you can expect to find a lot of tourists here. It has a bit of a commercial feel, however, it's a great place to shop and you won't be short of dining options.
Charlottenburg – This is an area I would call posh. It is home to beautiful residences and we can't forget the stunning Charlottenburg Palace located nearby. Charlottenburg is in the West side, so it's a little bit of a commute into the city, but if you're thinking of a longer stay and want to enjoy the greenery and a beautiful neighbourhood, it's an option.
And those are just a few of the neighbourhoods I got to experience. For a more detailed look at hotels and hostels available across the city, you can browse accommodations in Berlin here.
Another great option is AirBnB, where you can find entire homes and apartments for $30-100 per night depending on the size and location, and much lower if you're just looking for a private room in someone's home. If it's your first time using AirBnB, you can use my $40 discount here.
Getting around Berlin
Berlin is divided into 3 pay zones: Zones A, B, and C. You can either buy tickets restricted to one zone, or if you're planning to travel further you can buy a combined ticket. The transportation network consists of U-Bahn, S-Bahn, trams, buses and ferries, and your ticket must be validated at the little ticket machines before you start your journey. Even if you don't speak German, tickets can be easily purchased from the automats at the station using the English option. You can click here for more information on tickets, fares, and routes.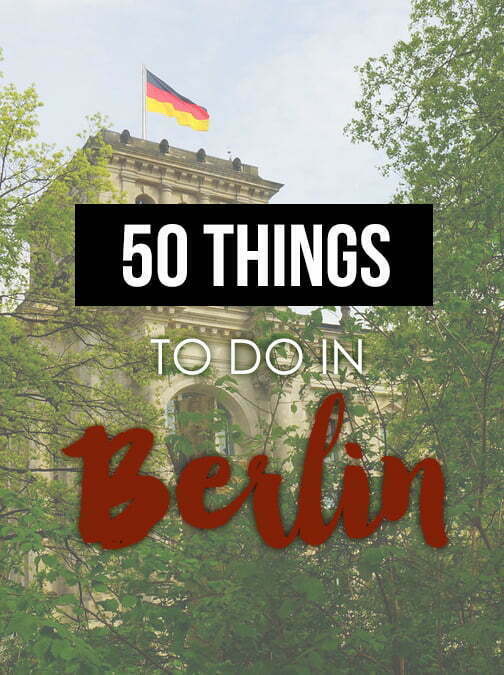 More Europe City Guides
Things To Do In Hamburg, Germany
Have you been to Berlin?
Are there any other things to do in Berlin you'd recommend adding to this list?