Continuing our travels through Quebec's Eastern Townships, our next stop was Mont-Mégantic National Park, except this isn't your average park. Mont-Mégantic is located in the heart of the first International Dark Sky Reserve and that means it's an astronomy lover's paradise. Because there's hardly any light pollution in the area, it's the perfect place to turn your gaze upwards and marvel at the stars, plus there's also plenty of hiking to be enjoyed by day. For this trip, we once again teamed up with Tourisme Quebec and Merrell Canada and these were some of the highlights:
Staying at a spacy chalet in the woods
I love staying in unusual accommodations when I travel and during our visit to Mont-Mégantic National Park, Sam and I had the chance to do exactly that!
We stayed in a small campground in the northwest end of the park, which had 10 chalets with a bit of an astronomy twist. You see, each of the chalets here is named after one of the planets in our solar system, as well as the dwarf planet Ceres, which is the largest object in the asteroid belt. How cool is that?
We were assigned Mercury, the smallest and innermost planet in the solar system.
The first thing I noticed when we drove up to our chalet was that the construction looked quite spacey and futuristic – almost like something you'd expect to find in the Sci-Fi version of a colonized planet.
After parking the car, we followed the black gravel path towards what would be our home for the night. The first thing that caught our attention was the fact that we were surrounded by forest. There were massive windows that wrapped around the side of the chalet and standing in the open concept dining/living/kitchen area, we could see nothing but trees all around us.
The design was modern, minimalist and functional. We had a wood-burning stove in the living area, and out front, there was a propane BBQ, a fire pit, a picnic table, and a set of Adirondack chairs perfect for lounging (had it not been raining).
Since this is considered glamping, when we arrived we had two kits with towels and linens waiting for us. These included: 1 fitted sheet, 1 flat sheet, 1 pillowcase, 1 bath towel and 1 face towel per person. We quickly made our beds, and then it was off to go explore what Mont-Mégantic National Park had to offer!
Learning about space at ASTROLab
One of the main draws to Mont-Mégantic National Park is the ASTROLab, which is an astronomy research centre focused on making science accessible to the public. They offer daytime guided tours of the lab with exhibits focusing on life, earth and space.
We toured the exhibits and then watched a screening of a film called Cosmic Rhythms, which really puts into perspective just how vast our universe is and what a short time we've been around to witness it all.
We also learned that ASTROLab hosts two astronomy festivals during the summer months:
Popular Astronomy Festival in July
The first is the Popular Astronomy Festival, which is the biggest gathering of novice, amateur and professional astronomers in Québec. This is also one of the few times of year when people are granted access to the Mont-Mégantic Observatory to scan the skies using a 1.6-metre telescope.
You can read more about the Popular Astronomy Festival at ASTROLab here.
Perseid Festival in August
The next festival takes place during the Perseid Meteor Shower, which is visible every year starting mid-July, but peaks in activity in early to mid-August. The ASTROLab puts on a special program and invites people to bring some lawn chairs and blankets, and come to spend the night under the stars with other enthusiasts.
You can read more about Perseid Evenings at ASTROLab here.
Hiking in Mont-Mégantic National Park
So I've talked a lot about astronomy so far, but another reason to visit Mont-Mégantic National Park is for all the hiking opportunities, and there are plenty of trails waiting to be explored!
One thing to keep in mind when it comes to hiking in this park, is that it's divided into two sectors: the Franceville Sector and the Observatoire Sector.
The Franceville sector is located in the northwest end of the park, which is where our cabins were located. The peaks aren't quite as high in this area, but they have some beautiful trails through the forest and along the river, as well as some lookout points along the way.
The Observatoire Sector is located in the southeast end of the park. Hiking in the Observatoire Sector gives you access to Mont Mégantic (1,105 m) and Mont Saint-Joseph (1,065 m), though you can also drive up to both summits by car if it's the views you're after.
Keep in mind that there is no road connecting the Franceville Sector and the Observatoire Sector, so getting from one sector to the other involves driving 30 minutes around the park – we learned that the hard way!
We went hiking in the Franceville Sector since we basically had these trails at our doorstep, and then we decided to drive up to Mont Mégantic to see the observatory and Mont Saint-Joseph to see the chapel.
For this excursion, I wore my Merrell Sugarbush Belaya Lace Waterproof boots, which look heavy duty but are surprisingly lightweight. They have a solid grip which makes them great for uneven terrain, and I will say that since coming back home I've also incorporated them into my city life because I love their style!
They're ideal for winter weather as they're waterproof and salt resistant – two musts in Canada. Mine are in the colour Espresso and Sam has the men's version in the colour Merrell Oak.
Feasting at Aux Toits Rouges
So this last activity isn't exactly astronomy related, but if you're visiting Mont-Mégantic National Park and you find yourself craving a nice home-cooked meal, you can't go wrong with Aux Toits Rouges. This is a country lodge with its own in-house restaurant and Sam and I enjoyed a lovely meal in a rustic yet cozy setting.
Aux Toits Rouges specializes in regional dishes, so we decided to be adventurous with our taste buds.
We started off the meal with a pottage, that was followed by a mixed salad with a balsamic-maple dressing, and then we moved on to the main course; I ordered the royal quail stuffed with veal in a maple glaze, and Sam ordered the duck from Lac Brome. Both of our dishes came with a side of white rice and steamed vegetables.
Then for dessert, we couldn't resist having some more Maple Syrup Pie. We had tried this in Sutton when we first kicked off our road trip through the Eastern Townships, and we got hooked.
The one we tried here at Aux Toits Rouges was denser and had a similar consistency to a fudge bar. It was served with seasonal fruits and whipped cream, and it was absolutely delicious!
After that wonderful meal, we drove back to our spacey cabin in the woods and imagine our surprise when we were met with a deer right on our front lawn. We sat there in silence just staring at each other for a few seconds, and then the deer bounced off on his merry way. We may not have been able to see the stars due to the weather, but this was the perfect way to wrap up our visit to Mont-Mégantic National Park.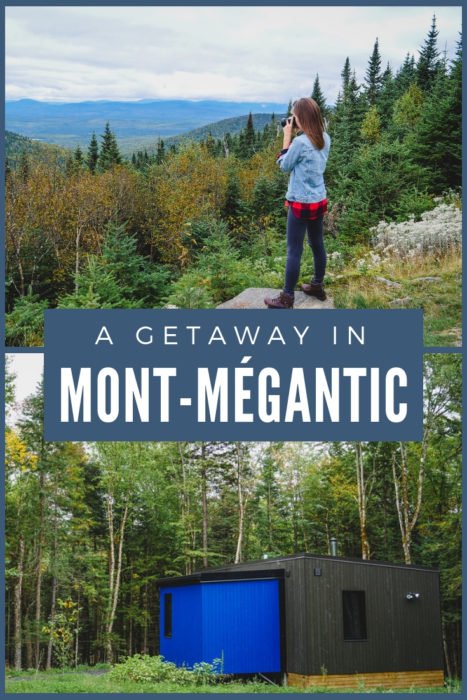 I visited the Eastern Townships in partnership with Tourisme Quebec and Merrell Canada.