Sutton was our first introduction to Quebec's Eastern Townships and what a great way to start! This destination proved to have it all from unique accommodations and adventure activities to beautiful hiking trails and an emerging foodie scene. Sam and I spent two days exploring Sutton in partnership with Tourisme Quebec and Merrell Canada, and it was the perfect combination of outdoors adventure and relaxation, so for anyone else in need of an outdoorsy getaway, here are some highlights from our trip.
Staying in cozy chalet in the forest
First up, we need to talk about the unique accommodations, because this was a huge part of our experience!
We stayed at Huttopia, which offers a camping or glamping experience in 65 hectares of forest just a stone's throw from Mont Sutton. We opted for glamping (hello electricity and running water!) and stayed in a cozy chalet in the forest which offered a taste of nature without sacrificing any comforts.
The entire chalet was made out of wood and it was very bright with lots of windows that allowed natural light. The first floor had an open concept kitchen/dining/living area as well as a bathroom and bedroom off to the back. Out front, we had a deck area with a picnic table – perfect for meals al fresco! And upstairs we had a loft area and a second bedroom; we chose to sleep up here because the A-frame construction made it feel extra cozy.
My favourite part about this chalet was being out in the woods. We kept our window open at night and fell asleep to the sound of the howling wind and chirping critters, and that was the very same soundtrack we woke up to the following morning. This was also the perfect place to disconnect seeing as Huttopia has no WiFi in the chalets, meaning if you really wanted to check your phone, you needed to go down to reception.
Overall, this proved to be the perfect little home-away-from-home for our weekend in Sutton, but now let's get on to the activities!
Outdoor adventures at Au Diable Vert
During our weekend in Sutton, we made sure to visit Au Diable Vert. The place started out as a mountain lodge, however, it's also an outdoor playground with lots of activities on offer. We spent a full day there and here's a little taste of what it had to offer:
Riding the Vélo Volant
The main activity that piqued our interest in Au Diable Vert was the Vélo Volant. This is a 'canopy cycle', so picture a reclining bicycle on a zip line, and you've got the right idea.
The circuit runs through the forest, over ponds, and along ravines, and you also get glimpses of the Green Mountains of Vermont off in the distance. The nice thing about this activity is that you only go as fast as you pedal, and you're encouraged to take it slow and stop to enjoy nature and your surroundings.
I took a few breaks while I waited for Sam to catch up with me, and the forest was alive with all kinds of chirps and birdsongs. It was surprisingly peaceful just hanging out there surrounded by trees.
One thing to note about Vélo Volant is that you do start off fairly close to the ground, but gain height the further you pedal along. The highest point is 100 feet, and once you've started the only way down is forward, or pedalling backwards uphill but only if there are no other cyclists behind you!
This is the only canopy bicycle of its kind in Canada, with only a handful of similar circuits available around the world in Florida, Mexico and Costa Rica, so it's a pretty unique activity if you're looking to try something new.
Kayaking on the Missisquoi River
Another fun activity we got to try at Au Diable Vert was kayaking on the Missisquoi River. The day tours are unguided, but they also offer moonlight kayaking tours with a guide.
Since we went out during the day, the staff's only warning was, "Don't paddle more than 5 kilometres south or you'll end up in Vermont!"
I have to say, this was a really relaxing place for kayaking; the waters were dark but very shallow and there was hardly a current. If you've been wanting to try kayaking, this is a great place to do so for the first time.
I also noticed that they had Stand Up Paddleboarding, but it was early autumn and I wasn't sure I wanted to take a dip in the waters if I lost my balance!
Enjoying the hiking trails
In between the canopy cycling and the kayaking, Sam and I also did a bit of hiking.
Au Diable Vert has a large trail network that is open year-round (though you'll need snowshoes if you plan to visit in winter), with trails that range from 30 minutes to 2 hours.
To reach the trailhead, we had to walk past the Hairy Coos until we reached the sculpture of the rooster. This was a nice place to stop, catch our breath, and enjoy the panoramic views of the surrounding hills made even more beautiful by the autumn colours.
For this hike, I wore my Moab FST 2 Waterproof for the first time and let me just say that this is the first time I've worn a hiking shoe that didn't require breaking in! Yes, they were waterproof and had great traction, but I was blown away by the comfort and mobility the shoe offered.
In the end, we did one of the shorter trails since there was lots to see and do at Au Diable Vert, but even though we didn't venture that far, we still got to see lots of squirrels and chipmunks scurrying around, plus we could hear lots of birds chirping all around us.
Seeing the Hairy Coos up close
I have to say, I was pretty excited when I found out there were Hairy Coos in the Eastern Townships (though they call them Highland Cattle around these parts)! I've had the chance to see them in Scotland, but never quite up close.
When we arrived at Au Diable Vert we learned that it has an on-site farm, part of which has been occupied since the early 1780s when many of the British Loyalists were expelled from the newly formed United States. Families walked across the border and many settled in this area, and well, today Hairy Coos roam the farm looking shaggy and ginger as ever!
National Geographic ObservÉtoiles
So, this is the one activity that we didn't get to try at Au Diable Vert since we visited during the day, but I wanted to mention the National Geographic ObservÉtoiles for any astronomy lovers reading this.
This is basically an open-air planetarium set in an outdoor amphitheatre (with heated seats!) that sits at 1,000 feet on a mountainside. Every participant receives an augmented reality headset that allows them to see the actual night sky with a digital overlay of the constellations and the names of stars and planets.
This isn't an activity that takes place daily, so you'll want to check the schedule and make reservations in advance.
The last thing that I'll mention about Au Diable Vert is that they also offer some rather unique accommodations. You can stay in cabins, Airstreams, tree houses, Hobbit houses and cliffside cabins – all the options are listed here.
A taste of Sutton's food scene
Even though our chalet had a full kitchen perfect for a self-catered weekend away, we still wanted to check out Sutton's foodie scene, so here's a selection of places we ate at and enjoyed:
La Rumeur Affamée
Set in a historic building dating back to 1861, La Rumeur Affamée is one of those must-visit places in Sutton! What was once a post office and general store, now houses a gourmet food shop specializing in local products, and great care has been put into preserving the interior of the building with many of the antique shelves and display cases still standing.
We stopped by here twice over the course of our visit, and it was the perfect place to pick up anything from cheeses and deli meats, to pastries and sandwiches. The staff were beyond friendly and their products were delicious.
The one item we would recommend trying here: Maple Syrup Pie!
So decadent. So rich. So sweet.
I should also mention, another reason that people visit La Rumeur Affamée is that it's one of the many locations in the Eastern Townships featured in Louise Penny's mystery novels. I only found out when a couple excitedly walked into the store asking if this was the place from the books. You can view a map of locations appearing in her books here.
Address: 15 Rue Principale Nord, Sutton
Á L'Abordage Microbrasserie
Another place we ate at in Sutton was Á L'Abordage Microbrasserie, and boy was it good! This is a microbrewery in the heart of town, so of course, we had to stop by for a few beers and some food.
We ended up ordering 2 beer flights plus 1 single pour so we could sample everything on tap. My favourite was their raspberry beer.
Aside from that, we also ordered the poutine with duck. The meat was shredded a bit like pulled pork, and it was all covered in cheese curds and thick gravy. Sam also ordered a really tasty burger with caramelized onions, brie cheese, and bacon. It was all savoury and delicious!
Address: 10 Rue Principale Sud, Sutton
Auberge des Appalaches
During our weekend in Sutton, we also dined at Auberge des Appalaches, which is a mountain lodge with its own in-house restaurant. Their meals are focused on local and seasonal ingredients and we ended up having a wonderful dinner here.
The highlights included an appetizer of scallops with coriander sprouts and strawberries (I need more coriander sprouts in my life!), fish and chips, and a delectable brownie-marshmallow smore for dessert.
Address: 234 Chemin Maple, Sutton
Le Cafetier
Last but not least, another place we ate at in Sutton was Le Cafetier. They had a nice selection of wraps, burgers and sandwiches, as well as fresh juices and smoothies.
They also had a great outdoor terrace perfect for people watching, so we decided to eat outside and enjoy one of the last al fresco meals of the year.
Sam and I both really enjoyed the grilled cheese sandwich with apples and caramelized onions. I would've never thought to put apples in a sandwich, but let me tell you, it worked and we polished it all off!
Address: 9 Principale Nord, Sutton
How to get to Sutton
If you want to visit Sutton you're going to need a car because most places aren't in close proximity to one another, plus a road trip really is the best way to experience Quebec's Eastern Townships!
We picked up our rental car in Montreal from Pierre Elliott Trudeau International Airport and drove to Sutton.
GoogleMaps will tell you it's about 1.5 hours, but there was a lot of construction and traffic leaving the city, so it took us closer to 2 hours.
My tips? Give yourself plenty of time to get out of Montreal and also get a GPS to help you navigate the area.
You can see how the rest of our road trip unfolded in Mont-Mégantic here.
Happy road tripping!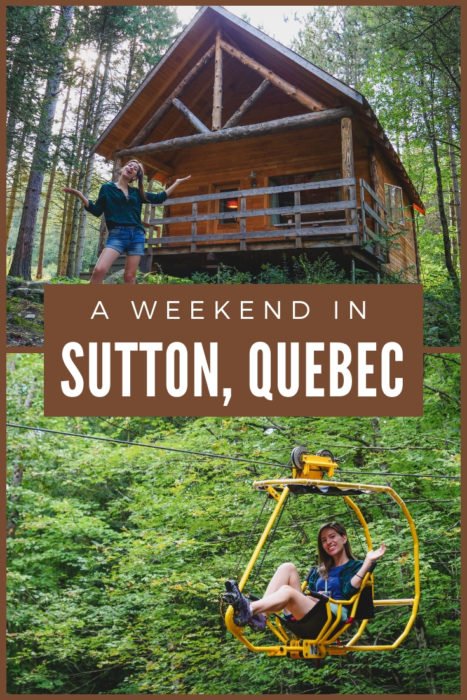 I visited Sutton in partnership with Tourisme Quebec and Merrell Canada.