The best fly fishing lodges in Argentina are all set in beautiful Patagonia – a land that has resisted man's attempts to tame it for centuries. Here you'll find pristine nature, crystal clear rivers, and streams and breathtaking lakes, all stocked with beautiful salmon, as well as brown and rainbow trout.
Argentina is home to some of the world's most luxurious fly fishing lodge's, as well as some cheaper options that even the budget angler can afford.
On a recent fishing trip to Argentina, I had the pleasure of staying in all of these places and I have to say that they are worth the hype.
Patagonia is home to some of the best fly fishing you'll find anywhere, rivaled only by perhaps Ireland, New Zealand or the US.
In this post, I'm going to share the best time to visit, the history of Patagonian fly fishing, and how these fishing lodges came to be, and then I'll list the top 5 most beautiful fly fishing lodges in Argentina.
When To Go
Official Fishing Season: November 1st – May 1st
While the official fishing season in Patagonia runs from November 1st to May 1st, the best time to hit the rivers and lakes in the region will depend on what you're angling for.
The Spring (November-January) is a beautiful time in Patagonia, with much of the snow still sitting atop the Andes Mountains, providing your fishing experience with a breathtaking backdrop. This is the best time to come for larger fish species, as they're hungry after the long winter and the water is deeper, allowing them to strike more freely.
If you don't mind waiting for your turn on the river, then this is probably the best time for fishing in Patagonia.
The Summer (January-March) is the busiest time of the year and arguably, the best time to be in Patagonia. This is a time when trout and salmon are gorging themselves on the hordes of bugs that land on the surface of the water. The sunny skies surprisingly also make it the best time for dry flies.
The Fall (March-May) is another great time for fishing in Patagonia. The crowds thin out, the Argentinians are back to school and work after summer holidays and the anglers rejoice in empty rivers, clear skies, and active fishing. As the temperature decreases, the trout start a feeding frenzy to prepare for winter. This is a good time to break out the best 3 weight fly rod in your kit and cast for smaller trout species.
The History
As legend has it, there was a migrant ranch boss who arrived in Argentina in the late 18th century and when he got there, he couldn't believe that the rivers and lakes were so perfect all around the region, and yet they had no trout in them.
He missed his homeland and his fishing so much that he decided to smuggle eggs into the country and planted them in the rivers.
While this tale may very well be true, official records state that it wasn't until 1904 when the first true stocking of trout actually took place in Patagonia.
The first fish to be stocked in the area were lake trout, brook, and landlocked salmon which were shipped down from New York and planted in Lake Nahuel Huapi, Gutierrez and Traful.
Later, more species were brought in via egg stocking from the US, England, and Germany, but this time they added Rainbow Trout, Browns, and Atlantic and Pacific salmon to the spawns.
These days the rivers and lakes are teeming with enormous trout and salmon and anglers from around the world are coming to fish these waters in mass.
Top 5 Fly Fishing Lodges in Argentina
Now that you know how the fish got there, when to go, and what to expect from the incredible fishing opportunities in Argentina, it's time to decide where to stay.
Below I'll list the 5 best fly fishing lodges in Argentina.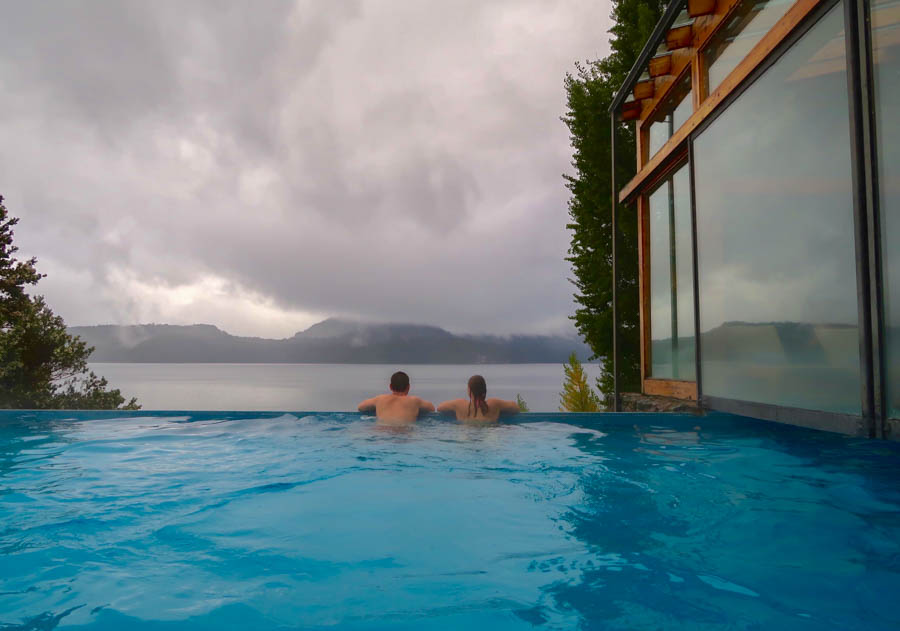 Location: Villa La Angostura
Price: From $250 / night
Thanks to the breathtaking spa with the inside-outside heated swimming pool, and the well-appointed rooms with views over Correntoso Lake and the Andes Mountains, this is probably my favorite fishing lodge that I've ever stayed at.
The spa also has a hammam (Turkish Sauna), and a dry sauna.
The best part is that the hotel has a boat parked out front with a friendly local guide who can take you out for a fishing trip whenever you want.
Don't want to head out with a guide? The world-famous Correntoso River sits right next to this hotel. You can walk up to certain designated fishing areas, or fish right at the opening to the lake.
You really can't ask for much more when it comes to fishing lodges in Latin America.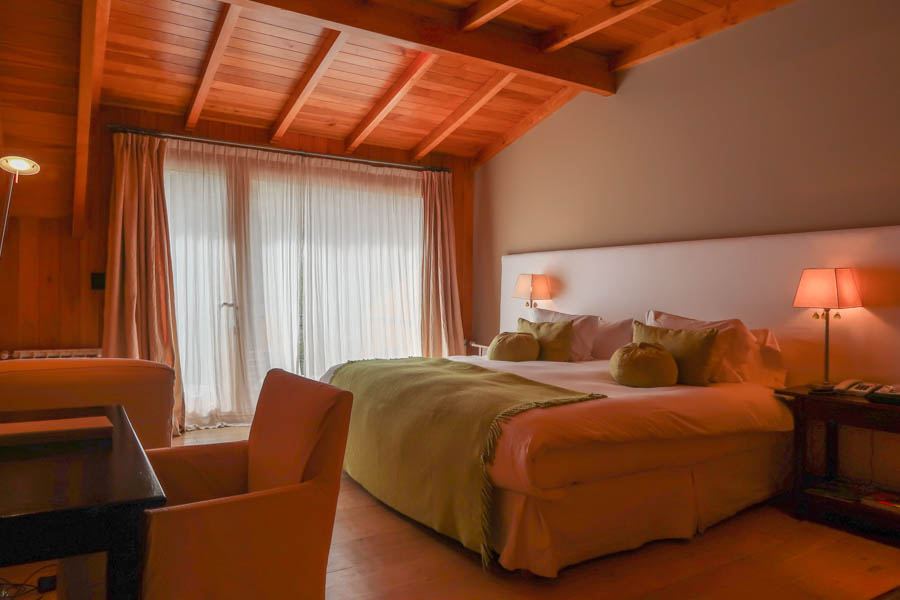 Location: San Martín de los Andes
Price: From $650 / night
This is another one of Patagonia's premier fishing lodges. Set along the famous Rio Hermoso (Pretty River), this hotel has large, bright rooms, some with king-sized beds and balconies with views of the river.
There's also a beautiful common area with large, comfortable couches and chairs where you can unwind and enjoy a coffee or a hot tea after a long day of fishing.
The fishing in Rio Hermoso is excellent. I woke up in the morning and sight-casted for beautiful browns. The water was so clear that you could literally see schools of trout hanging out in the pools.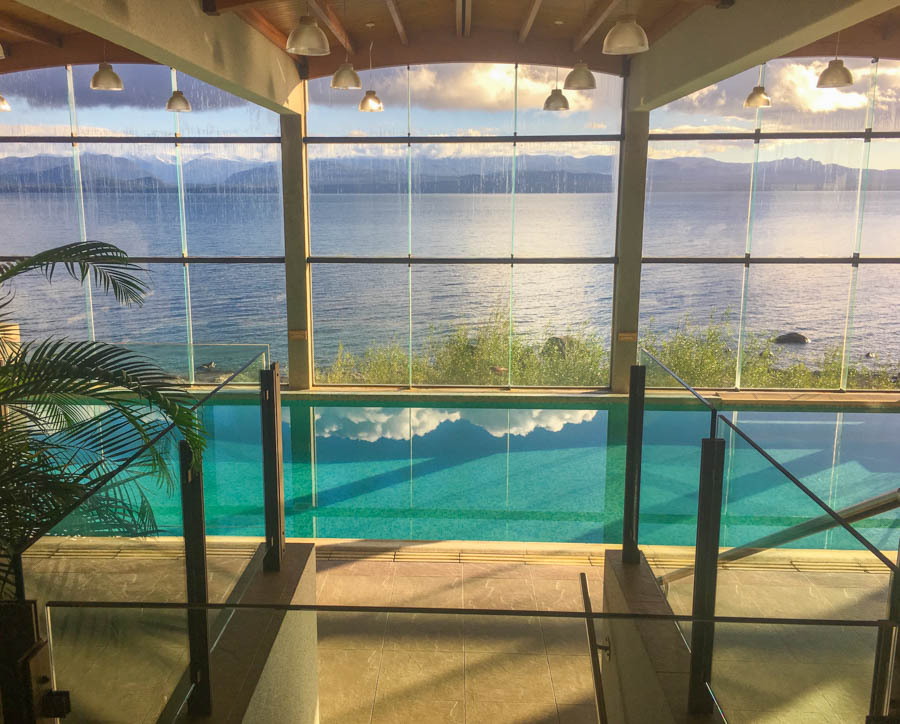 Location: Bariloche
Price: From $110 / night
The staff at Alma del Lago Suites and Spa are extremely friendly and you really can't beat the location with views of Nahuel Huapi Lake and Cerro Catedral Mountain from most of the rooms.
Room rates include a large breakfast each morning and there's a beautiful indoor pool with views of the lake through massive floor to ceiling windows.
There are plenty of fishing spots around Bariloche (where Alma del Lago Suites and Spa is located) and there are some fly shops in town as well, where you can ask for maps, rent gear and pick up your fishing license.
While you're in Bariloche, don't miss Alto el Fuego restaurant for what might just be the best ribeye steak meal in all of South America.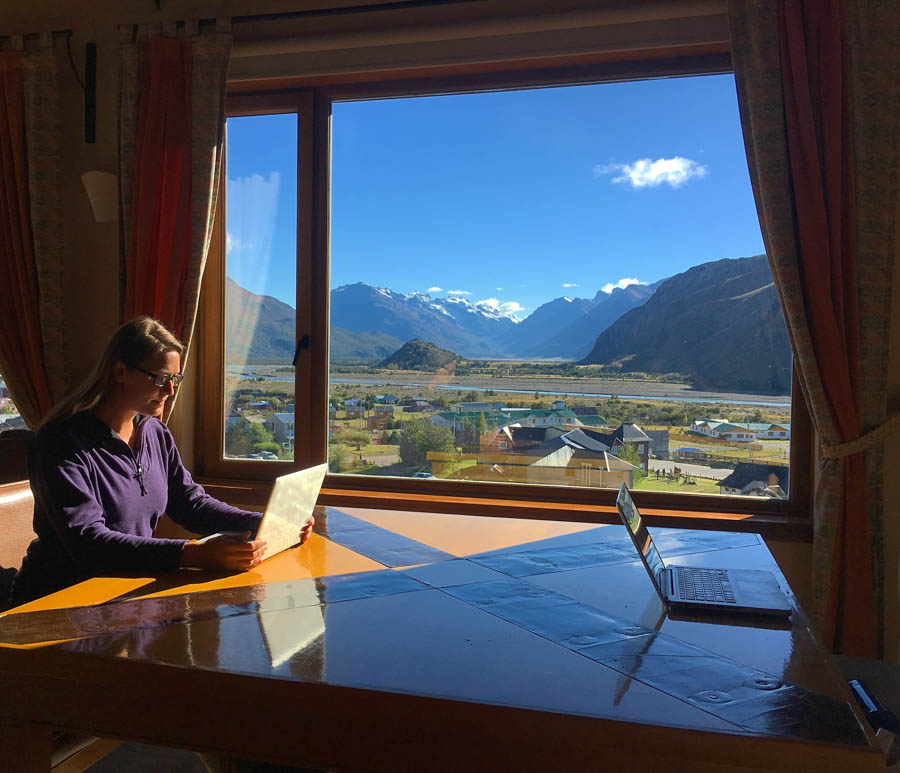 Location: El Chalten
Price: From $160 / night
Don Los Cerros is more of a trekking lodge than it is a fishing lodge, although you do see some pictures hanging on the wall with fishermen and the place has a very outdoorsy feel to it.
The main common area in this hotel is absolutely breathtaking, with natural wood-plank ceilings, a big fireplace and chairs arranged around the restaurant all with views out the enormous floor to ceiling windows towards the Andes Mountain range.
From El Chalten, you can book fishing excursions (both fly and spinning) out to Lago Del Desierto and the De las Vueltas river.
Las Vueltas River has monstrous Chinook Salmon that can reach up to 5o lbs, while Desierto Lake is home to brown and rainbow trout and makes for a great place for fly fishing.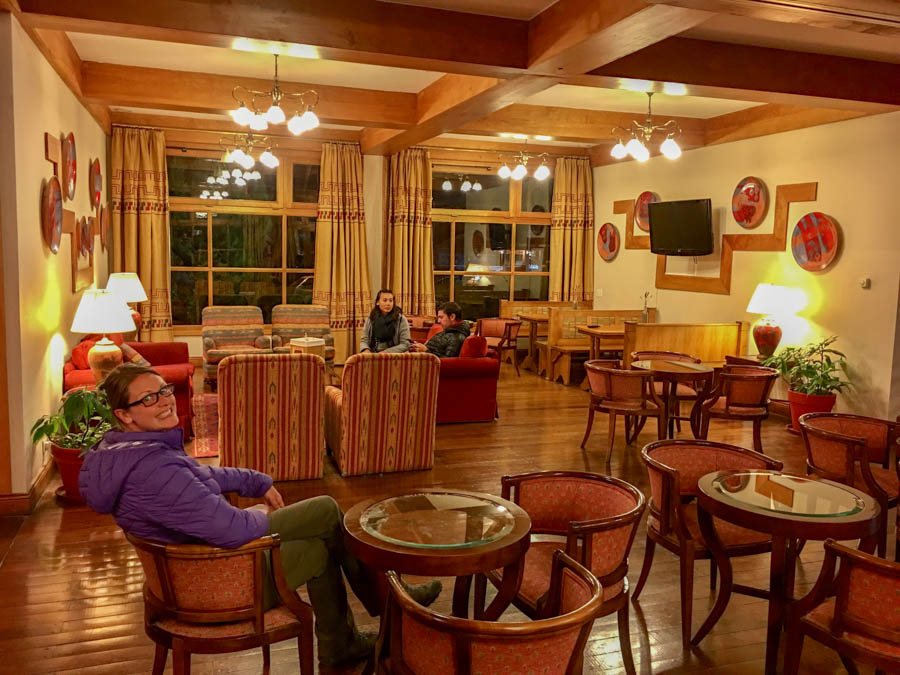 Location: El Calafate
Price: From $120 / night
Kosten Aike is another place where you'll likely see more hiking poles than fishing poles, but it has such a fishing cabin feel and has all the makings of a great fly fishing lodge, including a warm fireplace and a friendly welcome.
The rooms are cozy, bright, and affordable, many with views out to the Andes.
Most people come to El Calafate for the Perito Moreno Glacier, which means that while the town will likely seem crowded when you arrive, most of those people will actually be heading on day trips to see the ice calving into the bay.
You, on the other hand, are here to fly fish, and you'll have the opportunity to fish for massive lake trout and rainbows in glacial runoff water at places like Lake Roca, Rico River, Lake Argentino, the Bote River and the Santa Cruz River.
There are a few fly fishing guide services for hire in El Calafate that can take you out on trips to different places, or, you can ask the local fish and wildlife rangers where you're allowed to cast a line.
Just be sure you have your fishing license and you should be fine to fish pretty much all of the waters around Kosten Aike Hotel.
In Closing
Argentina has, without a doubt, some of the best fly fishing in the world and what makes a trip to Patagonia even more enjoyable is the fantastic accommodations that you can stay at while you're there.
Argentina is also a country that has become more affordable in recent years thanks to a strong US dollar, so there's never been a better time to visit.
Most of these lodges are affordable, especially when compared to their US counterparts, they're clean, comfortable and offer some amazing amenities.
I hope this post inspired you to visit one of the world's truly pristine fishing environments of Patagonia. The Lake District of Argentina will have you coming back for more. I guarantee it.
Author's Bio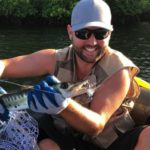 Nick is the writer and expert angler behind the fly fishing website IntoFlyFishing.com, as well as the two popular travel blogs YourIrishAdventure.com and GoatsOnTheRoad.com. Together with his partner Dariece, he's been traveling and fishing around the world since 2008 and continues to share his unique travel experiences and exotic fishing destinations through his blogs, Instagram, YouTube Channels and Facebook accounts.