Peru is one of those countries that I keep coming back to again and again. Part of the reason is that I have family there, but the other reason is that there is so much too see and experience. No matter how much time I spend in Peru – I've been there 3 times in the last 2 years alone! – I still keep finding new places to add to my bucket list.
Some travellers quickly skip through Peru only making time to visit Cuzco and Machu Picchu, but there is so much more to this country than Inca ruins. Today I'm going to share my 1-month Peru travel itinerary, which to be honest, I feel barely skims the surface and only touches on some of the country's main highlights, but you have to start somewhere! Consider this travel itinerary an introduction to Peru and if you enjoy the country as much I do, then you can always plan a return and head into the more remote and harder to access regions. Now here's a look at how to spend 1 month in Peru.
Peru Travel Itinerary
Lima
3 days
Let's start in the capital, Lima, since that is where you'll likely be flying into. Lima is the second most populous city in all of South America and it can be a bit overwhelming if you don't know where to go. People will often tell you to skip it entirely and just continue on to Cuzco, but I like Lima and I think it has quite a bit to offer, so I'm going to try to convince you otherwise.
There are 3 neighbourhoods, which I think are great for first-time visitors: Miraflores, Barranco and Centro. Miraflores is located along the water and it is an affluent neighbourhood with seafront properties, beautiful parks and lots of great restaurants. Here you'll want to visit El Parque del Amor, shop at the Hippie Fair in Parque Kennedy, and if you're feeling brave you can even try paragliding.
Barranco has more of an artsy bohemian flair and it's also known for its nightlife. In Barran, o you'll want to enjoy all the street art, walk across the Bridge of Sighs, and pop into the various museums and art galleries.
Lastly, in Centro you can visit Plaza de Armas, tour the catacombs inside the San Fracisco Monastery, and watch the changing of the guard at the Presidential Palace. And that is just a quick introduction; you can read this other article for more ideas of things to do in Lima and this other one will give you ideas of easy weekend trips.
Now let's move on to the food. Since Lima is on the coast, you'll have to sample ceviche, a raw fish dish that has been cured in lime, and is served with corn, sweet potato, and red onions. It is delicious and a must try! If you're more adventurous, then go for anticuchos, which are grilled meat skewers (typically cow heart!) served with a side of corn. I know it sounds a bit strange, but it tastes just like steak.
Where I stayed:
I usually stay with family when I visit Lima, but regardless, I would recommend staying in the neighbourhood of Miraflores. Located right by the seaside, this is one of the nicest areas in the city, plus you also have easy access to Barranco and plenty of tours into the historic centre. There are plenty of hotels, hostels and guesthouses in this neighbourhood, plus AirBnB has a great range of properties, and if it's your first time using it, you can get a $40 discount code here.
Cuzco
3 days
I would suggest spending at least 3-4 days in Cuzco since the first two days will likely be a write off depending on how well you handle altitude sickness. When you fly into Cuzco, it's recommended that you spend your first day resting and that you follow that up with some light sightseeing on the second day. Some people aren't affected by the altitude and can hit the ground running, but I've seen other people be standing one minute and then hit the ground like a sack of potatoes the next, so it's better to take precautions.
Once you've been able to acclimate, it's time to start exploring and luckily there's plenty to see and do in Cuzco. Some of the main sights in Cuzco include: Qorikancha, the most important temple in the Inca Empire which was dedicated to the Sun God; Plaza de Armas, the main square where you'll find Cuzco Cathedral; the Pre-Columbian Art Museum, which houses an art collection in a mansion-turned-convent; and the Inka Museum, which showcases gold-work, pottery, textiles, and even mummies.
For those with a bit of a sweet tooth, you may be interested in the ChocoMuseo, which covers the history of chocolate, and the Pisco Museum, which is a bar that offers pisco tastings.
Foodwise, the cuisine in Cuzco is quite different from what you'll have experienced in Lima. We found the meals to be a lot heartier. Some traditional dishes you may want to sample include: chairo, a thick soup made with lamb and vegetables; alpaca skewers, very tender cuts of alpaca meat cooked over the grill; and guinea pig, which is usually served roasted (be prepared to get the whole animal on your plate!) Dishes feature a lot of potatoes, corn, and various root vegetables, and coca tea is a staple at every meal.
Where I stayed:
While in Cuzco I stayed at Tika Wasi, which is a boutique hotel that sits on the neighbourhood of San Blas overlooking the city. It was a peaceful setting with a cool courtyard and plenty of lounging space, and I also liked that each of the rooms had its own unique design. It was a 7-minute downhill walk into the town, and I feel like this helped us train for the Inca Trail!
Sacred Valley
2 days
Keep in mind that you can also take various day trips from Cuzco. Some of your options include: Maras Salinas, the famed terraced salt flats; Pisac, a small town known for its huge Sunday market; Ollantaytambo, the place where the Incas retreated after the Spanish seized Cuzco; and Moray, an agricultural laboratory known for its round terraces where the Incas were able to cultivate resistant varieties of plants high in the Andes. Alternatively, you could book yourself on a full-day tour of the Sacred Valley which hits some of these as well as other sites along the way. Whichever way you do it, the Sacred Valley is a place that you should definitely tack on to your Peru travel itinerary.
Inca Trail + Machu Picchu + Aguas Calientes
3 days
We did the 2-day Inca Trail to Machu Picchu and it was hands down one of the coolest adventures of our visit to Peru. Our first day involved a full day of hiking, and then the second day we had a guided half-day tour of Machu Picchu where our guide brought the city to life with his storytelling. We then had free time that afternoon, so Sam and I spent that time filming and taking pictures.
If you're walking the Inca Trail or spending more than one day visiting Machu Picchu, then you'll end up spending at least one night in the town of Aguas Calientes. If you're feeling sore from all the hiking, you can enjoy a soak in the hot springs that give the town its name, or you could treat yourself to a massage. Alternatively, there are a few easy hikes from Aguas Calients, or you can shop for crafts and souvenir at Mercado Artesanal. Lastly, if you really want to treat yourself to a good meal, head straight to El Indio Feliz, which is run by a French cook who knows how to combine French and Peruvian cuisine to create a culinary masterpiece.
Where I stayed:
In Aguas Calientes, we stayed at Terrazas del Inca which sits right by the river. All I remember is that the hotel had really hot showers and a super comfortable mattress, which was greatly appreciated after all that hiking. They also had a really hearty breakfast, which we gladly gobbled at 4:30 in the morning before heading over to Machu Picchu.
Puno
2 day
I have to admit, Puno was not one of my favourite stops in Peru, however, if you want to do one of the overnight Lake Titicaca tours there's really no other way around it. We ended up spending one night in the town before our tour and another night after. During that time we managed to visit the main square, shop along the pedestrian street, and eat at a few different restaurants. Here's a look at what to pack for Lake Titicaca if you're doing an overnight stay.
Where I stayed: After one awful night at Duque Inn, we checked ourselves into Hotel Hacienda Plaza de Armas which is located right on the main square and it was worth the small splurge. The rooms were very comfortable, the staff was incredibly helpful, and the location was much more central as opposed to the former property which was located up a very steep hill.
Lake Titicaca
2 days
When it comes to visiting Lake Titicaca, you can choose between a day tour or an overnight tour that includes a local homestay. The day tour only takes you as far as the reed islands which are settled by the Aymara, whereas the overnight tour takes you a bit further to some of the island communities settled by the Quechua.
We opted for the 2-day overnight tour (you can do longer ones) which took us to a total of 3 islands: Uros, Amantaní, and Taquile.
In Uros, we visited a reed island called Corazon del Lago, where we met the families who live there and learned about their daily life on a floating island. We had an interpreter with us the whole time, which allowed us to ask the types of questions that cross every visitor's mind: Where are the bathrooms? How do you have electricity? Isn't it dangerous for young children to live so close to the water? The answers: They now have outhouses. Solar panels have been installed. And children learn to swim at a very young age.
The second island we visited, Amantaní, was my favourite since we got to stay with a host family and this gave us a unique glimpse at their culture and way of life. Our host mom cooked us a delicious lunch, then we did some hiking in the afternoon, we later had a delicious dinner which was also prepared by our host mom, and after that, we were taken to the local community hall for some music and dancing.
On our final day, we hiked around Taquile, which is an island with UNESCO status for its "Masterpieces of the Oral and Intangible Heritage of Humanity", namely handwoven textiles and knitting. It was also fascinating to watch our guide interpret the local dress for us; the way men wear their hats can indicate whether they are happy, sad, having an average day, single, married, or an authority figure in the community. That's a lot of meaning based on the way you wear a hat!
Where I stayed:
During our tour, we stayed with a local family on the island of Amantaní. We booked our tour through All Ways Travel and once we met our guide, she gave us the option of doing a rustic homestay (no electricity and outhouses) or a more modern homestay (electricity and toilets with running water).
Paracas + Islas Ballestas
1 day
If you're doing a big trip around South America but you don't have time for the Galapagos Islands, Peru's Islas Ballestas are often said to be the next best thing; and while they may lack the size and diversity of the Galapagos, the Peruvian islands are an important sanctuary for wildlife plus they do give you a chance to see animals in their natural habitat.
The boat trip from Paracas to Islas Ballestas is just 24 kilometres and it is 30 minutes each way with one hour of sightseeing in between. We got to see a lot of really cool animals including Humboldt penguins, sea lions, sunfish, pelicans, cormorants, terns and more.
If you suffer from motion sickness this may not be the best excursion for you since the waters can be a bit choppy, but otherwise, it's a nice way to break up the journey down to Huacachina.
Huacachina
2 days
So I only visited Huacachina as a day trip, but once I got there I was wishing I had booked something longer since it's such a cool destination. Huacachina is a tiny oasis in the middle of the desert; you have a green lagoon surrounded by palm trees, and around that you have a small village that only stretches a few streets back. The place has a very laid-back hippie vibe, and if you're tired from your travels, this is a great place to just relax.
There are two main activities in Huacachina: sandboarding and dune buggy riding. We tried both. The steep dunes make this the perfect playground and it really felt like we were on a rollercoaster. We booked our tour through a hostel once we arrived in town, and we were out on the dunes within 10 minutes. Our driver also had boards in the buggy, so after tossing us up, down and around, he finally parked atop one of the steepest hills and let us try our hand at sand boarding. Apparently, sandboarding can be a little tricky if you don't have any previous snowboarding experience, so I ended up sliding down headfirst on the board. Yes, it was terrifying, but it was also a blast!
If you're looking for something a bit tamer, you can rent paddle boats to take out on the small lagoon, or you can hike up the dunes to watch a killer sunset.
Ica
2 days
If you're already going to Huacachina, you may also want to consider adding a couple of days in Ica to your Peru travel itinerary. While Ica itself is far from being a beautiful city, the area is home to many vineyards and wineries, and once you're in the outskirts of Ica it's a whole different world. If you're looking for a bit of a luxury weekend where you can unwind and relax, this may well be the place for you.

sssss
Sam and I booked ourselves in at Viñas Queirolo and we basically stayed on the premises all weekend. We went on a vineyard tour, attended wine tastings, and ate at the in-house restaurant which had some of the most beautiful plates of ceviche I have ever seen in my life.
Where I stayed:
We stayed at Viñas Queirolo, which is in the outskirts of Ica. It's a beautiful property and well worth the splurge for a night or two.
Iquitos
2 days
Iquitos marked the start of our trip into the Peruvian Amazon, and again, while many people tend to skip over this city, I enjoyed having a few days to experience it. Here you can visit the stilt village of Belen, stroll along the promenade at sunset, enjoy the colonial architecture, or cool down with a drink at one of the many riverfront cafes on Malecon Maldonado. You can read the following article for some ideas of things to do in Iquitos.
Since Iquitos is in the heart of the jungle, the food is quite different from what you'll have experienced along the coast or in the sierras. The majority of the dishes here feature fish, rice and tropical fruits. If you're a foodie, you may want to sample: tacacho y cecina, roasted plantain balls served with a side of dry pork meat ; juane, a steamed dish made of rice and chicken cooked inside a giant leaf; and patarashca de paiche, a large freshwater fish which is steamed in a leaf.
Where I stayed:
While in Iquitos I stayed at the Epoca Hotel, which is a beautiful heritage property right on the shores of the Amazon. The hotel has a colonial hacienda feel with tall ceilings, iron balconies, and a beautiful tiled exterior. Also, the staff was incredibly friendly and helpful, so I can happily recommend them.
Amazon
6 days
Our visit to the Amazon started out with a treehouse stay in the middle of the jungle. We booked 2 nights at the Treehouse Lodge, and it was one of the coolest experiences ever. When we weren't hanging out in our cool treehouse, we were going on wildlife excursions, fishing for piranhas, or visiting local villages. If you're adventurous and want to live up in the trees a la Jane and Tarzan, this is a cool experience to consider.
After our treehouse stay, we did a 4-day cruise on the Amazon River which saw us travelling up and down the mighty river. Once again, there were plenty of excursions to keep us busy. We went kayaking along the tributaries, did a canopy walk across a series of hanging bridges, and saw all sorts of wildlife. This was one of those lifelong bucket list experiences and a must add to your Peru travel itinerary!
Where I stayed:
I spent the first two nights at the Treehouse Lodge and from there I spent the next 3 nights aboard the Delfin I. If you're thinking of doing both, I would suggest doing the treehouse stay first since it's a more rustic experience, and then finishing things off with a the cruise since that offered a bit more pampering. Also, here's a look at what to pack for your trip to the Amazon.
One month in Peru
So that brings us to a grand total of 28 days of travel around Peru. Tack on a few transportation days, including flying and out of the country, and you've got yourself a whole month dedicated to exploring some of the gems Peru has to offer. Like I mentioned earlier, I feel this itinerary barely scratches the surface and it only focuses on some of the better known destinations in the country, however, it does cover a mix of cities and rural areas, as well as destinations along the coast, sierras, and jungle. I hope this one month Peru travel itinerary will help whet your appetite and hopefully you'll be back for more!
PIN ME FOR LATER!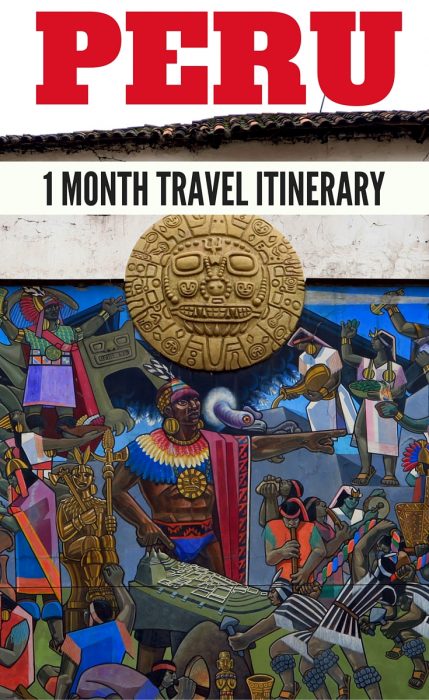 What are your favourite places in Peru?
Any other destinations you'd add to this Peru travel itinerary?