Today I'm sharing my India travel itinerary with you all. One month in India may sound like a long time, but when you're planning to travel in such a big country, one month can feel like a huge time constraint. Where should you go and what should you do?!
Sam and I ended up in India as part of our annual winter escape with his parents. So far we've done Southeast Asia and South America together, and this year they wanted to travel in India.
The two big items on their travel bucket list were the Taj Mahal in Agra and the Ganges in Varanasi; aside from that we were free to plan the whole itinerary.
Sam and I then started talking about Rajasthan, the trip started expanding, and next thing you knew, we were travelling the full width of the country by train from Jaisalmer to Kolkata!
I've already shared a few little snippets of our time in India in previous posts, but today I'm going to outline our 1-month India travel itinerary for anyone considering a similar trip.
1-Month India Travel Itinerary
Delhi
// 4 days //
Our first stop was Delhi and what an introduction to India! It was chaotic, it was colourful, and it was a whirlwind.
We spent our first day touring the Red Fort, which was once the main residence of the Mughal emperors. It may be called a fort, but this place is more like a walled city and you could easily spend half a day here visiting the bazaar, hammam, gardens, courtyards and palaces.
On our second day we toured Humayun's Tomb which was commissioned by the Emperor's wife after his death. It's a majestic sight with beautiful surrounding grounds.
From there we took a pedal rickshaw to the Lodhi Gardens which house beautiful tombs and they are a popular spot with families on weekends – we saw birthday parties, picnics, and plenty of cricket games taking place.
Just outside the gardens you also have Lodi – The Garden Restaurant, which is a bit of a splurge but offers al fresco dining surrounded by nature.
Our third day in Delhi was reserved for visiting Jama Masjid in the morning. This is the largest mosque (by size) in all of India, so we couldn't leave without a glimpse of the interior.
Keep in mind that the mosque is not open to visitors during prayer times, so you'll want to plan your visit accordingly.
Many people will tell you to get in and out of Delhi as quickly as possible, but even after three full days there I felt I could have used more time to see the rest of the sights.
If you have a bit more time you can consider visiting: India Gate, Safdarjung's Tomb, the Lotus Temple, Akshardham Temple, Jantar Mantar, plus lots of markets.
If you ask me, you need at least a week in Delhi to see it all! You can have a quick look of my Delhi highlights here.
Where I stayed:
We booked this hotel because it was a modern property located in a quiet area, yet still within walking distance of the Red Fort. The rooms were spacious and clean, the staff was beyond helpful and friendly, and while there weren't many restaurants on our street, the hotel served up great meals at their in-house restaurant.
Read reviews for Tara Palace Hotel.
Jaisalmer
// 3 days //
Jaisalmer was my favourite stop in Rajasthan. Yes, it was a long train ride to get there, but it was worth it in the end!
Jaisalmer, also known as the Golden City, is one of those places that seemingly rises out of the desert like a mirage.
The yellow sandstone buildings blend in with the colours of the sand, and the city has a bit of a magical feel to it.
The main attraction in town is the Jaisalmer Fort, but it's such a massive place and there is so much to see and do that you could easily revisit again and again over the course of your stay.
Inside the fort, you can tour the Raj Mahal, the palace where royal members resided, and the Jain Temples, which are renowned for their intricate craftsmanship.
As for souvenir shopping, there is no shortage of shops and stalls selling tapestries, hand-painted postcards, leather goods, metalware, and all sorts of art and crafts.
Jaisalmer's location also makes it a popular jump off point for camel treks in the Thar Desert.
We did an afternoon trek where we rode camels, climbed dunes to watch the sunset, had dinner, waited for the stars to appear (sadly, it was an overcast night!), and then returned back to the city.
If you're feeling a bit more adventurous you can camp out for the night or organize a longer tour.
Sam did a 4-day camel trek through the Thar Desert many years back and he's got some good stories from that trip – including surviving a flash flood that involved climbing trees and then seeking refuge in a small village! – but an afternoon excursion was enough for me.
If you have a bit more time in Jaisalmer you can also consider visiting Bada Bagh, a garden complex about 6 kilometres outside the city, which houses royal cenotaphs (empty tombs).
You can find my full Jaisalmer itinerary here.
Where I stayed:
This hotel was amazing and the rooms were full of character – exposed yellow sandstone, window day bed with silk pillows, traditional dark wood furniture, and colourful glass lanterns. They also had a great rooftop restaurant that had the best views of Jaisalmer Fort, plus a second rooftop where you could watch the sunrise. The staff were also very kind and helpful, and they offered a free pick-up and drop-off service at the train station.
Read reviews for Tokyo Palace Hotel.
Jodhpur
// 3 days //
Next up, we visited Jodhpur, the famed Blue City of Rajasthan. I was expecting it to be similar to Jaisalmer in size, but Jodhpur is a full-blown city that can be a little tricky to navigate.
The main attraction in Jodhpur is Mehrangarh Fort, a place that looks like the setting of a fairy tale with elements of science fiction.
Mehrangarh Fort houses an impressive museum where you can see paintings, costumes, armour, and furnishings that would have been used by the rulers.
Inside the fort, there's also a nice cafe called Café Mehran which serves up some of the best samosas I had in India.
We also visited the Sardar Market which encircles the Clock Tower. It was not my favourite area, but that does put you in close proximity to two really good restaurants that we coincidentally discovered.
The first is Indique, which is a rooftop restaurant that's popular for sunset drinks; and the second is Jhankar, which is set in a lush courtyard and serves up a delicious Rajisthani thali – this was my favourite restaurant in town!
When we weren't eating in Jodhpur (and it seems that we visited more restaurants than we did attractions!), we were wandering the blue maze that is this city.
Where I stayed:
We got the Deluxe Room with Castle View and like the name suggests, we had amazing views of the fort and the blue city. Yes, that picture you see right above was taken from our hotel! While I loved staying in a traditional haveli, we did find the staff quite forgetful – we had to repeatedly ask for things like bedsheets, towels and toilet paper. So although I would recommend staying at a haveli as it's such a unique type of accommodation, I would also suggest finding a property with better ratings. You can browse havelis in Jodhpur here.
Read reviews for Jewel Palace Haveli.
Jaipur
// 3 days //
We then travelled to Jaipur, which is nicknamed the Pink City.
The attractions in Jaipur were beautiful, but we also signed up for a day tour that turned into a bit of a nightmare.
I would not recommend the day tour operated by RTDC (Rajasthan Tourism Development Commission); we raced from attraction to attraction with an unhappy guide who lost half the people in his group, scheduled several commission-based shopping stops, and had a very negative attitude, but that's a story for another day.
If I were to redo my time in Jaipur, I would try to cover less attractions and visit these on my own, perhaps only hiring a driver to get me to some of the further sites.
Our longest stop of the day was at the City Palace and I'm glad we had the time to visit this place thoroughly.
The City Palace is a complex housing several buildings within it and you could easily spend half a day wandering around.
You have Mubarak Mahal, housing a textile museum; Chandra Mahal, the residence of the descendants of the former rulers of Jaipur; Diwan-i-Khas, the Hall of Private Audience; Diwan-i-Am, the Hall of Public Audience; and plenty more.
Just a short walk from the City Palace, you also have Jantar Mantar, which is a collection of architectural astronomical instruments that were built in the 18th century.
There are a total of 19 instruments that would have been used to study the planets and the stars, and it kind of made me wish they did night tours so we could actually see these instruments put in action.
Alas, the site closes at 4:30 in the afternoon!
On our tour we raced to three different forts – Nahargarh Fort, Jaigarh Fort, and the Amber Fort – but to be honest, our visits were so brief that I can't say I truly saw any of them.
If I had to redo it, I would have chosen one fort – probably the Amber Fort since it's just outside Jaipur – and focused on enjoying that one to the max.
Another major landmark that we only got to see in passing through the bus window was Hawa Mahal, also known as the Palace of Winds.
This is a pink structure that kind of resembles a honeycomb, which was used by ladies of the royal household who wanted to observe processions and everyday life in the city, but remain unseen.
Where I stayed:
We stayed at a little boutique hotel that had a bit of an old British feel. What sold me were the gardens complete with outdoor furniture so that you could enjoy a book or a cup of tea out on the lawn after a long day of sightseeing. The staff at this hotel were also very sweet, always helping us with directions and offering to find us transportation when needed.
Read reviews for Jai Niwas Garden Hotel.
Agra
// 4 days //
Our first full day in Agra was a Friday, which meant the Taj Mahal was closed for visitors, so we decided to visit Agra Fort instead.
This was the residence of the Mughal emperors before they moved their capital over to Delhi and built the Red Fort, so it was kind of cool spotting some of the similarities between the two places.
The following day we made it to the Taj Mahal, which was even more beautiful in person than I expected.
It's funny, sometimes when you've seen a place in photos or documentaries, it can be a bit of a let down in person, but that was not the case with the Taj. It radiated against the bright blue skies, and then once we got closer we were able to see all the arabesques and floral details done in precious stones.
We also made time to visit the Taj Protected Forest, which is located just outside the east gate. This is a nice scenic walk and because there are a few lookout points you also get views of the Taj Mahal off in the distance.
Lastly, before hopping on the overnight train, we visited the Baby Taj, whose real name is the Tomb of I'timād-ud-Daulah.
This tomb was built for Mizra Ghiyas Beg, who was the grandfather of Mumtaz Mahal (the woman the Taj Mahal was built for).
This was the first Mughal structure to be built entirely out of marble and it's often compared to a jewellery box because it is covered in semi-precious stones.
From the Baby Taj, it's only a short drive to Mehtab Bagh, or the Moonlight Garden.
The gardens sit directly behind the Taj and across the river, so it's a popular spot to catch the sunset.
You can read this post for a better look at the places we visited in Agra.
Where I stayed:
Alright, so this was my favourite hotel of the whole trip! Not only was it a beautiful property lovingly decorated with trinkets from around the world, but it was also a short walk from East Gate, which made it very easy to get to the Taj Mahal on foot. I also loved that in the evenings we had the option of having dinner with the other hotel guests in a communal setting. They served home cooked vegetarian meals and we devoured every last bowl of pumpkin and eggplant curries. The hosts were lovely and I would highly recommend this place!
Read reviews of The Coral Court Homestay Hotel.
Varanasi
// 4 days //
After taking the overnight train from Agra, we arrived in Varanasi, which was the second last destination of our month in India.
The main attraction in Varanasi is the Ganges River and everything that happens along the water's edge, so we spent our first morning walking along the ghats (the steps leading down to the river).
There was so much going on that we almost didn't know where to look, but what surprised me the most was seeing people doing laundry in the Ganges! What?!?!?!
Hotel towels and bedsheets were being washed in the dark waters and these were then being draped to dry in the sun on the ghats.
Laundry was happening not too far from where bodies were being cremated, and then people were bathing so close to the cremation site that the ashes were floating around their ankles…
I think that was the moment when I experienced culture shock in India.
Another popular activity in Varanasi is to go on a boat ride down the Ganges River. Sunrise and sunset draw people for soft, golden light – if you want the buildings to be illuminated, you'll want to go at sunrise.
Hotels and tour operators across town can help you arrange this outing, or you can just walk down to the river and find a boatman on the spot.
We also attended the Ganga Aarti ceremony which takes place on Dashashwamedh Ghat starting at 6:45 p.m.
This fire worship ceremony is performed by a group of priests soon after sundown, and crowds gather to watch them sing, burn incense, and light candles.
Places fill up fast so it's good to arrive early if you want to snag a spot near the action. Some of the temples along the ghats offer priority seating for a small fee (about 50 rupees) where you can observe the ceremony from a high vantage point, or you can also pay to watch from a boat.
Where I stayed:
I stayed at the Ganges Grand Hotel and while it was a great location and the rooms were clean and spacious, the hotel was located in a busy intersection, which meant the honking and traffic noise could be heard in the background from sunup to sundown. If you're a light sleeper, you may want to look elsewhere, but aside from that I have no real complaints. They also served up some delicious Indian dishes in their restaurant. You can browse hotels in Varanasi here.
Read reviews of Ganges Grand Hotel.
Kolkata
// 3 days //
This brings us to our final stop in India: Kolkata.
Admittedly, I didn't do a whole lot of sightseeing in Kolkata since I got quite ill just before leaving Varanasi, but I did manage to explore a bit of the area on my last day there.
Sam and I visited the Sir Stuart Hogg Market (also known as New Market), photographed the iconic yellow cabs, and then finished the day at Blue & Beyond, which is a nice little rooftop resto-bar in the Lindsay Hotel.
I would have liked to visit Mother Theresa's Home, see the Victoria Memorial Hall, and walk around the Maidan, but sometimes you just can't win them all.
Where I stayed:
I can't recommend the hotel where I stayed since I ended up sharing the room with a mouse! The Astoria Hotel looked great in photos, but we were placed in the "Old Wing", which looked nothing like what we saw online. We found cigarette butts in the bathroom, a dirty shower, mouldy walls, but what's worse was the staff's lack of interest in their guests. Despite my hotel's shortcomings, I did enjoy the neighbourhood, so I would suggest staying just east of the Maidan in what's known as Colootola – you can search for Kolkata hotels here. There are lots of hotels and restaurants in this area, plus it also puts you within walking distance of many of the attractions.
And that finally concludes my month-long India travel itinerary.
We visited a total of 7 destinations, giving ourselves 3-4 days in each place, and travelling entirely by train.
I will say that travel in India is exhausting in ways that other destinations aren't – don't go into it thinking it'll be a walk in the park! – but we also saw some beautiful sights and architectural wonders that made it all worth it.
More posts from India with practical travel tips coming soon.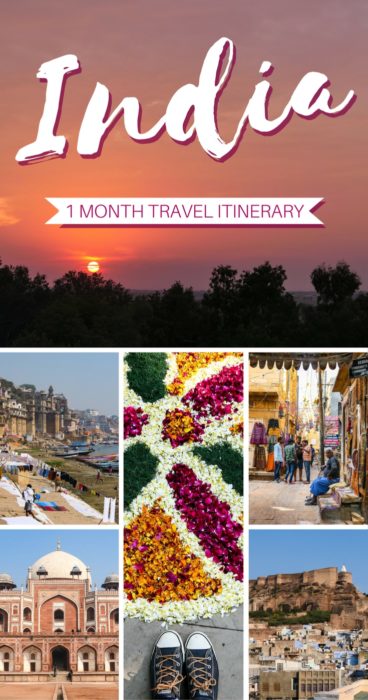 Have you travelled in India?
Is there anything else you'd add to this India travel itinerary?