What to pack for the Amazon? This is a question that I didn't contemplate very long before I spent a week in the jungle.
I knew it would be hot and humid, so I thought a few token shorts, t-shirts, and a pair of flip flops would be fine, but what I didn't take into account were things like heavy rain, jungle critters, and the high humidity which made it almost impossible for my clothes to dry.
I may not have packed right for my trip to the Amazon, but hopefully, this packing list will help you bring the right items.
What to pack for the Amazon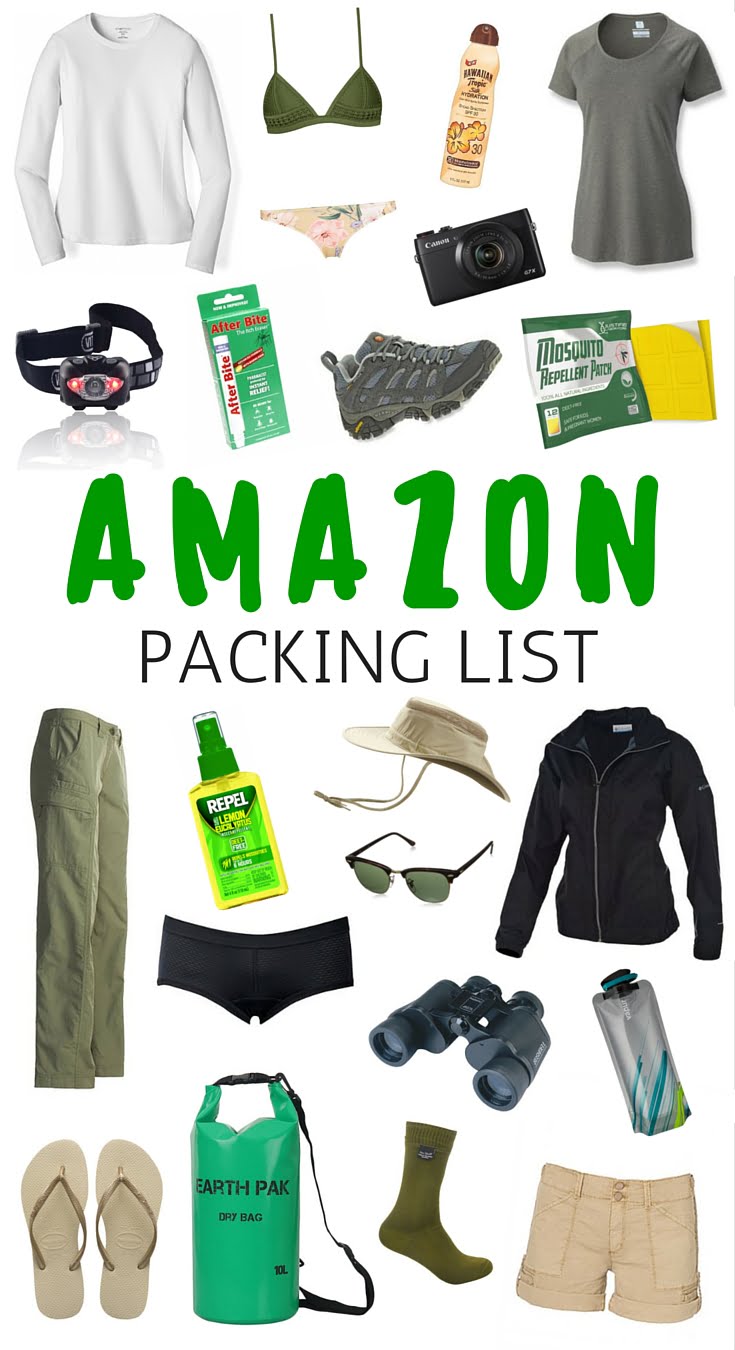 Here's a list of what to pack for the Amazon Jungle:
(1) Long pants: I didn't think I'd wear long pants in the jungle because of the heat, but I was so glad I found one long lost pair in my luggage once I got there. The mosquitoes are insane, so I ended up wearing long pants for all the jungle walks and excursions.
(2) Shorts: I also brought shorts along which I wore indoors within the safety of my treehouse or aboard the river cruise. If you want to save some space, you can consider something like the convertible pants to shorts ensemble.
(3) Fast-dry t-shirts: I would suggest packing 2 t-shirts per day. The humidity is quite high and you are going to get very sweaty when you go out for morning and afternoon excursions. I made the mistake of packing cotton t-shirts (ha! even after 2 days of airing out they still would not dry), but next time I would go with quick-dry shirts and then alternate them.
(4) Long sleeve t-shirts: Yes, you'll want to bring at least one long sleeve shirt to the jungle. These aren't to stay warm, rather to protect yourself from mosquito bites and the sun during excursions.
(5) Rain jacket: Because let's face it, you're likely going to encounter sporadic rain showers a few times a day. If you're doing more of a high-end Amazon River cruise they usually provide rain ponchos, but it's best to go prepared.
(6) Swimsuit: Don't let movies of piranhas and anacondas scare you! Did you know that in the Amazon you can go swimming with pink dolphins?
(7) Closed shoes: A sturdy pair of hiking shoes would be ideal for the jungle walks. I tried going out with sneakers, but the terrain can get quite muddy and soggy, so my shoes got soaked. For some of the outings, our tour operator did provide rubber boots, but then you have the problem of these not fitting quite right.
(8) Flip flops: These were my lounge shoes after all the hikes.
(9) Long socks: I only packed ankle socks because that's usually all I wear…as you can probably imagine, I ended up with a ring of mosquito bites to prove it. Long socks all the way and if you own waterproof socks even better!
(10) Underwear: Just like with the t-shirts, bring more than what you think you'll need. Or better yet, go the ExOfficio route and grab a few pairs that are quick-drying, odour resistant, and breathable.
(11) Hat: I just brought a baseball cap, but if you want the neck protection, most people on our Amazon tour seemed to be going for this look, which isn't my favourite, but you can decide what works for you.
(12) Sunscreen: It's a must! Don't forget to reapply throughout the day unless you want to turn into a lobster.
(13) Bug spray: You are going to need this and you are going to want to spray it all over you (as an FYI the natural eucalyptus and lemon scent smells quite nice)! I also saw a family on our Amazon River cruise who were wearing mosquito repellent patches on their clothes, and they told me they were working great when I asked about them.
(14) After-Bite: Because even with all the preparation, you'll likely still end up with a few sneaky mosquito bites on your body. This stuff really helps relieve the itch.
(15) Flashlight or headlamp: Many of the Amazon lodges are off-grid and run on solar energy so you may not have electricity 24 hours a day. Bring a flashlight or a headlamp that you can keep next to your bed in case nature calls at night.
(16) Sunglasses: To keep them rays out of your eyes.
(17) Refillable water bottle: To take out on the excursions. You'll want to make sure you stay hydrated while you're out there.
(18) Camera: Because you are going to want to document this adventure. Don't forget to bring extra batteries and chargers. I don't consider myself a wildlife photographer, so I don't carry a body with an array of lenses. For the type of photography I do on this blog and a lot of the video footage you see on my YouTube channel, I use my Canon G7X.
(19) Dry bag: These bags are great for keeping your electronics safe and dry when you're out on the water. They're also a good idea for a trip to the Amazon because of the frequent rain showers, so it's best to be prepared if you get caught in one of those with all your camera gear.
(20) Binoculars: So the biggest difference between going on safari and going to the Amazon is the way you spot wildlife. On safari, you have large animals that are quite easy to spot, but on the Amazon, we were looking for sloths, birds, and lizards that were not only perched up in the trees but that could camouflage in the foliage. I did a high-end river cruise that thankfully provided one pair of binoculars per room, but if you are doing a more budget-friendly cruise this may be something you want to consider.
(21) Travel insurance: Not necessarily something you pack, but it does keep your back covered! This really goes without saying, but you should always have travel insurance when you travel, more so when you're venturing somewhere as remote as the Amazon Jungle. You can get a quote for your Amazon trip here.
Is there anything else you would pack for the Amazon?