So you're going on a big backpacking trip across South America and you need to pack for several months on the road. Not only that, but you also need to pack for different geographies and climates which will range from bone-chilling mountains ranges to sweat-inducing beaches. Where do you even begin?
Fret not! I recently spent 5 months in South America and I only brought along my Osprey Sojourn 80L wheeled backpack and a carry on backpack. Those two pieces of luggage fit all of my clothes, all of my electronics, and I can't say I ever lacked anything.
Today I thought I would share my packing list for South America, so let's have a look at everything I brought along, shall we?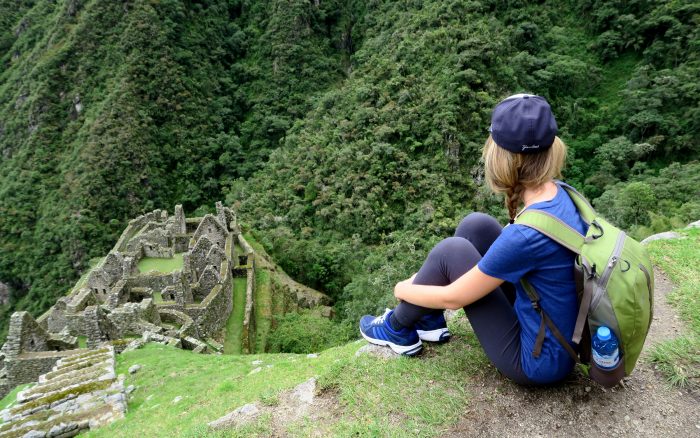 Packing List for South America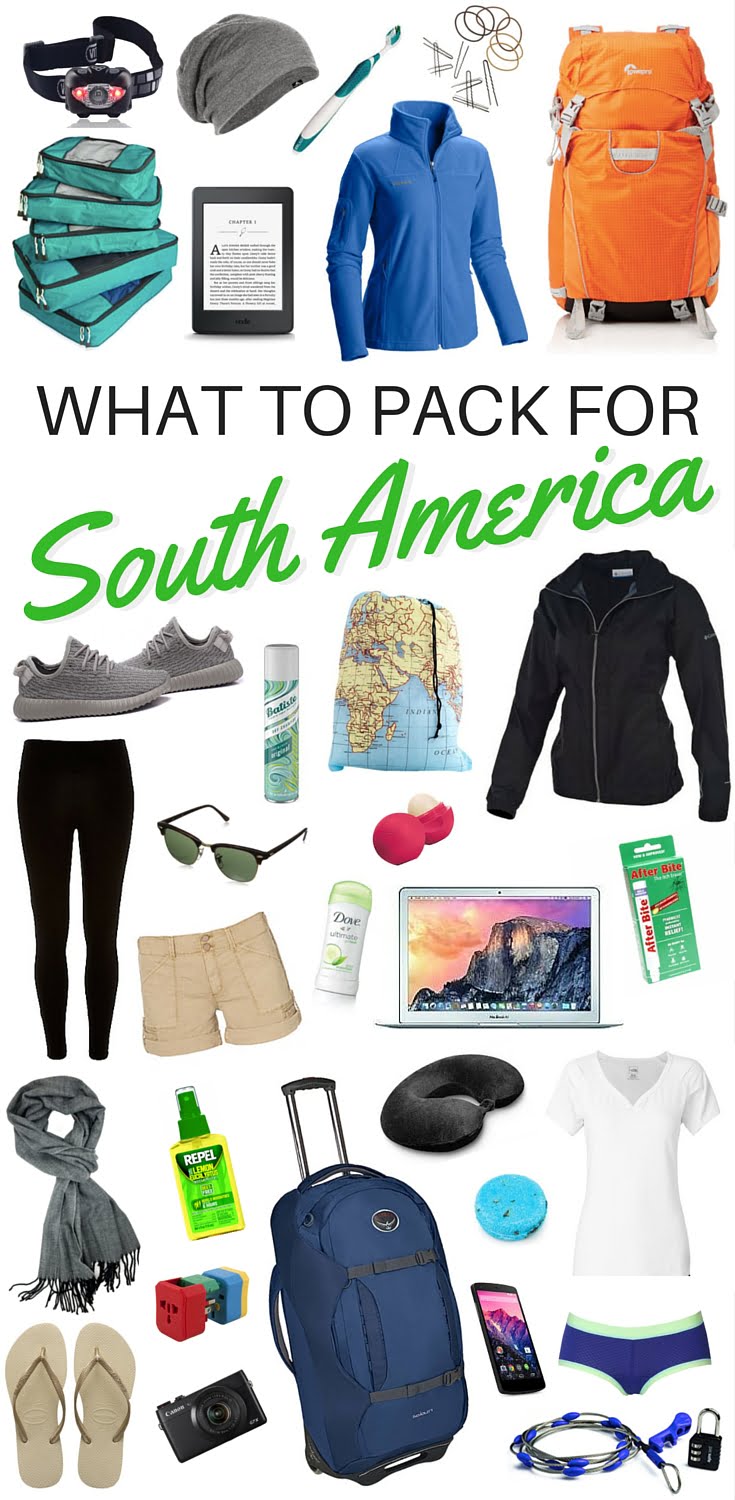 // Luggage //
Backpack – I brought my Osprey Sojourn 80L backpack on this trip. I love that it is a wheeled luggage / backpack cross over that you can roll around or strap on to your back depending on the terrain. You can read a full review of the Osprey Sojourn here.
Carry on pack – I have a backpack that carries my computer, camera, and the rest of my electronics. I always bring this on the plane with me.
Cable lock – To secure your valuables on buses or in hostels. For peace of mind, a cable lock is a must add item to your packing list for South America – especially if you're going to be taking a lot of overnight trains and buses, or staying in dorms.
Purse or tote– I use this whenever I'm out sightseeing for the day. Just something where I can carry my camera, a map, and a bottle of water.
Packing cubes – The reason my suitcase is not a huge mess. If you're going to be travelling for a few months, it's worth investing in some packing cubes to keep your clothes organized.
Laundry bag – Hardly takes up any space and it keeps your dirties from mixing with clean clothes.
// Clothes //
Shirts (7) – I included a mix of tank tops, short sleeves, and long sleeves with the intention of layering some of these if it got cold. I mostly stuck to neutral colours that can be easily mixed and matched with different bottoms.
Fleece (1) – You'll want to pack a fleece is you're travelling to colder, high-altitude destinations where the temperature drops overnight. Alternatively, if you don't want to bring a fleece from home, you can buy a warm alpaca sweater along your travels (I bought one at an artisanal market when I arrived in Cuzco). Also remember to keep your fleece or sweater handy for overnight bus travel as it can get quite cold when the AC is blasting.
Rain jacket (1) – I would recommend going for a rainproof windbreaker. You can wear this over your fleece, and it'll come in handy if you're planning on doing treks (like the Inca Trail) and outdoors adventure type activities.
Cardigan (1) – For days when you want something a little dressier to keep you warm. Again, I went with a neutral colour that worked with my tops or a dress.
Dress (1) – For a nice evening on the town, whether that be date night, catching a tango show, or going to a performance.
Shorts (2) – I packed one pair of ripped jean shorts for casual days, and another pair of high-waisted back shorts that I could dress up a bit more. I wore these 2 on rotation.
Skirts (1) – I brought along a neutral skirt that worked well with all of my shirts.
Pants (2) – I packed 1 pair of jeans for cooler destinations and another pair of breezy summer pants for warmer destinations.
Leggings (2) – I basically qualify these as pants. Since leggings are so comfortable, I often wore them on long travel days, for lounging around, and sometimes even as pyjama pants. If I was travelling somewhere particularly cold, I would also wear a pair underneath my jeans. I had one pair of cotton leggings and another pair of fleece-lined ones for colder climates.
Undergarments – Enough for a week is fine, and then you can always wash things in your hotel sink if you're running low.
Bathing suit (1) – Especially important if you're including some beach destination on your South America itinerary.
Socks (5 pairs) – A mix of ankle socks, crew socks, and fuzzy socks.
// Shoes //
Sneakers – For hiking and long days of walking around a new city. If you don't like the look of sneakers, another idea is to get a pair of canvas shoes with memory foam. I usually wear my sneakers on travel days since they are my bulkiest and heaviest shoe. Depending on how much trekking you're planning to do, you may want to consider adding a pair of hiking shoes to your packing list for South America.
Flip flops – For warm destinations, the beach, and showers.
Sandals – One strappy leather pair that can dress up an outfit.
// Accessories //
Hat (1) – A straw hat or baseball cap for days of sightseeing in the heat.
Toque (1) – I ended up buying a chullo at an artisan's market in Cuzco, which I wore in cold climates.
Scarf (1) – I brought one light scarf that could either be worn to protect my shoulders from the sun on a hot day, or to wrap around my neck when it's cold.
Gloves (1) – Just a cheap pair for those days of hiking when the temperature barely hovers above zero. It may seem like a silly thing to add to your packing list for South America, but keeping warm can make the world of a difference in your mood.
Sunglasses (1) – I'm a fan of Ray Bans Classic Clubmaster.
Jewelry – I don't carry much in terms of jewellery. Just 2 pairs of earrings, and a handful of rings and bracelets that I can mix and match if I want to dress up an outfit to go out.
// Toiletries //
Toothbrush + toothpaste + dental floss + mouthwash – Dental hygiene, people! You can get toothpaste and mouthwash in small travel sizes.
Deodorant – So ya don't stink!
Hairbrush + hair ties + bobby pins – A must if you have long hair.
Shampoo + conditioner + body wash – You can get these in small travel sizes and keep them in a ziplock bag, or if you're worried about spills and the extra weight, you can look at LUSH products including: solid shampoo and solid conditioner.
Dry shampoo + baby wipes – For days when it's too cold to shower, there's no hot water in the shower (happens more often than you'd think), or you're running late, dry shampoo is a lifesaver.
Nail polish + nail polish remover pads + nail clippers – Nail polish is my one splurge that makes me feel like I'm not living out of a suitcase even though I am, and I like these nail polish remover pads because I don't have to worry about a bottle leaking on my clothes.
Sunscreen + aloe vera – To prevent sunburns and because sunburns still happen.
Bugspray + After-Bite – Not as important in cities and cooler climates, but something to pack if you're planning outdoor / adventure type activities and long hikes.
Razor – Self-explanatory.
Make-up – I keep things light. Just moisturizer, BB cream, eyeliner, mascara, chapstick, and a few fun lipstick shades.
Small health kit – I carry a very small one with the basics: adhesive bandages, antiseptic pads, blister pads, as well as over the counter medication to treat motion sickness and a loose stomach. They also have these tiny kits, if you don't want to stock your own.
// Electronics + Random Items //
Laptop + charger – Not essential, but since I work from the road I need it. If you're just travelling, a phone or an iPad might be enough to keep you connected with family and friends back home…unless you're looking to disconnect!
Headphones – I brought small earbuds as opposed to large noise-cancelling ones; they take up less space.
Camera + camera charger – On this trip, I brought my Canon G7X, which I am absolutely loving! It's so small, yet I am able to capture great pictures with it, plus it's also a great vlogging camera if you're into video.
Joby Gorillpod – Not an essential item unless you're really into photography or video. I like that this is a small mouldable tripod that works in any kind of terrain.
Kindle + charger – A Kindle stocked with new books for those long bus rides you are bound to encounter.
Phone + charger – I mainly got a phone for Google Maps, ha!
4-in-1 adapter – You're going to encounter different outlets depending on where you travel in South America. I like this 4-in-1 adapter because it has you covered wherever you go.
Powerstrip – Especially if you travel with a lot of electronics that you'll need to charge overnight.
Headlamp – A flashlight or headlamp comes in handy not only if you're doing some overnight hikes, but also if you experience power outages.
Neck pillow – For long bus rides or any kind of overnight travel.
Travel notebook and pen – To make quick notes, write down addresses, and fill out immigration forms.
What else would you add to your packing list for South America?