Wondering where to eat in Halifax on your upcoming trip? Well, Sam and I have plenty of recommendations to share with you! This summer we spent a week sightseeing, but mostly eating our way around Halifax, Canada and let me tell you, we had some incredible meals.
Our quest for a taste of the Maritimes led us to all sorts of restaurants, breweries, distilleries, pubs and outdoor patios, and we've compiled a list of some of our favourite foodie experiences.
Being by the water, we had to try the seafood and we were blown away by the variety, from crab and lobster rolls to risotto with scallops, and seafood linguini to fusion maki rolls.
Of course, we also had to try Halifax's beloved donair, which is the city's official dish. And in the drinks department, we sampled craft beers, Nova Scotia wines, and a variety of spirits that are aged inside the citadel.
If any of this is opening up your appetite, read on for some of our suggestions (or you can also watch the video)!
Where to eat in Halifax
Waterfront Warehouse
Waterfront Warehouse is located right on the Harbourfront and it is best known for its seafood tower so that is exactly what we ordered!
It featured a full cracked Atlantic lobster, local oysters, a shrimp cocktail, crab claws, marinated chilled mussels, solomon gundy (which is another name for pickled herring), and a selection of sauces and chutneys. All of this was served in a two-story tower over a bed of crushed ice. Talk about presentation!
To accompany the meal, I ordered a caesar which is a savoury cocktail featuring vodka, tabasco, Worcestershire sauce, and clamato (clam and tomato juice).
My drink was beautifully garnished with a slice of pepperoni, an olive, a pickle, a spicy string bean, and lemon and lime wedges. It felt like a meal in a glass!
The Bicycle Thief
The Bicycle Thief is hands-down one of the top restaurants in Halifax and we enjoyed a meal we won't soon forget!
For my entree, I ordered the local scallops with a herbed crumb crust, lemon, white wine and garlic butter. They were a thing of beauty and a wonderful explosion of flavours!
Meanwhile, for his entree, Sam went for the jumbo shrimp sauteed with garlic, Cognac, and charred grape tomatoes with a splash of cream. It was an excellent start to the meal.
Then for my main dish, I got the linguine all'Aragosta featuring Nova Scotia lobster with roasted garlic, tomato, sherry and cream. My favourite part was the generous chunks of lobster meat. So good!
Sam opted for the risotto with pistachio-dusted scallops, lemon zest and mascarpone. I tried a bit and it was another stellar dish.
I paired the food with a glass of Tidal Bay, a local Nova Scotia white wine, and Sam had the Malbec from Mendoza, Argentina.
After such a great lunch, we couldn't resist trying a dessert or two, so we got a slice of shortcake with caramel and pecans, and a classic lemon meringue pie.
Salty's
Another Halifax restaurant we enjoyed is Salty's. They offer both casual and fine dining, and they have a nice outdoor patio. We opted for a casual lunch and grabbed a seat indoors since it was a bit of a windy day!
For our appetizer, we got the bacon-wrapped scallops with a homemade cocktail sauce. And we also ordered the Nova Scotia smoked salmon with sour cream, capers, red onions and bread.
Then on to our mains! I chose the seafood chowder with a mix of local fish and shellfish. Meanwhile, Sam tried a lobster roll with a bit of a twist; the lobster was served in a croissant instead of a bun, and it was accompanied by a garden salad. The croissant was buttery and flakey and it was interesting to have it served this way.
Yes, there was dessert once more! This time it was a blueberry cake with vanilla ice cream and whipped cream, and it was the perfect little treat.
The Canteen on Portland
Now let's hop over to Dartmouth for a look at the food scene just across the water. Dartmouth is located on the eastern shore of Halifax Harbour and it's just a 10-minute ferry ride over. They have lots of restaurants, cafes, and plenty of craft breweries to choose from, so it's worth the trip for the food alone!
The first place we hit up was The Canteen on Portland for brunch. I saw they had a 'crobster roll' on their menu featuring snow crab and lobster, and I just couldn't resist that. It turned out to be the best one of the whole trip! The bread was buttered and lightly toasted, and it was loaded with crab and lobster meat. It was served with grainy mustard, truffle aioli, fresh dill, and it was a thing of beauty! Seriously, I've tried a lot of lobster sandwiches and they don't all come like this.
Sam decided to try the snow crab and cream cheese dip with dill and homemade crackers. It was another hit.
Then for dessert we shared a slice of carrot cake with cream cheese icing, shredded coconut, and pumpkin seed brittle. It was a great way to end off a spectacular meal.
Brightwood Brewery
After that lovely meal and exploring a bit of Dartmouth on foot, we decided it was time to hit up a brewery. We chose Brightwood Brewery!
We got a flight of 4 beers featuring: Vermont is for Lovers New England IPA, Minutes California Common Lager, Made Me Blush rosé IPA, and lastly, BMAC IPA Memorial Beer.
Sam is more of a stout and porter drinker when it comes to beers, so these were definitely more up my alley, but we still drank them all!
Now let's move on to the pies. Humble Pie Kitchen is a popular pie shop in Dartmouth specializing in savoury New Zealand-style pies. Quite a few people had recommended them to us and we were planning to head there right after trying a few beers, but then we noticed that Brightwood Brewery had Humble Pies on their menu, so we got two of them!
We really enjoyed their beef & bacon stroganoff pie with strips of beef in a rich and tangy mushroom gravy with smoked bacon.
They have all sorts of pies to choose from like butter chicken, BBQ pulled pork, chicken cranberry brie and more, so don't miss out on some humble pie when you visit Dartmouth.
Sea Smoke
Sea Smoke was a recommendation from a local and it sure lived up to our expectations! This restaurant is located on the Harbourfront and focuses on sushi and Asian-inspired seafood featuring items like a lobster skillet, Thai curry risotto, and pistachio halibut.
We opted for an assortment of makis after seeing a photo of their sushi boats online. We did 3 of their fusion rolls including Holy Dynamite with tempura shrimp, BBQ eel, avocado, tobiko, and unagi sauce; Sea Smoke with smoked salmon, panko scallops, avocado, cucumber, cream cheese, snow crab, tobiko, wasabi aioli, and unagi sauce; and Black Mamba with tempura shrimp, lobster, red pepper, avocado, cream cheese, unagi sauce, poppy seed dressing, spicy mayo, black tobiko, and scallions in a panko-breaded roll. They were amazing – super creative and bursting with flavour!
Aside from that we also got some of our favourite maki rolls like the Spicy Salmon with sake, tempura bits, spicy mayo; and the Philadelphia roll with smoked salmon, cucumber, cream cheese.
We may have gotten a little carried away with all that sushi, but guess what we had for breakfast the next morning?!
Wines on the Water
One really cool food tour we did in Halifax was the Wines on the Water tour aboard Tall Ship Silva.
We got to cruise along Halifax Harbour and up the Northwest Arm while enjoying a charcuterie board, grilled lobster tail and scallops, and various white and red wines from Nova Scotia.
It was a really fun evening out accompanied by live music and it all ended with a dance party as we pulled back to port.
Alexander Keith's Brewery
Of course, no visit to Halifax would have been complete without visiting the Alexander Keith's Brewery.
This brewery was founded in 1820 by Alexander Keith who had immigrated from Scotland three years prior. This place is an institution here in Halifax!
They weren't offering tours when we visited, but we still got to do a little tasting.
Sam went for the red ale and I couldn't resist the raspberry beer. Mine had a beautiful bright pink colour and it was tart yet sweet.
Red Stag Tavern
So, this next pub we visited has sadly closed since our visit. 2020 has been a tough year for many businesses and The Red Stag officially closed it doors at the end of summer. We still wanted to include it since this is where we sampled some more Alexander Keith's beers and we also tried some unique Nova Scotian pub food, that you should be able to find elsewhere in the city.
We each got a flight of 3 beers, and then for my main, I got the Pale Ale battered fish & chips while Sam tried the haddock on a brioche bun.
Garrison Brewing Co
During our visit to Halifax, Sam also went on a solo mission to Garrison Brewing to sample some more craft beer. This place is located just across from the Halifax Seaport Farmers' Market and they have a nice outdoor terrace.
He got a flight of 5 beers featuring The Sasquatch Hop Smash Pale Ale, Irish Red, Deja Moo Milk Stout, Ginger & Turmeric Relax IPA, and Tall Ship East Coast Ale.
Piatto Pizzeria + Enoteca
Continuing this Halifax food tour, Sam went to Piatto for a taste of Naples in the heart of Halifax.
The pizzaiolo here uses ingredients and procedures regulated by the Italian governing association, so you know you're getting the true flavours of Napoli.
Sam went for the classic Margherita pizza with tomato sauce, mozzarella, basil, and extra virgin olive oil. Now that looks good!
The Stubborn Goat
Another fun place to eat in Halifax is The Stubborn Goat Beer Garden on the Harbourfront.
This spot serves up East Coast food and all of their drinks are made in Nova Scotia. You can't go wrong with a craft beer and poutine here!
They also have another location on Grafton for when it's too cold to drink and dine outdoors.
The Arms Public House
For one of our breakfasts in Halifax, we decided to eat at The Arms Public House located in the Lord Nelson Hotel.
This is an English-style pub with a dimly-lit interior, dark furnishings and tin ceilings that create this soft glow. It's a place with lots of character and it's the kind of place you want to linger in.
Sam went for something sweet with the French toast with maple syrup, whipped cream and fresh fruits. Meanwhile, I went for something savoury with their classic The Arms breakfast featuring two eggs, bacon, home fries and toast, plus lots of coffee!
They had lots of classic items on their breakfast menu like granola parfait, avocado on toast, and blueberry pancakes, plus let's not forget they do lunch and dinner if you're in the mood for some traditional pub fare.
The Arms Public House is located right across from Halifax Public Gardens, so you can enjoy a nice mid-morning stroll after a hearty breakfast.
Johnny K's Authentic Donairs
So it turns out that donair is the official food of Halifax! This came as a surprise to me, because being by the sea, I imagined it'd be lobster…but that just meant that we had to go in search of a donair while we were in the city.
We ended up at Johnny K's Authentic Donairs because it's highly rated and it's a great fast-food option if you want a donair to-go. They also have some inventive dishes like the donair submarine, donair burger, and donair poutine.
We went with the authentic donair featuring beef, white onions, tomatoes and a sweet sauce made with evaporated milk.
Compass Distillers
So we've talked about wine and craft beer, but now let's move on to spirits. For our next drink experience, we made our way to the Halifax Citadel, where Compass Distillers age their spirits. We joined their Raise Your Spirits tour.
We met at the entrance of the citadel, where we were welcomed by a Highlander who shared a bit of history about this fortification, and also the role alcohol played in rallying the British troops. In fact, in the early 1800s, the southern part of Brunswick Street was referred to as Knock 'em down Street because of the number of taverns and fights that broke out there.
But back to the tour, we then got to see where the barrels are kept and learn how the various spirits are aged. And then it was time to do a little tasting!
We tried a total of 3 spirits: the Noon Gun Gin, the Fort George Genever, and the Daily Ration Rum. This was paired with a lovely charcuterie board featuring an assortment of meats, artisanal cheeses, and bread.
It was a fun evening and a unique way to experience the citadel at night.
The Mercantile Social
Another Halifax restaurant we ate at is The Mercantile Social. This is a really trendy spot with a cool design and a ceiling that's covered in paintings, so don't forget to look up! We went there for happy hour and a light bite.
I went for a summery dish and ordered the soba salad with edamame, tomatoes, avocado, and tempura prawns in a sesame and soy sauce.
Sam got their in-house burger with two beef patties, cheddar cheese, pickles, a giant onion ring, and skinny fries on the side.
And as you can see, we also ordered a mini cheesecake and a scoop of ice cream. Just a little something to share!
And that was our foodie adventure across the city! I hope this blog post gave you some ideas of where to eat in Halifax and what dishes and drinks to try while you're here. This is a really fun foodie destination, so wishing you tasty travels and bon appétit!
You can read more about our travels around Nova Scotia, and specifically Cape Breton here.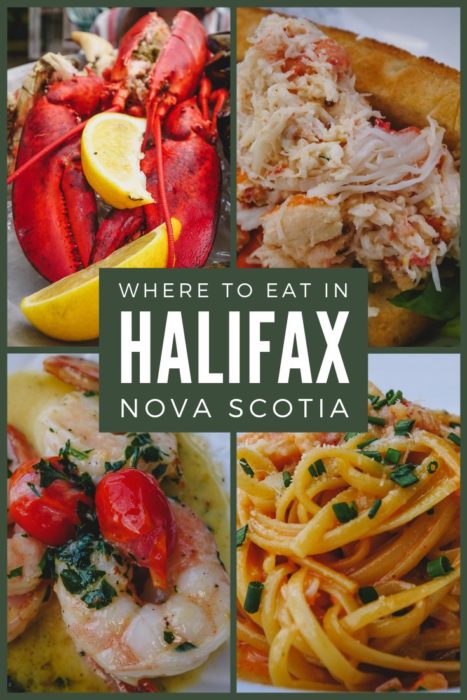 What are some of your favourite places to eat in Halifax?
Feel free to share your recommendations in the comments below.