These are the best things to do in Lunenburg during your visit to Nova Scotia's South Shore. From sailing the harbour and exploring the Fisheries Museum of the Atlantic, to browsing the local chandlery and feasting on seafood, there are plenty of things to enjoy in this coastal town!
Lunenburg is the crowning jewel of Nova Scotia's South Shore. The entire town is a UNESCO World Heritage Site thanks to its well-preserved colonial architecture and urban layout. Plus, it's simply a beautiful town to look at with its brightly painted facades.
Dating back to 1753, Lunenburg (not to be confused with Lüneburg!) was one of the first British attempts to settle Protestants in the province of Nova Scotia. Most of the buildings in the old town date back to the 18th and 19th centuries, and you can see the town's fishing and shipbuilding heritage as you stroll along the docks, spot the moored fishing boats, and even catch a glimpse of the Bluenose II – if you're lucky!
Whether you're planning to visit Lunenburg on a day trip or thinking of spending a few days, there are plenty of activities to enjoy. In this article, we're sharing the best things to do in Lunenburg so you can have the best trip.
Tip: If you are pressed for time, you can book a half-day tour of Nova Scotia's South Shore from Halifax which includes time in Lunenburg as well as visits to Mahone Bay and Peggy's Cove.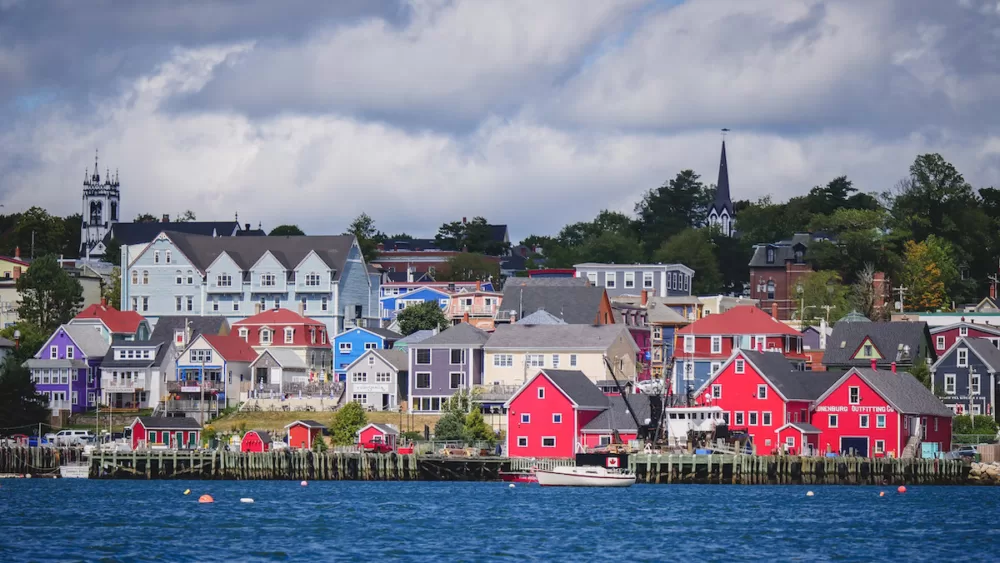 Best things to do in Lunenburg
Set foot or sail aboard the Bluenose II
If you can, try to plan your trip to Lunenburg so that it coincides with the Bluenose II being in town.
The Bluenose II is a Canadian fishing and sailing schooner that was built as a replica of the original Bluenose.
The original Bluenose was launched in Lunenburg, Nova Scotia in 1921 as a Grand Banks fishing and racing schooner. As a working fishing schooner, speed was an asset, but the vessel was also crafted with the International Fishermen's Race in mind. This was a race in which working fishermen participated.
When the Bluenose won her first Fishermen's Trophy in 1921, she proved to be something special, and for the next 17 years, no other schooner would beat her! This earned the Bluenose the title "Queen of the North Atlantic" and she became the pride of Nova Scotians.
After the original Bluenose was sold and later wrecked after striking a reef in Haiti in 1946, the Bluenose II was built at the same Lunenburg shipyard by many of the same people who had constructed her predecessor. The Bluenose II was launched in 1963, financed by the Oland Brewery and later sold to the government of Nova Scotia for one Canadian dollar.
Today, the Bluenose II serves as a sailing ambassador for Nova Scotia, promoting tourism as well as the province's maritime heritage. Although it does not race competitively, it keeps the spirit and legacy of its legendary namesake alive, making appearances at tall ship events and serving as a goodwill ambassador, with its image also continuing to grace the Canadian dime.
You can view the Bluenose II's sailing schedule here.
Tip: If you'd like to buy some Bluenose II souvenirs, don't forget to visit the Bluenose II Company Store located at 121 Bluenose Drive. Here you'll find some great collectables for the nautical enthusiast like compasses, barometers, and chart weights, as well as apparel.
Visit the Lunenburg Chandlery
Another attraction not to be missed in town is the Lunenburg Chandlery.
If you don't come from a coastal town with a history of shipbuilding, you may be wondering, what's a chandlery? Well, a chandlery is a warehouse or store that deals in supplies and equipment for ships and boats.
Lunenburg has a gem of a chandlery and we found it completely by chance. It's not listed on Google Maps, but if you walk down Bluenose Drive heading east you'll notice a red building that has hundreds of colourful buoys hanging out front. That's the place!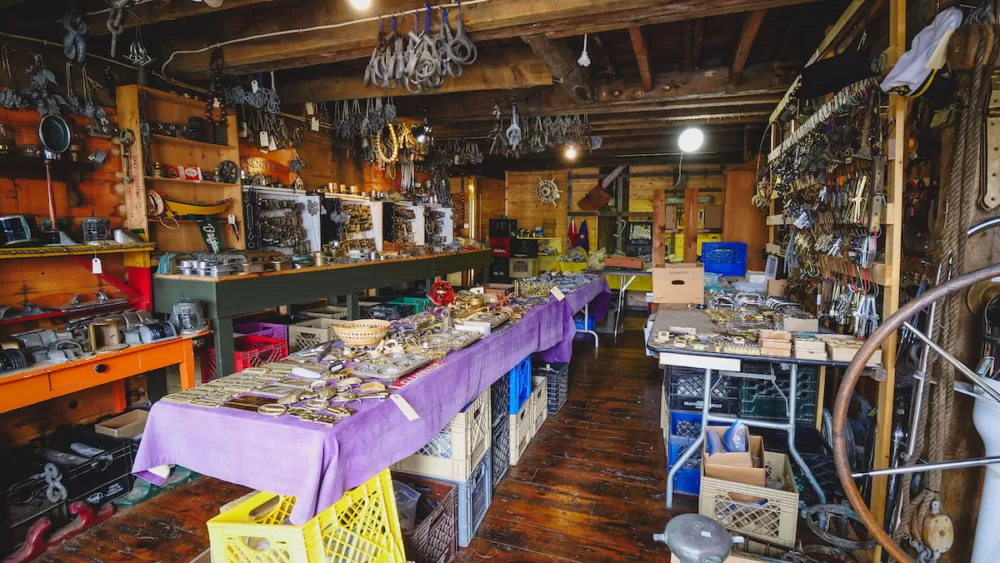 Inside the chandlery, it is a treasure trove of pulleys, turnbuckles, eyelets, lanterns and anything else you could imagine. And even if you have no need for boat equipment, you can pick up some cool souvenirs like mini hand-painted buoys that make the perfect Christmas tree ornament.
If the owner John is in, take the time to have a chat with him; he's a well of knowledge and knows so much about the maritime history in this area.
Go on a Harbour Tour
Another activity not to be missed in Lunenburg is a boat tour. There are so many options to choose from; you can go on a harbour tour, a fishing tour, a whale-watching tour, a sailing tour – you name it!
We opted for a 1-hour harbour tour to enjoy the scenery and we lucked out with an amazing captain who shared lots of history, facts and stories, and answered all the questions we had about Lunenburg, the Bluenose, and fishing.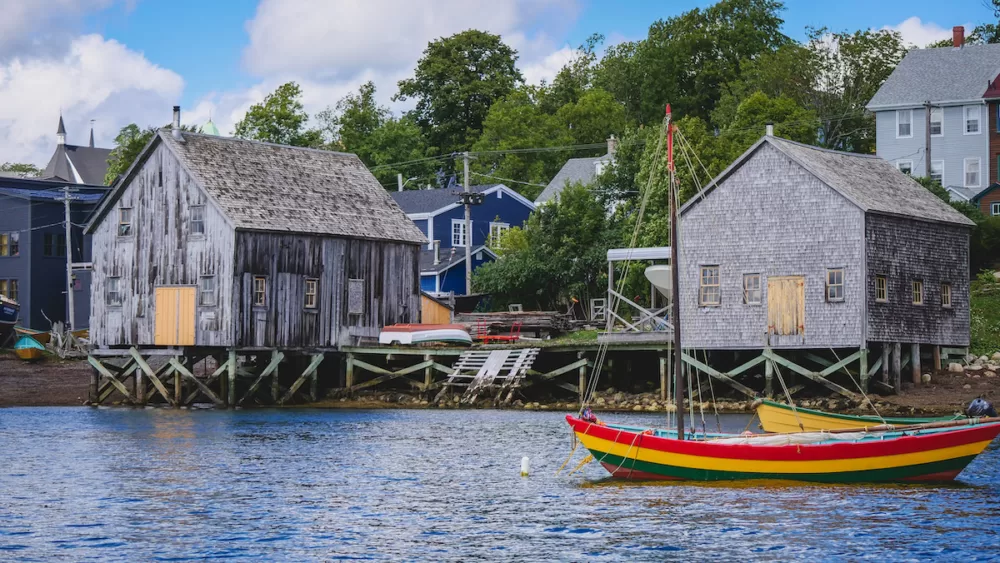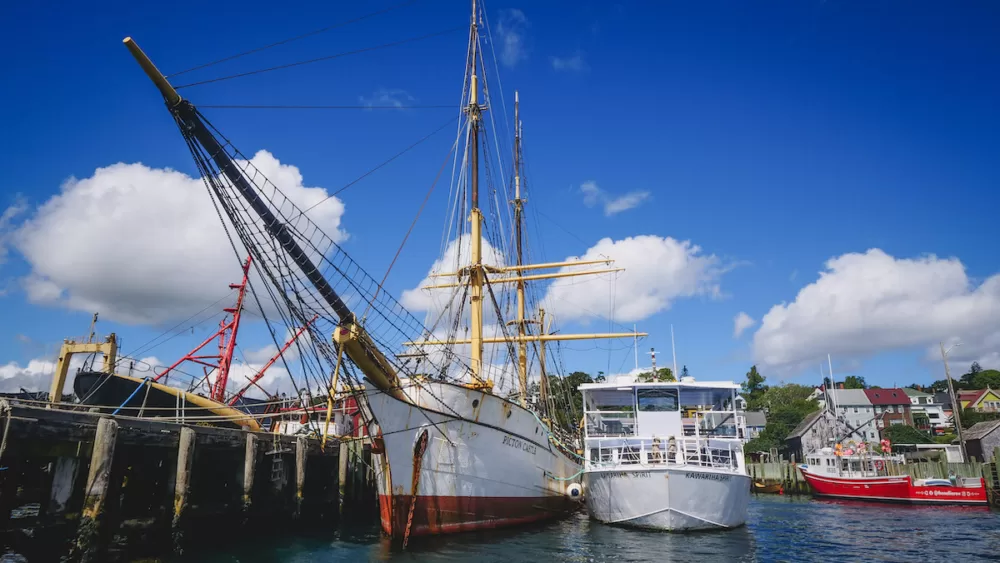 Since we visited towards the end of the summer season and it wasn't super busy, we just walked down to the harbour and got on the next departing boat tour. However, if you visit during peak season, you may want to prearrange this activity.
Some of the different tour operators include:
Sail Lunenburg Star Charters
Lunenburg Heritage Fishing Tours
Lunenburg Whale Watching
Lunenburg Ocean Adventures
Visit the Fisheries Museum of the Atlantic
The Fisheries Museum of the Atlantic is housed in a collection of brightly painted red buildings that sit along the waterfront.
These buildings were once the home of National Sea Products, a former fish processing plant, however, today the space has been transformed to house various galleries where visitors can explore Lunenburg's fishing heritage.
What's really cool about the Fisheries Museum of the Atlantic is that they have volunteers on site, including retired fishermen, so it's a great place to hear stories and ask questions.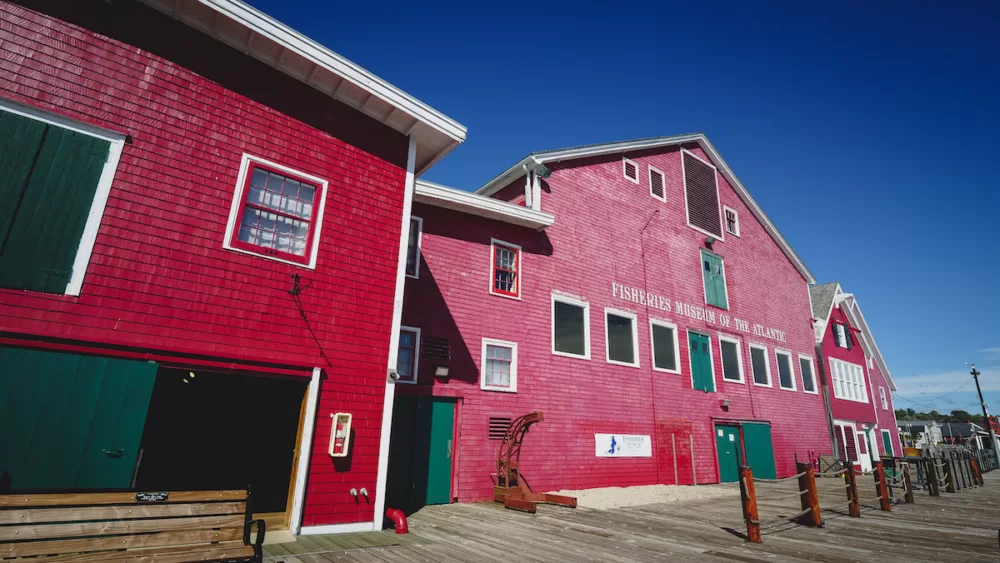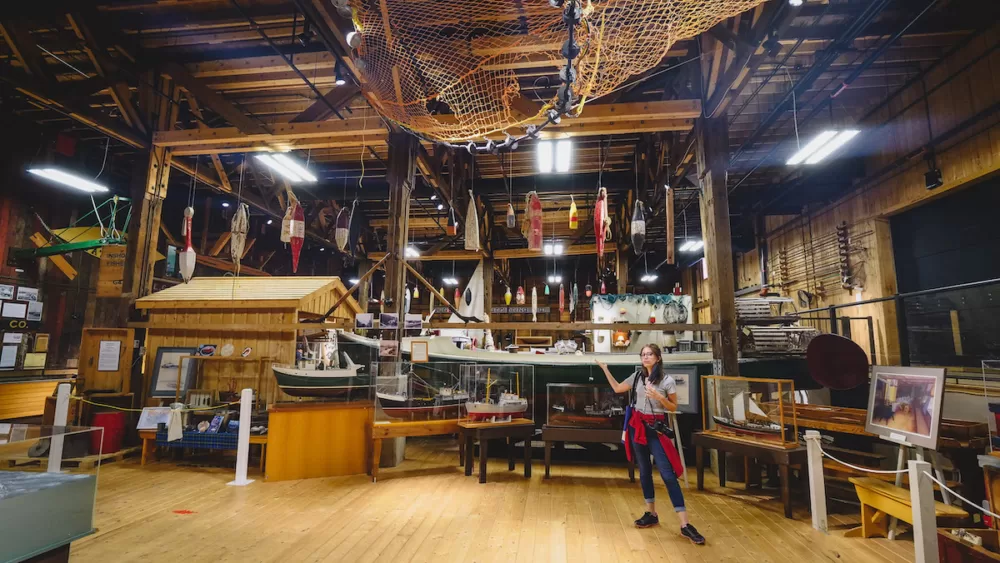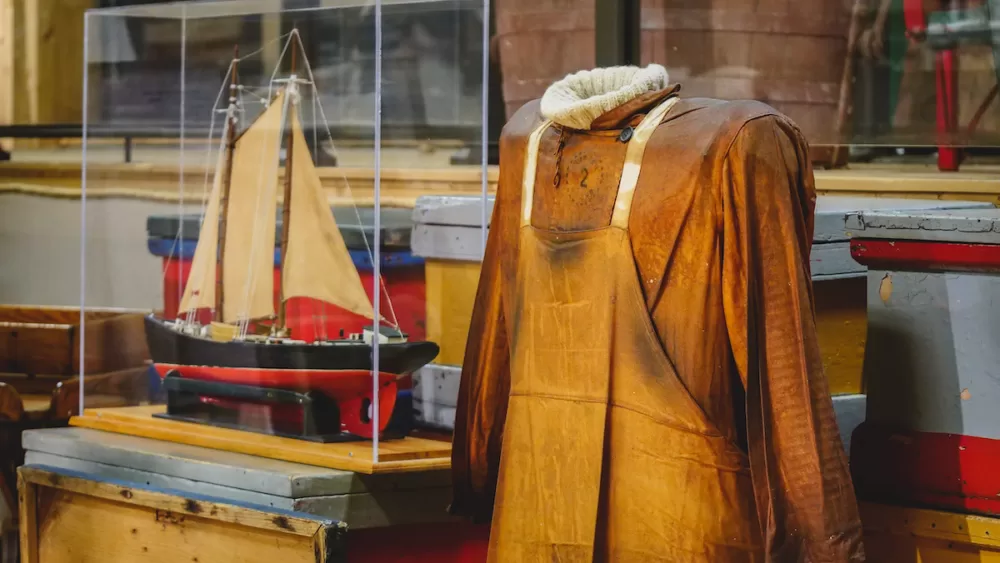 After visiting the interior of the museum, you can continue to the wharf and set foot aboard Theresa E. Connor, Canada's oldest salt bank schooner which is also part of the museum.
The Fisheries Museum of the Atlantic is open seasonally from mid-May to mid-October.
Join a walking tour of the Old Town
A walking tour is always a great way to get a good lay of the land and considering that Lunenburg is such a walkable town with so much history at every turn, this is a great option.
Lunenburg Walking Tours has been running tours for over 30 years and they currently offer 3 different tours:
Essential Lunenburg (60 minutes) – focuses on local history and 18th-century & Victorian architecture.
Haunted Lunenburg (90 minutes) – uncovers the town's secrets, superstitions, and ghost stories.
Legends of Bluenose (90 minutes) – takes place along the Lunenburg's waterfront which is intertwined with the Bluenose's history.
Marvel at St. John's Anglican Church
Established in 1753, the year Lunenburg was founded by British settlers, St. John's Anglican Church is the second oldest Anglican church in Canada.
The church has strong ties to maritime life and it holds a vast collection of artefacts and records that chronicle the life of the town and its people.
St. John's Anglican Church is renowned for its distinctive architecture, which includes a notable "Lunenburg Bump," an overhanging second story in the front facade. This feature is a hallmark of the local architectural style.
The building's design also showcases a blend of Georgian elements and Gothic Revival style, which can be seen in its arched windows and detailed interior woodwork.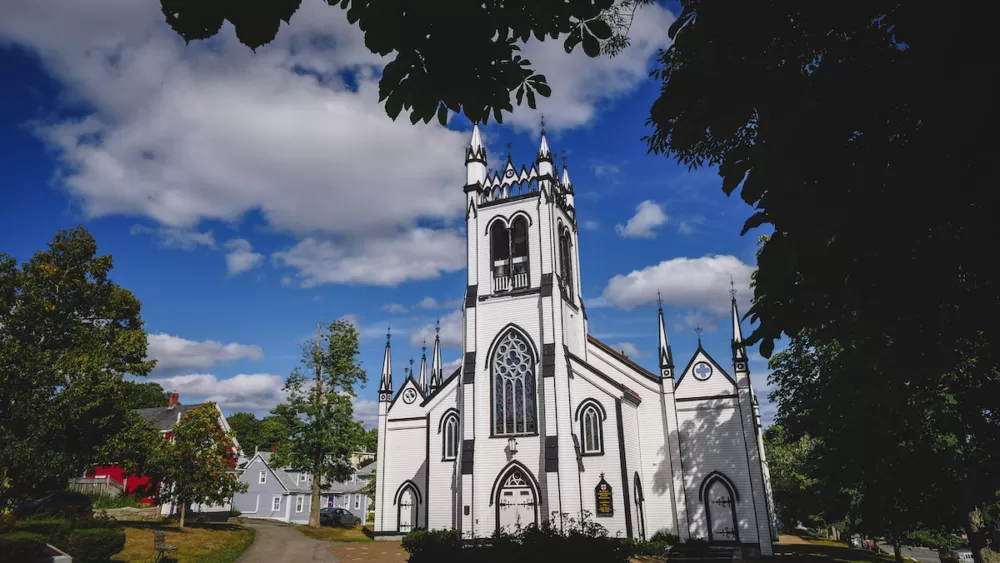 One of the most significant events in the church's recent history was a disastrous fire in 2001, which severely damaged the structure. However, the community rallied to restore the church, carefully preserving its historical features while updating others.
The church was declared a National Historic Site of Canada and aside from it being a place of worship, it's also a point of interest for many visitors to Lunenburg.
For visitors who want to join for worship, the service takes place on Sundays at 8.30 a.m. and 10.30 a.m.
Walk up to Lunenburg Academy
Another historic landmark not to be missed in town is Lunenburg Academy, a three-storey late 19th-century school building set atop Gallows Hill which is also why it's known as 'the Castle on the hill'.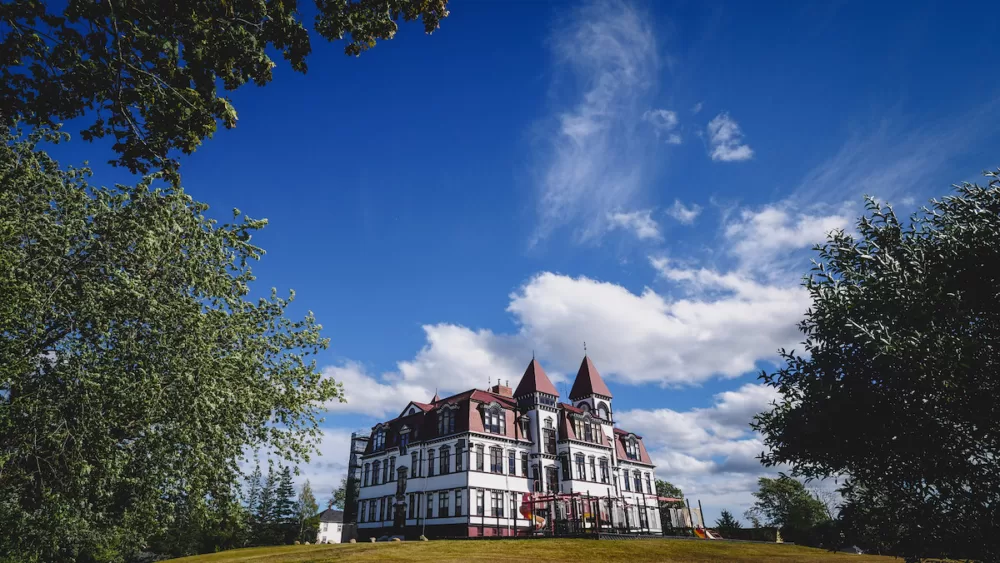 This building was designated a national historic site of Canada in 1983 because it is constructed of wood in the Second Empire style. Plus, it is the only intact 19th-century Academy Building surviving in all of Nova Scotia and one of the few remaining Public Schools of the 19th century.
It operated as a public school from primary to grade 12 from 1895 to 1965, and then primary to grade 5 from 1966 until 2012.
Hillcrest Cemetery
Hillcrest Cemetery sits directly behind the Lunenburg Academy and it's the oldest Protestant cemetery in Lunenburg and one of the oldest in all of Canada.
The earliest marker dates back to 1761, eight years after Lunenburg was established. It also contains Commonwealth war graves from WW1 and WW2.
The cemetery sits atop the hill so be prepared for a bit of a walk.
Hike the Bay to Bay Trail
The Bay to Bay Trail is a 10-kilometre trail that connects Lunenburg with Mahone Bay. It takes about 2 hours to complete the walk between the two towns, however, you can also bike, go on horseback, or even cross-country ski in the wintertime.
If you don't want to walk all the way to Mahone Bay, you can just enjoy part of the trail which runs directly behind the town of Lunenburg.
The Bay to Bay Trail runs parallel to the Lighthouse Coastal Route and it's a nice way to enjoy nature and soak in the scenery.
Do a tasting at the Ironworks Distillery
The Ironworks Distillery is Nova Scotia's first micro-distillery and it is set in a former marine blacksmith's workshop.
The team at the distillery is all about sourcing local ingredients and none of the fruits they use travel more than 150 kilometres to their facility.
We tried a bunch of different liqueurs including raspberry, blueberry, rhubarb, plus maple rum. We loved everything we tried and ended up buying a 3-bottle liqueur set as well as a bottle of their maple rum to take back home.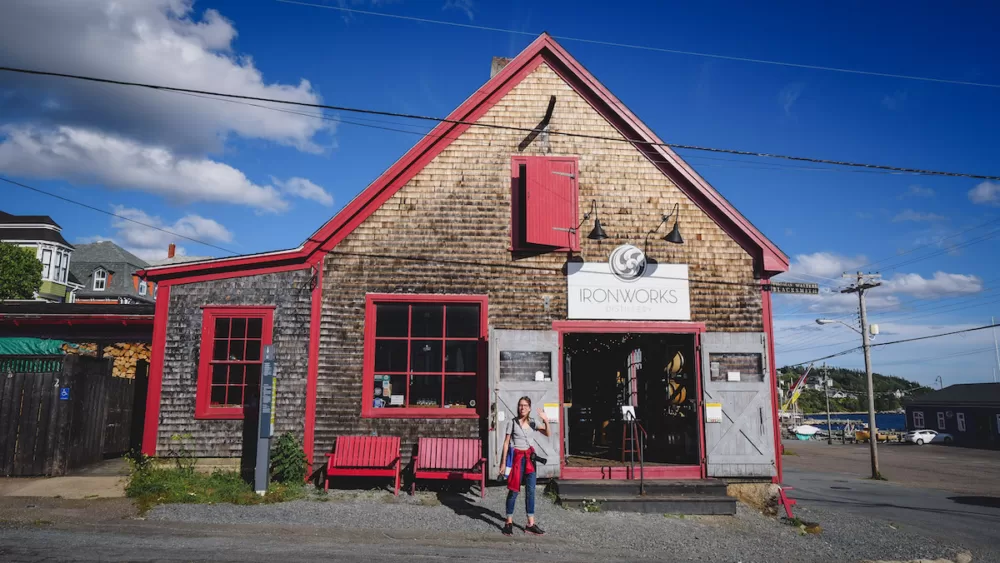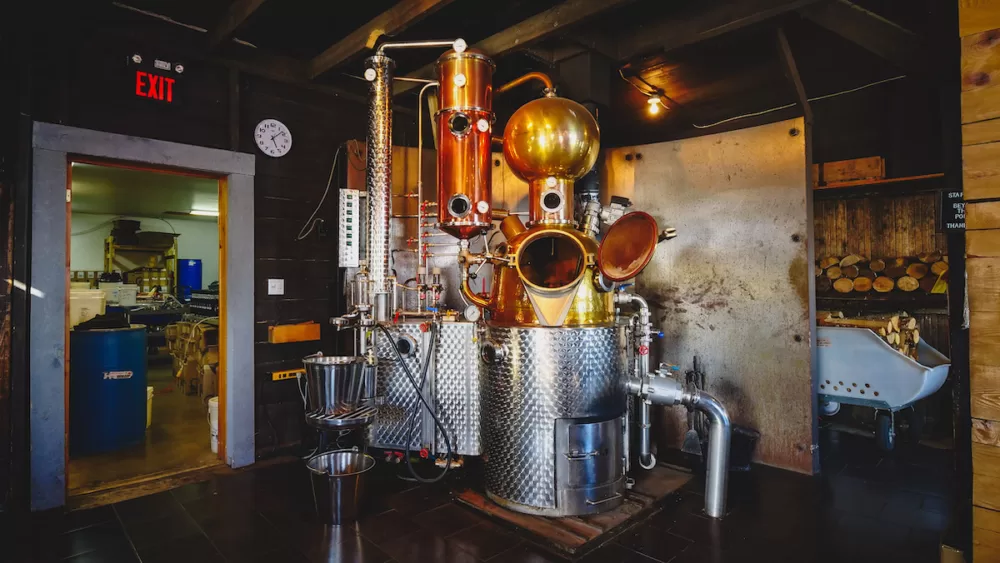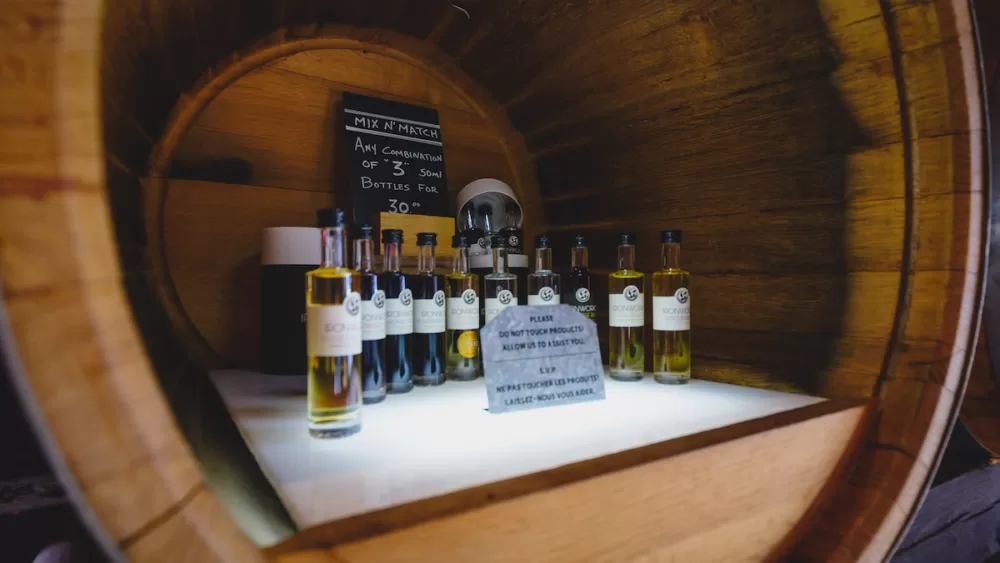 Aside from rum and liqueurs, the Ironworks Distillery also makes gin, vodka, whisky and brandy so there's something for every taste.
They offer a guided behind-the-scenes tour and tasting that run about 45 minutes. These tours are bookable online and booking ahead is recommended since they have a limited number of spots.
Find the best views in Lunenburg
For the best panoramic views of Lunenburg, make your way to the south side of Lunenburg Harbour along Tannery Road.
This is where you get those postcard-perfect shots of the town, and it's quite magical at sunset when the buildings are washed in a warm glow.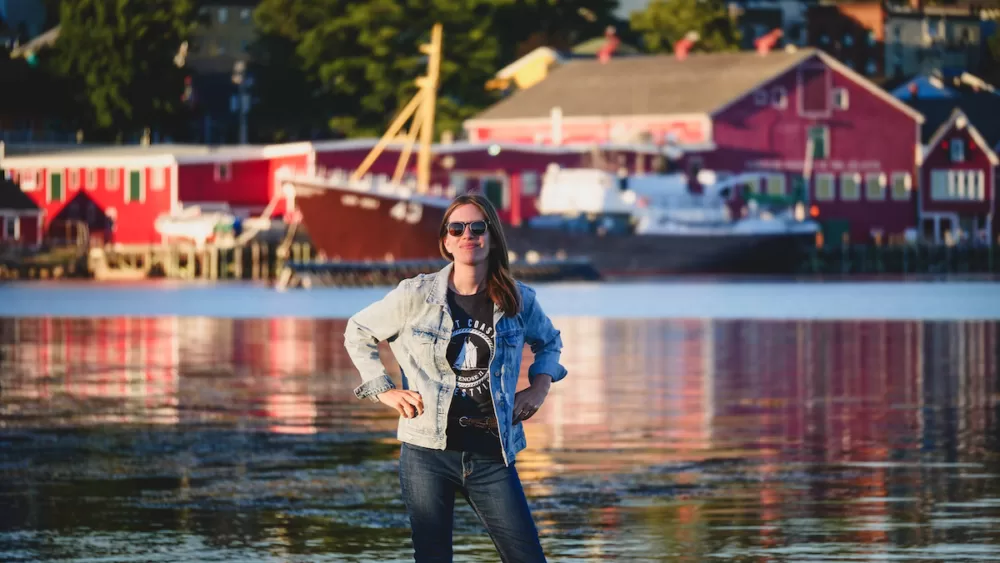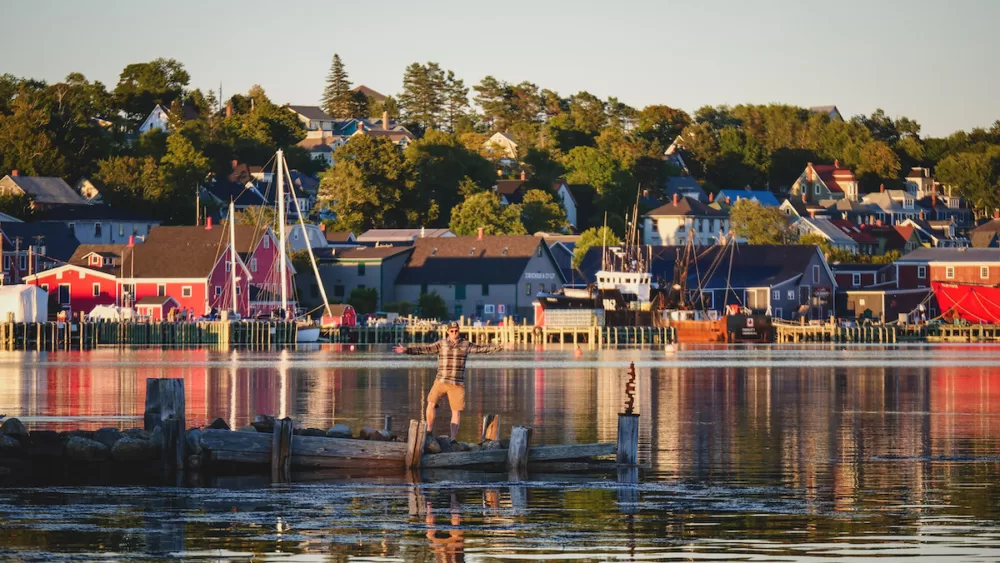 The best way to get there is with a car. There is a small parking area as well as roadside parking. If you're a photographer, you'll want to bookmark this spot!
Tip: If you want to enjoy the sunset views with brews, make your way over to Lightship Brewery. Their location is unmatched!
Where to stay in Lunenburg, Nova Scotia
This turn-of-the-century bed and breakfast offers rooms with a kitchenette and its mere meters from the waterfront. The accommodations boast bright rooms, wood floors and harbour views.
Situated in a residential area just 1 kilometre from the waterfront, this bed and breakfast is just a 10-minute walk into town. The heritage home is lovingly decorated and has very attentive hosts.
This inn offers spacious rooms with cheerful decor overlooking Lunenburg Harbour. They also have an on-site restaurant featuring plenty of seafood dishes.
Where to eat in Lunenburg, Nova Scotia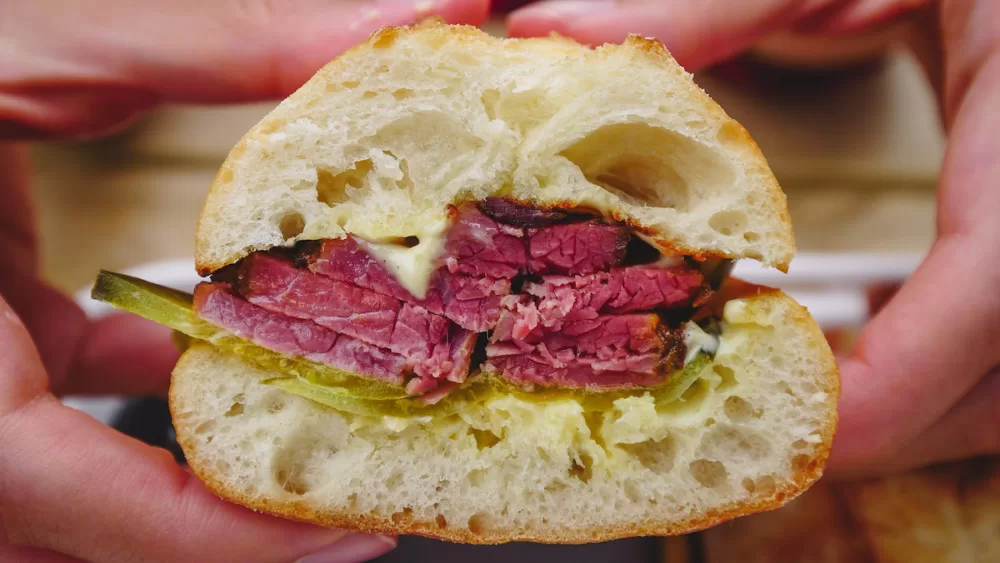 The Smoke Pitt BBQ
If you want to take a break from all the seafood, The Smoke Pitt BBQ is a great alternative.
We ordered the 15-hour hickory smoked brisket on a ciabatta bun with pickles and horseradish mayo. We paired that with a side of Mac and cheese with aged cheddar and it was simply divine!
They also have pulled pork, jerk chicken, ribs and tacos, so come hungry!
Address: 152 Bluenose Drive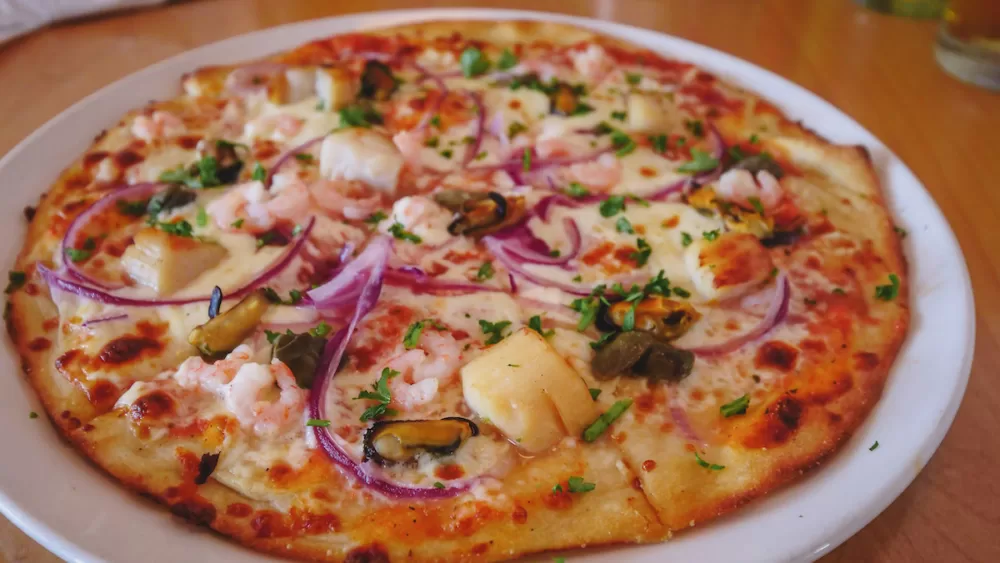 Salt Shaker Deli and Inn
You can enjoy lots of classic seafood dishes at Salt Shaker Deli like steamed mussels, fish cakes, and lobster rolls.
We opted for something a little less traditional and got the shrimp tacos and the seafood pizza topped with marinara, scallops, mussels, shrimp, capers, red onion and mozzarella.
It was a nice meal and if you get lucky, you can get a seat on the patio and enjoy the views.
Address: 124 Montague Street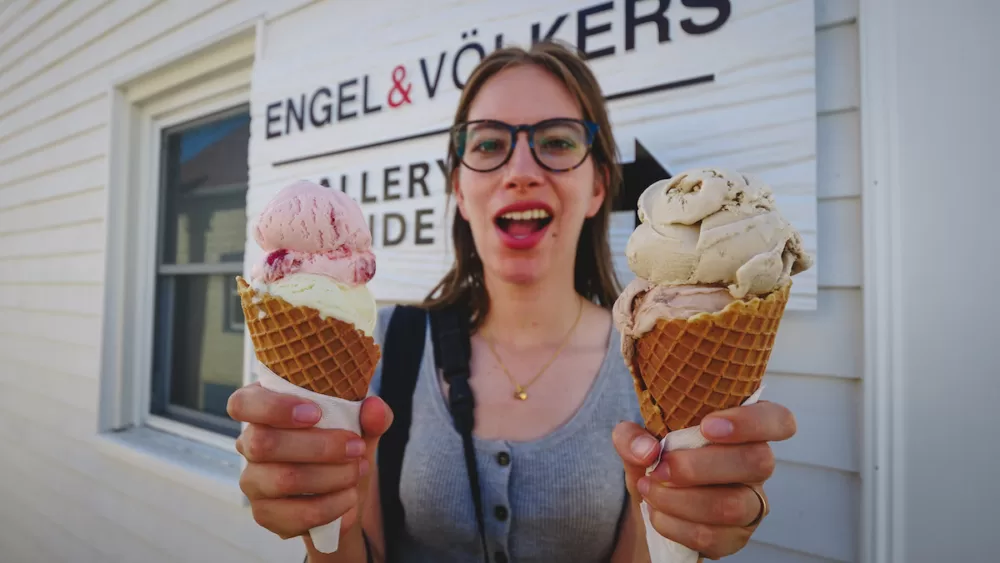 Sweet Treasures Confectionery
For a little something sweet, you have to visit Sweet Treasures Confectionary. They serve up ice cream, milkshakes and fudge.
They had Nova Scotia Scotsburn ice cream as well as homemade ice cream available. We opted for the homemade ice cream and got one waffle cone with strawberry and pistachio and another with maple walnut and peanut butter.
The ice cream was delightfully creamy and smooth. A great way to cool down on a hot summer's day.
Address: 110 Montague Street
Day trips from Lunenburg, Nova Scotia
The nice thing about travelling Nova Scotia's South Shore is that the distances are short and most towns and tourist attractions are quite close to one another. This means you can spend a lot more time enjoying the destination instead of driving. Here are some super easy day trips from Lunenburg worth considering.
Blue Rocks – 9 minutes / 6.4 km
The small coastal community of Blue Rocks is located just a few minutes' drive from Lunenburg. It gets its name from the bluish slate rocks that line the shores, and it is a favoured spot with photographers, painters, and those looking to experience the quintessential Nova Scotian coastline.
Blue Rocks is often compared to Peggy's Cove, another iconic Nova Scotian location, but it is less crowded, offering a more peaceful experience.
It's a popular kayaking spot thanks to the scattered islands and small channels between the rocks that create tranquil paddling routes sheltered from the larger swells of the open Atlantic.
The community itself maintains a traditional fishing village charm, complete with weathered fish shacks and boathouses that stretch along the shores—a nod to the area's longstanding relationship with the sea.
Mahone Bay – 13 minutes / 11.4 km
Mahone Bay is another picturesque town located just north of Lunenburg. The town is known for its colonial history, maritime culture, and the iconic view of its three waterfront churches, which have become a symbol of the region.
The town has a vibrant community that attracts visitors with its scenic beauty, its peaceful harbour dotted with boats, and its tranquil streets lined with shops, galleries, and eateries.
Mahone Bay also hosts a variety of festivals and events throughout the year, including the Mahone Bay Classic Boat Festival and the Scarecrow Festival & Antique Fair, which are local favourites and draw crowds from across the province and beyond.
Oak Island – 28 minutes / 23.4 km
Oak Island is a place shrouded in mystery and in recent years, it has become even more well-known thanks to the popular History Channel television series, "The Curse of Oak Island," which follows the efforts of two brothers trying to uncover the island's secrets.
The Oak Island mystery dates back to 1795 when a strange circular depression was found on the island. Excavation of the site led to the discovery of a layer of flagstones and a series of logs buried at regular intervals. This discovery launched multiple treasure hunts on the island, as people believed that the site, known as the Money Pit, might contain a significant treasure.
Over the centuries, various individuals and companies have attempted to locate the treasure, spurred on by tales of buried pirate loot, ancient manuscripts, Marie Antoinette's lost jewels, and even connections to the Knights Templar.
The island is privately owned, however, visitors to Oak Island can arrange to join guided tours.
Chester – 31 minutes / 40.6 km
Chester is a seaside village along Nova Scotia's South Shore with a long-standing connection to the sea. It is renowned for its quaint atmosphere, historic homes, and beautiful landscapes.
The town is a hotspot for sailing enthusiasts as it is home to the Chester Yacht Club, which hosts the annual Chester Race Week. This event is one of the largest keelboat regattas in Canada, drawing sailors from all over the world.
Outdoor activities are abundant in and around Chester. Visitors can enjoy golfing at one of the oldest courses in the province, hiking on nearby trails, or relaxing on the picturesque beaches.
LaHave Islands – 53 minutes / 49 km
The LaHave Islands are a small archipelago near the mouth of the LaHave River. These islands are known for their rugged beauty, traditional fishing communities, and relatively untouched landscapes.
Traditionally, the economy of the LaHave Islands was based on fishing, and this heritage is still visible in the form of wharves, fishing boats, and the simple, weather-beaten homes of fishermen that dot the islands.
This is a nice area for a day trip where you can enjoy beaches, coastal trails, and kayaking. Crescent Beach and Rissers Beach are two nice places to stop before you even cross over to the islands.
Peggy's Cove – 1 hour 14 minutes / 100 kms
Peggy's Cove is Nova Scotia's most iconic coastal attraction located just under an hour's drive from Halifax.
This small rural community sits on the eastern shore of St. Margarets Bay and is renowned for its picturesque scenery, the historic Peggy's Point Lighthouse, and its unique landscape of smooth, wave-worn granite rocks along the coast.
The lighthouse, built in 1915, is one of the most photographed lighthouses in Canada, if not the world. It stands as a sentinel on the rocks, painted white with red trim, overlooking the Atlantic Ocean.
Despite its small size, Peggy's Cove is a hub for tourists. The area offers a range of souvenir shops, art galleries, and places to dine, where one can enjoy fresh Atlantic seafood. Just be prepared for crowds.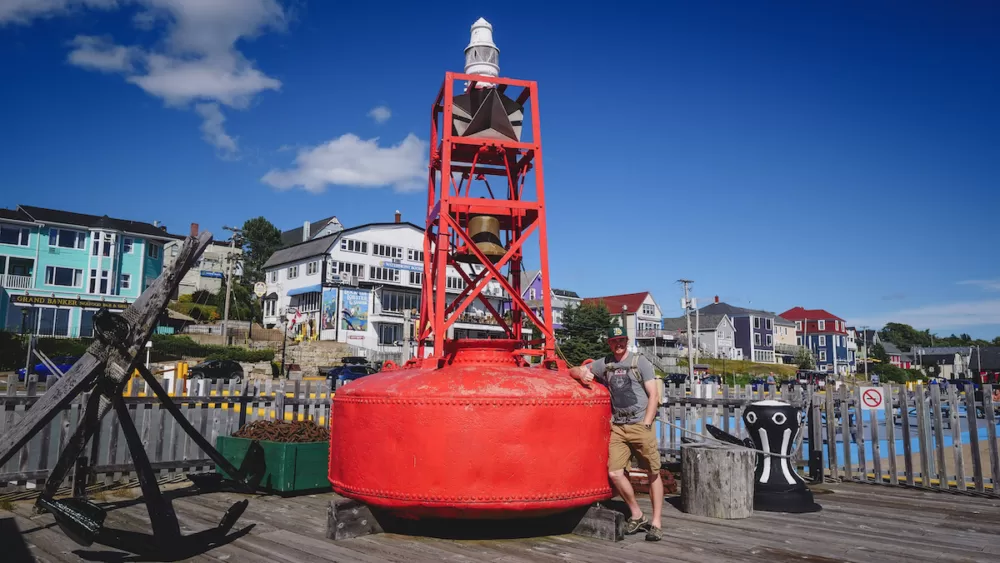 Best time to visit Lunenburg, Nova Scotia
The best time to visit Lunenburg, Nova Scotia, largely depends on what you're looking to do and the kind of experience you want to have. Here's a seasonal breakdown:
Summer in Lunenburg (June to August)
This is the peak tourist season in Lunenburg when the weather is warm and all attractions, including the Fisheries Museum of the Atlantic and whale watching tours, are fully operational. Summer festivals and outdoor activities are in full swing, and the sea is accessible for kayaking, sailing, and other water sports.
Fall in Lunenburg (September to November)
Fall is a wonderful time to visit if you're interested in seeing the foliage change colours. The weather is cooler, and the peak tourist crowds have dissipated. Although some attractions have reduced hours, you'll still find plenty to do, and the atmosphere in town is more relaxed.
Winter in Lunenburg (December to February)
Winter is cold and snowy, with temperatures often below freezing. This is the off-season for tourism, and many attractions are closed or have limited hours. However, if you're interested in experiencing a Maritime winter and don't mind the cold, you will find Lunenburg peaceful and uniquely beautiful with its winter charm.
Spring in Lunenburg (March to May)
Spring is a transition period. The is unpredictable with a mix of late winter chills and early signs of summer warmth. This is also a quieter time to visit, just before the summer crowds begin to arrive. Attractions start to open up, and you can enjoy the town as it wakes up from the winter.
For the best overall experience, visiting in late spring through early fall (May to September) is a good idea. This is when the weather is most pleasant and the town is lively and bustling with activities. Always check the local event calendars as Lunenburg hosts various festivals and events throughout the year that might enhance your visit.