While you could easily spend your entire trip to Berlin exploring the different museums, historical buildings, and enormous parks, there is so much to see on the outskirts of the city, too. If you have the time to take a day trip from Berlin, be sure to check out some of these beautiful historic towns, lakeside parks, and outdoor museums.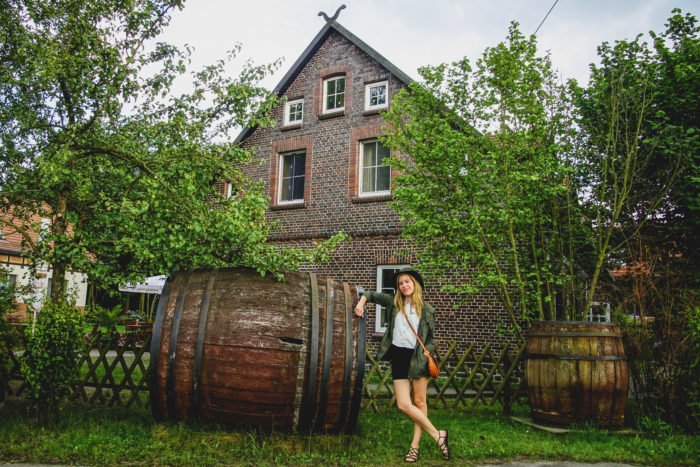 Spreewald
If you want to get out of the big city and enjoy some of the region's most exquisite natural beauty, you need to visit Spreewald. It takes about an hour on the S-Bahn travelling towards Lübbenau.
Spreewald is a UNESCO-protected biosphere and it's a wonderful place to enjoy some peace and quiet.
As you walk through the park, you'll find cottages and farmhouses which once belonged to a Slavic tribe that lived in the region.
Today, Spreewald is still inhabited by the descendants of these tribes who have preserved their traditional language, customs and clothing, all of which you can appreciate by visiting their open-air museums.
Another thing that makes Spreewald unique is the network of canals that wind through the park. These were originally created to form an irrigation system for the farmers that used the land and they really add to the beauty and serenity of the grounds, so don't miss punting down the canals.
Potsdam
Potsdam is one of the most popular day trips from Berlin. You can hop on a train and be there in under 30 minutes.
Sanssouci is not to be missed. Tucked in the centre of the park, this bright summer palace is said to rival Versailles.
The park itself is worth some of your time as well. Wander the paths and enjoy the lake, the Chinese House, the famous Neptune's Grotto, the Picture Gallery, and the New Palace.
The Dutch Quarter is another part of the city that is nice for exploring. The streets are lined with brick buildings covered in climbing vines.
This is also where you'll find quaint local shops, cafes, and restaurants where you can enjoy lunch and do some browsing.
There is so much to see and do in this imperial city, that you'll likely want to come back for another visit.
Pfaueninsel
Pfaueninsel, or Peacock Island in English, is located on the River Havel. The island is small, only a half-kilometre long, so you don't even need an entire day to explore this nature reserve.
The main draw to the island is the Palace, which was built as a summer escape for Friedrich Wilhelm II.
The palace was designed to look like a ruin in the popular Romantic style of the day, which favoured a "derelict rural Roman villa" feel.
Another reason to wander this tiny island is to see the biodiversity; it's particularly special during the spring when all of the flowers are in bloom.
As for getting there, you can reach Pfaueninsel by taking the S-Bahn to Wannsee, and then a bus to the jetty where you hop on a ferry to the island.
Leipzig
Leipzig is a large German city, so you'll want at least one full day to explore the cobbled streets and medieval architecture.
It's about an hour and a half from Berlin by train, so be sure to get an early start so you can pack as much into your day trip as possible.
Leipzig has a lot of history worth learning about when you visit. It was the centre of East Germany's peaceful revolution against the government of the German Democratic Republic (GDR).
Head to St. Nicholas Church where the Monday Demonstration took place from 1989 to 1991.
The Völkerschlachtdenkmal is a must-see when you're in Leipzig. It is a towering memorial to the Battle of Leipzig which took place in 1813. Even though it was built in 1913, it still remains one of the tallest war memorials in Europe.
Tropical Island Resort
Now, for something completely different. Just 50 kilometres from the southern boundary with Berlin, you'll find a tropical theme park housed in a former hangar!
The resort is home to the biggest indoor rainforest in the world, a beach, numerous swimming pools, not to mention all the bars and restaurants ready to whisk you away on a tropical escape.
The best part? Tropical Island Resort is open 24 hours a day and seven days a week!
Dresden
While much of Dresden was levelled during World War II, the city was almost completely restored to its former glory in the decades that followed.
If you only have one day, it might be a good idea to book a walking tour of the Altstadt or the Old Town. This will give you an opportunity to learn a lot about the town and see all of the major sites in a short amount of time.
If you're on a budget and want to explore independently, make sure you don't miss visiting Frauenkirche; the church's Baroque architecture is one of a kind and the tiered interior is absolutely stunning.
Then head to Bruehl's Terrace, a Renaissance terrace nicknamed the "balcony of Europe", where you get sweeping views of the Elbe and you can watch the world go by.
If you catch a direct train from Berlin to Dresden, the journey is just under two hours, so again, it's worth getting an early start.
Köpenick
Köpenick is the perfect Berlin day trip for those that love medieval architecture. It's only 30 minutes from downtown Berlin by bus, making it an easy place to get to and spend a few hours.
The main draw to the city is Köpenick Palace for its ornate baroque architecture. The interior of the palace is incredibly detailed and, some might say, wildly over the top, but that's what makes it such a fun place to visit.
The palace sits on a little island surrounded by the Dahme River with a small bridge from the mainland.
Head to the old town to wander the streets and enjoy a nice cafe lunch. Most of the restaurants in this part of town are independently-owned and serve up seriously delicious local-fare.
Wannsee
Wannsee is a popular place for Berliners to head on a hot summer's day. It's only 30-minutes away by train and is the perfect place to enjoy the sunshine.
This popular summer spot is made up of two lakes: the larger Großer Wannsee and the smaller Kleiner Wannsee, both located on the River Havel and separated by the Wannsee Bridge.
The place is lined with beaches, yacht clubs, and expensive holiday villas. Keep your eyes peeled for Villa Marlier, the notorious vacation villa where the leaders of the Third Reich spent their summers. It's now a museum that you can explore.
Düppel
Düppel is a small museum village that is perfect for families looking for an educational day trip from Berlin.
You can take Bus 115 from several locations around the city to go directly to Düppel. It takes about 45 minutes to get there from the centre of the city.
The museum is a reconstructed 13th-century village. You'll see blacksmiths, cobblers, bakers, and pottery makers at work. Everyone is dressed in traditional clothing so you can really feel like you've stepped back in time.
Another draw to this museum village is the animal sanctuary. Here you'll find animals that have been brought back from near extinction such as the Düppel pig.
It's important to note that the museum is only open from Easter until October, so it's not an option if you're visiting Berlin during the winter months.
Sachsenhausen Concentration Camp
Sachsenhausen was one of the largest concentration camps in Germany during World War II and due to its close proximity to Berlin, it was also one of the largest training centres for Third Reich officers.
In addition to being a concentration camp for Jewish inmates, Sachsenhausen was also infamous for being an execution site for resistance fighters and political prisoners.
Many of the buildings have been restored to look exactly as they did during the war.
You can get there by train in less than an hour, arriving in Oranienburg, and it's a quick bus ride from there.