Are you visiting the Czech Republic and looking for things to do in Prague? Well, you've come to the right place! Prague is a city that sure knows how to impress. From the minute I got there I was taken aback by the beautiful Baroque architecture, the soft pastel-coloured facades, and the hundreds of domes and spires dominating the city's skyline. The city is nothing short of breathtaking and this is also very true of the residential areas and neighbourhoods that are a bit further removed from the centre of town. For anyone planning a trip to the Czech capital, today I'll be highlighting 50 things to do in Prague, Czech Republic:
50 things to do in Prague
(1) Walk across Charles Bridge. Once known as the Stone Bridge, Charles Bridge is the most popular bridge in all of Prague. Until 1841, this was the only means of crossing the Vltava River and reaching Prague Castle from the Old Town. Today you'll find musicians playing everything from classical pieces to blues, artists drawing unflattering caricatures, and vendors selling postcards and jewelry.
(2) Take a stroll around the Old Town Square. Prague's Old Town Square is nothing short of beautiful! Picture Baroque and Art Nouveau buildings painted in cheerful colours, old cobbled streets, and cute little cafes serving up traditional Czech food. Like with most popular attractions, this place gets very crowded during the day – especially when the Astronomical Clock strikes the hour – however, if you come by early in the morning you'll have this place all to yourself.
(3) Explore the Jewish Quarter. Prague's Jewish Quarter, or Josefov, is located directly north of the Old Town Square. The area is home to many synagogues, many which date back to as early as the 16th century. Some of the synagogues have been converted into museums and memorials to the Holocaust victims, and you'll also be able to find Europe's oldest surviving Jewish cemetery in this neighbourhood.
(4) Wander down the Golden Lane. The Golden Lane gets its name because legend has it that Emperor Rudolf II had alchemists working along this road on his quest to find a way to turn metal into gold. That was enough to peek my interest! The cottages along this lane are painted in bright colours and you'll most likely have to duck your head when you walk through the doorways. Today these former homes have been turned into souvenir shops and you can buy anything from handmade Czech puppets to literature by Frank Kafka who spent a few years writing on this lane.
(5) Test your deciphering skills at the Mind Maze. Prague's Mind Maze was one of the highlights of my visit to the city and I can't stop raving about it! If you grew up watching room escape games like "Fort Boyard", or playing computer games like "Encarta's MindMaze", then you'll love this! The premise behind this game is that you get locked in the Alchemist's Chamber and you have 60 minutes to figure a way out. You'll have to decipher riddles, open locks, and complete puzzles, which eventually lead to the Philosopher's Stone and a way out.
(6) Spend a day exploring Prague Castle. Another one of the top things to do in Prague is to visit Prague Castle, seeing as it's the largest castle complex in the entire world! It is made up of a series of palaces, courtyards, towers, halls, gardens, and lanes, and it also houses a chapel, basilica, and cathedral. In short, the place is massive and there is a lot to see! You could easily spend half a day wandering through the grounds and only see a fraction of it all.
(7) Admire the stained glass inside St. Vitus Cathedral. Located within the walls of Prague Castle, St. Vitus is a gothic cathedral that contains the tombs of many of the Bohemian Kings and Holy Roman Emperors. One of the most unique aspects of this cathedral is that some of the stained glass windows were designed in the Art Nouveau style by Alphonse Mucha. If you visit the cathedral at the right time of day, you'll find that the light streaming in through the stained glass lights up the surrounding walls which are covered in tiny mosaics. It truly is a sight to behold.
(8) Pick up a roll of Trdelník. This sweet pastry may have mixed origins, but it's still a favourite here in Prague. The hollow cylinder pastry is usually topped off with powdered sugar, but you can also get it with nutella inside. The perfect mid-afternoon snack!
(9) Enjoy an evening at Prague National Theatre. Opera, ballet, drama? You may go in for the performances, but you'll also be dazzled by the building's regal interior. Don't forget to look up at the ceiling.
(10) Enjoy a sliver of nature at Jelení Příkop. This long strip of land used to act as a moat around the backside of Prague Castle, but today it's a beautiful stretch of greenery where you can relax and enjoy some tranquility. Few visitors know about this place, so it's the perfect place for a romantic stroll, a picnic, or even a little nap on the grass.
(11) Visit the KGB Museum. Prague's KGB Museum is one of the quirkier museums in town. While the museum may be small, it is full of unique gadgets and it is run by a man who has lots of stories to share.
(12) Visit the library at the Strahov Monastery. It's a steep walk to reach the Strahov Monastery which sits above Petrin Hill, however, the long walk will reward you with beautiful views of Prague's persimmon coloured rooftops below. You can also visit the monastery's library which includes over 16,000 texts and one of the oldest monastic collections in the whole country.
(13) Walk down Nový Svět. There is a little street not too far from Prague Castle, which is knows as Novy Svet (literally, New World). It's a place where very few tourists venture, yet everything about this street oozes charm – the detailed doorhandles, the crooked walls, the worn cobbled streets. Novy Svet is worth the detour after a visit to the castle, and if you're looking for a place to rest your weary feet, you can pop in to one of the cute little cafes and order yourself a cup of tea and a slice of cake.
(14) Listen to a concert at the National Museum. The National Museum may be closed for renovations, however, it's still possible to admire the grand interior and velvet-carpeted staircases if you attend one of the concerts that take place in the evenings. Mozart, Bach, Vivaldi, Tchaikovsky – this is the place to go!
(15) Take a luxury car tour around the city. For a more upscale experience touring the city, you can hire a luxury vehicle to drive you around Prague. We saw some pretty swanky cars driving tourists as they sipped on Champagne. Prices start at 1200 Czech Korunas.
(16) Watch the Astronomical Clock strike the hour. If you're coming with great expectations, you may be underwhelmed, but nevertheless, seeing the Astronomical Clock is one of the top things to do in Prague. The clock was first installed in 1410, which makes it the third-oldest astronomical clock in the world and the oldest one still working! Every hour crowds gather with cameras in hand and watch the clock work its magic. A little skeleton rings a golden bell, the apostles make their appearance at the windows, and then a little golden rooster crows.
(17) Catch Sigmund Freud dangling from a beam. There's a famous piece by David Cerny in Prague's Old Town which is called Man Hanging Out. The 7 foot sculpture depicts Sigmund Freud, one of the best known psychoanalysts, hanging by one hand high above a street and pondering whether or not to let go. Freud suffered from several phobias including fear of his own death, which is what this particular piece alludes to.
(18) Drop by Kampa Island for a little visit. Kampa Island is an island located on the Vltava River and it is the starting point for many of the city's boat cruises. There is also a nice park you can walk through. To reach the island you'll want to take the staircase that veers off of Charles Bridge on the west bank.
(19) Check out the Lennon Wall. Another popular stop on this list of things to do in Prague, is the Lennon Wall. If you're a Beatles fan, then you'll want to swing by this wall which is covered in graffiti, song lyrics, and portraits of John Lennon and Yoko Ono. The wall is located on Velkopřevorské náměstí just slightly south of Charles Bridge. "All we are saying is give peace a chance."
(20) Soak in Art Nouveau at the Mucha Museum. You can't talk about Art Nouveau without mentioning Mucha's name. The Czech painter was one of the leaders of this artistic movement which focused on natural forms, curved lines, and creating harmony with the natural environment. The Mucha Museum in Prague is dedicated to Mucha's work and it displays over 100 paintings, drawings, lithographs, and pastels produced by the artist.
(21) Take a tour of the Klementinum. The Klementinum is a complex of buildings near the Old Town. You can sign up for tours of the Klementinum, which include access to the Baroque Library Hall, the Mirror Chapel, and the Astronomical Clock Tower. (You'll have to immortalize the beauty of the library with your eyes because no photography is allowed!)
(22) Take a walk around Vyšehrad. Vyšehrad is an old historical fort located on the Eastern shores of the Vltava River and it dates back to the 10th century. While little remains of Prague's 'other' castle which once stood here, you can still visit the Basilica of St Peter and St Paul, the Vyšehrad Cemetery, and the Rotunda of St. Martin which is the oldest of three Romanesque round churches found in Prague (pictured above).
(23) Feed the swans on the banks of the Vltava River. For a chance to feed swans, head over to the Western banks of the Vltava River, right by the Franz Kafka Museum. There is a nice little area where the swans like to gather and families come to feed them breadcrumbs.
(24) Drop by "Farmer's Market Jirak" on a Saturday. If you're up early on a Saturday morning, it's worth swinging by this little farmer's market. You'll be able to find anything from freshly baked cakes to organic honey, and I also recommend you pick yourself up a tasty Balkan burger with mustard – delicious!
(25) Wander through the Vyšehrad Cemetery. Much like Buenos Aires' La Recoleta or Montreal's Mount Royal, this particular cemetery is one filled with mausoleums and sculptures that pay homage to artists, composers, politicians, and great thinkers who lived many centuries ago. This is the final resting place for many famous Czechs, including Alphonse Mucha who was one of the leaders of the Art Nouveau movement.
(26) Check out the Museum of Communism. The Museum of Communism takes a look at the post–World War 2 Communist regime in Czechoslovakia. Much of the museum's collection is made up of items that were picked up at flea markets and sales around Prague and the surrounding area. Expect lots of sculptures and posters heavy on propaganda.
(27) Enjoy the art of puppetry. You don't have to be in Prague very long to notice that marionettes play an important role in the city. Puppetry has been a favourite form of entertainment for hundreds of years, and if you go for a walk around town, you'll inevitably come across souvenir shops selling puppets, puppeteer workshops where the marionettes are hand-made, and even puppet theatres.
(28) Stroll past the Dancing House. Nicknamed Fred and Ginger, the Dancing House is a cool building that was designed in the Deconstructivist style. There was quite a bit of controversy when this building was first built because it doesn't exactly blend in with the Baroque and Art Nouveau style that dominates the streets of Prague, however, I think it's a nice addition to the city. The building is located on eastern banks of Jiráskův Bridge.
(29) Take a scenic river cruise. For a leisurely way to spend the afternoon, you can consider taking a cruise down the Vltava River. There are many options available from 1 hour journeys to longer outings which include dinner and live music.
(30) Climb up to Petrin Hill. Petrin is a hill on the left bank of the Vltava River and it offers great views of the city. It's a very pleasant walk if you decided to climb on foot, and there are also plenty of benches for you to rest along the way. Alternatively, you can take the funicular up the hill and save your legs for the walk down.
(31) Drink a Pilsner. The Pilsner is a type of pale lager that gets its name from the city of Plzeň in the Czech Republic. You'll find it being served in pubs and restaurants all over Prague, and considering it's cheaper than water, you may want to order yourself a pint.
(32) Visit the Church of Our Lady in front of Týn. This church is located in Prague's Old Town and it has been the city's main church since the 14th century. It also holds the oldest pipe organ in Prague.
(33) See the Infant Jesus of Prague. This wooden statue dates back to the 16th century and it is popular with faithful followers as it is believed to hold miraculous powers. You'll find the statue inside the Church of our Lady Victorious.
(34) Visit the Frank Kafka Museum. Franz Kafka was a German language writer who was born in Prague. You'll find a museum dedicated to him and his works on the left bank of the Vltava River just north of Charles Bridge. The museum contains first edition volumes of his works, as well as letters, manuscripts and drawings. In the museum's courtyard you'll spot a giant K for Kafka next to an odd sculpture entitled Piss by David Cerny… I can't figure out what significance the sculpture bears to Kafka's works, but it's certainly memorable.
(35) Go for a walk around Mala Strana. Mala Strana, also known as the Lesser Quarter, is one of the most historic districts in Prague. The area is dominated by beautiful Baroque architecture.
(36) Experience the city at night. Prague looks completely different when the sun goes down and the lights come on. The crowds disperse and a certain magic hangs over the streets. Go for a stroll across Charles Bridge and enjoy the view of the castle all lit up in the distance.
(37) Drink Absinthe. Ah, Absinthe! The Green Fairy, the Green Muse, the Green Goddess – she has so many nicknames. This drink may have originated in Switzerland and grown in popularity among artists in Paris, but it still plays a big role here in Prague. You'll find little bottles of the anise flavoured alcohol sold all over the city, and it's one of those things that you just have to try.
(38) Admire cubist architecture. The House of Black Madonna is a cubist building located in Prague's Old Town. It also houses the Czech Museum of Cubism.
(39) Look up inside Prague's train station. Prague's main train station Praha Hlavni Nadrazi was designed in the Art Nouveau style. If you happen to arrive by train, walk in through the main doors and have a look at the dome and ornate windows and arches.
(40) Blink twice at the Zizkov TV Tower. Prague's TV Tower is already quite a unique structure to look at as it consists of 3 columns with 9 futuristic looking pods. But that's not all; you'll also find babies crawling up and down the tower! This was another piece by artist David Cerny. The installation went up in 2000 and at the time it was supposed to be a temporary piece, however, people enjoyed it so much that the babies became a permanent fixture.
(41) Visit Galerie Rudolfinum. Galerie Rudolfinum is a space that features contemporary art ranging from visual art exhibitions to musical performances. The gallery will be closed over the summer of 2014 as it undergoes some renovations, however, it's scheduled exhibitions will resume after that.
(42) Hop on a segway. Segway tours are quite popular in Prague and you'll find people zipping around the Old Town or even heading uphill towards the Strahov Monastery on these. If you decide to hop on a Segway, you will get teamed up with an experienced guide who will share his insights about the city.
(43) Enjoy some traditional Czech food. If you're looking for a hearty meal to fill you up after a long day of sightseeing, then look no further than a traditional Czech restaurant! One of the most popular items you'll find on the menu is goulash. Yes, goulash may be Hungarian, but the Czechs have come up with their own twist on the dish. Czech goulash is all about the meat – no vegetables, no potatoes – and it is served with slices of steamed bread which are known as dumplings. Yum and yum!
(44) Go clubbing at Klub Karlovy Lazne. This club holds the distinction of being the largest club in Central Europe and it has 5 different floors which play different music genres. (They age policy used to be 16+, but they recently changed it to 18+ which will hopefully help appeal to a more mature crowd.)
(45) Get yourself some souvenirs. Puppets, Art Nouveau posters, small bottles of absinthe, colourful tin cups – there are lots of cool things you can pick up for your friends and family back home.
(46) Watch the changing of the guard. When you visit Prague Castle, you can also use this as an opportunity to watch the changing of the guard. The fanfare and flag ceremony takes place at 12.00 noon in the First Courtyard, or alternatively, you can watch the changing of the guard at the castle gates which happens on the hour from 7.00 to 20.00 in the summer and 7.00 to 18.00 in the winter.
(47) Climb the steps of Petrin Lookout Tower. This tower slightly resembles the Eiffel Tower in Paris, though at 63.5 meters it is actually much shorter. It's 299 steps to reach the top.
(48) Check out the Brownnosers. Who could be behind these sculptures if not David Cerny? This permanent installation is located at the Futura Gallery and it depicts two giant statues leaning forward with giant ladders leading up to their rear ends. Visitors can climb up these ladders and peer in to watch a video of Czech President Vaclav Klaus and the head of the National Gallery Milan Knizak spoon-feed each other. Clearly Cerny is not one to shy away from political commentary.
(49) Enjoy the humour behind some of the city's street art. Prague is full of unique art projects, and if you know a little German you'll get the joke behind this twist on the 'Champs Élysées'.
(50) Watch the skateboarders practice at Letná Park. This park used to be home to a giant monument of Stalin which was destroyed in the 60s, and has since been replaced with a giant metronome. The area is a popular meeting point with skaters looking to test out their new tricks.
Where to stay in Prague
Prague has a variety of accommodations to fit every budget, ranging from hostels to B&Bs and hotels. Here's a selection of properties in some of the best neighbourhoods for travellers.
Stare Mesto (Old Town)
Luxury: Art Deco Imperial Hotel, Hotel Kings Court, Buddha Bar Hotel Prague
Midrange: Hotel Golden Crown, Apartments Happy Prague, Wenceslas Square Terraces
Hostels: Hostel One Home, Ahoy Hostel, Hostel Downtown Prague
Another option is AirBnB, where you can find entire homes and apartments for $25-60 per night, and much lower if you're just looking for a private room in someone's home. We opted for a studio apartment on our visit. If it's your first time using AirBnB, you can use my $40 discount here .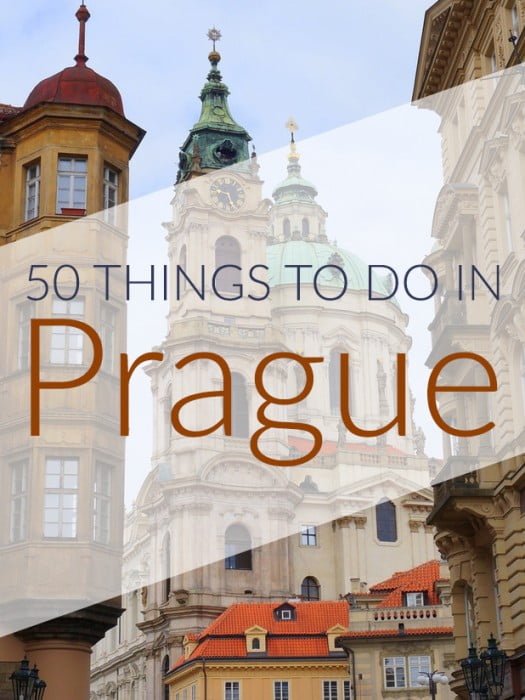 And lastly, if you're looking for a closer look at the city, here's a video Sam and I made during our 1-week stay in Prague:
More Europe City Guides
24 Hours In London Travel Guide
Have you been to Prague?
What were some of your favourite things do to in Prague?