Berlin's food scene is vibrant and diverse – from a focus on traditional German recipes and locally sourced products to its burgeoning street food scene, and a culinary landscape shaped by immigrants of various nationalities, I knew I'd need some help deciding where to eat in this sprawling city. I accumulated an obscenely long list of restaurant recommendations from blogs and various other sites, but I was feeling overwhelmed by choice, especially with a limited time in the city – so I turned to Bite Berlin for some culinary guidance.
The tour is lead by Sam, a UK native who has lived in Berlin for nearly six years. She's passionate about Berlin's food scene, and showcases her favourite spots and hidden gems throughout Mitte and Prenzlauer Berg on the tour. It was obvious I had chosen the right tour when Sam gave a brief introduction and then paused to pass around giant pretzels with a generous layer of butter in the centre. The tour hadn't even officially started and we were already eating – if that's not the mark of a great food tour, I don't know what is!
Berlin's Most Ubiquitous Dish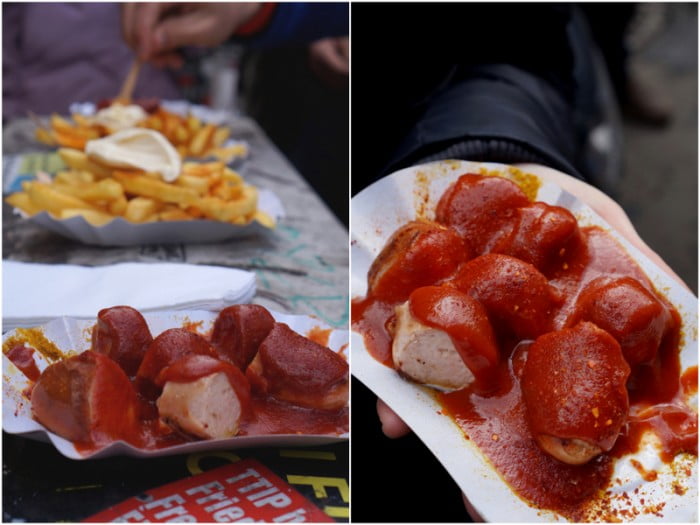 Our first stop was to try Berlin's most famous fast food: Currywurst, which consists of fried pork sausage smothered in ketchup and curry powder, often served alongside a heaping portion of fries.
Currywurst actually has ties to the UK: a Berlin resident, Herta Heuwer, concocted the dish after obtaining ketchup and curry powder from British soldiers stationed in Germany in 1949. Nowadays, it's sold at more than 3,000 vendors throughout the city.
A Taste of Turkey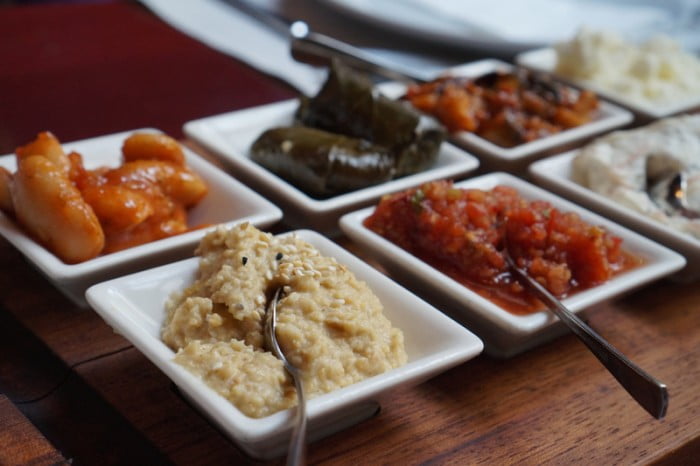 The largest Turkish population outside Turkey is located in Berlin, so needless to say, a food tour of the city wouldn't be complete without Turkish cuisine.
We stopped at an iconic Turkish restaurant – not only is it one of the oldest establishments in the city, but the owner is rumoured to have invented the doner kebab in the 70's.
We weren't seated long before platters of meze, baskets of freshly baked pide bread, and glasses of Turkish black tea covered the table. The meze was an assortment of sauces and spreads, vegetables, beans, and stuffed vine leaves – my favourites of which were the yogurt with dill and carrot, the crumbly goat cheese, and tomato salsa with chili and herbs, especially when combined and slathered onto the bread.
A Traditional German Dish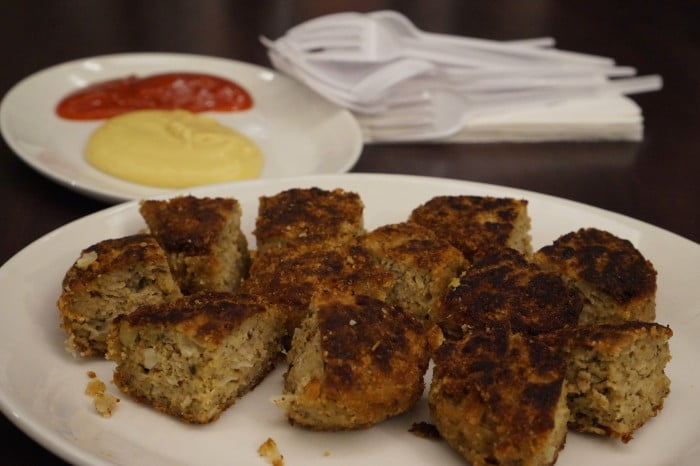 I loved that the tour incorporated a mix of international dishes and classic German food, one of which was Bulette: a German-style meatball or hamburger. It's generally made from a mixture of ground beef and pork, eggs, bread crumbs, onions, and various spices and seasonings, and can be served alongside potatoes and cabbage as a main meal, or eaten cold as a snack with mustard.
A Vietnamese Take on a Western Classic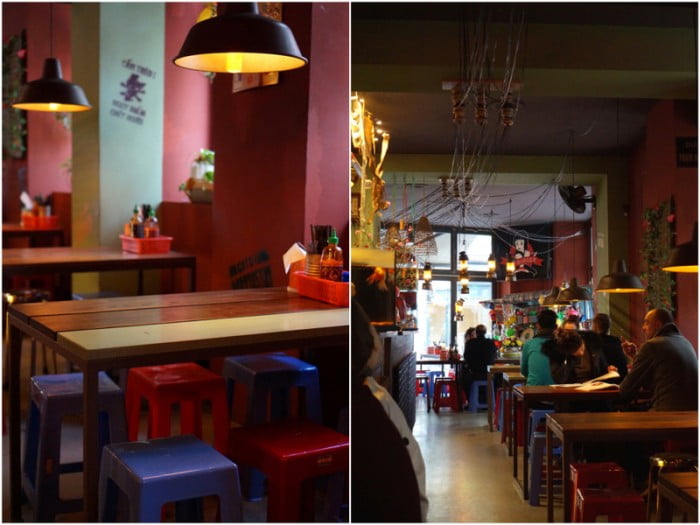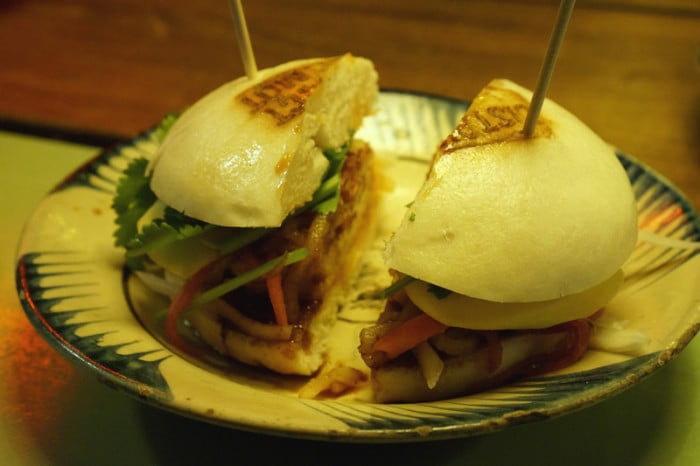 Next up was District Mot, a restaurant that made me feel like I had stepped back onto the streets of Saigon. From the tabletop baskets brimming with condiments to the multicoloured plastic stools, and a tangle of power lines hanging from the ceiling – I was hit hard with a sense of nostalgia for Vietnam.
The restaurant is known for its unique and traditional street food-style meals, but we tried something a bit different. Their Bao Burger is beef topped with slices of fresh mango, pickled vegetables, red onion, soy sauce, fish sauce, mayonnaise and coriander, between a steamed rice flour bun. It was delicious: sweet, salty, and savoury, and bursting with contrasting textures and flavours. It embodied everything I love about Vietnamese cuisine in the form of a burger.
A Sweet Finish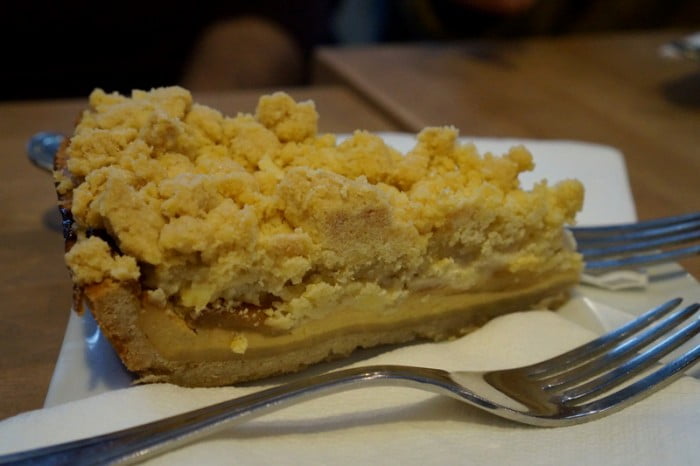 Dessert was Apfel Streuselkuchen – a traditional apple crumb cake. It had a dense, cake base, with a layer of spiced apple slices, and a sweet crumbly topping. The rich and creamy centre, mild apple flavour, and chewy topping was an irresistible combination.
An Unexpected Surprise
The sixth and final stop was at a bar for a traditional German drink, which I (wrongly) assumed would be beer. It was a drink produced in Germany – by a historic company nonethless, but it wasn't beer. I won't reveal the surprise beverage, but I will say it was completely unexpected!
The Verdict
This tour isn't just about stuffing your face with delicious food, although it is a major aspect! Sam's anecdotes, historical tidbits, and the knowledge she provided about the origins of the dishes and their influence on Berlin's culinary scene provided a deeper insight into this incredibly fascinating and multicultural city.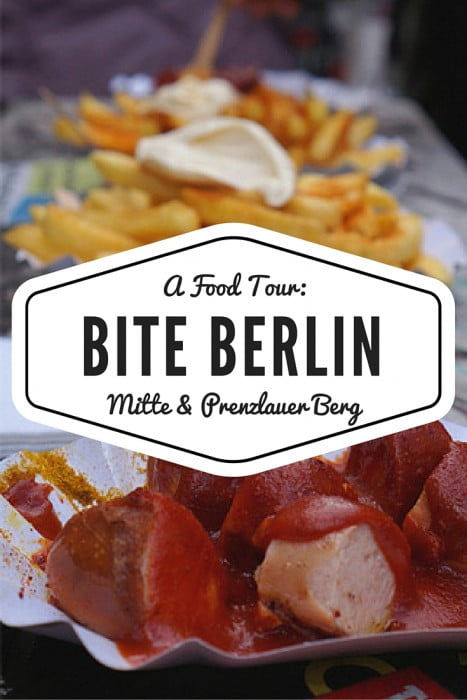 What food would you want to try if you visited Berlin?