Last year's trip to Italy was a brief introduction to the country. I visited a total of 3 destinations – all of them in Lombardy – yet it was fascinating to see the slight variations that existed in the food, the culture, and even the dialect found within one region. Sometimes it felt like I was visiting a different country, even if I was just travelling a couple of hours to a neighbouring city!
I've already give you a few glimpses of Lombardy with my posts on Milan, Bergamo, and Chiavenna, but this post is a bit of an overview of food, sights, and activities that you won't want to miss if you ever find yourself in Lombardy.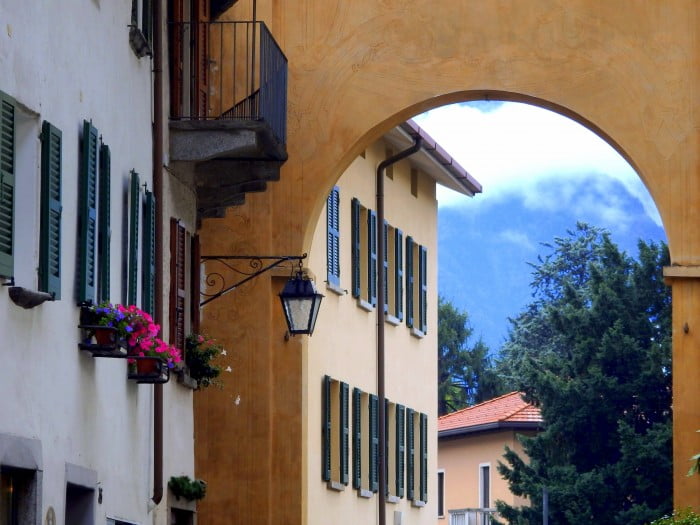 What to Eat in Lombardy
Aperitivo
Though it is often described as 'happy hour', the Milanese aperitivo is about more than just drinks. The way it works is that you order a cocktail, generally somewhere around 10-15 Euros, and this gives you access to an open buffet of what Italians like to refer to as 'snacks. Now picture platters and trays filled with salads, pizza, lasagna, deli meats, ravioli, and more. Suffice it to say, the Milanese aperitivo is a meal itself, and it's a food tradition that you have to experience at least once during your visit.
Risotto alla Milanese
I haven't always been a fan of rice, so for a long time I avoided risotto, and boy was I missing out! When I learned that Milan was best known for a dish called Risotto alla Milanese, I knew I had to try it and the deceptively simple recipe ended up winning me over. If you've never tried risotto, it's made with a starchy rice that has the ability to absorb a lot of liquids, and it has a creamy consistency thanks to the use of cheese and butter. The Milanese recipe calls for saffron alone, and that means you end up with a relatively simple yet very flavourful dish.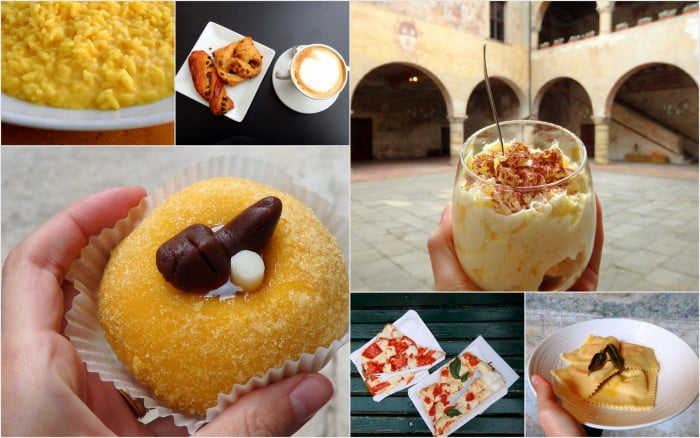 Stracciatella ice cream
Stracciatella is an ice cream flavour that originated in Bergamo. It has a milk-base and it gets its name from the thin chocolate shavings mixed into the ice cream. The flavour was created in 1962 by Enrico Panattoni, the owner of gelateria La Marianna, and the place is still serving scoops of Stracciatella ice cream today.
Bresaola
Bresaola is an air-dried meat that has been aged for a few months until it becomes hard and takes on a dark red colour. At first glance, it looks a lot like prosciutto, but what sets the two apart is that bresaola is made from beef, whereas prosciutto is made from pork. Also, bresaola is very lean with hardly any fat on it, whereas prosciutto generally leaves a nice thick strip of fat for a little extra flavour. The bresaola making tradition is one that originates at the foot of the Italian Alps, and if you really want to taste the best of the best, you need to swing by Chiavenna during the Bresaola Festival.
Polenta e osei
If you have a bit of a sweet tooth and you're passing through Bergamo, you'll want to try their local dessert known as polenta e osei. Translated from the local dialect it means 'polenta with bird', and it gets its name because it looks a lot like another popular savoury dish consisting of polenta with a small bird cooked inside. (Don't worry, the dessert only has a chocolate bird on top, so you won't have any surprises!)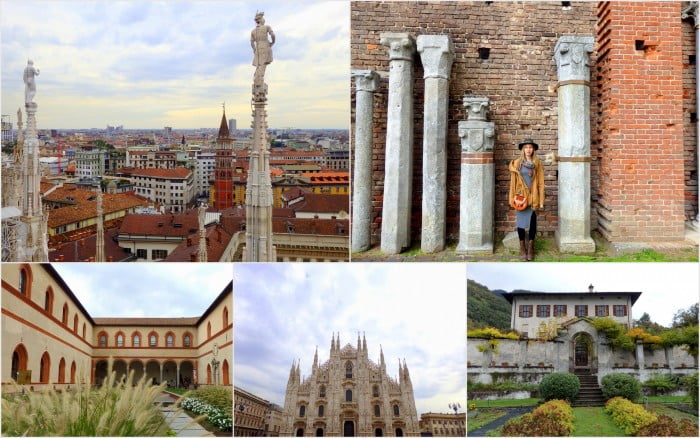 What to See in Lombardy
Palazzo Vertemate Franchi
The Vertemate Franchi Palace is located in Prosto di Piuro, just outside of Chiavenna. The palace was built during the second half of the sixteenth-century by the brothers Guglielmo and Luigi Vertemate Franchi, who came from a very wealthy family. Touring the interior gives you a glimpse at their aristocratic lifestyle: they had their own private chapel so they wouldn't have to pray alongside 'commoners', some of the rooms had spying compartments so the family could hear (and make notes of) any gossip about them, and they even had their own private vineyard within the palace walls.
Castello di Malpaga
Malpaga Castle sits in Cavernago, and it was once the home of Bartolomeo Colleoni, a mercenary soldier who earned great wealth and great power fighting other people's battles. In fact, so many people were after Colleoni that he had to take a lot of precautions to stay alive: he slept seated in bed so that he would be ready to leap up and fight should an intruder come in, he purposely slept in a room without a chimney (which would have been very cold!) lest someone sneak in to kill him, and he also had a group of food tasters to ensure his food hand't been poisoned. It's a really fun castle to visit if you find yourself in the vicinity.
Lake Como
When it comes to scenic destinations in Lombardy, no place is more popular than Lake Como. The lake is dotted with a series of villages along the waterfront, and then you have the looming Rhaetian Alps in the background. Lake Como has been a popular retreat for aristocrats and wealthy people since Roman times, and it's easy to see why as it is simply gorgeous. It is also a hot-spot for celebrity sightings and today there is no resident more popular than George Clooney. Here's a useful guide on how to travel around Lake Como.
Duomo di Milano
The Duomo is a Gothic cathedral that took nearly six centuries to complete and it is listed as the 5th-largest church in the world. The exterior is covered in Candoglia marble, which gives it its off-white pinkish colour, and it's the most recognized landmark in all of Milan and Lombardy. What makes this cathedral extra special is that you can climb to the roof terrace with makes for some really unique shots and great panoramic views of the city.
Castello Sforzesco
Sforza Castle was built during the 15th century by Francesco Sforza, the Duke of Milan, and it was then expanded in the centuries that followed. The castle is a massive complex locate in the centre of Milan, and is houses two very important works: Michelangelo's last sculpture Rondanini Pietà and the castle frescoes painted by Leonardo Da Vinci.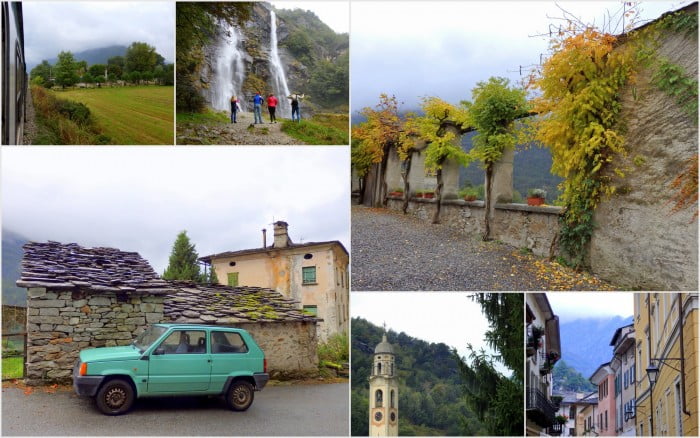 What to Do in Lombardy
Take an Italian cooking class
Italians know a thing or two in the kitchen, and as you've probably noticed in the 'EAT' section of this post, there are lots of dishes distinctly unique to Lombardy. As a self-proclaimed foodie, I'm of the opinion that one of the best souvenirs you can take back with you is a new recipe, and what better way to do so than by joining a cooking class?
Stay at an agriturismo
Agriturismo combines the words agriculture and tourism, and it's a farm-style stay which can give you a more local experience in a farm setting. The history of this type of accommodation is quite interesting; starting in the 1950s small scale farming in Italy became less profitable, and many farmers opted to leave the countryside and move to bigger towns and cities. This resulted in many abandoned estates and farm houses, so in 1985 agriturismi were defined into law, allowing farmers to supplement their farming income by having visitors come and enjoy their holiday in rural Italy. And so a new way of vacationing was born.
So what can you expect? The agroturismo that I stayed in had all the modern conveniences you might expect from a hotel, except the property was out in the countryside and they also owned land where they cultivated vegetables for their family-run restaurant. If that sounds like your type of stay, this website can help you find agriturismi by region.
Shop Milanese fashion
Milan is considered one of the fashion capitals of the world and it ranks right up there with cities like London, New York, Paris and Tokyo. The city has a really unique street style (something I noticed from the first day I arrived), so why not get some inspiration while you're out sightseeing for the day, and then hit up the stores to try something new.
Go wine tasting
If there's one wine that Lombardy is known for, that's Moscato di Scanzo. This wine is made using late harvest techniques, meaning the grapes are picked in October and then left to raisin on wooden crates. The result is a ruby red wine that's a little bit sweet with a hint of spice. I visited the winery run by the Pagnoncelli Folcieri family, however, there are numerous wineries specializing in Moscato di Scanzo around Lombardy.
Dine inside a grotto
Another cool thing I discovered in Lombardy is the grotto (or crotto as they are called in Northern Italy). This is a type of man-made cave that keeps a relatively constant temperature throughout the year – cool in the summer, not too cold in the winter. Back in the day, grottos would have been used to store items like wine, cheese, and deli meats, but today many of them have been turned into restaurants. These establishments generally focus on traditional food from the region and it makes for a pretty unique dining experience.
And that's a little glimpse of what Lombardy has to offer. With only a week there I still feel like I barely scratched the surface, but one thing is for sure: I need to get myself back to Italy for round two!
Have you travelled around Italy's Lombardy region?