After almost a year spent travelling in Southeast Asia, it's time to do a wrap up of some of the best places I visited. I didn't notice until I after I finished writing this, but there's a clear theme in the kinds of destinations I enjoyed. Most of these places had a quiet, laid-back feel, a dash of culture, and beautiful natural landscapes. Here are my 7 favourite places in Southeast Asia:
Melaka, Malaysia
I loved Melaka! This was the first place I visited on my trip around Southeast Asia, and it set the bar high for everything else that came after that.
What I liked about Melaka is that it oozed Old World charm. I stayed in the heart of Chinatown – a multicultural neighbourhood where Islam, Hinduism, and Buddhism often coexisted on the same road. The streets where lined with mosques and temples, I was usually woken up by the call of prayer in the early hours of the morning, and I could always smell incense the minute I walked out the door.
Another thing I liked about Melaka is that it's very artistic. If you're ever up early in the morning, take a stroll along the waterfront and gaze at the masterpieces that street artists have created.
Where I stayed: Kawan Kawan Guest House – This was a cute family run guesthouse in a great location in Chinatown. They had a mix of private rooms with en suite bathrooms, as well as private rooms with shared bathrooms. The latter were a more budget friendly option, but even the shared bathrooms were kept incredibly clean a tidy!
Singapore
Singapore completely took me by surprise! I had been doing quite a bit of reading about the destination prior to coming here, and the general consensus seemed to be that Singapore was a bland, orderly, over-surveilled city with serious repercussions for anyone who steps out of line. While there may be a sliver of truth behind that, I found Singapore to be exciting, vibrant, artistic, and full of joie de vivre!
The architecture behind places like the Gardens by the Bay and the Marina Bay Sands was mind blowing, the colourful buildings along Clarke Quay brightened up the riverside, and the Arab Quarter of Kampong Glam won me over with its delicious cuisine. After a year in Southeast Asia, the clean streets and orderliness of it all were something I could really appreciate.
I also noticed that people in Singapore really enjoy their down time and there are always events going on to lure you into the city. I was only in Singapore for a few days, but they happened to coincide with the Mosaic Music Festival (where I got to watch a cool indie band hailing all the way from South Korea!), the Savour Food Festival fit for any gourmand, and there were also free outdoor concerts happening on at the Gardens by the Bay where people came with their families to enjoy a picnic and music on a Saturday night – I got to watch the Singapore Symphony Orchestra play songs from the Sound of Music for free!
To me, Singapore seemed like a very liveable city, and I'd come back in a heartbeat!
Where I stayed: Fragrance Hotel Sapphire – This was one of the most affordable properties I found in Singapore! The rooms were very modern and clean, and even though breakfast was not included, there were a whole range of Chinese and Indian restaurants just a few steps away.
Sapa, Vietnam
Okay, so Sapa is a little touristy in the sense that you will be accosted by the local Hmong women as they forcefully try to sell you bracelets and purses, but if you can get past that, Sapa truly is amazing!
I finished off my month long trip of Vietnam with a visit to Sapa, and it was a welcomed change in scenery (hills!) and weather (cooler temperatures!). I booked myself at the Mountain View Hotel, which as the name suggests had some spectacular views, and I spent a few days wandering the town and visiting the local villages on foot.
I also signed myself to do a 2-day guided trek and it was one of the highlights of my time in Vietnam! The best way to enjoy the natural beauty of this place is to trek through the hills and rice terraces, and do a local home stay. We had a pretty cool group of travellers on our hike so it made the experience even better.
Where I stayed: Mountain View Hotel – As you can probably tell from the photo above, this hotel had some spectacular mountain views. It was definitely worth upgrading to the mountain view rooms for just a few extra dollars. Also, the staff here were extremely kind and helpful – especially when one of us came down ill.
Hoi An, Vietnam
Hoi An was the picture perfect town that made me extend my stay. Colourful silk lanterns swinging from the storefronts, delicious local dishes made from secret recipes, and a charming waterfront that came to life every night. What's not to love?
Another thing I liked about Hoi An is that it was easy to escape to the countryside or even the beach. One of my favourite finds was the Tra Que Herb Village; a unique organic farming village that had its own little restaurant where they cooked with homegrown spices, vegetables, and herbs – everything was delicious!
And, did I mention that Hoi An is best known for its tailor shops? This is a shopper's paradise!
Where I stayed: Vaia Boutique Hotel – This property was proof that you can enjoy luxury on a budget. The hotel was brand new with a very sleek design, and it was also very affordable. They served a really nice breakfast in the mornings, and they also had free bikes that guests could borrow during the day.
Pai, Thailand
I thought Chiang Mai had a very relaxed hippie vibe to it, but then I went to Pai – they take things to a whole different level!
I honestly can't say there is a lot 'to do' in Pai, but that's what I liked about – it's the kind of place where you can just hang out, enjoy the natural beauty of the place, eat really great food, curl up on a hammock with a good book in hand, and maybe cross the bamboo bridge over to the Sunset Bar which looks a lot like a hangout for Peter Pan and the Lost Boys.
My time in Pai was all about relaxing for a few days, so I rented a little thatched bungalow overlooking the rice fields and it was the kind of place I just didn't want to leave.
Also, while traffic in Southeast Asia if for the most part insane, Pai is the one place where I felt confident renting a scooter. I was staying in the outskirts of town where the roads meandered through the countryside with hardly another vehicle in sight, so I broke my no scooter rule, and set out to explore hillside. It was wonderful!
Where I stayed: Pai Chan Cottage – Pai Chan Cottages were located just outside of town, which was only a 5 minute walk to all the bars and restaurants. The property had great views of the rice fields and the mountains in the distance, and they also had a pool where you could cool off in the afternoons.
Bali, Indonesia
I came to Bali to relax, so beaches and a nice swimming pool were all I was really after, and the island certainly delivered in that respect!
If you have preconceived notions of Bali being a secluded island paradise, you are going to be disappointed by this island, however, if you come here for a beach holiday sprinkled with a bit of culture and natural beauty, then you might just enjoy this place.
Ubud is considered the art and cultural capital of Bali, so you may want to spend a few days here – go to the Ubud Monkey Forest, attend a Fire Dance, visit the temples, and stray down the side streets in search of rice paddies – but a few days is really all you need. Ubud has a bit of a traffic problem and it's teeming with tourists in search of their own Eat, Pray, Love experience.
After a few days in Ubud (and climbing a volcano!) it was beach time for me. I chose Sanur on the southeastern shores of the island and was very happy there. There are plenty of great beaches to choose from in Bali – just don't go to Kuta; that's considered the backpacker ghetto and the beach is covered in garbage.
Where I stayed: Jalan Jalan Villa & Spa in Ubud and Swastika Bungalow in Sanur. – The first property in Ubud was located slightly outside of town, so it was quiet and great for a few days of relaxing and wandering around rice paddies. They also had a really great breakfast with lots of fresh juices and tropical fruits, and it was a short walk to the Monkey Forest. The second property was located in the centre of Sanur and it was a short walk to the beach. What I loved about this second hotel is that they had 3 different swimming pools to choose from!
Luang Prabang, Laos
Luang Prabang is another one of those places that I was sad to leave behind. I loved the French colonial elegance of the place, the misty mornings along the river, the presence of young monks running down the street in their orange robes, the restaurants who were pushing the limits and experimenting with their cuisine – The Apsara and Tamarind being two of my favourites!
The town had a very sleepy feel, but that seems to be what I enjoy these days. If you're planning a trip to Laos, be sure to save a few days for Luang Prabang.
Where I stayed: Oui's Guesthouse – This was a nice property located on a quiet street right on the riverfront. The rooms were very clean, the staff was very attentive, and they served a delicious omelet breakfast in the mornings.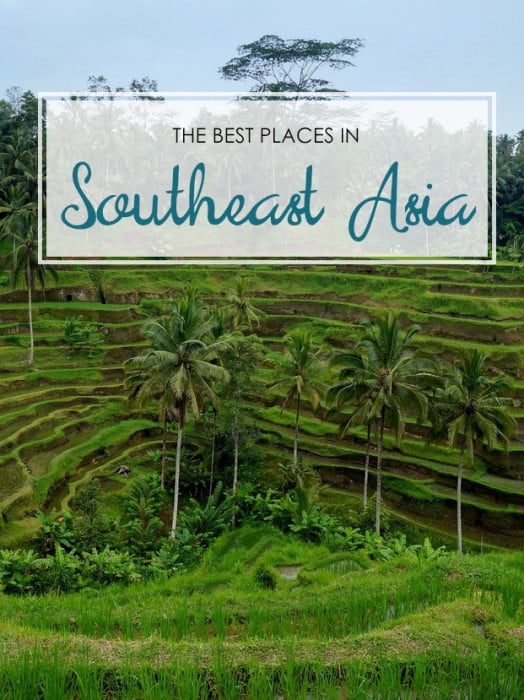 And that sums it up! I certainly didn't get everywhere I hoped I would this year – Burma, Bangladesh, and the Philippines will have to wait for another time – but now that I've had a taste of Southeast Asia, I'm sure I'll be back again in the future.
How about you?
What are some of your favourite destination in Southeast Asia?