Had you asked me to list some of the top things to do in Meteora just a few weeks ago, I would have told you, "Monasteries. Lots and lots of monasteries!"
Like many travellers to the area, I was under the impression that that's all there was to it, but I couldn't have been more wrong. Sure, Meteora is known for its beautiful and mind-boggling constructions, but there's a whole lot more to discover if you know where to look. The following guide will highlight some of my favourite activities in the area.
THINGS TO DO IN METEORA GREECE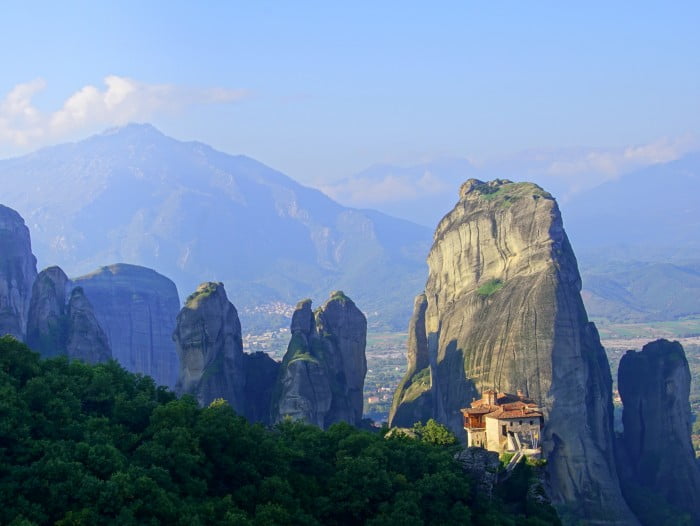 Visit the 6 active monasteries
Let's start with the obvious; one of the top things to do in Meteora is to visit the impressive monasteries perched atop rocky boulders with seemingly no easy access to the top, and if they look difficult to enter, it's because they were meant to be so.
These monasteries were built by monks looking for solitude, and building atop a rock that requires ropes, ladders, and a whole lot of upper body strength to reach, certainly dwindles down the number of people who are you going to pay you a visit.
Today, staircases and bridges make it easy for travellers to drop by, but there was a time when you had to earn your admission.

Great Meteoron Monastery – Also known as the Holy Monastery of Great Meteoro, this monastery dates back to the 14th century and it is the largest and oldest out of the 6 active monasteries. It was founded by Saint Athanasios and it's an important one because it marks the beginning of organized monastisicm in Meteora.
Varlaam Monastery – Varlaam is the second largest of the monasteries and it was founded during the mid 14th century. This one sits right across from the Great Meteoron.
Holy Trinity Monastery – The Monastery of the Holy Trinity is perhaps the hardest to reach and Bond fans will recognize it from the film For Your Eyes Only.
Roussanou Monastery – The Roussanou Monastery dates to the late 16th century. It is one of the two active monasteries to be inhabited by nuns.
St. Nikolaos Anapafsas Monastery – The Monastery of Saint Nicholas of Anapafsas was founded at the end of the 14th century. Because there was limited rock surface to work with, this monastery was built vertically with a series of floors each stacked on top of the other – an ancient multi-story building, if you will.
St. Stephen's Monastery – The Monastery of Saint Stephen is a popular one because it's the easiest one to access thanks to a bridge. Like Roussanou, it is also inhabited by nuns.
Hike to ruined and abandoned monasteries
The active monasteries may get all the visitors, but did you know that there are numerous ruined and abandoned monasteries scattered across the area?
The only thing is, if you want to come face to face with these, you're going to have to leave the bus and the car behind and actually use your own two feet. Wheels may get you to the active monasteries for a quick visit or a brief photo op, but there are some places that are only accessible via dirt trails and a little scrambling – and I assure you, the extra effort is totally worth it.
One of the highlights of my trip to Meteora was going on a guided hike through Meteora's Rock Forest. The first thing that struck me about the landscape were the towering rock formations which geologists believe were made by extreme weathering and the waters of a prehistoric sea (though I personally prefer the tale of Greek gods playing games and pushing their fingers through the earth to create the rocky pillars we see today).
And while I generally prefer to go sightseeing alone, I was incredibly glad to have Kostas and George as my guides. Not only were they able to point out ruined structures that blended into the rock (which I was completely blind to), but they also brought these places to life by sharing the local legends behind them. But more about those hikes in an upcoming blog post!
Visit the hermit caves and jail caves
Caves, caves and more caves!
If you think monasteries are abundant in this part of Greece, wait until you come across the hundreds of caves peeking from the rock faces. There are caves where locals kept their goats and sheep at night, caves where hermit monks went to spend their days in absolute solitude, and caves where 'naughty monks' (my guide's words, not mine!) were jailed for causing trouble and disobeying orders. Each cave you see in Meteora holds a unique story.
Also, it's baffling to think that hermit monks would've had to hoist themselves up using ropes and ladders, not to mention that they would've had to freestyle it and put their lives on the line the first time they made their way up. That takes some guts!
Learn your mushrooms and eat them too
The climate in and around Meteora makes it ideal for mushrooms to grow, and that's one of the reasons why I ended up at the quirky little Mushroom Museum – I mean, if you're going to be eating mushrooms, you may as well learn a little something about them!
While this museum is technically geared towards families and school groups, I have to admit that I actually enjoyed learning a bit about the local mushrooms which were categorized by whether they are edible, inedible, or toxic. The museums also had samples of white and black truffles, which apparently costs thousands of dollars per kilo! (No wonder I've never tried truffles before.) But the best part was their kiosk where they sold all manner of products made with mushrooms; I'm talking about olive oil with mushrooms, milk chocolate with mushrooms, pasta with mushrooms, and just about any other combination you could imagine. I'm telling you, this is the place to shop if you're looking to pick up some unusual yet edible souvenirs.
So what do you do after you've learned all about mushrooms? In my case, you eat them. My next stop was the Neromilos Restaurant where you can have a meal starring one ingredient alone. You guessed it! We had grilled mushrooms, breaded and fried mushrooms, mushrooms in a cream sauce, mushrooms that were chewy, mushrooms that were tender, and when it came time for dessert, we had Greek yogourt with a mushroom compote. I was pretty skeptical about eating mushrooms for dessert, but they tasted like peaches!
Sample wine and tsipouro in a cozy cellar
Now that I've finally developed a taste for wine (that only took 28 years!) I'm slowly starting to do more wine tours wherever I travel, and since it was quite rainy during my time in Meteora, this proved to be the perfect opportunity to crawl down into a cellar and spend a couple of hours sampling a glass or ten of wine.
We made our way to the Tsililis Winery and Distillery, where we started out with a few glasses of red wines, white wines, and rose wines, before finally moving on to the hard stuff, tsipouro. I soon learned that tsipouro is a spirit made from the skin of grapes, and it also contains anywhere between 40-45% alcohol by volume. The stuff burned my lungs before it even went down.
Fun little fact: the creation of tsipouro is attributed to Greek Orthodox monks who started producing it back in the 14th century.
Explore the nearby towns on foot
While Meteora's main attractions may be the monasteries and the landscapes, there are two towns you should make a little time for.
Kalampaka, which means 'prestigious castle', is the largest of the two with a population of 12,000 people. This is likely where you'll be based while you explore Meteora. The town has one of the most dramatic backdrops I have ever seen with a series of rocky towers rising behind a sea of orange roof tiles. Kalampaka is easy to navigate on foot and there's something to catch your eye at every corner, whether it be a tiny souvenir shop with handicrafts spilling out onto the streets, or a small gyro joint trying to lure you in with grilled meat.
The second town you'll want to visit is Kastraki, which means 'small castle'. The town is located right around the bend as you begin the drive towards Meteora and it has a more local feel. I should also warn you that the streets are a bit of a maze, but that just makes it a lot of fun to explore.
Walk the line on the via cordata
So unfortunately I didn't get to try this myself even thought I really really wanted to because the weather didn't cooperate and you can't go scrambling on slippery rocks after it's been raining for 3 days straight, but it sounds like such a cool activity that I had to throw it in here as a suggestion.
One of the most popular activities for adventurous types is a hike and scramble tour of the Great Saint. This hike has a via cordata component to it, which is similar to a via ferrata, except you're secured to ropes rather than cables.
This particular hike takes you up Meteora's tallest rock which stands 400 meters above the town of Kalampaka. It follows the same pathway that was once used by the monks who lived in the now ruined Twelve Apostles Monastery. If I ever make it back to Meteora, this is the first thing I'm trying.
Try your hand at other adventure activities
But that's not all there is to Meteora; you can also go rock climbing, canyoning, mountain biking, rafting, horse back riding and more! It's a great destination for both active and adventurous travellers who want to do a little more beyond the standard monastery tours and really soak in the outdoors.
What to eat and where to eat
And now that we've covered the activities, let's move on to the food because: 1) you'll be needing your energy, and 2) eating delicious home cooked meals is one of those things to do in Meteora.
My knowledge of Greek cuisine was very limited prior to travelling to Greece. Sure, I had been to Greek restaurants back in Canada, but those meals were limited to Greek salad (it's so much better in Greece!) and souvlaki. As it turns out, Meteora is quite the destination for foodies and I ended up sampling some delicious home cooked meals. Here are some dishes you won't want to miss:
(Real) Greek salad – A lot of restaurants outside of Greece like to throw a few chunks of feta on a salad and then call it Greek, so I had been fooled for many years. A proper Greek salad includes tomatoes, cucumbers, onion, feta cheese, Kalamata olives, green peppers, and it is then drizzled with olive oil and topped off with a bit of salt and oregano. So refreshing!
Saganaki – Whoever created this dish is a genius because you simply cannot go wrong with fried cheese. Saganaki is usually served as an appetizer and it can be prepared with a number of different cheeses including graviera, halloumi, and sheep's milk feta. The dish gets its name from the two-handle pan it is cooked in, and the end result is a salty ooey-gooey cheese that you can't get enough of. Squirt a little bit of lemon on top and you are set!
Kolokithokeftedes – Zuchinni fritters may be my new favourite appetizer. They are fried and then served golden and crispy. I wasn't very good at sharing these.
Spanakopita – A savoury philo pastry stuffed with spinach and feta. (Popeye would be proud!) The dough is really buttery and it makes for a nice snack or appetizer while you're waiting for your main course to arrive.
Moussaka – Think of it as a multi-layered casserole that has sautéed aubergine, spiced minced meat, potatoes, and a thick topping of cheese and béchamel sauce.
Meat platters – I'm talking about platters of meat so large they were actually intimidating. These included everything from chicken souvlaki and lamb chops, to sausages and meatballs. Oh, and let's not forget the mound of French fries hiding underneath it all.
I ate at some wonderful restaurants in the towns of Kalampaka and Kastraki, and would recommend the following:
Restaurant Meteora – You can walk into the kitchen, have a look at what's cooking in the giant pots, and choose what you'd like to eat. They also have a really eclectic decor on the walls that will keep your eyes wandering around – swords, paintings, decorative plates, photographs, and a coin collection are just a few of the things I noticed.
Taverna Panellinio – Warm atmosphere, great service, and a varied menu. I really enjoyed their moussaka!
Archontariki Restaurant – A tavern-style restaurant with indoor and outdoor seating. They do a really nice meze where you can sample a little bit of everything.
Paramithi Restaurant – A cozy little spot that might be easy to miss. I'd recommend going there for dinner when they have live music and the occasional Greek dance off.
Gardenia Restaurant – A nice location in Kastraki, with really friendly staff and a family feel. They had a nice selection of Greek dishes and I remember I really enjoyed their white house wine.
Meteoron Panorama – This is a good one for a romantic dinner. The restaurant has a large outdoor terrace right at the foot of the rocks and it boasts some of the most impressive views in town.
Palazzo Restaurant – Unlike the other restaurants on this list, this was a larger establishment that predominantly caters to tour groups. It was quite modern which meant it lacked a bit of the charm of some of the restaurants I visited, but the food was good and the service was fast.
Final thoughts?
Meteora was magical. Some destinations look dreamy in photos but then once you get there it feels a little disappointing – for me, Meteora was the complete opposite. It was even more breathtaking that I had imagined, and it was the kind of place where every time I looked at my surroundings I kept thinking, "How is this place even real?"
For anyone considering a trip to Meteora, I would suggest you give yourself anywhere between 3-5 days to experience it properly – it really all depends on how active you are and the type of activities you're looking to try. I had 3 and a half days here, and I could have probably used one more.
Have you been to Meteora?
Are there other things to do in Meteora that you'd add to this list?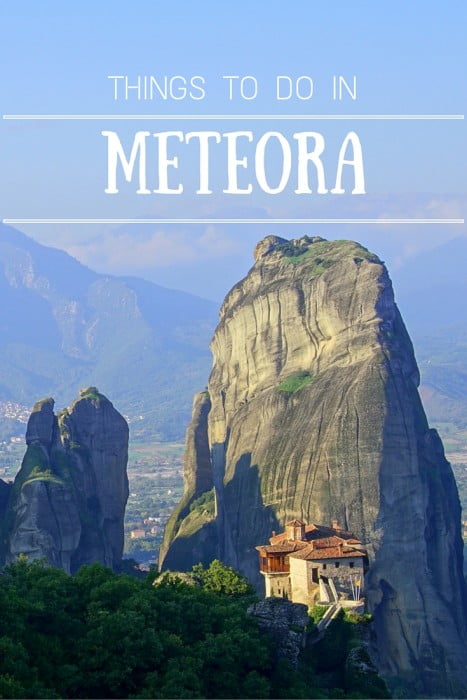 Thank you to Visit Meteora for helping make this trip possible. All opinions are my own.