On my very first trip to Spain and only my second trip to Europe, I arrived in Costa Brava. That's right, I landed in Girona and just as soon as I had walked through the airport doors, I hopped on a bus, bid Costa Brava farewell, and followed the crowds to Barcelona.
At that point, I was in my early 20s and I craved 'it' destinations preceded by their reputation. My trip to Barcelona was brief but fun, and everything you'd expect from a first-timer: I walked the crowded Rambla at night, had my first meal consisting of tapas, marvelled at Gaudi's artistic touch, and enjoyed an afternoon at the beach. When I came back from that trip I raved about the city to anyone who would listen; in my mind, Barcelona was the greatest city in the world! And then I revisited last year – a little closer to 30 than I once was to 20 – and it just wasn't the same…
My taste in travel has changed over the last few years, and more often than not, I find myself craving slower and more experiential travel. I enjoy visiting smaller towns, being a little closer to nature, lingering in a destination even if it means seeing less, and most importantly, getting to know a place through its food and drink.
Well, I went back to Spain again this autumn and there's a new place that has caught my imagination: Costa Brava.
My visit, though brief, had everything I could have asked for: charming little towns, rugged landscapes without the crowds, and an abundance of delicious food. I also enjoyed some fun yet leisurely activities like sailing, hot air ballooning, wine tasting, and mixing up my own gin and tonics, but more on that later. For now, let me share some of my personal highlights from Costa Brava. Here is our Costa Brava Travel Guide!
Travel in Costa Brava
Sailing out to Cap de Creus
Sailing out from Cadaqués to Cap de Creus National Park was the perfect way to kick off the trip. Costa Brava has a rugged coastline with dramatic rocky cliffs, but then you also come across these little inlets where the water is perfectly still. It may have been a little chilly in early October, but that didn't stop the boys from diving off the ship and enjoying the water until lunch was ready.
I took in the sights and had a short cat nap in the sunshine (the rocking motion of boats and trains always lulls me to sleep!), but I perked right up once the food was ready. On the menu we had fresh mussels cooked in white wine and garlic, followed by fideuà, which is a noodle and seafood dish cooked in fish broth; it's quite similar to a paella except you swap the rice for noodles – but don't tell a single Spaniard I compared the two dishes! That delicious lunch was then followed by a Drunk Spongecake soaked in sugar and rum – yum!
Our ship, the Sant Isidre, also had quite the history; since it was first built in 1925, it has been used as a fishing vessel, a coast guard patrol ship, a war ship in the Spanish Civil War, and now it takes visitors out to sea.
Trying my hand at grape harvesting
Since it wouldn't be a proper foodie trip without hitting up at least one winery, we made our way to La Vinyeta located in Mollet de Peralada. The nice thing about visiting Costa Brava in early October was that the wine harvest season was just coming to an end and we got to get our feet dirty…quite literally!
First of all, I loved that this winery was run by a young couple who took a chance on their dream. Despite not having a background in winemaking – "I'm the son of butchers," Josep confessed – they bought the land, learned the ropes, and started a business.
We toured the vineyard with Josep and his passion for wine was apparent from the minute we met him. He walked our group through the grounds and told us stories of doubtful neighbours who thought he was silly for planting grapes in fields where there hadn't been any before. "They won't grow!" they warned him, but in the end, he proved them wrong.
After learning how La Vinyeta came to be, Josep put us right to work. He handed us scissors and buckets, and off we went to collect grapes. It wasn't too long before our little group had filled up a giant tub with grapes, and then it was time to stomp them the good ol' fashioned way. You can read a bit more about our afternoon of grape stomping and wine drinking here, but I can honestly say that it was one of the best winery tours I've ever been on! It was super fun, everyone got involved, and the tasting were casual so you felt like you were drinking amongst friends.
Spending the night at Hotel Mas La Ferreria
I've been able to stay in some pretty cool accommodations over the course of my travels – a treehouse lodge and a former jail come to mind! – however, this is the closest thing I've experienced to time travel.
Hotel Mas La Ferreria is set inside the grounds of the church of Santa Margarida de Bianya, and get this, the building dates back to the 14th century! That's right, the first record of occupation goes back to the year 1339 when a blacksmith lived in the building adjacent to the church, which is why the hotel is named La Ferreria, meaning 'the blacksmith's workshop'.
What I liked about this hotel is that even though the building offers you all the modern comforts, it still retains a lot of its charm with exposed stone walls, wooden beams, and handcrafted window shutters. It's rugged, but it's also cozy and inviting – I only wish I'd had more than one night here!
Learning to make the best Gin & Tonic
If you read about my recent trip to Edinburgh, you'll know that I recently discovered gin and that it has become my new favourite drink. Well, while in Costa Brava I got to take my cocktail making skills even further with a Gin & Tonic workshop run by Gerard from Cocktail Time; and since this is Costa Brava, I think it goes without saying that we tried some Catalan gin!
We started things off with a classic G&T. Chilled glass, ice, gin, tonic water, and an orange peel for a little bit of zest. Once everyone had a glass in hand, Gerard, the gin master, taught us how to create some fancy gin and tonics that I had never tried before.
The one that blew us all away was an oak infused gin and tonic. Gerard pulled out some kind of contraption where we added oak tree shavings, burned these, and then used the smoke to infuse our G&Ts for a unique flavour. The whole spectacle looked like a magic show as smoke slowly filled the glass, and there was plenty of ooh-ing and ahh-ing from a rather merry crowd.
Flying in a hot air balloon over volcanoes
The following morning we rose bright and early and drove to the edge of the Pyrenees mountains for a bucket list experience: a hot air balloon flight! Most of our group had never flown in a hot air balloon before, so we were giddy with excitement and maybe a little bit of nerves.
We arrived at Vol de Coloms under the cover of night and warmed up with tea and coffee while the balloons slowly filled up and came to life.
If I had to describe the hot air balloon ride in one word, it would be: peaceful. We rose slowly and steadily through the clouds, with only the burner interrupting the silence every once in a while. The ground was mostly covered in fog but it wasn't long before we were above the clouds, floating just below 2000 meters.
Here I learned that La Garrotxa Volcanic Zone Natural Park is made up of 45 volcanoes which have been dormant for thousands of years, but are not extinct. The park lies between the Pyrenees Mountains and the coastline, and it made for a pretty cool landscape. Once we were up in the air, our pilot brought out the bubbly and we enjoyed some glasses of cava with cake. We got to watch a sunrise of soft pastels in shades of peach and periwinkle.
By the time we were back on the ground it was mid-morning, so our flight was followed up with a Catalan brunch. We had slices of bread with tomato pulp and olive oil, a mixed platter of deli meats, hot beans with olive oil, and of course, lots of coffee.
Feasting on traditional catalan food
And what better way to wrap up a whirlwind trip through Costa Brava than with a feast among friends?
For our last dinner in Costa Brava, our group went to Restaurant Can Xifra, which is a little restaurant in the outskirts of Girona. Finding the place in the dark proved to be a little tricky and there may have been one moment when we were accidentally headed for the French border, but in the end we arrived, and let me tell you, this will go down as one of the most delicious meals I had in Costa Brava.
We ordered a whole bunch of little appetizers to share featuring: your classic pan con tomate y ajo (you rub raw garlic and tomato on a piece of bread), roasted red peppers and asparagus with olive oil, and then figs with goat cheese, which could have been a dessert in and of itself – and those were just my favourite dishes of the bunch.
By the time we had snacked on the half a dozen appetizers at the table, I was stuffed, but there was still dinner to be had. I ended up going for lamb shoulder with a side of potatoes, and in true Spanish fashion, the meal was of massive proportions. The lamb was tender and falling off the bone, and I ended up sharing with a few friends at the table.
Sometime during the meal, a porrón appeared at the table. This is a wine pitcher (that looks a bit like a watering can for your plants!) and rather than using it to pour yourself a glass of wine, you use it to drink out of. The tricky part is that the porrón can't touch your lips, so you have to start pouring the stream of wine midair and hope you aimed it right at your mouth. If it sounds tricky, it is! It's a good thing I covered myself in napkins, because I poured a good amount down my chin.
After all that came dessert in the form of crema Catalana, a rich creamy custard with a layer of caramelized sugar on top that you crack with your spoon; I may have been full, but I finished every last bite of my dessert!
And that was my introduction to Costa Brava! I feel very fortunate to have been able to discover this slice of Spain. Next time I want to come back with at least 2 weeks to spare and a plan to hire a car and take my time exploring the region. For a closer look at what I got up to on this visit, here's a video that Sam and I filmed:
Have you done any travel in Costa Brava?
What were some of you highlights?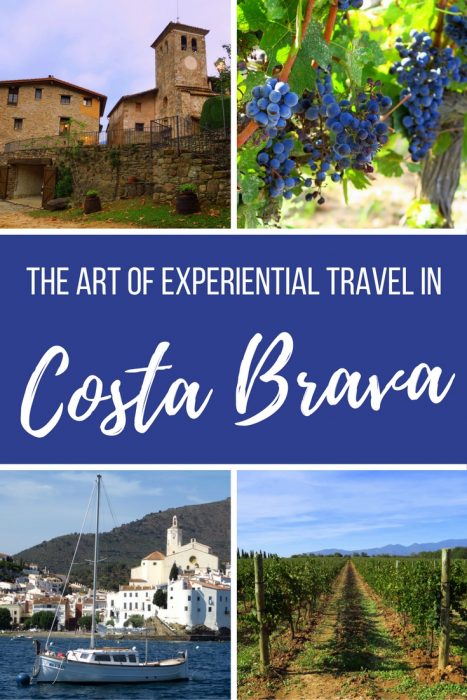 This post was brought to you as a result of the #EuroFoodTrip campaign, created and managed by iambassador in partnership with Costa Brava & Girona Pyrenees and Emilia Romagna Tourism.