What comes to mind when you hear the name Stellenbosch?
Wine is probably right at the top of the list and for good reason; this is one of South Africa's most famed wine producing regions and there are enough vineyards and wineries to make Bacchus proud!
But what else is there to do in Stellenbosch once you've guzzled about fifty glasses of Pinotage?
Well, it turns out quite a lot!
Things to do in Stellenbosch
Over the course of my week in Stellenbosch, I visited a total of 9 wineries and while this was a real highlight, I also discovered that Stellenbosch has a lot more going on beyond wine tourism!
They have restaurants galore, nature within arm's reach, a vibrant nightlife scene thanks to the large student population, and a whole bunch of really cool tours and experiences that showcase a different side of Stellenbosch.
Here's a little taste of what I got up to:
Have lunch at De Warenmarkt
De Warenmarkt is set in a historic 18th-century building and it acts as Stellenbosch's central food market.
The place boasts an oyster bar, a juice bar, a bakery, a waffle stand, a coffee stand, a restaurant, a deli, and a wine bar, where you can grab ready to go meals. How's that for choices?
We went there for lunch one day and shared a giant meat platter called the Butcher's Choice, where you choose your cut of meat and then the kitchen prepares it for you on site. We also added some classic Boerewors (sausage) to the order – the whole thing was delicious!
You won't leave this place hungry, that's for sure.
See what's brewing at BCCC
For coffee lovers, a visit to Blue Crane Coffee Company is a must.
BCCC was started when three friends – a Scot, a German and a South African – sat down for a few glasses of Chardonnay at a wine bar – only in Stellenbosch! They wanted to create something different and they've done exactly that with a coffee shop that boasts both a roastery and laboratory on site.
Seriously, you need to take a peek into their lab if you get the chance. Here you can see that brewing the perfect cup is both a science and an art. They have a slow-drip cold brew coffee contraption where coffee spirals down one drop at a time.
And their coffee cups? Oh, those are custom-made by a local craftsman who has over 30 years experience making traditional ceramic pottery.
How cool is that?
Visit the Blaauwklippen Family Market
If you happen to visit Stellenbosch on a Sunday, then it's worth swinging by the Blaauwklippen Family Market which takes place at Blaauwklippen Vineyards from 10:00 a.m. to 3:00 p.m.
It's a great place for everyone no matter your age.
They do have games and rides for the little ones, but you can also browse the antique market, shop for souvenirs, enjoy live music by local talent, not to mention eat a lot of delicious food!
The market has lots of food vendors on site – imagine everything from braai to tacos and dim sum! – and they set up picnic tables under the fig trees, which is a really lovely place to enjoy a Sunday lunch.
I ended up ordering one portion of the lamb braai from Mr Spitbraai, which was enough to feed a whole family – seriously, they are way too generous with their portions! The meat was juicy and it just melted in your mouth.
See Kayamandi through a local's eyes
We can't speak of Stellenbosch without also mentioning the townships, namely Kayamandi, which was originally built to house black migrant male labourers who worked on the farms in the Stellenbosch area.
We visited Kayamandi with local guide Thembi as part of the Stellenbosch 360 initiative, which aims to show visitors a 360-degree view of Stellenbosch beyond wine tourism.
Thembi was the perfect person to show us around. For starters, her family has been in Kayamandi for three generations, which meant she knew every single person we encountered that day, but also, she had a joyous personality which made it a pleasure to listen to her stories and learn about township life.
It's easy to get caught up in the world of luxury that surrounds vineyards, but I think it's important to see the other side of the coin, and Stellenbosch 360 is a great way to scratch that surface with a local who can offer a valuable perspective.
Have a traditional Xhosa meal
After touring Kayamandi we went to Nocawe's home – another well known Kayamandi local – who runs "dine with a local" experiences.
She prepared a traditional Xhosa meal for us, which I was excited to try seeing as this was a completely new cuisine for me.
For dinner, we had chakalaka, a spicy vegetable relish dish; pap, which is made from ground maize and reminded me of polenta; and a few other tasty pumpkin and spinach dishes. Everything was delicious and I think everyone in our group agreed as we all served ourselves seconds and thirds!
As dinner was winding down, we were also treated to a Xhosa song and dance performance.
Go on a biking tour of Stellenbosch
Another thing I did in Stellenbosch was explore the town by bike, which is very easy considering the town is quite flat.
For this, I joined the Adventure Shop, which runs guided bike tours that combine a mix of historic sights in the old town with a taste of nature, including a scenic ride through the Jonkershoek Valley.
This was a great way to see parts of Stellenbosch that I wouldn't have been able to reach on foot, nor would I have ever known about if I didn't have a local guiding me.
Enjoy some live music at Rebellion
For a taste of nightlife, we went out to Rebellion Courtyard Cafe where we enjoyed drinks and live music.
On the night we were there Fruit Vendor was playing and he became an instant hit with our group. He sang a song called Real Job, which was a catchy tune about the expectation to get 'a real, real job'. What he didn't know was that he was singing this to a room full of bloggers, YouTubers, Instagrammers and other creatives who have chosen rather unconventional paths.
We all burst into a fit of laughter by the time the chorus came along and this became our official anthem for the rest of the trip. We ended up meeting him later that evening and chatting about how that was the perfect song for our group.
This bar is a pretty cool spot if you're looking for a laidback evening. I also liked that they had a few fire pits out back to stay warm – much needed in late autumn.
Soak in the scenery by sidecar
Another highlight of my time in Stellenbosch was doing a sidecar tour with Cape Sidecar Adventures.
This was a really fun and unusual way to soak in the scenery, but what made my day was getting to ride with Brody the Dog. Because seriously, how cute is he?
The little guy rode behind me and rested his head on my shoulder every once in a while. He also seemed to understand traffic stops and he would hop out whenever we were at a red light, where he'd have a sniff, and then hop back in as soon as the light went green.
I pretty much smiled for the whole outing and it was such a fun experience that I ended up doing a sidecar tour of the Cape Peninsula a few days later.
Treat yourself to brunch
Who said vineyards are only good for wine tastings?
Most wineries in Stellenbosch either have a restaurant or deli on site, and can you think of anything more idyllic than a leisurely brunch overlooking the vineyards?
Over the course of our week in Stellenbosch, we enjoyed brunch at a few different vineyards, including:
Lanzerac Deli: We had a mouthwatering spread of fruits, deli meats, cheeses, chutneys, olives, breads and more.
Tokara Deli: Some of the best eggs benedict I've had in a long time!
The Bakery: Perfect for al fresco dining and lots of yummy baked goods.
Sample vinegar infused with botanicals
I first learned what real vinegar should taste like when I did a vinegar tasting in Modena, Italy, and the tasting at Rozendal brought back memories from that experience.
Rozendal has a bit of a unique history because vinegar making happened by pure accident.
They used to be a winery focusing on Bordeaux blends but then one year the owner Kurt Amman discovered that his 1988 vintage was flawed – it contained way too much acidity! Rather than throwing out the wine, he decided to experiment with vinegar-making and a new business was born.
What sets the vinegar at Rozendal apart is that they are infused with botanicals like fynbos, hibiscus, green tea and lavender, which not only enhance the flavours and aromas, but also provide a variety of health benefits.
I also have to mention that Rozendal has a beautiful farm with lots of animals, and their sweet German Shepherd, Jasper, immediately won me over.
Do an olive oil tasting
For something a little different, we visited Tokara, which is a vineyard that also happens to be home to a huge olive grove. Aside from making wine, they produce their own olive oil, so we sat down to sample 5 different types of extra virgin olive oil.
Our guide explained to us that the procedure for sampling olive oil is the same as that for sampling wine; you're meant to pour a little bit in a glass, swirl it around, take a sip and then let the oil roll around in your mouth.
Tokara is a beautiful property to roam, so after the tasting, we enjoyed some of the art they have on display both indoors and outdoors.
Okay, but now show me the wine!
The idea behind this blog post is to show you that there is more to Stellenbosch than just wine tourism, but if you're coming all the way to wine country, chances are you're going to hit up a vineyard or two…or ten!
Here is a list of all the vineyards I have visited in Stellenbosch over the course of my two visits. I've summed each one with what was most memorable to me:
Delheim Wine Estate – Famed for their cupcakes and wine pairing.
Avontuur Estate – Home to award-winning studs and they do a delicious fudge and wine pairing.
Spier Wine Farm – Beautiful grounds and you can do a Segway tour of the vineyard.
Middelvlei Wine Estate – They cook up a delicious braai to go along with their wines and are family-friendly.
Jordan Wine Estate – You can do a fun wine safari through their vineyards.
Lanzerac Wine Estate – Beautiful manor and nice spot to dine al fresco.
Delaire Graff Estate – The ultimate in luxury with a stunning mountain backdrop.
Tokara Wine Estate – Where wine, olive oil and art collide.
Stellenbosch Vineyards – Great wine plus delicious waffles at their Bus Stop restaurant.
Fairview – Delicious wine and cheese tasting plus goats roaming around.
Muratie – Very historic with antiques and century-old cobwebs.
Lovane – Fun wine and chocolate tasting in a small boutique winery.
Villiera – Modern setting that offers sparkling wine and nougat tastings.
You can read a bit more about some unique vineyard experiences in Stellenbosch over here.
Where to stay in Stellenbosch
When it comes to accommodations in Stellenbosch, you have two options: you can either stay in the town (this is a good idea if you don't have your own transportation) or you can do a vineyard stay (this works well if you rent a car to get around).
Over the course of my visit, I spent my first night in town at the Oude Werf, and the rest of my week was split between Spier Wine Farm and Jordan Wine Estate in the outskirts of town. Yes, these places are double and triple what I'd normally choose for myself, but since I was being hosted I didn't get to choose where I stayed. There are more budget-friendly options – visiting Stellenbosch certainly doesn't have to break the bank! – and you can get a better idea of hotel prices here.
Another great alternative is AirBnB. They have some beautiful homes listed in Stellenbosch that cost between $35-60 per night, and yes, you get the entire house to yourself! If I were coming back to Stellenbosch on my own, an AirBnB home would be by personal choice.
How to get to Stellenbosch
South African Airways offers daily flights to Cape Town via Johannesburg. Tip: snatch a window seat on the flight to Cape Town because the views as you fly into the city are pretty incredible!
Once you're in Cape Town, you'll need some wheels to get to Stellenbosch. You can either hire a car for the duration of your stay or pay for a transfer.
Depending on traffic it's about a 35-45 minute drive from the airport to the centre of Stellenbosch. We used First Car Rental for the length of our stay.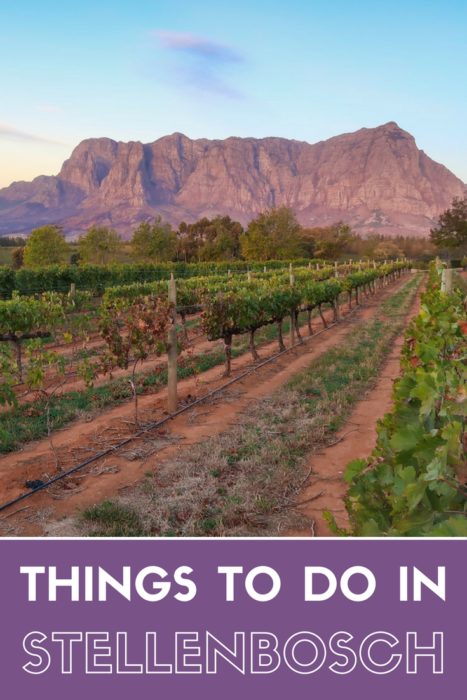 Have you been to Stellenbosch?
What other activities would you recommend aside from drinking wine?
I visited Stellenbosch as part of the #Stellenblog campaign, however, all opinions expressed here are mine alone. For more ideas of things to do in Stellenbosch, you can check out the Stellenbosch Experience blog.