Once considered the centre of the universe by the largest empire of its time, the Incas, today Cusco draws over one million tourists per year. With its extensive Inca ruins that reflect the great skill in stonework, engineering and architecture that this mighty empire once displayed, the city acts as a gateway to ancient Andean culture and as you can imagine, this makes for some great day trips from Cusco.
Set 3200 meters above sea level, you will want to stay in Cusco for a few days in order to acclimatise before commencing any surrounding hikes, but in the meantime, you'll be able to admire its mix of Incan and colonial influences, shop in the colourful local markets and elegant alpaca boutiques, and satisfy your stomach with delicious Peruvian cuisine before you embark on the endless roads Cusco leads to.
Now that you've placed yourself in the hub for excursions to other local attractions, here are a few ideas of trips you can take from Cusco, Peru.
10 Trips from Cusco, Peru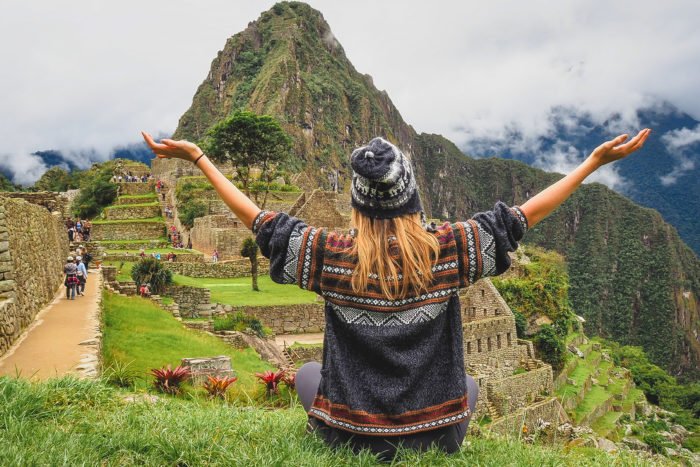 1) Machu Picchu
Let's not kid ourselves, Machu Picchu takes precedence for most travellers visiting Peru, so we'll start there. This remarkable ancient city draws in so many tourists that the Peruvian Ministry of Culture has had to cap the daily number of visitors.
While some may consider this popularity to be taking away from the lure of the sacred site, it's rare to stumble upon a traveller in Cusco who won't be heading in that direction. Built in the 15th century and later abandoned and virtually forgotten until the early 20th century, this lost city's purpose remains the topic of much speculation. What is undebatable though is that this archaeological site, which displays the advances of an ancient culture, has earned its name as a wonder of the world.
But, it's not just the highly sophisticated composition that one marvels at, it's the vastness of the surrounding high jungle. Machu Picchu is immersed in deep green nature and when you look out beyond its perfectly sanded stones you can't help but be in awe.
There are numerous ways to reach Machu Picchu; adventure seekers will find plenty of options ranging from the two-day Inca Trail to the more demanding but rewarding four-day Salkantay trek.
Those with less time and money can make their own way to Aguas Calientes from Hidroelectrica (a pleasant 2-hour walk along the train tracks), where you can spend the night to get early access to Machu Picchu. The other, rather more luxurious option is the train, but be prepared to pay a pretty penny for this service.
2) Sacsayhuamán
Situated high up on a plateau overlooking Cusco, this 'royal house of the sun' was built to guard the capital of the empire, but it is also the site of one of the bloodiest battles fought between the Incas and their conquerors. Much of this fort was demolished by the Spaniards, but what remains is a glimpse of just how large the fortress once was.
There is plenty to admire at this Inca site, from large zigzagging stone walls, which are believed to represent the teeth of the Jaguar, to carved stone benches so accurately joined that they will leave you marvelling at the advanced construction abilities of the Incas.
Located just 2 km from Cusco this is a perfect half day trip and a walk among the massive Incan stone walls will lead you to a beautiful view of the city of Cusco.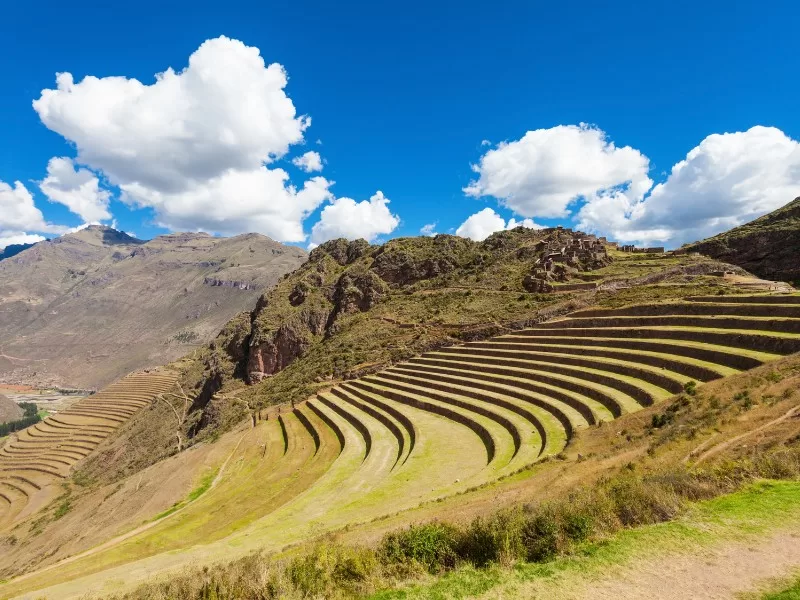 3) Pisac
High above the colonial village of Pisac, you will encounter some of the finest Inca ruins. An energised uphill walk to the Inca remains will reveal spectacular views of the Sacred Valley below and stunning mountains all around.
It's thought that the ruins served the Incas agriculturally, religiously and provided military purpose, but today they exist as a monument to the incredible abilities of the Incas' civil engineering.
Among the structures that can be seen here are the ruins of the Temple of the Sun (Intihuatana), ceremonial baths, a cemetery, altars and fortified walls.
As you make your way down to the rustic Andean village of Pisac you will have some unique photographic opportunities of the many levels of terraces, seemingly crashing down the mountainside.
When you reach the foot of the mountain, you will conveniently arrive at the famed artisan market, where you can bargain your way through knitted jumpers, ceramics, jewellery and any other gifts or personal purchases your heart desires.
Located 33 km from Cusco, Pisac is a convenient and fantastic starting point to the Sacred Valley and if you have time, you should take at least one full day to visit both the market and the remarkable ruins.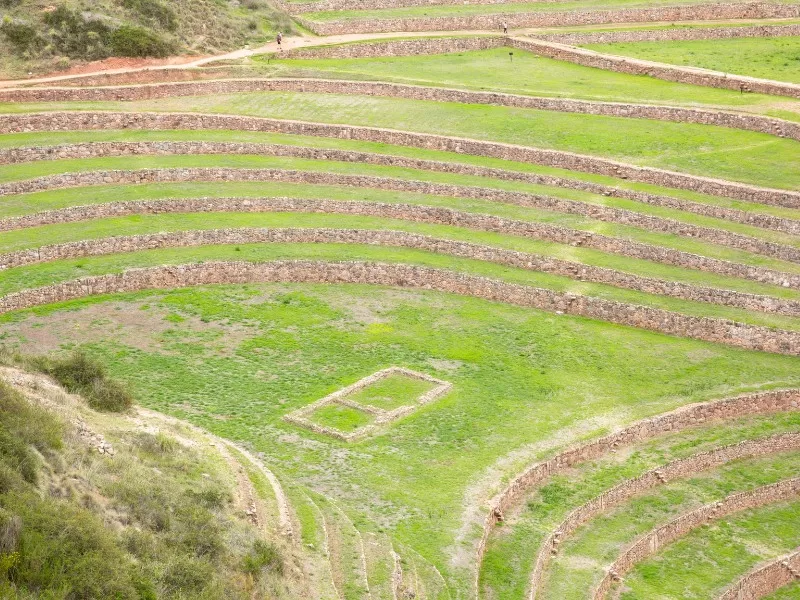 4) Moray
Somewhat resembling a Roman amphitheatre, these colossal, stair-like terraces are a sight for admiration.
The varying levels of the platforms offer a different microclimate for vegetation and it is believed that this site may have been used as an agricultural laboratory by the Incas to study the effects of different climate conditions on crops. Evidence for this lies in the earth, and studies have shown that the soil found in this area comes from different regions, which points towards agricultural experiment.
Located 50 km from Cusco, Moray is a little off the beaten track, but it's on the way back from Machu Picchu between Ollantaytambo and Pisac, so it's easy to make a pit stop.
5) Maras / Salineras
Located 11.2 km from Moray, this is another small Sacred Valley village, famed for its unique and interesting salt mines. A complex network of channels feeds the spring water into the salt pools, which have been providing the locals with salt for generations.
The pools are harvested by the community of local families who control the entire production from the site, which hasn't changed much since the Incas discovered it over 1,000 years ago.
An esteemed Peruvian chef put this spot on the map some years ago after he began using the salt in his dishes. Now, you can find these mineral-rich salts on dining tables of some of the countries finest restaurants and you can purchase your own nicely packaged bag from the cluster of shops located above the ponds.
As if the salt lakes weren't enough, surrounding trails also offer views of the snow-capped Urubamba mountain range which lends to some beautiful photography.
You can hire a car and visit both Moras and Moray as a day trip, alternatively take an organised half day tour, or just catch the local bus from Cusco and make your own way there.
6) Tambomachay
Also known as 'El Baño del Inca' or if your Spanish is a bit rusty, 'Inca baths'. This wonderful juxtaposition of stone and water once served the Incan elite as a spa, according to some, while others reckon it may have been a military frontier guarding access to Cusco. It may have been both.
This impressive string of aqueducts, canals and waterfalls that run through terraced rocks is on the way to other ruins and with its manageable size, you really have no excuse to stop over on one of your day trips from Cusco seeing as it's located 11 km from the city.
7) Ollantaytambo
A town and an archaeological site, this massive Inca fortress is one of the few places where Spanish conquistadors lost a major battle. Initially serving as a temple, today it demonstrates a fine example of Inca city planning.
Climb the stairs to appreciate why this was such a strategic military vantage point and take in vast views of the Sacred Valley.
Wander the interwoven narrow aisles to acquaint yourself with what became home to Inca nobility.
Ollantaytambo is situated 72 km from Cusco and it's a place you will most likely encounter as you head to Machu Picchu, but it is definitely worth more than a pass-by.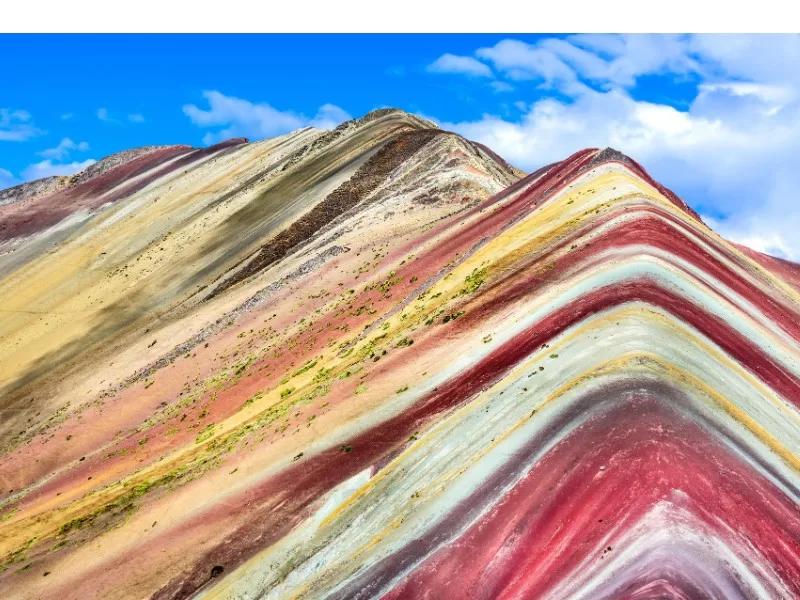 8) Rainbow Mountain
Striped with colourful mineral deposits, this mountain no doubt has its appeal. However, what makes reaching the summit more spectacular are the imposing surrounding mountains with snow covered peaks, exerting their power as you take on altitudes of 4,477 to 5,009 meters.
Trekking at these heights isn't easy and the two-hour ascent will seem like a death sentence if you don't give yourself time to acclimatise in Cusco. Fear not though, if you do happen to find yourself amongst the pale-faced, exhausted bunch, locals are at hand (running past you in flip flops!) offering a horse to relieve your agony (for 90 soles).
Another piece of valuable advice from the locals is to chew on coca leaves prior to setting out on any high altitude trek. For years the Andeans have been chewing on this natural plant to avoid soroche (altitude sickness) and you'll do well to follow suit.
9) Humantay Lake
Take a day away from history and dive into nature to visit the scenic turquoise lagoon located on the stunning Salkantay trek. This is an ideal day trek from Cusco for those who do not have much time but want to experience beautiful landscapes and vibrant colours. It is located 113 km from Cusco and an organised tour will pick you up early in the morning.
Humantay Lake sits at the base of the glacial mountain of the same name, which melts freezing cold water into the crystalline lake below.
Explore the exotic flora and fauna along the way and admire the spectacular scenery as you reach altitudes of 4,200 meters. As with any high altitude trek, ensure to give yourself a few days to acclimatise before setting off.
10) Choquequirao
Known as Machu Picchu's 'sacred sister' this could be your less crowded alternative to the famous lost city. Dating back to the 15th or 16th century this was the last refuge of the Incas and sits high on the Quriwayrachina Mountain with steep valleys on all sides.
Currently, the remote ruins are only accessible by a tough four-day hike taking you across the Apurimac River and steeply into the canyon over a 37-mile trek. You will reach heights of 3,050 meters and will be met with incredible landscapes, made even more exclusive as you can enjoy them in serenity.
If you want to experience this archaeological site more intimately, take advantage now because the government has announced plans to build a cable car across the valley that will cart visitors up in 15 minutes. Good news for those who aren't able to manage the trek and for the economy of the local region, but it will sadly have an impact on the unique atmosphere.
To get there: Catch a bus from Cusco's main station towards Abancay (15-20 soles) and ask the bus driver to stop at the turn for Cachora (4-5 hour journey). From there you can walk downhill to Cachora (1.5-2 hrs) or take a shared taxi, this is where the trek starts.
Unless you plan on spending all of your Peruvian adventure in Cusco and time is at your disposal, it is unlikely that you will manage to fit in all it has to offer.
It is possible to pack more than one Sacred Valley site into a day trip from Cusco and you can do this by hiring a car, booking a tour operator or simply taking an active stroll to the sites which are within walking distance.
Whatever you choose to do in and around Cusco, you won't be disappointed!
What are some of your favourite trips from Cusco?