I was really looking forward to visiting the El Tatio Geysers in the Atacama Desert!
Despite having lived and travelled in South America, Chile was a country that I had only ever flown through, and then a few years ago Sam showed me some pictures from his trip to San Pedro de Atacama and I was sold – I wanted to visit this arid landscape dotted with volcanoes and lagoons. It looked out of this world!
When we finally reached the town of San Pedro on this trip, we were overwhelmed with the number of excursions available, but we ended up choosing the sunrise tour of El Tatio geysers complete with a pancake breakfast! It turned out to be a great experience and now we're going to share it with you.
Visiting El Tatio Geysers
El Tatio is a geyser field that sits at 4,320 meters above sea level and it has over 80 geysers scattered around the area. That makes El Tatio the highest geyser field in the entire world, as well as the third largest based on the number of active geysers.
Our morning started bright and early (a little too early if you ask me), with a 5:00 a.m pick-up. I couldn't tell you much about the drive out to the geyser field since I was napping in the truck, but then again it was pitch black out so I doubt I missed much.
What I can tell you is that on the drive over we had individual fleece blankets to keep warm, and I was more than happy to be able to extend my sleep time by a few more hours. By the time we pulled into the park, the sun was just starting to peek over the mountains and we had a pretty cool scene before us.
So why were we up so early? Well, the reason for the early visit to El Tatio has to do with temperature. If you go there in the early morning just shortly after sunrise, the temperature usually hovers around the freezing mark, while the heat rising from some of the fumaroles can reach 85° Celsius. That's when you get really cool towers of steam rising up into the sky, creating a scene that looks a little bit like an inferno.
We had some time to walk around the geysers and soak in this other worldly scene. It was cool seeing giant bursts of water shooting into the air, bubbles gurgling just below the surface of some of the lagoons, and little clouds of steam rising from open pockets in the earth – the latter was a nice way to warm up our frozen fingers.
A dip in the Hot Springs
After walking around the geyser field and having fun taking some Dantesque photos, we headed over to the nearby hot springs, where we had the chance to enjoy a hot soak while breakfast was made.
I'd like to say I hopped right in, but I was still wrapped up in my blanket thawing from the early morning walk, and there was no way I was changing into a bikini and braving the cold for those few brief seconds while I tip-toed from the change rooms to the hot springs.
So I sat it out and watched Sam go in instead. Can you spot him in the picture? It's like Where's Waldo.
Breakfast of champions
And now for one of the highlights: breakfast!
I have to say, our breakfast with Grado 10 was the best of any other tour out there. While other groups had little coffee stations with a few rolls of bread and cookies, our driver-turned-chef and guide-turned-gourmand pulled out all the stops.
Between the two of them they managed to cook up pancakes and grilled ham and cheese sandwiches in the middle of the altiplano, and they didn't just serve one round, the food kept coming. They also had pound cake, giant bowls of dulce de leche to spread out on just about everything on the table, and lots of juice, coffee and tea. I was a very happy girl! So happy in fact that I forgot to photograph our delicious breakfast because I was too busy eating.
Soaking in the views
After breakfast we packed up the truck and made a few scenic stops along the way. One of them was this green canyon. There's a trickle of a river that runs through this dry gorge and apparently that's enough for this little oasis to exist. Once we drove further down the valley and got closer to the base of the canyon we were able to see just how lush it is and how much wildlife it holds.
From there we made another stop at Bado Putano, which is a wetland where lots of guanaco roam, and we also had the Putana Volcano towering in the distance.
A visit to Machuca
Our last stop of the day was the village of Machuca. The village is divided into two parts: the ruins which are over 1000 years old and the newer area which still adheres to traditional construction.
We had some free time to explore, so I walked up to the church for some nice panoramic views of the town while others snacked on llama skewers (pretty tasty, but I was still full from breakfast).
The village is quite small, has one street, and holds no more than 20 buildings, so you'll easily cover it with a 30 minute visit.
And then it was time to drive back to San Pedro. By the time we hopped back in the truck it was past noon and everyone had already peeled off all the warm layers they had been sporting that morning. It's fascinating how quickly the temperatures in the desert can change! Now here's a little video Sam and I made on the trip:
Tips for visiting El Tatio Geysers at sunrise:
Wear your warmest layers. Mornings in the town of San Pedro aren't that cold during the summer months, but don't let that fool you; El Tatio will be freezing. I wore leggings, an alpaca sweater, a windbreaker, and I borrowed a fleece blanket from the truck, and I was still cold.
Pack a swimsuit and a towel. If you'd like to go for a dip in the hot springs (we got about 45 minutes there), definitely pack a suit and a towel. There are dressing rooms on site, but don't expect towel rentals.
Bring lots of water. It's easy to underestimate just how much water you'll be guzzling in the desert. Our tour guide recommended bringing at least a 1 Litre bottle, and you'll easily get through that in half a day.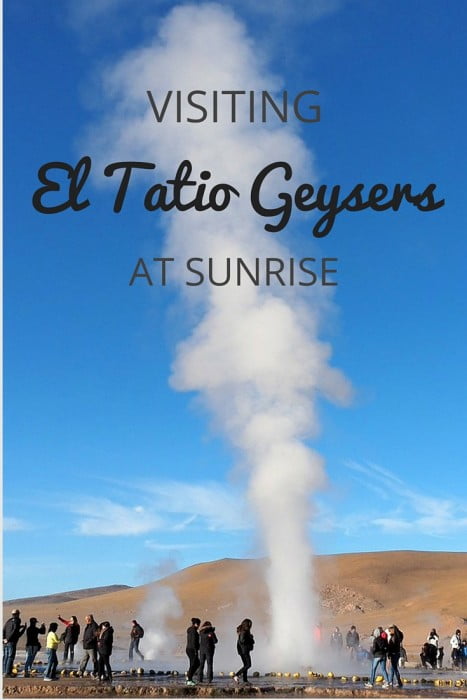 Have you visited El Tatio Geysers?
Are there any other trips around the Atacama Desert you'd recommend?