Growing up, I was really, really messy. If you had walked into my teenage bedroom you would have come across: a mountain of clothes piled atop my desk chair (that included everything I had and hadn't worn to school that week), books and binders scattered around my bed (because I couldn't work at the desk since the chair was covered in clothes), and an extensive collection of mugs and empty plates (because aside from being a messy teenager I was also a big snacker).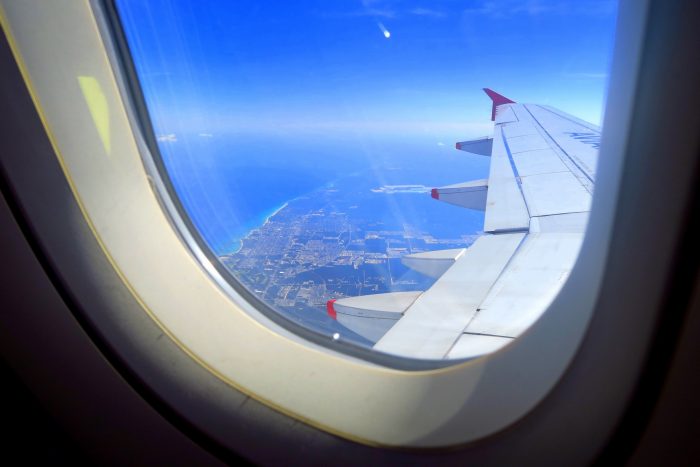 Needless to say, this disorganization kind of filtered its way into my packing once I started travelling in my late teens and early twenties.
I could never understand why I always found myself with a labyrinth of a suitcase by Day 2 of a trip and it used to drive me crazy.
Where was my shampoo and that clean pair of underwear when I needed it?
Oh, how times have changed!
Over the past few years of travel and living out of a suitcase, I've had to learn a thing or two about organization out of necessity.
Not only have I learned to pack only what I'll wear and keep things light, but I've also learned to keep my backpack organized so that I'm never rummaging when I need something.
Today we're going to look at 5 items that can help YOU keep your luggage tidy too.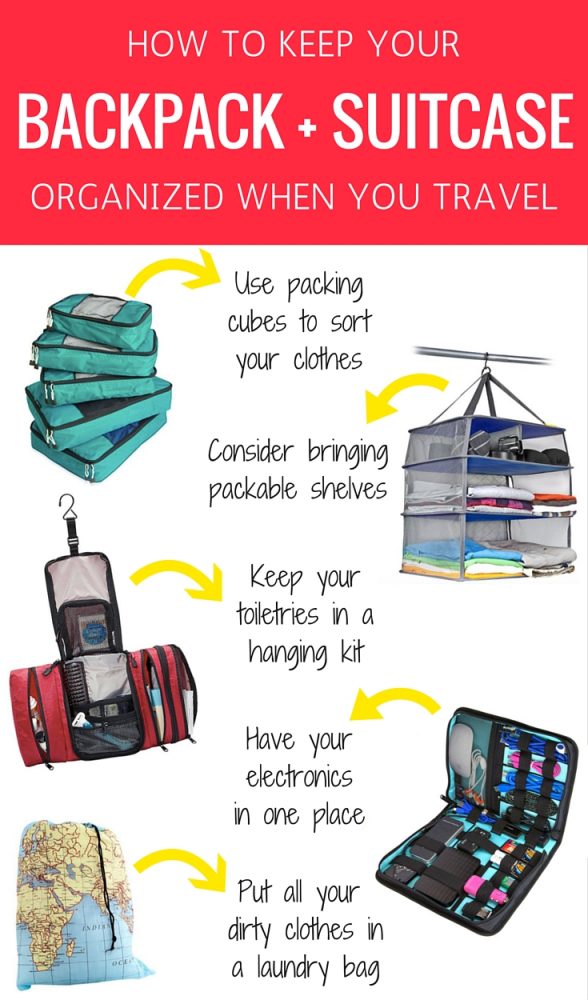 Packing cubes are the best because they prevent your luggage from becoming an absolute mess by Day 2.
Packing cubes allow you to compartmentalize your clothes so that you know where everything is: 1 cube for pants and shorts, 1 cube for t-shirts and tank tops, 1 cube for cardigans and sweaters, 1 cube for socks and undies, and voila, you're set!
I'd also recommend packing cubes that have mesh at least on one side so that you can easily see what's inside of them.
I also think this makes a great travel gift for friends and family.
I'm all about travelling with a hanging toiletry – it makes life so much easier!
Whether you're staying in a hostel where you can't really scatter all your stuff around, or you have your own private bathroom but very limited counter space, this item comes in really handy.
Not only do hanging toiletry kits allow you to keep everything you need for the bathroom in one single place, but you can also compartmentalize things so that they are easier to find: one section for your toothpaste, toothbrush, and dental floss; a section for travel sized bottles of shampoo, conditioner, and body wash; and so on.
This one probably isn't necessary for the average traveller, but if you travel with a lot of electronics, cables, batteries, hard drives, and chargers like Sam and I do, it can be a really nifty way of keeping things organized.
These organizers come in different sizes and they can be easily packed into your checked luggage.
This way you're not siftisng through your luggage whenever you need that laptop charger or spare camera battery.
Because you don't want your dirty laundry mixing in with your clean clothes (cross contamination, ewww!)
But seriously, I'm sure we've all found ourselves shoving dirty laundry into plastic bags or external luggage pockets more than once before.
A travel laundry bag means you can keep all your dirties in once place until you find a laundromat in your next destination.
So this is a fairly new travel product that I haven't yet had a chance to use myself, however, I've been seeing it featured in press releases that land in my inbox.
The idea is that you pack your clothes into this 3-tier stackable shelf so that when you arrive at your destination, your clothes are wrinkle-free and you can hang up the shelf in the closet.
It's something that I think would work for short weekend trips or business trips where you are packing carry-on, but it's not something I can see myself using for long-term travel (I tend to be away for months at a time and my clothes would not fit on 3 shelves).
So there you have it, 5 items that can help keep your luggage organized next time you travel.
If you know of any other tips, tricks, or useful items, please feel free to share those in the comments section below.
What are your tips for keeping your backpack organized?